Faveo Helpdesk provides Businesses with an automated Helpdesk system to manage customer support. The word Faveo comes from Latin which means to be favorable. Which truly highlights vision and the scope as well as the functionality of the product that Faveo is. It is specifically designed to cater the needs of startups and SME's empowering them with state of art, ticket based support system. In today's competitive startup scenario customer retention is one of the major challenges. Handling client query diligently is all the difference between retaining or losing a long lasting relationship. The company is driven by passion of providing tools for managing consumer queries for strategic insights and helping companies take those decisive decisions. Faveo has been integrated with multiple platforms and new features being added each month. Faveo can also be customized according to requirement and we do undertake such request. Our aspiration is to become world's most favored open source helpdesk application. First release of Faveo was done on 23rd October 2015. Faveo is owned and managed by Ladybird Web Solution, Which was founded in 2009 and later incorporated as PVT LTD in 2015.
Ladybird Web Solution Pvt Ltd
Screenshot & Video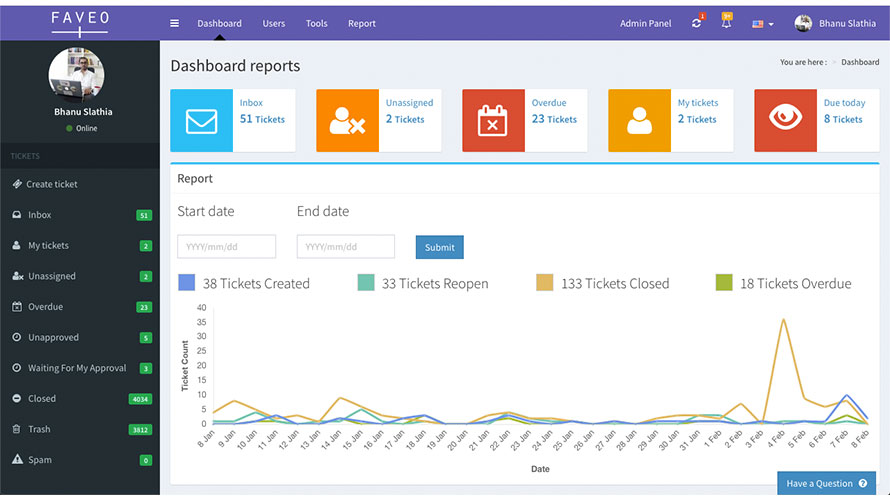 LICENSING & DEPLOYMENT
Cloud Hosted

On Premises

Web-based

iPhone/iPad

Android

Windows

Mac

Linux
Knowledge Base
Help Guides

Video Guides

Blogs

Webinars
Faveo Helpdesk Pricing
Payment Frequency
Monthly Payment

Annual Subscription

One-Time Payment

Free
This profile is not claimed
Do you own or represent this business? Enter your business email to claim your GoodFirms profile.