Get more eyes on your KPIs.
1 Question
Business Intelligence Dashboards are nowadays essential for all digitally active businesses. They digitally collect your business data, calculate resources and opportunities, guide you through investments and assure you of getting timely reports to evaluate where you exist in the competition. An effective digital dashboard is required to fasten your decision making abilities. It has the capacity to visually display your business performance metrics. Digital Dashboards are well supported by robust data-driven software solutions to visually ascertain the status as well as key performance indicators of a project. iDashboards, Klipfolio, and Cyfe are among the best dashboard management tools that are in massive demand in the market today. The most important reason behind using dashboard software is that they are tech-savvy, time-savvy, and cost-savvy tools to support your organization. To have more information about them, let us review them separately and then compare their essential features to find which is better among them. iDashboards iDashboards is well-recognized as the best data visualization and business intelligence software. It is established in the year 2003, and now in 2019, iDashboards v10 is introduced as their next-generation BI platform. (Source: iDashboards) Features: · iDashboards software offers engaging dashboard management solutions with easy-to-build custom charts and graphs. · Mobile-friendly dashboard solutions let users' access information anytime and anywhere. · The system is well-capable of transforming disorganized data into customized, colorful, interactive charts, and graphs. · Users can get more recent data points when connecting their data to iDashboards, graphs, and charts. The facility of getting live auto updates is also available by when you have synced the data sources to the software. Klipfolio Klipfolio is trusted by more than 55,000 data-driven leaders and their teams. It is a renowned cloud app to create visual business analytics, reports, and performance analysis for the businesses. It helps you in controlling your business by analyzing data and metrics. (Source: Klipfolio) Features: · Klipfolio software can accumulate your company's data from anywhere using app integrations and mashups facility that helps in real-time business decision making. · It eliminates the need for ad-hoc reporting through organizational transparency and collaboration. · It makes you personalize your dashboard software using custom visualizations. You can create unique themes using CSS features and uploading JavaScript files within the application. · Klipfolio offers you three basic data analytics dashboards such as Sales Dashboard Software, Marketing Dashboard Software, and Executive dashboard Software. Cyfe Cyfe is an all-in-one business dashboard that monitors everything from social media, web analytics, marketing, sales, support, to infrastructure. It owns over 300,000 satisfied users. Cyfe offers a free plan as well where a registered user that can create up to 2 dashboards. (Source: Cyfe) Features: · Cyfe's free plans are flexible enough to be upgraded anytime. · It possesses a simple, modern, and customizable user interface. You can add widgets to your dashboard and visualize all the data that you need to ensure the success of your business. · Exceptional customizations with the software let you track native integrations, Google Sheets and Zapier, or even upgrade to get access to the Cyfe's API. · All paid plans include archiving unlimited historical data, TV mode, and pre-built widgets. Now, let us compare them viewing the detailed comparison chart given below. According to me, Klipfolio would be better for the beginners. It will help to learn complex processes and manage dashboards or portals for your company's performance. Cyfe can be good for stable businesses. But if you are really looking for some exceptional dashboard management solution, you should go with iDashboards. It supports all types of businesses in the long run. Some free and open-source dashboard management software solutions are also available online. They need zero percent investment and offer an open code management facility, if you want any alterations to them. Let us check out the full list of free and open-source dashboard management software solutions in brief: List of Free and Open Source Dashboard Management Software Solutions 1. SealReport – https://sealreport.org/ 2. Freeboard – http://freeboard.io/ 3. Dashbuilder – http://dashbuilder.org 4. Graphana – https://grafana.com/ 5. Stashboard – https://www.stashboard.org/ 6. Redash – https://redash.io/ 7. Countly – https://count.ly 8. Metabase – https://metabase.com/ Conclusion: If you really want to take a comprehensive snapshot of your business's performance, you should essentially adopt a suitable dashboard management tool. It would incorporate a large amount of detail into the software and quickly generate reports for future decision making.
Business Intelligence Dashboards are nowadays essential for all digitally active businesses. They digitally collect your business data, calculate resources and opportunities, guide you through investments and assure you of getting timely reports to evaluate where you exist in the competition. An effective digital dashboard is required to fasten your decision making abilities. It has the capacity to visually display your business performance metrics. Digital Dashboards are well supported by robust data-driven software solutions to visually ascertain the status as well as key performance indicators of a project. iDashboards, Klipfolio, and Cyfe are among the best dashboard management tools that are in massive demand in the market today. The most important reason behind using dashboard software is that they are tech-savvy, time-savvy, and cost-savvy tools to support your organization. To have more information about them, let us review them separately and then compare their essential features to find which is better among them. iDashboards iDashboards is well-recognized as the best data visualization and business intelligence software. It is established in the year 2003, and now in 2019, iDashboards v10 is introduced as their next-generation BI platform. (Source: iDashboards) Features: · iDashboards software offers engaging dashboard management solutions with easy-to-build custom charts and graphs. · Mobile-friendly dashboard solutions let users' access information anytime and anywhere. · The system is well-capable of transforming disorganized data into customized, colorful, interactive charts, and graphs. · Users can get more recent data points when connecting their data to iDashboards, graphs, and charts. The facility of getting live auto updates is also available by when you have synced the data sources to the software. Klipfolio Klipfolio is trusted by more than 55,000 data-driven leaders and their teams. It is a renowned cloud app to create visual business analytics, reports, and performance analysis for the businesses. It helps you in controlling your business by analyzing data and metrics. (Source: Klipfolio) Features: · Klipfolio software can accumulate your company's data from anywhere using app integrations and mashups facility that helps in real-time business decision making. · It eliminates the need for ad-hoc reporting through organizational transparency and collaboration. · It makes you personalize your dashboard software using custom visualizations. You can create unique themes using CSS features and uploading JavaScript files within the application. · Klipfolio offers you three basic data analytics dashboards such as Sales Dashboard Software, Marketing Dashboard Software, and Executive dashboard Software. Cyfe Cyfe is an all-in-one business dashboard that monitors everything from social media, web analytics, marketing, sales, support, to infrastructure. It owns over 300,000 satisfied users. Cyfe offers a free plan as well where a registered user that can create up to 2 dashboards. (Source: Cyfe) Features: · Cyfe's free plans are flexible enough to be upgraded anytime. · It possesses a simple, modern, and customizable user interface. You can add widgets to your dashboard and visualize all the data that you need to ensure the success of your business. · Exceptional customizations with the software let you track native integrations, Google Sheets and Zapier, or even upgrade to get access to the Cyfe's API. · All paid plans include archiving unlimited historical data, TV mode, and pre-built widgets. Now, let us compare them viewing the detailed comparison chart given below. According to me, Klipfolio would be better for the beginners. It will help to learn complex processes and manage dashboards or portals for your company's performance. Cyfe can be good for stable businesses. But if you are really looking for some exceptional dashboard management solution, you should go with iDashboards. It supports all types of businesses in the long run. Some free and open-source dashboard management software solutions are also available online. They need zero percent investment and offer an open code management facility, if you want any alterations to them. Let us check out the full list of free and open-source dashboard management software solutions in brief: List of Free and Open Source Dashboard Management Software Solutions 1. SealReport – https://sealreport.org/ 2. Freeboard – http://freeboard.io/ 3. Dashbuilder – http://dashbuilder.org 4. Graphana – https://grafana.com/ 5. Stashboard – https://www.stashboard.org/ 6. Redash – https://redash.io/ 7. Countly – https://count.ly 8. Metabase – https://metabase.com/ Conclusion: If you really want to take a comprehensive snapshot of your business's performance, you should essentially adopt a suitable dashboard management tool. It would incorporate a large amount of detail into the software and quickly generate reports for future decision making.
Business Intelligence Dashboards are nowadays essential for all digitally active businesses. They digitally collect your business data, calculate resources and opportunities, guide you through investments and assure you of getting timely reports to evaluate where you exist in the competition.
An effective digital dashboard is required to fasten your decision making abilities. It has the capacity to visually display your business performance metrics. Digital Dashboards are well supported by robust data-driven software solutions to visually ascertain the status as well as key performance indicators of a project. iDashboards, Klipfolio, and Cyfe are among the best dashboard management tools that are in massive demand in the market today.
The most important reason behind using dashboard software is that they are tech-savvy, time-savvy, and cost-savvy tools to support your organization. To have more information about them, let us review them separately and then compare their essential features to find which is better among them.
iDashboards
iDashboards is well-recognized as the best data visualization and business intelligence software. It is established in the year 2003, and now in 2019, iDashboards v10 is introduced as their next-generation BI platform.
(Source: iDashboards)
Features:
· iDashboards software offers engaging dashboard management solutions with easy-to-build custom charts and graphs.
· Mobile-friendly dashboard solutions let users' access information anytime and anywhere.
· The system is well-capable of transforming disorganized data into customized, colorful, interactive charts, and graphs.
· Users can get more recent data points when connecting their data to iDashboards, graphs, and charts. The facility of getting live auto updates is also available by when you have synced the data sources to the software.
Klipfolio
Klipfolio is trusted by more than 55,000 data-driven leaders and their teams. It is a renowned cloud app to create visual business analytics, reports, and performance analysis for the businesses. It helps you in controlling your business by analyzing data and metrics.
(Source: Klipfolio)
Features:
· Klipfolio software can accumulate your company's data from anywhere using app integrations and mashups facility that helps in real-time business decision making.
· It eliminates the need for ad-hoc reporting through organizational transparency and collaboration.
· It makes you personalize your dashboard software using custom visualizations. You can create unique themes using CSS features and uploading JavaScript files within the application.
· Klipfolio offers you three basic data analytics dashboards such as Sales Dashboard Software, Marketing Dashboard Software, and Executive dashboard Software.
Cyfe
Cyfe is an all-in-one business dashboard that monitors everything from social media, web analytics, marketing, sales, support, to infrastructure. It owns over 300,000 satisfied users. Cyfe offers a free plan as well where a registered user that can create up to 2 dashboards.
(Source: Cyfe)
Features:
· Cyfe's free plans are flexible enough to be upgraded anytime.
· It possesses a simple, modern, and customizable user interface. You can add widgets to your dashboard and visualize all the data that you need to ensure the success of your business.
· Exceptional customizations with the software let you track native integrations, Google Sheets and Zapier, or even upgrade to get access to the Cyfe's API.
· All paid plans include archiving unlimited historical data, TV mode, and pre-built widgets.
Now, let us compare them viewing the detailed comparison chart given below.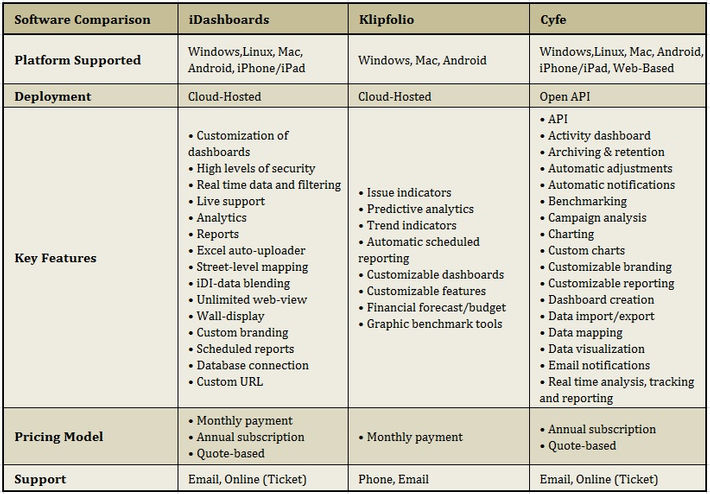 According to me, Klipfolio would be better for the beginners. It will help to learn complex processes and manage dashboards or portals for your company's performance. Cyfe can be good for stable businesses. But if you are really looking for some exceptional dashboard management solution, you should go with iDashboards. It supports all types of businesses in the long run.
Some free and open-source dashboard management software solutions are also available online. They need zero percent investment and offer an open code management facility, if you want any alterations to them. Let us check out the full list of free and open-source dashboard management software solutions in brief:
List of Free and Open Source Dashboard Management Software Solutions
1. SealReport – https://sealreport.org/
2. Freeboard – http://freeboard.io/
3. Dashbuilder – http://dashbuilder.org
4. Graphana – https://grafana.com/
5. Stashboard – https://www.stashboard.org/
6. Redash – https://redash.io/
7. Countly – https://count.ly
8. Metabase – https://metabase.com/
Conclusion: If you really want to take a comprehensive snapshot of your business's performance, you should essentially adopt a suitable dashboard management tool. It would incorporate a large amount of detail into the software and quickly generate reports for future decision making.