Celadon
Fast & Confident Development | Mobile | Web
Visit website
Our job is more than just software design and development, our job is taking care of your success. If you're looking for a reliable Mobile and Web development partner, you're about to knock the right door.
Why us?
We focus on a selected set of technologies and industries. Logistics, business intelligence, education, sports, and entertainment are our custom domains.
We realize that time is priceless. We will reply to you immediately and start work instantly. Our processes are organized in a way we get the projects done without any waste of time.
Each project is special, but there's still much in common. That can help you solve both technical and business challenges efficiently. We will not just help you bring your great ideas to life, but will also hold you from making mistakes.
We consider our work is something more than just software development. The first thing we're looking to know is your goals.
We are not a big company, we're a team of engineers and designers that value each of our clients. We are flexible, committed and easy to work with because we love what we do. Furthermore, we are always in touch.
We're working as an extension of your business, in tight communication and total transparency. In this way, we ensure that the results of our work meet your expectations and solve your business goals without any waste of time on back and forth.
Belarus
Mogilevskaya 2/2, office 18
,
Minsk
,
Minsk
220102
+375 29 618 27 75
UAE
Business Bay, Iris Bay - office 925,
,
Dubai
,
Dubai
0001
+971559190927
Poland
HUMAŃSKA 8 / 3 00-789
,
Warsaw
,
Warsaw
00-789
United States
4522 Beach 45th
,
NYC
,
New York
11224
+19295905986
Focus Areas
Service Focus
Mobile App Development
Software Development
Client Focus
Small Business
Medium Business
Celadon Executive Interview
Visit Profile
Please introduce your company and give a brief about your role within the company?
My name is Alexei; I'm CEO and founder at Celadon. We are a software development agency focused on solving complex tasks and providing results instead of excuses. We create mobile and web applications and have rich experience in AI, machine learning and computer vision development.
What was the idea behind starting this organization?
I've been a product manager of several IT products before, and I was using the services of outsourcing development agencies' quite heavy. However, I couldn't find the one that would fit all my requirements in terms of quality, creativity, and result-orientation. Thus, later on, the idea to create such a company turned into life naturally.
What is your company's business model–in house team or third-party vendors/ outsourcing?
We have an excellent in-house team of talented engineers and designers, established processes, and corporate values that helps us continuously improve the quality of our service.
How is your business model beneficial from a value addition perspective to the clients compared to other companies' models?
It's about speed, flexibility, and responsibility. The fewer parties are involved, the better it is for the project. Another big deal is communication. To me, it seems impossible to be fast and transparent while having work outsourced to third-party teams.
What industries do you generally cater to? Are your customers repetitive? If yes, what ratio of clients has been repeated to you?
We never consider a project successful unless the customer is happy with the result. I believe that the most important is to understand the client's goals and negotiate a win-win collaboration model at the very beginning to avoid any conflict of interests in the future. Thus, we assure that the successful project completion and launch is always a priority for both parties.
Most of the clients we had were repetitive, and our goal is always to keep it up.
Mention the objectives or the parameters critical in determining the time frame of developing a mobile app.
There are two co-dependent things: the scope of work and time frame. The bigger the scope of work is, the more time the app requires for development.
Scope of work depends on the application platform of choice, the complexity of functionality, expected load, third-party licenses usage policy, and many other factors.
I'd say the first step in app development would be to understand the critical functionality of the application and then develop the first application version in correspondence with these features - a so-called MVP. According to our experience, an MVP requires approximately 2-4 months.
We offer free project estimation and a preliminary consultation to help the client get realistic expectations on this point.
How much effort in terms of time goes into developing the front end and back end of a mobile app?
It depends on a specific app. Some apps have complex backend logic. Some work almost without a server at all.
What are the key parameters to be considered before selecting the right platform for a mobile application?
I think nowadays two mobile platforms deserve attention in 99% of cases: iOS and Android.
If one should choose only a single platform, the choice depends on the targeted audience and project goals.
Since at Celadon we focus on React Native technology, we often build native mobile apps for both platforms at the same time with minimal losses in cost comparing to a single platform.
Android or iOS, Native or Hybrid — which platform is best to use to build your app and which suggestions you give to your clients to begin with when they approach you with an idea? What are your recommendations?
My recommendation is to discuss the specific project with the development service agency. Such decisions mostly depended on the app functional, budget, and goals of the project.
What are the key factors that you consider before deciding the cost of a mobile application?
The cost depends on the number of specialists involved in the project and the amount of work required by each of them to complete all tasks related to design, engineering and QA.

The key factors are app complicity, number of platforms, scalability and the number of integrations with other software and services.

Another big deal is to build a system that is easy to maintain and expand in the future. It's often much more cost-efficient to put some extra effort in code documentation and flexible architecture at the beginning of the project to benefit in the long run.
What kind of payment structure do you follow to bill your clients? Is it Pay per Feature, Fixed Cost, Pay per Milestone (could be in phases, months, versions, etc.)
Software development is a complicated process, often with a high level of uncertainty at many points in the beginning. Developers should listen to the external world, be flexible, adapt to the feedback and be able to make corrections to the initial plan.
We tried different billing structures before, and I can say that no one benefited from Fixed Cost.
Instead, we follow the Time and Materials collaboration model. We believe it's the best solution for the agile development process in terms of transparency and flexibility.
It means that after we estimate the approximate cost and start the project development, we bill based on the effort in hours. The fee is calculated by hours spent by every specialist on every task – we usually charge every two weeks, at the end of each sprint. With every bill, we also provide a detailed report and the results of the work.
We plan the work scope and always aim to fit the estimated budget, but at the same time, we're flexible to any changes or suggestion from the client.
In this way, the control over the budget entirely remains in the hands of a client, and we keep focused on the work and providing the expected results.
Do you take in projects which meet your basic budget requirement? If yes, what is the minimum requirement? If no, on what minimum budget you have worked for?
As far as the budget is comparable to the requirements, we can work. At times we can help with a single task/feature development, and we're okay with that.
If we talk about mobile application MVP development, I think the minimum budget was $9000 so far.
Kindly share your feedback on how GoodFirms has been doing so far in increasing your visibility among potential clients.
We're glad to have GoodFirms aside to help us be more visible. In the industry nowadays the matter of trust is crucial and it's excellent that GoodFirms service and reviews of our clients improve the faith to our company and help it stand out to be more visible to the clients that share the same values we do: passion for creating great project, easiness in communication, honesty, and dynamics.
Celadon Clients & Portfolios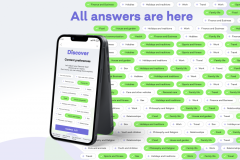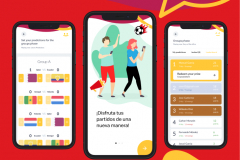 Celadon Reviews
All Services
Mobile App Development
Relevance
Most Recent
Rating: high to low
Rating: low to high
Write a Review
Gustas Kazilas
, Owner at at Noodly - Your Favorite Food Delivered
Posted on Sep 17, 2020
Celadon are very professional and managed the project very effectively!
Review Summary
We are a food delivery company operating in Watford. Our goals were to create the app for the market. We wanted to have a user-friendly interface so any customer could easily place an order. We also were
looking for a way to shorten ordering time as much as possible.
Celadon designed and developed a mobile app which is based on iOS and Android. It covers 3 major scenarios: in-venue order, preorder and delivery. The system is also fully integrated with the POS to get the order receipt confirmation, fetch and keep synchronized menu data to optimize the management effort.
Celadon got much freedom not only in technological decisions but also in the overall
project approach and management. The very exciting part was the recommendation system
that helped to improve ordering speed and upsell.
Mohammed Alali
, CTO at M2 Innovation DMCC
Posted on Jan 13, 2020
Mobile App Development for House Buying Platform
Review Summary
Celadon built out unique, high-quality features that allow users to easily customize their home-building experience from start to finish. Initial feedback has been positive. The team followed the agile method and worked in two-week sprints. They took scope changes in stride and communicated well.
What is it about the company that you appreciate the most?
They stuck with the agile methodology and had sprint planning every two weeks. We could see the visibility of their work. They locked down the scope but were willing to accept requirement changes. Communication was really easy, and their speed was average. The user experience was good.
What was it about the company that you didn't like which they should do better?
They could be faster at developing, but we were satisfied with their work in the end. The quality was really good. Sometimes the quality is more important than the speed.
Pavel Yarmak
, CEO at NJT Company
Posted on Sep 09, 2019
Excellent team and work!
Review Summary
I'm fully satisfied with their work. Communication and management are pretty nice, and they use a tracking system and CRM. Python developers are experts in AI and ML. I recommend the company Celadon as a reliable partner in solving complex problems.
What is it about the company that you appreciate the most?
The most impression i've got when i saw the MVP. It was great, because Celadon developers created almost at once all I wanted.
What was it about the company that you didn't like which they should do better?
There is nothing to impove on.
Abdul Hameed
, CEO at Shark Gym
Posted on Aug 13, 2019
Computer Vision powered personal coach app
Review Summary
Working with Celadon has been a great pleasure. They're fantastic project managers. Communication is their best quality. They're strong in both English and Arabic. Their transparency and the quality of their work set them apart, and they established a strong synergy with the internal team. They read our minds and provide exactly what we want.

The first phase was successful, and Celadon will assist with the second phase in the future.
Peter Kanmi
, CEO at Hallowgate
Posted on Jan 13, 2020
Social Media Marketing Application
Review Summary
We needed a social media marketing solution and for strategic reasons, we didnt have enough time. We contacted Celadon had a preliminary brief session on the phone. They were upfront with us and did an assessment of requirement. Afterward they simply told us they could not realistically deliver the project in the 4 weeks we had. So we dropped iOS App, dropped the Web App, Dropped the payment module. And requested for the Android App MVP. They said yes they could do that in 4 weeks but will require another 1 week for testing. So we agreed and they finished in 4 weeks and we started testing afterward and EXACTLY 5 weeks from the date they received the first payment, there were no issues noticed and we were able to launch.

Generally,
1. They are honest
2. They are quite scientific in their approach. Beyond programming, they are Software Engineers in the full sense of it. They put a lot of thought into the user experience, system security, stability and bring it down to simple programmable tasks.
3. Their project management is great, communication is perfect, and they are sincere.
4. We have started a second project with them, a web application.
5. We overshot the budget by about 20%, which is within tolerance for us in the circumstance,considering we created something that never existed from ground up in 5 weeks.

What is it about the company that you appreciate the most?
They are competent, swift and with excellent communication skills. Plus the price is great. But most of all we are at peace, knowing they are the team of staff we "Have" some miles away. They demonstrated an emotional connection to the project and put all their thoughts and abilities into it.
What was it about the company that you didn't like which they should do better?
Nothing I can think of right now.
Eyad Al Nesrawi
, Founder & CEO at Vouchen
Posted on Jul 18, 2018
Committed, Flexible and Success-oriented
Review Summary
Professional and friendly staff, on-time delivery and high-quality results. we worked with celadon on a huge development project and we were happy with the results and we will continue working with them.

Nassir Mohammed
, IT Manager at Green Apple Travel & Tourism LLC
Posted on Jul 09, 2018
mobile application for registration of visas and tours
Review Summary
Celadon is amazingly flexible company. The cooperation with them is so tight, it's like an own software development department in our company.
Great developers to work with!
Review Summary
Celadon delivered high-quality work. They are reliable and professional, really know their craft! They've understood our industry very well and knew all the risks encountering while computerization process. Manage to consider any sort of complex situation. Reccomended!
Gilad Federman
, Founder and CEO at Noviopus
Posted on Mar 10, 2018
Web development project for Noviopus
Review Summary
They are very dedicated team that put all effort to supply the best product they can. Putting extra time and effort to make the targets.