DigitalSuits
Experts in Web & Shopify /Plus. Headless solutions
Visit website
DigitalSuits is a software development company with a startup development background. This expertise opens up to developing efficient solutions for your digital business growth.
We are a software solution partner for startups, small, and medium-sized businesses in the US, Canada, the UK, Israel, and more. Our main focus is E-commerce, SaaS solutions, and product development for Retail, Real Estate, and Insurance industries.
Drop us a line, and we'll contact you shortly!
Ukraine
Akademika Pavlova St, 271
,
Kharkiv
,
Kharkiv
61054
Poland
Józefa Sarego 5/4
,
Krakow
31-047
+48 785 919 369
United States
4433 Merlin Way
,
Soquel
,
California
95073
Focus Areas
Service Focus
Software Development
E-commerce Development
Robotic Process Automation
Mobile App Development
Artificial Intelligence
DigitalSuits Executive Interview
Visit Profile
Please introduce your company and give a brief about your role within the company?
Digitalsuits is an intersection of technology, business, and innovation. We are a team of software engineers, technology enthusiasts, and creative people. We focus on helping our clients in digital transformation of their business processes and make them easy for them. Deep understanding and deep learning of our clients' processes and problems is one of the important things in our work. DigitalSuits is proficient in software, IoT and blockchain development. Our key expertise includes Insurance, Real Estate, and Retail & Distribution.

I, Artem Semenko, am a co-founder and CEO of Digitalsuits. My primary role in business is building a company which can solve business problems with innovative technologies using the most advanced ones. I look after the corporate and financial development aspects, lead decisions and strategies that foster our growth.
What was the idea behind starting this organization?
The idea was to help businesses succeed using our capability to develop top-notch software solutions and providing value to our clients in the form of managed services instead of just software developers' hours.
What is your company's business model–in house team or third party vendors/ outsourcing?
We have an in-house team of different types of specialists to provide complete functional solutions and supply end-to-end delivery of qualitative software. Our team is constantly updated with new specialists, who help expand our capabilities.
How is your business model beneficial from a value addition perspective to the clients compared to other companies' models?
We use flexible customer interaction models. But any interaction model is based on one rule - a complete immersion in our customers' business processes and the attitude to any project as to our own one.
What industries do you generally cater to? Are your customers repetitive?
65% of our business comes from the existing clients or those who worked with us in the past. The main industries for us are Insurance, Real Estate, Retail & Distribution, but we never stop exploring new industries expanding our expertise.
Mention the objectives or the parameters critical in determining the time frame of developing software.
The time frame depends primarily on the scope of work. When evaluating any project, we conduct an analysis of business objectives and think through the functionality that would help to meet these business goals. We also take into account the budget and customers' expectations in terms of timing. We further stick to the estimates we made, while flexibility allows us to meet the deadlines regardless of the situation.
How much effort in terms of time goes into developing the front end and back end of software?
Most likely it depends on the type of the software we build. There are various scenarios in Software development where the primary focus could be changed between the front end and the back end. To tell the truth, the more business logic gets applied in an application, the more the back end prevails in Software development.
What are the key parameters to be considered before selecting the right framework for developing software?
The key factors are customer requirements and needs, business objectives, the target audience of a future product, business infrastructure. For our part we are exploring clients' business to identify problems based on our knowledge of modern technology, to cover the whole area of the clients' needs.
Which languages & frameworks do you prefer to use in development of software?
Programming languages:
- JS (ES6 / TS / Node.js)
- Ruby
Frameworks for API development:
- Express.js
- Ruby on Rails
- Sinatra
Libraries for SPA development:
- React.js + Redux
Mobile development:
- React Native
CMS:
- Shopify
- BigCommerce
- Wordpress
What are the key factors that you consider before deciding the cost of software?
The scope, of course, is the primary factor as the scale of the work defines how much the client should be investing. Also, the cost depends a lot on how much of pre-development activities are involved, whether research is required. The complexity of the solution is undoubtedly a significant factor, as well.
What kind of payment structure do you follow to bill your clients? Is it Pay per Feature, Fixed Cost, Pay per Milestone (could be in phases, months, versions etc.)
We use all the payment structures (Time & Materials, Pay per Feature, Fixed Cost, Pay per Milestone, etc.) and depending on clients' needs, select the most suitable one.
Do you take in projects which meet your basic budget requirement? If yes, what is the minimum requirement? If no, on what minimum budget you have worked for?
We start to work on projects where the minimum budget is $5,000, which includes development using such CMS as Shopify, BigCommerce, and Wordpress. For web and mobile development, it most likely starts from $10,000.
What is the price range (min and max) of the projects that you catered to in 2018?
The smallest one (Shopify app) was $4,400 and the biggest one was $280,000.
DigitalSuits Clients & Portfolios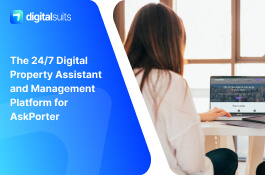 DigitalSuits Reviews
All Services
Software Development
E-commerce Development
Artificial Intelligence
Relevance
Most Recent
Rating: high to low
Rating: low to high
Write a Review
Kateryna Sheremet
, Co-founder at Emotcia
Posted 6 months ago
DigitalSuits is a professional team ready to build and launch a software solution of any complexity.
Review Summary
We are satisfied with the cooperation of the DigitalSuits team. They're experienced e-commerce developers who helped us successfully implement our project. They can see the big picture and analyze the prospects and capacity of the project. We are satisfied with the quality of the final product.
What was the project name that you have worked with DigitalSuits?
Emotcia - More Than A Gift
Describe your project in brief
Emotcia is a unique and easy to use platform where you can find unforgettable gifts. Our mission is to help individuals realize their aspirations through positive feelings and memories which can never be replicated by material items. From making a long-standing dream come true to allowing them to try something new, a present from Emotcia is sure to put a smile on the face of any recipient. Emotcia stands for living life to the absolute fullest. More than just a gift, it's an unforgettable experience.
What is it about the company that you appreciate the most?
They established a predictable, efficient, and transparent process that ensured the project was implemented according to agreed timeframes.
Their project management skills are excellent and they can deal with milestones efficiently.
With the team's domain knowledge, skills, and proficiency, we achieved the project goals.
Their project management approach prevented possible miscommunications and facilitated a collaborative process.
What was it about the company that you didn't like which they should do better?
We are impressed by the result. DigitalSuits delivered a high-quality application for excellent customer experience.
They know how to manage project scope, time, and budget. Our partner ensures our website's smooth work and will provide further improvements.
Andrey Ryabuhin
, Quality Assurance Test Engineer at Securrency
Posted 8 months ago
DigitalSuits provided our client with E-Commerce website development and design services, UI/UX, store development and post-launch support.
Review Summary
Our client asked DigitalSuits to help with Shopify store development. To do so, the company was responsible for website design and development, and post-release maintenance and support. The company provided us with a team of 3 developers, 1 UI/UX designer, and a Project Manager.

DigitalSuits has helped the client with the full-cycle website development and assigned a dedicated Project Manager who monitored the performance and provided timely updates and detailed reports. DigitalSuits also worked on website design and functionality to ensure it was intuitive and informative.

To help increase brand awareness and make the E-Commerce platform as useful as possible, DigitalSuits added the FAQ section, Blog and About pages, custom features like bundle creator, and a User Profile page to keep track of orders and payments.

Overall, the client was 100% satisfied with the company's work and the quality of the new website.
What was the project name that you have worked with DigitalSuits?
Custom platform development for an online marketplace
Describe your project in brief
Our client asked DigitalSuits to help with Shopify store development. To do so, the company was responsible for website design and development, and post-release maintenance and support.
What is it about the company that you appreciate the most?
The DigitalSuits company has demonstrated awesome skills in prompt communication
The team provided high-quality project completion and excellent time management
What was it about the company that you didn't like which they should do better?
I do not recall any, it was easy to work with them
Easy to deal with and hardworking.
Review Summary
This company is able to quickly understand the requirements and translate them into code
Ashley Preece
, Implementation Consultant at at Claim Technology
Posted on Jul 30, 2020
Full-scale architecture web development project
Review Summary
DigitalSuits supported us with a web development project which required a full-scale architecture build. We currently work with a team of 10 specialists, including an IT architect, three frontend developers, 4 backend developers, a DevOps professional, and a QA specialist. Their team worked on both the front- and backend while also handling an API layer integration with third-party systems.
Software Development, E-Commerce Solution
Review Summary
I'm really happy with the work of this team, they have excellent planning skills! We were very limited in time for the first app release, so really appreciate the help of Yurii during the architecture design - his vision allowed us to avoid unnecessary changes in further and properly QA the product. Will surely hire them for further projects!
Shopify Developers from DigitalSuits
Review Summary
DigitalSuits is the best choice for those who urgently need help with Shopify. They have really skilled developers to outsource.

IoT app for remote control of multiple devices - great work, team!
Review Summary
The DS team did an awesome work and helped us successfully release the MVP - so we got more investments to complete the functionality and release our product. Their technical expertise really impresses!
What is it about the company that you appreciate the most?
They always committed to delivering great results.
What was it about the company that you didn't like which they should do better?
Nothing, we're very happy with everything.