Exyte
Award-Winning Mobile and AR Development Company
Visit website
Developers with 5+ years of experience in iOS, Android, and the Art of Clear Communication.
The development community and our clients back up our expertise:
15 000+ stars on GitHub
28 5-star customer reviews
Over 30 tech articles and tutorials available for free
50+ successfully completed projects
Our areas of focus:
Native iOS and Android development in Swift and Kotlin
Writing modern SwiftUI and Jetpack Compose code and modernizing existing UIKit and Android View codebases
Implementing responsive custom UI with complex animations and screen transitions
Augmented Reality using ARKit on iOS and ARCore on Android
United States
408 Broadway
,
NYC
,
New York
10013
+1-646-583-0519
United Kingdom
2 Palmers Road
,
London
,
London
E2 0SX
07383579063
Focus Areas
Service Focus
AR & VR Development
Mobile App Development
Blockchain Technology
Exyte Executive Interview
Igor Zapletnev
CEO & Founder
Visit Profile
Please introduce your company and give a brief about your role within the company?
At Exyte, we started by developing mobile apps. Now, we have 30 + engineers and we have moved into the development of more complex technical solutions: Blockchain, AR/VR, and ML.

I'm a CEO and a programmer as well. After starting Exyte, I first was engaged in projects as a programmer, but now there are so many projects that my engagement has been reduced to scaling processes and maintaining the boutique quality of work. After all, what we are most proud of is our excellent reviews.

As for the internal side of the work, I am responsible for customer satisfaction and ensuring that developers work on interesting and challenging projects.
What was the idea behind starting this organization?
I worked for hire and it was a classic outsourcing services business, meaning you have a roadmap of solutions made by the customer. You have to stick to that roadmap and often you don't even have the ability to communicate with the customer. But I wanted to be creative and approach the problem analytically, and not work on a script. That way, I could offer customers new perspectives on the situation.

For this reason, my friend and I decided to gather an experienced technical team and give them the opportunity to use the most advanced and promising technologies to solve important business problems.
What are your company's business model–in house team or third party vendors/ outsourcing?
The entire development team is located in our office.

There are several advantages to having an in-house team:
● speed of communication and issue solving
● exchange of experience (employees grow faster)
● colleagues communicate more closely with each other, and this affects their loyalty to each other
● a better understanding of corporate culture

We never outsource development to third party companies because it's impossible to fully control the quality of results. Doing everything internally guarantees the quality of product and on-time delivery.
How is your business model beneficial from a value addition perspective to the clients compared to other companies' models?
We look at projects not as developers, but as business-analysts. We solve money and risk management issues with the software we develop, we don't just solve programming puzzles. There are situations when people come to us with one task, and we use technical knowledge and practical expertise to reformulate the task, thus saving the client's money/time/nerves.

To give an example, one of our clients approached us with a machine learning/computer vision problem. They wanted to create an app which would analyze video in real time and help people learn and improve their dancing skills.

Originally, the client wanted to use ARKit and CoreML. We explained that the current state of technology prohibits achieving any accurate and usable result, then made several suggestions on how it can be done otherwise and transformed their product into a working solution with speech recognition and AR.

Another customer wanted to develop a new version of an IDE for development, where developers can create internal applications for banking systems. Their original choice was the Eclipse platform. We suggested choosing VSCode instead of Eclipse as a more modern development platform that works faster and has better usability. The project is still ongoing and is being actively developed.
What industries do you generally cater to? Are your customers repetitive? If yes, what ratio of clients has been repetitive to you?
Our expertise focuses on healthcare, finance, logistics, real estate, education, social, and entertainment.

Almost all of our clients stay with us long-term, with the duration of the project at least a year. If a project ends, oftentimes clients try to work with other companies and then return to us. Sometimes, while working with us, customers build their own IT teams or merge with larger companies that have their own pool of contractors. In nine cases out of ten, the client returns to us when the efficiency of invested funds decreases.

Exyte is really proud of the team interaction system that exists within the company, and we are constantly improving to work even more efficiently and quickly. Customers see this and trust us.
Mention the objectives or the parameters critical in determining the time frame of developing a mobile app.
We always ask our clients these four questions to give a time and cost estimation:
● Does your project need an R&D phase? It is important for some projects to understand, for example, how accurate the definition of full-body tracking is in ARKit and whether it can be improved using machine learning. This is not development, but it's necessary to define the scope of it.
● Do you need your app to work offline? If you want the application to be stable with a poor Internet connection (or without it), it requires additional investment.
● Do you need tablet support? Tablets require a separate design that is usually distinct from the design of a mobile app.
● How many features and screens are there?
How much effort in terms of time goes into developing the front end and back end of a mobile app?
It depends heavily on the application in question. For some applications, a user experience with beautiful, smooth animations in SwiftUI is important. If so, then most of the time will be spent developing the interface. For AR projects, you need to define an object and its volume using AR toolkits. In this case, most time is spent on developing analysis and recognition.

Overall, it can vary from a few weeks to several years.
What are the key parameters to be considered before selecting the right platform for a mobile application?

Each platform has its own pros. GooglePlay has a huge audience, while AppStore's audience pays better. But there are cons as well. It's difficult to get to the top of AppStore because you're competing with high-quality apps, while in Google Play, it's easy to get lost in the sea of similar apps (sometimes of low-quality which makes people trust you less by proximity). The best solution is to support both platforms but have different marketing for each.
Which platform do you suggest your clients to begin with when they approach you with an idea (Android or iOS) and why?
First, we analyze the target audience of the app, and only then make our choice depending on the result.
Android or iOS, Native or Hybrid — which platform is best to use to build your app? What are your recommendations?
There are not a lot of time-tested solutions on the market. I would even say there are only two: native development or cross-platform development on ReactNative. Such solutions as Xamarin and PhoneGap are being used less and less, and you need to have a really good reason to start a new project using these technologies. Flutter is still a completely new platform, I would wait some time to make sure that it is viable.

I always recommend native development, since in this case you will definitely not face any restrictions from the platform, and the experience of using a native application is much better for the user. If you look at the top apps of AppStore, you will hardly find a cross-platform solution in the first hundred.

However, ReactNative cross-platform development has one big plus: faster and cheaper development for two platforms at once. Good for MVP and hypothesis testing. Once the hypothesis is verified, you can develop a native app to improve the user experience. Moreover, over time, the "speed and cheapness" of development on ReactNative will decrease, and at one point it may turn out that a certain feature is faster to develop natively on two platforms.

Also, it is easier to find a good expert in one area than in several areas. In order for a developer to develop a native app for iOS – they only need to know iOS, while to develop for ReactNative, the developer needs to know iOS, Android, and ReactNative at the same time.
What are the key factors that you consider before deciding the cost of a mobile application?
In our world, time is money. So, this answer repeats the one to "Mention the objects or the parameters critical in determining the time frame of developing a mobile app". Once again:
● The need for an R&D phase.
● Whether offline functionality is necessary.
● Tablet support.
● Number of features and screens.
What kind of payment structure do you follow to bill your clients? Is it Pay per Feature, Fixed Cost, Pay per Milestone (could be in phases, months, versions etc.)
We offer two payment options:
● Time And Materials. We recommend this for R&D projects or when the customer does not have a clearly described technological scope for the project.
● Fixed Price. If the project has a clear technological scope, we split the project into milestones and issue an invoice at the end of each milestone. Usually, a milestone takes 2 weeks.
Do you take in projects which meet your basic budget requirement? If yes, what is the minimum requirement? If no, on what minimum budget you have worked for?
We work on projects starting from $15K unless they are travel-to-Mars level interesting.
What is the price range (min and max) of the projects that you catered to in 2019?
In 2019 project prices varied from $40K up to $450K.
Which business model do you suggest to your clients enabling them to generate revenue from mobile applications? Why?
After analyzing the target audience, we offer customers one of these models:
● One-time payment.
● Subscription model. It is especially useful when the user uses the app on a regular basis. For example, a fitness app with training programs or an app for learning a language.
● In-app purchases that open up additional functionality. For example, additional filters in AR applications.
Exyte Clients & Portfolios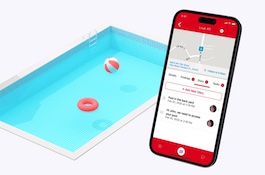 Exyte Reviews
All Services
AR & VR Development
Mobile App Development
Relevance
Most Recent
Rating: high to low
Rating: low to high
Write a Review
Excellent development partner all-around
Review Summary
From great communication, excellent adherence to costs and schedules to holiday gifts and of course top notch quality of deliverables, Excite has been an excellent partner for our team.
Look no further: The folks at Exyte are the real deal!
Review Summary
We needed some extra assistance in our native application development for mobile. We reached out to the Exyte team to implement a few features. They did such a great job that we have continued to extend work to them, and they continue to outperform for all of our custom-programming requests. They've also integrated great new UI features, dealing with navigation and user-flow between screens, and provided a lot of technical insight into the best practices.
Kathleen Judith
, Senior Project Manager at TechnipFMC
Posted on Jun 15, 2020
VR model design for our project
Review Summary
My department has been assigned to a new project of developing a VR model for our organisation that enables the clients to visit their future apartment complex. We chose Exyte, and their team kindly reviewed our business plan and verified that the platform would be scalable, well-architected and designed. At our first stage, they suggested a variety of features for getting a perfect visual image of each detail of a housing project so we believed that this choice would boost our platform in the market.
I was incredibly amazed by their organisation as their team was deliberate and thoughtful about time and activities. Each action was thoughtfully designed to get people to think outside the box.
I highly recommend using Exyte if you're looking to get quality software.
Kaylee Stevens
, Senior Manager Project Management at Kier Group
Posted on Jun 11, 2020
AR functionality development
Review Summary
We have had the best experience with Exyte. We hired them to add AR functionality for one of our public projects as its main requirement was technological advancement. The team completed the task within the timeframe and on a very high level. I highly recommend Exyte.
What is it about the company that you appreciate the most?
Technical expertise
AR Development Services for Tech Startup
Review Summary
I am a founder of a fitness platform aiming to provide individual training courses based on various human parameters and lifestyle factors. One of our goals was to add AR functionality to the app due to its high demand on the market so we'd be able to engage the audience and the investors as well.
My team and I looked for a reliable team of developers that can deliver AR development and eventually, we chose Exyte because of their vast experience in such services and their readiness to take this task ASAP. That was exactly what we needed.
While working together, communication and project management was really good, and my team was constantly informed about each step, process details, and the results. Now, we're at the last stage of the development process and we're already happy with the outcomes and the collaboration with Exyte altogether.
Alexander Masalov
, CEO at WINKAM
Posted on May 28, 2020
Backend Dev for Mobile Gaming Platform
Review Summary
We've collaborated on two projects with Exyte. Exyte produced great deliverables for both projects. The team was communicative and managed development efficiently. They showed great attention to detail and professionally documented materials.

Exyte provided backend development for a mobile gaming app to improve data collection capabilities and self-learning efforts. Initially, their team created the architecture for the backend of a mobile gaming app based in AWS. After each game, data was uploaded to the server, which could be a large amount. We met with the Exyte team to prepare the scope for transitioning to a cloud-based server. To migrate our data collection, the team used Hadoop and Java to create a backend based in AWS. They integrated the Android API and product library—which we'd developed using C++—with the new server.

During our next collaboration, Exyte supported our experimental iOS project. Their team ran tests concerning the sensors for iOS platforms. They developed the product with Swift and ran numerous experiments with sensors on the platform.
What is it about the company that you appreciate the most?
Effective communications, reliable, attention to details.
Victor Shilo
, Director Of Engineering at EastBanc Technologies
Posted on May 25, 2020
Great mobile development shop
Review Summary
Exyte is a team of smart, reliable and responsive professionals. We worked together on a mobile project, which was delivered on time and within the initial budget.
Evi M
, Co-Founder & CEO at at uMake
Posted on May 22, 2020
Exyte - Mobile Development
Review Summary
The team at Exyte is highly professional and communicative - which I find a must for any remote-based project. Yuri and his team are also part of the brainstorming phase, as they have their libraries and can help you to identify what can be done quickly or what will require more time.

Moreover, I find they're very startup-friendly - very open-minded, and will come up with solutions that you will be able to accommodate - either you're tight with budget or have enough to spend on a specific project.

I highly recommend Exyte team. We continued working together on other projects because of the success of our first collaboration, and we're happy with this decision.
Petrenko Vasily
, Co-Founder at at The Deep VR
Posted on May 25, 2020
Game Development for Location Based Virtual Reality
Review Summary
Exyte is developing a VR product. The product is being built on Unity and is utilizing HTC, MSI and Oculus products.
They've done all the software work for us. The Exyte team is developing the game as a separate, turnkey product that will be sold as a business solution. They're also creating the content for the game based on our ideas, scenarios, and descriptions we give them. They use Unity to develop the platform and are integrating all of our equipment into the system.
Because of Exyte's help, we presented our first demonstration at an industry conference and earned presales on the product after 5 months after starting working on this product. We were able to make sales on the work after three months, whereas it could take others up to two years. By now, after two years we have 30 partners all around the world and still working with Exyte on this product.
Brian Bauer
, Marketing Guy at Solipoints.com
Posted on May 19, 2020
Good, thoughtful developers
Review Summary
Soli needed an app developed. We needed the means to capture the transactional data at the point of sale.
Exyte was responsible for design and development of the UX/UI.

The mobile app shows the merchants, nearby or online, who are members of our program. It also shows users how many pounds of carbon they've reduced by using our program.

The user registers their credit or debit card with us, we automatically pick up the transactional information with any merchant in our global network. It's seamless for both the merchant and the consumer. It's developed only for iOS; we'll do Android at a later date.

Exyte came highly recommended. We interviewed several firms and went with them.
We worked together from February until November 2018.

The app took a lot of critical development and they did a fine job. The app was absolutely essential to us to conduct the beta tests of our model, which we did successfully last year. They were with us as we made tweaks and changes to the beta tests based on responses. We finally got it to a stage where it's ready to roll out. We're in the process of fundraising. When it gets launched, we'll take a look at starting the Android version.

Everybody says the app is cool. It's an essential tool for us to line up higher educational institutions to deploy our app to their staff and students and as a means for us to demonstrate to venture capitalists and angel investors that we have a viable product and can scale quickly. That supports our need for additional capital.

Exyte was extremely responsive. We were impressed if we asked a question, we didn't have to wait a day to get an answer. They interacted with our developer constantly. They were exceptionally easy to deal with. They were adamant about maintaining the Apple human interface guidelines; our app is perfect in that regard, which makes it easier to use. By adhering to those guidelines and doing it the correct way, we ended up with a better app. They have good attitudes and a good sense of humor, and their English is excellent. We had a great experience with Exyte.
What is it about the company that you appreciate the most?
Quality of code, responsiveness to inquiries, sense of humor.
What was it about the company that you didn't like which they should do better?
Within the arena we used them, hard to imagine better performance.
Reliable and skilled native mobile app developers.
Review Summary
Our organization has worked with Exyte for nearly four years, they have been an excellent partner for mobile application development (native iOS and Android) during that time. They work well across multiple time zones and have met all project deadlines. Their communication and responsiveness is excellent despite the 11 to 12 hour time difference between our organizations. Their work has always met our specifications and is always of high quality. Individual Exyte developers that I work with are professional and committed to helping our organization succeed. They are each highly skilled and able to provide challenging solutions.

I highly recommended Exyte for mobile application development services.
Mike Bysiek
, CEO and Founder at Ubik Group
Posted on Apr 01, 2020
Enterprise Tech Development
Review Summary
Exyte is a very easy to partner to work with, and they fulfill all their requirements. They hold themselves accountable, and they go above and beyond to ensure concurrent working schedules in spite of a time difference.
What is it about the company that you appreciate the most?
Very flexible, highly talented, and easy to work with.
Fantastic work and professional communication.
Review Summary
We discovered Exyte after researching SwiftUI and finding a very informative programming guide creating a unique UI experience. We immediately reached out and they've worked with us to successfully implement many core features in our mobile application for iOS devices. Their work is wonderful and they have excellent communication and problem solving skills. They were quite helpful and efficient in resolving my concerns. We intend and look forward to a continued relationship with their amazing team.
Grigory Markin
, Research Staff at University of Luebeck
Posted on Mar 30, 2020
I've been satisfied with their work, and the management is great. I haven't had to explain to everyone what needs to be done.
Review Summary
With four years of collaboration and ongoing work, Exyte's contributions are an important part of the product development. They deliver high-quality consultation based on their strong expertise in mobile app development. They communicate well and offer precise time estimates.
They are very fast, and the communication is also great. We have very good communication, they are always online, and the time that they plan for features is always exact. Time estimates are almost exactly what they say in the beginning. Also, Exyte finds and manages designers that deliver great results.
Paul
, founder at Let's Play Golf App
Posted on Mar 27, 2020
Real rockstars in cutting edge technologies
Review Summary
I've worked with Exyte for about 1 and a half year now and they have become one of my main preferred partners to work with. The team is a unique set of developers and technical managers that are very experienced in participating in existing teams and are able contribute almost immediately. If you are looking for stellar iOS or Android development, Exyte is a good choice, but also if you are looking to approach newer technologies such as Blockchain they got you covered as well.

Whenever someone asks me for iOS or Android development, Exyte is mentioned at least once :)

Keep up the good work!