Fayrix
Remote software teams & services for startups.
Visit website
Fayrix is a specialist software development company that has successfully set the seal on over 250 projects, within the course of the last 12 years. Having onboard a skilled team of engineers numbering over 1,500, the company is headquartered in Israel with 8 R&D centers located in Russia and Eastern Europe.
What can we offer you?
Remote software team building & management
Software services for startups & growing tech companies
Fixed price software project delivery
Machine learning, big data and AI consulting & development
The key values of Fayrix:
World-class engineers. We combine the unique experience of Israeli project managers with the sharpened tech skills of Russian & East-European developers.
An outstanding cost-quality ratio. With Fayrix, you could save up to 40% on software development costs.
Express team building. On average, we take only 2 weeks to build a fully-functional software team.
Transparency & quality assurance. Our own methodology, honed over 12 years, ensures that our customers only expect the highest standards of project execution.
What can we help you with?
Accelerate and improve your software development process
Optimize development costs
Attain access to extensive engineering resources for large-scale development
Locate professionals in a niche technology
Israel
Zarhin 13
,
Ra'anana
,
Hamerkaz
4673304
+97293740180
Focus Areas
Service Focus
20%
20%
20%
10%
10%
10%
10%
Mobile App Development
Web Development
Software Development
IT Services
Big Data & BI
Client Focus
Medium Business
Small Business
Large Business
Industry Focus
10%
10%
10%
10%
10%
10%
10%
10%
10%
10%
Business Services
Consumer Products
Healthcare & Medical
Fayrix Executive Interview
Katya Belyaeva
Sr. Partnership Manager
Visit Profile
Please introduce your company and give a brief about your role within the company?
Fayrix provides world-class software development and Big Data services. Fayrix's headquarters is located in HerzliyaPitu'akh, Israel with 10 R&D centers in Eastern Europe. This distributed geography allows us to employ the best talent from all over the world. Fayrix Big Data team unites highly-motivated and professional data scientist, who were awarded Kaggle Master and Grandmaster titles (only 108 people on the planet hold this title).
What was the idea behind starting this organization?
There is a huge shortage of IT talents in the world's most technologically advanced countries and there are countries, where the educational system is tailored to nurture great mathematical competences, crucial for IT jobs. So we started Fayrix with the idea to bridge this gap and make the top-quality custom software development services available worldwide and affordable for businesses of any sizes.
What are your company's business model–in house team or third party vendors/ outsourcing?
Fayrix started its IT business back in 2005, having accumulated one of the largest IT human resource capital in Eastern Europe. We employ over 1500 full-time software developers and data scientists. We have an extraordinary Big Data team. It unites highly-motivated and professional data scientist awarded Kaggle Master and Grandmaster titles (only 108 people on the planet hold this title).
How is your business model beneficial from a value-added perspective to the clients compared to other companies' models?
Because we are 100% online in terms of sales and marketing, Fayrix does not have high travel, representative or rental costs. This saves our budgets, making Fayrix the most innovative and digitally-advanced project and, what's more important, lets us offer the most competitive rates, preserving the highest level of services provided. At the same time, cooperating with Fayrix does not incur the same risks as working with a freelancer. All our processes are well-established, developers are properly-managed, motivated, comfortable with their colleagues and friends in the office every day.
What industries do you generally cater to? Are your customers repetitive? If yes, what ratio of clients has been repetitive to you?
Fayrix target industries include mass-market startups, public sector, healthcare, transportation, education, energy, telecom, finance, media, FMCG.
Mention the objectives or the parameters critical in determining the time frame of developing a mobile app.
The main parameters defining a mobile app development terms and duration are the app business purpose and its functionality. The more features the app is supposed to have, the longer the development process will take. The same about the supported platforms. The more client needs, the longer it may take. What is also important is a clearly defined project spec or functional requirements. In order to properly understand and determine the time frame of the development process, we provide our clients with a structured requirements collection template. It helps our clients describe all desired product features in standardized and easily understandable format. By the way, in order to make the most of the project budget, we typically recommend our clients to use the lean startup methodology. This means that the development goes step by step with quick testing the most important product hypotheses without heavy investments.

How much effort in terms of time goes into developing the front end and back end of a mobile app?
Each application is unique. Both the front-end and the back-end development duration depends on exact application requirement and planned features.
What are the key parameters to be considered before selecting the right platform for a mobile application?
The main parameter to consider before selecting the right mobile platform is the product target audience. If you know who you target, you will easily understand what platform to start with.
Which platform do you suggest your clients to begin with when they approach you with an idea (Android or iOS) and why?
The purpose of a mobile application defines the priority platform for development. If expeditious monetization is necessary, we recommend to begin with iOS. In case the broad coverage of audience is the main aim, we recommend to start with Android.
Android or iOS, Native or Hybrid — which platform is best to use to build your app? What are your recommendations?
We develop on various platforms. The best option is developing native apps, of course, for example, Swift/Objective-C for iOS and Java/Kotlin for Android. However, we sometimes develop hybrid apps in order to make it faster and cheaper. In this case, we can use React Native or some other hybrid technologies. Furthermore, we at Fayrix has a proprietary Mobile Service Platform (MSP), which is basically a constructor for quick mobile and web apps production.
What are the key factors that you consider before deciding the cost of a mobile application?
We consider a lot of various factors in estimating the project. They not only include the complexity of features to be developed, but also market potential, risks involved and others. We typically break the whole project down to separate features and estimate them, taking into account analytics, development, QA, project management and even DevOps involved.
What kind of payment structure do you follow to bill your clients?Is it Pay per Feature, Fixed Cost, Pay per Milestone (could be in phases, months, versions etc.)
All of these payment structures are acceptable for us. We offer different cooperation models to our clients such as Fixed-price projects, Time & Materials with per hour billing and Dedicated project teams with monthly FTE billing.

Do you take in projects which meet your basic budget requirement? If yes, what is the minimum requirement? If no, on what minimum budget you have worked for?
Yes. Our minimum budget requirement is $5000. We even work with startups with close to zero budget. If we feel that the project is very promising (we have a bunch of venture analysts over here), we are ready to support it with our technology resources at no charge for further revenue share relationships.
What is the price range (min and max) of the projects that you catered to in 2017?
Minimum was $12000 and the maximum was $250000.
Which business model do you suggest to your clients enabling them to generate revenue from mobile applications? Why?
It fully depends on the project. If the project implies maximum audience coverage, the advertising model is acceptable. E-commerce apps, such as an online retail store, should be free, of course. They generate money selling goods, not apps. For niche utility products we would recommend a premium model. In other cases, freemium is the optimal choice.
Fayrix Clients & Portfolios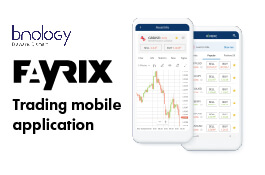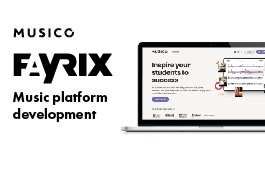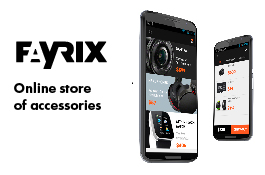 Fayrix Reviews
All Services
Software Development
Mobile App Development
Relevance
Most Recent
Rating: high to low
Rating: low to high
Write a Review
Goods insurance startup FTE team
Review Summary
Fayrix developed for us on-demand property insurance service. Our main goal was to create a unique aggregator of insurance companies that allows to protect everyday goods. At the first stage of cooperation Fayrix team has implemented market research and product concept development. At the second stage they has developed MVP application for iOS and Android OS and website on Tilda CMS with payment system integration. Our cooperation with Fayrix lasted 9 months. We are very satisfied with the work done and cooperation in general.
Philipp Keleinov
, Development Manager at at Sberbank
Posted on Nov 05, 2020
They are very flexible and were ready to assist even after hours.
Review Summary
We hired Fayrix for mobile app development from scratch.
We wanted to popularize tourism and attract a younger
audience to the service.
The team worked on both design and engineering
components under a strict timeline.
They designed and developed iOS and Android app using
an API to our backend system. This provided access to our
information and data about historical sights, routs and
audio guides. Their team adjusts functionalities as needed
and manages monthly updates. They are very flexible and were ready to assist even after
hours. What impressed me the most was the level of
professionalism they've shared during the prototyping
phase.
What was the project name that you have worked with Fayrix?
Staff augmentation for tourist app development
What is it about the company that you appreciate the most?
They are very flexible and were ready to assist even after hours. What impressed me the most was the level of professionalism they've shared during the prototyping phase.
Julia Alekminskaya
, Product Manager, Lead Analyst at Robolitica
Posted on Oct 07, 2019
Excellent mobile app development
Review Summary
Fayrix has developed for us an iOS mobile application. It is a personal style app that allows fashionistas to take photos of their looks and upload them to a common users' feed. After that, each user can evaluate the image thereby helping with the choice.
The whole development process took 6 months. Cooperation with Fayrix team was very positive and professional.
Viktorina Lintsova
, Co-Founder & COO at SkyGuru
Posted on Jun 11, 2018
Exceptional app developers
Review Summary
Fayrix helped us build an app that analyzes professional aviation data and then presents precise flight information using mobile device sensors in a way that is clear for a regular user. We feared it would quite a challenge to implement that. However, Fayrix proved that they're ready for even more. They managed to complete the project in a very short time for this kind of app. They were always open for discussion and ready to make any adjustments to the system.
What is it about the company that you appreciate the most?
They are able to develop even the most complicated apps from scratch.
What was it about the company that you didn't like which they should do better?
The app had a few usability issues initially, which were then resolved during further development.
Excellent service
Review Summary
I had really outstanding experience with Fayrix. They are fast and thorough. I requested quite many changes and they were absolutely fine with them, implementing quickly. We had excellent communication. They created little how-to videos on complicated functionality, explaining sprint changelogs. I definitely recommend Fayrix to those who need professional software development services and a trusted partner.
Tania Novikova
, Marketing Manager at Pocket Doctor
Posted on Mar 30, 2018
Great communications
Review Summary
We develop a mobile eHealth Platform. Fayrix developed mobile application for clients, web interface for doctors and clinics and API for partners. The apps allow to chat with pre-vetted partner doctors online or appoint an offline visit. My experience with Fayrix definitely was positive. Overall the project goes quite smooth and I am quite satisfied with Fayrix service. They develop fast and we have great commnication expertice with their Account Manager.
Dmitry Ryzhkov
, Chief Marketing Officer
Posted on Mar 29, 2018
Reliable partner for big projects
Review Summary
Fayrix was a very reliable partner for us. They developed for us a smart city platform including a multi platform mobile app. There was a big scope of work and they showed very well balanced approach in terms of speed, quality, dedication and price which was very important for our startup project.

Another great thing about these guys is transparency which is not common for companies of that size. This was extremely important for us to trust our outsourcer.
What is it about the company that you appreciate the most?
Dedication and transparency.
Leticia Smith
, Digital Project Manager at CASTRO
Posted on Mar 16, 2018
Great communications
Review Summary
I had a need to develop a mobile app qucikly, but at the same time observing quality, as the MAU for the app was planned at around 50k users. The key to success in the project was Fayrix's excellent communication and project management skills. We had daily Skype meetings with Fayrix team and weekly project progress reports. Fayrix proved to be a reliable long-term partner. I highly recommend Fayrix as a reliable and responsible partner.
What is it about the company that you appreciate the most?
Excellent project management
What was it about the company that you didn't like which they should do better?
Planning