IdeaSoft — converting ideas into profitable businesses.
IdeaSoft – a Custom Software Development Company, has been a leading blockchain service provider since 2016. Our 250+ full-stack developers will help your business or startup create and succeed with the newest and most stable technologies in niches, Web 3.0 and Web 2.0.
Turn your idea into reality with a professional development team. Let's create something great together!
Ukraine
Naukova 7d
,
Lviv
,
Lviv
71033
1 646-980-4261
United States
205 East 42nd Street, 14th Floor
,
NYC
,
New York
10017
1 646-980-4261
UAE
Marina Plaza, Dubai Marina
,
Dubai
,
Dubai
34GQ+2WC
+971 52 316 4027
Canada
75 Rue Queen
,
Montreal
,
Quebec
H3C 2N6
+14168887255
Focus Areas
Service Focus
Software Development
Mobile App Development
Blockchain Technology
App Designing (UI/UX)
Web Designing (UI/UX)
Client Focus
Small Business
Medium Business
IdeaSoft.io Executive Interview
Visit Profile
Please introduce your company and give a brief about your role within the organization.
IdeaSoft is a custom software development company that offers innovative software solutions of any complexity. The company was established in 2016, with a development center in Ukraine, and currently we do have representatives in more than 12 countries including the USA, Norway, Israel, Germany, and others. Over the years, we have managed to work with both startups and enterprises from the USA, Canada, UK, Israel, Germany, Australia, Argentina, and others. We started out as a small product company and gradually developed into a service business. This experience helps us in developing products for our clients because we were in their place and know exactly how to launch a project successfully and meet all market requirements. I'm one of the founders of the company, so from the very beginning, I was involved in its venture. It's very exciting to see how the company grows, starting with a team of 15 people, today we have passed the 100+ mark.
What is the story behind starting this company?
As I already mentioned, IdeaSoft was created as a small startup. Soon we received a request to create a remote development center from an Israeli startup, that's where our transition to the sernice model began. We spent a long time choosing a name for the company that would correspond to our internal concepts of what we are going to do and ended up with IdeaSoft. I believe that every good product has a great idea behind it, especially when it comes to innovation. We help our clients turn their ideas into supreme solutions that are making the global impact.
What are your company's business model–in house team or third party vendors/ outsourcing?
We have an in-house development team. To my opinion such model allows the best control over the quality of the delivered services, especially when it comes to outsourcing. We are constantly working to improve internal expertise, hold meetups, and invest in the professional development of our specialists. We share one corporate culture and common values, which means we are moving in the same direction of development and provide our customers with quality services backed by our reputation.
How does your company differentiate itself from the competition?
Our clients note the professionalism of the team and clear, but flexible business processes as one of the criteria why they chose us. We are using latest SDLC tools to handle all the teams and deliverables. Probably, this is what makes us different from our competitors. We try to pay maximum attention to each project and are interested in the result. Therefore, our clients recommend us to their partners and we get new clients. You just need to do your job well and then you will not be afraid of any competition.
What industries do you generally cater to? Are your customers repetitive? If yes, what ratio of clients has been repetitive to you?
Over the past 4 years, we have successfully implemented over 200 projects in various industries such as Fintech, 5G & MEC, B2B, B2G, Smart City, DLT and Blockchain, logistics. We love challenges and are not afraid to work on something new. Of course, some clients come back to us with new projects. For example, we recently started a third project for our client and we are happy to work with him again, and with some clients we are still working since the establishment of the company.
Please share some of the services that you offer for which clients approach you the most for?
IdeaSoft provides full-cycle software development services, from business analysis, architecture, prototyping to development, testing, deployment, and support. We have great in-house design team that helps with the creation of corporate identity, UI/UX of the product. It's convenient when you can contact one company and receive the full range of services related to the development of a software product, I believe. Therefore, we provide such services to our clients.
What is your customer satisfaction rate according to you? What steps do you take to cater to your customer's needs and requirements?
We conduct customer surveys after release, so we know how satisfied they are with the work and this rate is quite high. We always start a project with an analysis, clarification of the client's requirements and business needs, we offer several implementation options to decide together which technological stack is best for the project. Each project has a dedicated project manager who can quickly resolve issues, make changes to the work plan, and help in choosing new features. The IdeaSoft team is committed to delivering results that satisfy the client.
What kind of support system do you offer to your clients for catering to their queries and issues?
The project manager is always in touch with the client and can quickly respond to a new request. Then the PM evaluates the issue and looks for a solution using internal resources. We don't have bureaucracy in our company, so all issues are resolved quickly, the client doesn't have to wait for a response from the company for a long time.
What kind of payment structure do you follow to bill your clients? Is it Pay per Feature, Fixed Cost, Pay per Milestone (could be in phases, months, versions etc.)
20% Fixed Cost, 80% Time & Material, pay per working hours, or monthly retainer fee.
Do you take in projects which meet your basic budget requirement? If yes, what is the minimum requirement? If no, on what minimum budget you have worked for?
Our team loves new challenges. We've worked with many cool small startups that have a lot of growth potential. Therefore, the budget is not the only criterion for choosing a project for work. If a client has a big idea and is ready to work on its implementation, we're in!
What is the price range (min and max) of the projects that you catered to in 2019?
I can't give exact numbers, this is contrary to the terms of our company, but I can say that we have competitive prices on the market. We are interested in working on cool ideas, applying the latest technologies, and seeing satisfied customers.
Where do you see your company in the next 10 years?
IdeaSoft is rapidly evolving and growing. In 10 years the company will grow multiple times, will open more onshore offices around the world. The only thing that will remain unchanged is the high quality of our services and the family atmosphere within the company. We will work to achieve outstanding new results.
IdeaSoft.io Clients & Portfolios
Key Clients
Orderly
HSBC
BCM
RuskMedia
Securitized
Bitfrost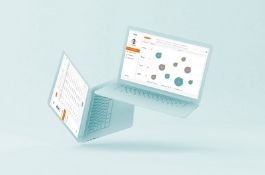 IdeaSoft.io Reviews
All Services
Software Development
Blockchain Technology
Other Services
Relevance
Most Recent
Rating: high to low
Rating: low to high
Write a Review
IT Outstaffing of High Quality
Review Summary
It's amazing when people from another company fit so well into your development process. IdeaSoft provided us with engineers to expand the development team for creating a new analytical module for our platform. During the cooperation, IdeaSoft specialists have shown themselves to be flexible and highly qualified. We are satisfied with the cooperation and recommend the company.
Fast start and high quality of services.
Review Summary
We are working with IdeaSoft to create a mobile payment application that supports peer-to-peer payments. What I really like about this company is how quickly they can start a new project and provide high-quality services at the same time. My partner recommended this company to me and I would gladly recommend it as well. IdeaSoft has experienced professionals who are a pleasure to work with.

I love that they really care about what they do. They don't just follow our requirements but offer their ideas to get an excellent result.

What is it about the company that you appreciate the most?
I love that they really care about what they do. They don't just follow our requirements but offer their ideas to get an excellent result.

Bohdan Okhrimchuk
, Account Executive at at Precoro
Posted on Apr 22, 2021
Reliable partner for DeFi projects
Review Summary
It's a pleasure to work with experienced developers in well-organized business processes. IdeaSoft knows how to get the most out of the project idea. We received a high-quality, secure product that our users are satisfied with. The project was delivered within the deadlines and budget. We will continue to work with IdeaSoft on the following projects. They are real professionals. We always knew at what stage of development we were and in what direction the project was moving.



Maksim Zelenskiy
, Co-founder and Director at at MOBOUT LLC
Posted on Oct 01, 2020
Real professionals in their field
Review Summary
We worked with IdeaSoft to create a CRM system for my logistics company. The development team carefully studied the features of our internal processes and requirements and implemented them in the best possible way. The whole development process was easy, I received regular updates on the work. I have also heard a lot about other successful projects of the company, so I can confidently recommend it. If you are looking for a reliable business partner to help you with the digital transformation of your business, as they say now, IdeaSoft is the best option.
Excellent service!
Review Summary
We Just started our 3rd project with IdeaSoft, Great team and skillset. Efficient, responsive , fairly priced and always a pleasure to work with


What is it about the company that you appreciate the most?
Honest and professional
Great team work for clients results
Review Summary
Great development team! IdeaSoft quickly respond to requests and offer advanced solutions. It's nice to work with such a team of professionals!
What is it about the company that you appreciate the most?
The team submits all tasks on time, clear process of work and communication.
Resources