IntexSoft
Web, Mobile & Enterprise software development
Visit website
IntexSoft delivers end-to-end software development services for businesses and IT companies since 2001. With 20 years of experience, we found a way of covering all your software needs as smoothly as possible.
Our approach to cooperation with clients is based on the concept of painless software development. We focus on the high quality of the product while making the process of development advantageous and agreeable for all parties involved.
Poland
aleja Aleksandra Brücknera 25-43
,
Wroclaw
,
Lower Silesia
51-411
+48717353305
Focus Areas
Service Focus
20%
20%
15%
10%
10%
10%
5%
5%
5%
Software Development
E-commerce Development
Web Development
Mobile App Development
Testing Services
Client Focus
Medium Business
Large Business
Small Business
IntexSoft Clients & Portfolios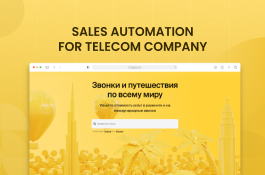 IntexSoft Reviews
All Services
Software Development
Mobile App Development
Relevance
Most Recent
Rating: high to low
Rating: low to high
Write a Review
Aleksei Galesnik
, Leading Sales and Marketing at Rubyroid Labs
Posted on Apr 23, 2022
They have an extensive level of knowledge and are always ready to advise us on any issues.
Review Summary
Our company is working on an enterprise web service for a US company. Over time the project started running bigger with the technologies we do not use, so we decided to augment our team by involving third-party specialists. We hired IntexSoft specialists to extend our dev team.

From the IntexSoft side, we hired 3 backend developers, 2 frontend developers, and a QA specialist.
What was the project name that you have worked with IntexSoft?
It's under NDA at this moment
What is it about the company that you appreciate the most?
They are working hard to organize all process smoothly to be on time
Good skills of a PM to organize the whole team with ours
They are always open to discuss the growth of the team with good talents
What was it about the company that you didn't like which they should do better?
The team formed a little longer than we expected, as the specialists were busy on another project.
Eugen Shashkou
, Co-Founder, CEO, Software Architect at Primelephants
Posted on Dec 20, 2021
IntexSoft provides software development for a software solutions provider from Germany.
Review Summary
IntexSoft is our permanent software development partner. We have already hired them before to build several Fintech-related web and mobile apps. The last time we hired them to build our own product. Our goal was to develop a user-friendly mobile application for the contactless exchange of business cards.

We developed several great apps and continue to design new features for some of them. Our management and customers are always pleased with the quality of the work and usually, we receive really positive feedback.
What was the project name that you have worked with IntexSoft?
Custom Software Dev for Software Solutions Provider
Describe your project in brief
Our product - VisitK is a mobile application for business. It works as an electronic business card and is intended for those who often go on work trips, attend meetings and conferences. The key features of the app include: creating an electronic business card with just one click, exchange of contact information by scanning a QR code, prompt update of contact info, and the ability to share electronic business cards between users. The IntexSoft team operated using Scrum methodology with two-week sprints. IntexSoft provided me with access to our Jira task management system. So I was able to directly contact the developers and independently set tasks for them, streamlining the production process.
What is it about the company that you appreciate the most?
Among all the positive moments, we were especially impressed by the professionalism, responsibility and flexibility of specialists.
IntexSoft project managers are great specialists. They are always in touch, ready to solve any issue.
What was it about the company that you didn't like which they should do better?
Everything was perfect. If there were any issues, we identified, discussed, and quickly resolved them.