Over 29 years in the software engineering business we've delivered 3'500+ software solutions for clients worldwide. According to IAOP, GSA, EBA, NIX is the recurring leader of TOP-100 global software development companies. With 3'000+ experts onboard, we deliver innovative technology solutions ranging from robust applications, powerful data analytics software, enhanced BI platforms, data engineering systems to holistic enterprise solutions.
We help enterprise-level businesses line up mature software development processes and build scalable software with rock-solid security standards to gain technology advantages on the market and take over the industry leadership.
KEY FACTS & FIGURES
> since 1994 in software engineering
> 3'500+ software products released
> 3'000 in-house engineers on-board
> serving Fortune-500 companies
> TOP-100 outsourcing companies (IAOP)


Certification & Partnerships:
> AWS Partner Advanced Tier Services
> Microsoft Gold Partner
> Google Cloud Partner
> Salesforce Partner
> ServiceNow Partner
> Optimizely Bronze Partner
United States
360 Central Avenue
,
Saint Petersburg
,
Florida
33701
+1 727 900 80 20
Focus Areas
Service Focus
10%
10%
10%
10%
10%
10%
10%
10%
10%
10%
Mobile App Development
Web Development
Software Development
E-commerce Development
IT Services
Client Focus
Large Business
Medium Business
Small Business
NIX Executive Interview
Anna Vorobiova
VP Sales & Business Development
Visit Profile
Kindly share your feedback on how GoodFirms has been doing so far in increasing your visibility among potential clients.
GoodFirms is a great review platform where customers can choose an excellent provider of development services. For NIX, our company's presence on the platform provides us certain benefits and the opportunity to show potential customers our expertise.
Please introduce your company and give a brief about your role within the company?
NIX is all about up-to-date software engineering. The holistic development process includes all stages required to create a market-ready product: business analysis, UI/UX, programming, project management, QA, and 24x7 support. Web, apps, SaaS & PaaS, low-level integrations, and big data solutions, blockchain, and AI – we create and develop everything. We aim to work with innovative and transforming companies who strive to be on the edge of tech. And we're happy to have both Fortune 100 corporations and unicorn startups in our portfolio.

My role in NIX is driving sales, marketing, and business development. Starting from business analysis, I advanced myself through project management, account and sales management. I have started to help build NIX sales strategy and research and innovation center based on a deep understanding of most recent tech and management approaches.
What was the idea behind starting this organization?
We love technology and working together, and we believe that technology and very close 'friends-and-family' like collaboration principles will change the world into a better place. We love helping our clients with digital transformation, and we celebrate their success as our own. Having fun about what we do is the idea of starting and developing NIX.
What is your company's business model–in house team or third party vendors/ outsourcing?
In-house team. We've built a big R&D center in Kharkiv, Ukraine, with about 2000 software engineers on board. We developed close relations with IT and STEM educational institutions in the area, which allows us to attract bright talents to NIX. We elaborated a comprehensive and thorough management approach, following modern agile methodologies and most recent 'peopleware' concepts. So we're able to assemble a project team of any reasonable size in a fast and efficient manner and show our high performance to any client world-wide.
How is your business model beneficial from a value addition perspective to the clients compared to other companies' models?
We do not just staff people to a project; we concentrate on our client's business needs and help them to find optimal software solutions utilizing not only modern tech developments but also deep knowledge in UX. We aim for our client success in the long term, not just project completion. And successful businesses will always need more and more of our help, as tech development goes faster and faster, and their users or clients will demand more and more of modern interfaces, new features, and better UX.
What industries do you generally cater to? Are your customers repetitive?
We at NIX are proud most of our clients stay with us for years, giving us more projects and extending ones we've done with new development requests. As for industries – we cover quite a lot: healthcare & life sciences, education, e-commerce & retail, business automation solutions, collaboration & communication platforms, fintech and much more.
Mention the objectives or the parameters critical in determining the time frame of developing software.
The first priority is getting an integral and complete understanding of the MVP. What is the unique value proposition of the future product? What are the key features? Are they really 'key,' or something that may be added later? Does the initial scope contain all that the first user may need for the beginning? Shaping out the scope and concentrating on the necessity and sufficiency of the MVP and the first version is the true challenge.
The second priority is to find out all the integrations to be done. What are any other software services, apps, and tools we need to work with? Is it something public we already know, or shall we learn it and find the way to integrate with during the development process? Each new integration adds efforts to be made.
The third priority is the tech itself, what development languages and frameworks will be used for this project. Are we OK proposing what we see as optimal here? Do we need to follow any predefined tech list?
And the fourth: what we dub the non-functional requirements: compatibility, performance, and security mostly.
How much effort in terms of time goes into developing the front end and back end of software?
It always depends on the product itself – sometimes the front-end takes 10% and less, because of complex logic and a lot of integrations on the backend; sometimes vice versa, a rich user interface will 'eat' most of the efforts which the backend is a simple database with an API on top.
What are the key parameters to be considered before selecting the right framework for developing software?
The client's existing tech ecosystem (we need to provide supportability, no sense to propose Java if they already base on MS.NET) and non-functional requirements. Knowing these two things, we would propose what is optimal in terms of budget and duration.
Which languages & frameworks do you prefer to use in the development of software?
It depends on the project itself. We cover the whole set of modern development platforms, from MS.NET and Java through PHP and Python to recent JavaScript frameworks, Go and Flutter. And we prefer the one which better fits this exact project case ☺
What are the key factors that you consider before deciding the cost of software?
Efforts estimate, risks assessment, and resource availability.
What kind of payment structure do you follow to bill your clients? Is it Pay per Feature, Fixed Cost, Pay per Milestone (could be in phases, months, versions etc.)
We prefer the 'time-and-material' schema with payments done monthly based on the efforts spent in the report. It's the best approach to deliver the result fast following Agile development methodologies. And in the modern world' time to market' is the main driver for new software development.
Do you take in projects which meet your basic budget requirement? If yes, what is the minimum requirement? If no, on what minimum budget you have worked for?
We have no minimum budget requirement and can do something relatively small even for free, to showcase our capabilities and performance. This is our way of building trust with new clients. It takes some time to learn each other and build trust, you know ☺

And then we decide to take the new project or not based not on the budget, but on client's needs and project perspectives. Sometimes we can even advise not to start such a project at all or to go with some solution you can find on the market, which will address the need you have (and we help to configure it in the right way).
What is the price range (min and max) of the projects that you catered to in 2019?
Min = less than $1000, max = 10+ millions of $$.
NIX Clients & Portfolios
Key Clients
Cengage
Thomson Reuters
Alienware
Cornerstone
ARTiFACTS
PRO Unlimited
Agora
Carsoup
SmartGurlz
CyberU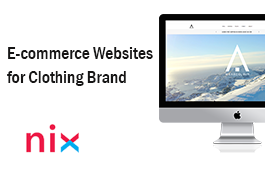 NIX Reviews
All Services
Software Development
Mobile App Development
Relevance
Most Recent
Rating: high to low
Rating: low to high
Write a Review
Mark DeJarnatt
, Chief Technology Officer at Sparkle Stories LLC
Posted on Apr 14, 2020
Dependable, Trustworthy, Excellence
Review Summary
I have used NIX for 3 different companies over the past 3 years that I have been CTO of. Projects have spanned a wide variety of technology stacks. Nix has come through each time with the right project manager, quality assurance, business analyst, devops, and developers. They understand the technology and the project development processes to get it done. They quickly and professionally get up to speed with our current processes and seamlessly merge with any professional environment.
I highly recommend NIX for your next critical product development. It's in good, caring hands.

We love NIX!
Review Summary
Our team cast a wide net and was highly selective when we decided to search for a software development partner, and NIX has exceeded our expectations since we chose to work with them. If you are looking for a team that performs world class development for well below the average U.S. cost, NIX is a perfect partner. They also adapt their schedules to accommodate our time zone and, critically, are wonderful communicators if your first language is English. We're excited to continue working with the NIX team!
What is it about the company that you appreciate the most?
NIX are great communicators for native English speakers, they work well with our timezone, they are highly organized, and most importantly they build beautiful software.
Christian Rohner
, Project Manager at Information Products AG
Posted on Apr 14, 2020
satisfied customer for many years
Review Summary
Our company worked more then 5 years in total with NIX. Communication was always very clear and direct. Being a remote company, wasting time in communication is horrible, luckily with NIX we experienced any delay or missunderstanding.

Quality of delivered work is outstanding, all task prior to delivery where tested in detail and bugs or mistakes were virtually non-existent.

We worked with NIX in the field of software, front and backend development and server maintenance and wouldn't hesitate to choose NIX over every other competitor in the field.
Buzz Sharifi
, Account Manager at TransGrade, CRM
Posted on Apr 08, 2020
NIX is as good as you can get!
Review Summary
We've been working with NIX for over a year now and have nothing but good things to say about them and their talented pool of developers, staff members, and executives. They are extremely detailed, professional, attentive, and deliver top quality work within the time estimates that they provide. What else can you ask for. I highly recommend NIX for all tech related projects.
What is it about the company that you appreciate the most?
Their professional and courteous staff is a pleasure to work with, and their communication is always top notch and on point. Constant communication is the key to a successful project.
What was it about the company that you didn't like which they should do better?
I don't you can improve perfection. They are already there.
Great quick website
Review Summary
The team was fast, responsive, and took the time to walk through every step.
What is it about the company that you appreciate the most?
The engineers are helpful and responsive.
Jeremy
, Consultant at DemandSide
Posted on Apr 06, 2020
12 years, still my go-to partner for web dev
Review Summary
I first hired NIX around 2008 to re-build a website that was built (poorly) by another agency. NIX solved that problem and has helped me build and launch multiple products since then. Roman and his CMS team are my go-to partners for web dev.