Reenbit is a сlient-focused software development company based in Eastern Europe. We stand out from the crowd because we're a solution partner ready to take customer challenges head on. We propose profound technical expertise and can work within any models that fit our client's needs, offering a dedicated team approach or staff augmentation.
Our core specialities are software development and cloud consulting. Additionally, we offer digital transformation and discovery services.
Our expertise
Business analysis and discovery

POC, MVP, Prototype improvement

Web development

Full-stack development

SaaS development
Cloud development and consulting

DevOps maintenance and support

Data engineering

Database consulting
We are experts in the following technologies and tools:
.NET: .NET Framework, .NET CORE, .NET 5/6, ASP.NET/CORE/MVC/Web Forms, Razor, Blazor, Entity Framework/Core, Web API, Roslyn.
Azure: App Services, Function Apps, Logic Apps, Virtual Networks, Application gateways, Storage Accounts, Notification Hub, SignalR, Azure SQL, SQL Elastic pools, Data Factory, Event Hub, API Management, Service Bus, Azure Active Directory, Key Vault, Application Insights, Azure Cosmos DB, ARM Templates.
Database: MS SQL, MySQL, PostgreSQL, Maria DB, Mongo DB, Cosmos DB, Azure Table Storage, Redis DB, Azure Data Factory.
Data Engineering: Power BI, Azure Data Factory, Azure Data Lake.
CI/CD: Azure DevOps, Docker, Kubernetes, Github Actions, Jenkins.
Cross-platform mobile development: React Native, Ionic.
WEB: Angular, React, Node.js.
Reenbit. Superior technical solution delivery to businesses on the verge of transformation.
Ukraine
Boikivska Street, 5e
,
Lviv
,
Lviv
79000
+380676790275
Poland
Hoza street 86, 410
,
Warsaw
,
Warsaw
00-682
+48222087284
Focus Areas
Service Focus
27%
15%
10%
10%
5%
5%
5%
5%
5%
5%
5%
2%
1%
Software Development
Web Development
Cloud Computing Services
DevOps
Mobile App Development
Client Focus
Small Business
Large Business
Medium Business
Reenbit Executive Interview
Visit Profile
Kindly share your feedback on how GoodFirms has been doing so far in increasing your visibility among potential clients.
Until the beginning of 2022, we hadn't been using many marketing tools for lead generation or brand awareness, to be honest. We've understood that this formed kind of a gap for our marketing and sales departments. We launched GoodFirms around March of 2022, and this effort has made a difference both in our website traffic and lead income. GoodFirms is a superb platform to showcase our expertise, get client reviews, and generally become a leading player in the IT market.
Please introduce your company and give a brief about your role within the organization.
My name is Igor, I'm the co-founder and CEO of the company Reenbit. My main focus right now is the development of a successful IT organization. Within my everyday activities, I handle an entire cycle of business operations and guide customer experience advancement. I'm keen on building intelligent processes and systems while leaving a place for imagination and creativity within teams I manage directly.
What is the story behind starting this company?
Reenbit was founded by my friends and me back in 2018. We were united by profound technical expertise and an unfortunate background of facing insufficient work models.

So we decided to run a business that we would be able to feel proud of and empower our mastery to the fullest. The core vision was to create a company with a flat organizational structure, where decisions are made in a democratic way, omitting any boogiemen of micromanagement. We aimed to build a company where people have opportunities to bring value and are recognized and appreciated by others. And we succeeded. Our very first client launched quickly after the foundation, and we started a sparkling ongoing partnership. Since then, Reenbit has prosperously launched 34 clients. As a result, we have 57 delivered projects and 12 ongoings.
What are your company's business model–in house team or third party vendors/ outsourcing?
We don't really care too much about the models but predominantly care about our customers. What does it take to build a truly outstanding product? Not only technical expertise but a deep understanding of business targets. That's why we implement a business-oriented approach for each of our customers. We try to deliver superior tech expertise in achieving the customer's business goals. In each action we take, we ask – will our deeds bring us closer to the client's success? This way, we are not blind executors but instead become trustful partners for companies. And this partnership means that we are ready to work within any model that suits our client's needs the best. A dedicated team approach, staff augmentation, strategic technical partnership – whatever fits our customer – also works for us.
How does your company differentiate itself from the competition?
First of all – our profound tech expertise in software development and cloud engineering. We don't only have genuine experts on our team, but also we're not afraid of complex tasks and challenges. To be honest, working with complicated projects is our passion. Secondly, we can handle and set up the SDLC from idea validation to maintenance and customer support, making us a perfect partner for customers looking either for full-cycle development or a single technical session. And last but not least is our soft skills side. We are accustomed to direct communication and fast decision-making. Mixing European values and agile-based approaches, we ensure that the work process is enjoyable for each party in the engineering process.
What industries do you generally cater to? Are your customers repetitive? If yes, what ratio of clients has been repetitive to you?
We try not to cater to specific industries but focus more on projects within our technical stack since it's our main rational advantage in the market. Still, we see within the statistics that projects from healthcare, IT, and entertainment domains are in the majority of our leading clients. Regarding repetitive clients, our Sales department focuses on delivering the highest customer satisfaction, which inevitably leads to repeatedly working with the same people. Recently we've even launched a referral program for customers as well.
Please share some of the services that you offer for which clients approach you the most for?
As I've already mentioned, our primary specialization lies within everything related to software development and cloud engineering. We work a lot with web, SaaS, and full-stack development. Cloud services are also quite popular, including consulting, cloud-native and hybrid development, migration, integration, modernization, and re-engineering. Considering current safety regulations, we also offer cloud security consulting. We find that POC, MVP, and prototype improvement services are favored within startups. In addition, at the beginning of 2022, we introduced a new service – discovery. We thought our new clients would be primarily interested in it, but it appeals to our long-term clients as well.
What is your customer satisfaction rate according to you? What steps do you take to cater to your customer's needs and requirements?
As 90% of all our projects turned into long-term cooperation, I assume we are doing our job great. For us, there is no kind of limit on customer satisfaction, as we are always willing to do more and to do better than yesterday. We don't sell engineers to our customers, we provide solutions for them. In order to succeed, we need to hear our customers first. That's why it's essential to pay attention to details, be transparent, and ask tons of questions to be on the same page with a customer from the beginning.
During the development and day-to-day communication, we want to build trustful relations with our customers and become real partners.

But what is crucial is not to blindly do whatever customers want, but to explain each step and decision and show all pros and cons of that step by using our prior experience as a technology partner.
What kind of support system do you offer to your clients for catering to their queries and issues?
Support is always a vital part of cooperation. Based on years of our experience, we believe that communication and response time are the main сomponents of efficient support from us. That's why we've built a solid management and communication model of support to be in touch with customers and shorten response time as much as possible.
What kind of payment structure do you follow to bill your clients? Is it Pay per Feature, Fixed Cost, Pay per Milestone (could be in phases, months, versions etc.)
In that area, we are flexible because we are confident in the service we are providing. With each new customer, the main goal is to build trust between us. That's why we are open and flexible at the beginning to find the best option for both.
Do you take in projects which meet your basic budget requirement? If yes, what is the minimum requirement? If no, on what minimum budget you have worked for?
There are many examples of successful startups starting from nothing and accomplishing so much nowadays. That's why we never put any kind of border. We are always open to any type of contact and opportunities. We are always willing to build something unique and be a part of it. Plus, the experience of cooperating with startups is precious. We evolve a comprehensive approach in such cases because each step is important. To make that step, we need to investigate the business and discover company goals as profoundly as possible.
What is the price range (min and max) of the projects that you catered to in 2021?
The minimum range was 8k and the maximum was 500k.
Where do you see your company in the next 10 years?
We don't have aggressive plans, but still, we want to grow. Here I'm talking more about quality than quantity. We'd love to welcome new long-term projects, recruit new team members that share our company values, and build an organization that would not only be profitable but also become a pleasant, fair, and popular workplace. In the near future, I see the foundation of design, Node.js, and QA departments and the expansion of our CSR activities.
Reenbit Clients & Portfolios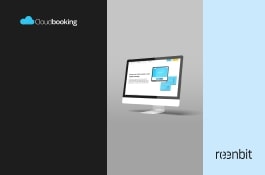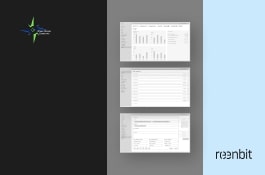 Reenbit Reviews
All Services
Software Development
Relevance
Most Recent
Rating: high to low
Rating: low to high
Write a Review
Sean Langton
, Managing Director, at Dataloop
Posted on Apr 29, 2022
Custom Software Development for Data Analytics Company
Review Summary
Dataloop hired Reenbit to develop a custom .NET software that links to different customer's data sources. The team also created digital forms where data could be manually captured by the system. By successfully developing complicated software, Reenbit has positively transformed the way the client carries out their services. The team has managed the entirety of the project well, setting clear expectations and meeting them at every turn. They're comprehensive, communicative, and punctual.
What is it about the company that you appreciate the most?
The quality of their work is really impressive. Apart from being recommended by a company that we knew, what drew us to Reenbit in the first place was our confidence in their ability to develop a relatively complicated application.
They're able to break down complex tasks into manageable chunks and implement those effectively.
What was it about the company that you didn't like which they should do better?
No, there's nothing I can think of. They perform as expected on all aspects of the project.
Michael Fröhlich
, IT Manager at Brands Of Scandinavia
Posted on Apr 26, 2022
ERP Integration for Fashion Supplier
Review Summary
Reenbit was developing an integration setup that handled data flow between systems. They used C#, Cosmos, Datafatorty, Azure Functions, and more for the project. Reenbit's work has streamlined processes, resulting in 50%–70% savings in time. Their use of agile methodologies has ensured a communicative and collaborative process. Their high level of expertise, proactivity, and availability is impressive.
What is it about the company that you appreciate the most?
We have received proactive sparring. We had direct access to the whole teams. High skilled developers. They are very good at communication.
What was it about the company that you didn't like which they should do better?
Nothing
Michael Kogus
, Owner & President, at Software Service Provider
Posted on Apr 18, 2022
Custom Software development for Software Service Provider
Review Summary
A software service provider hired Reenbit to update their technology using the latest tools and processes. The team added new functionalities on top of modernizing the software's interface. Reenbit has successfully created a demonstrable prototype within a tight timeframe. The team is solidly self-managed and able to regularly interface with the client for progress updates. Further, their processes and communication practices are well-aligned with the project goals.
What is it about the company that you appreciate the most?
I would say the most impressive thing about them is their project management. It's not really just the person, but their process as a whole.
With Reenbit, however, we have daily meetings to review what is happening. We have lots of back and forth to make sure that they truly understand what it is that we're trying to achieve instead of having them do guesswork.
There are lots of really good developers out there who are fantastic, but it really helps a lot if there is someone managing them properly.
What was it about the company that you didn't like which they should do better?
If they could move to the United States, that would be fantastic.