S-PRO is an innovation technology partner. We help startups to create innovative products and empower existing businesses with the digitalization of their core processes to much customer-centric economy needs. By partnering with accelerators Founder Institute, Sente.Link, BCCS Cluster and others we help our clients to achieve more business connections and competent advisory. S-PRO team of 150+ talents has expertise and capabilities to provide a sophisticated personal approach and deliver complex market recognized solutions.
Our R&D experts apply our background and world best practices to in-depth study the market, business objectives and deliver a comprehensive vision of each project. We provide full-cycle custom software development with apparent business goals, strong management, maintained deadlines and senior tech unit. This approach gives us the possibility to deliver success to our clients and build long-term relationships.
Services for Startups:
Discovery Workshops;

MVP Development;

Dedicated team.

Services for Established businesses:
Digital transformation;

New product development;
Technology expertise:
Mobile Development;

Front-end;

Back-end and API;

Blockchain Development;

AI and Machine learning;

UI/UX Design.

Main Industries:
FinTech;

Logistics;

Renewable Energy.
Poland
Senatorska 2
,
Warsaw
,
Warsaw
00-075
+1888-208-0054
Focus Areas
Service Focus
30%
25%
15%
10%
10%
5%
5%
Software Development
Mobile App Development
Web Development
Web Designing (UI/UX)
Big Data & BI
Client Focus
Small Business
Medium Business
S-PRO Clients & Portfolios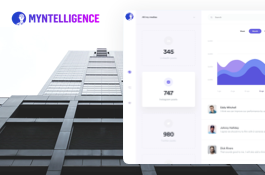 S-PRO Reviews
All Services
Software Development
Mobile App Development
Web Development
Web Designing (UI/UX)
App Designing (UI/UX)
Relevance
Most Recent
Rating: high to low
Rating: low to high
Write a Review
Excellent software development partner for beauty industry platform
Review Summary
S-PRO helped us in creating a service named 'GoBeauty' that provides an opportunity for beauty industry professionals to rent a personal studio. This makes their life easier, as it eliminates the burdensome routine in finding a suitable room. The platform also allows service users to find a suitable professional and sign up for a session in a comfortable place and time.

We are confident in our technical partner S-PRO, and therefore will involve them in the creation of our next project.
What is it about the company that you appreciate the most?
S-Pro provides efficiency, consistency of work, predictability, absence of unpleasant surprises. The team doesn't just accomplish tasks, it offers solutions for development and improvement.
Great team - Very structured and professional software development company
Review Summary
We have worked together with S-Pro on a bigger project. There entire team is very professional and smart. I can really recommend them.
Reliable technical partner needed with a proactive approach
Review Summary
We needed to create a peer-to-peer dog selling site. Before getting to know the S-PRO team, we tried to work with 3 more software development companies, but none of them managed to cope with the task. We realized that we needed a technical partner who was ready to work quickly, flexibly and with a deep understanding of the case. We did not want to micromanage, since we ourselves are not experts in software development.

The S-PRO team gave us what we were looking for in cooperation - speed and efficiency, attention to detail, reliability, and professionalism, as well as deep expertise in software development. We are calm because we can trust these guys. It is difficult to imagine that we are now changing vendors. 

The tasks that we set for the developers:
- UX/UI of the site.
- Developing a path for buyer and seller
- Simplify complex payment
- Provide sellers with multiple options for advertising
- Development of a peer-to-peer message center
- Reviews, complaints, FAQ, and information pages
- Admin panel for data collection.

The project team from the S-PRO side included: project manager, 2 developers, UI/UX designer, and a business analyst. We met every week (initially several times a week). If necessary, we had daily calls.
So what do we have now? The site works perfectly, exactly as we had planned. The S-PRO team took care of the powerful testing and bug fixing phase. We are really very happy with what we got - our web platform with all the needed features in time and budget. Obviously, S-PRO did a great job! 

What do you like the most about the company?
We were pleasantly impressed by their partnership approach to work - we had the feeling that we were dealing with co-owners of the business, and not with an outsourcing company. The whole team showed innovative thinking, and actively participated in the creation of the project, offering original ideas.

What should they improve on?
Nothing should be improved, the company shows excellent results! So we continue to work with S-PRO.

Services
UI/UX, Software Development

Project Budget
80 000$
Project Duration
5 months
Project Status
Made release of MVP, additional features are in progress
Marie Ponsardin
, Product Owner at chez Groupe Associatif Siel Bleu
Posted on Apr 21, 2021
The quality of the work provided, the commitment and responsiveness.
Review Summary
Working with our partner S-Pro was a great adventure. The quality of the work done by developers and their commitment have fully meet our expectations. Thank you to the team and looking forward for next collaborations !
What was the project name that you have worked with S-PRO?
Review from Siel Bleu
What is it about the company that you appreciate the most?
The quality of the work provided, the commitment and responsiveness.
Excellent and reliable service, fitting all our needs
Review Summary
Since we started working with SPRO in 2017, we have managed to raise our work to a more professional and effective level by having our own software tailored to our needs. It started with an idea and SPRO implemented it in a few months while also fixing problems of any kind in the shortest possible time. In my experience, the whole SPRO team works on a highly professional level while still maintaining a relaxed and friendly atmosphere and I am looking forward to continue working with them.
Julian Rupp
, Chief of Staff at Exaloan
Posted on Mar 30, 2021
Online Platform Development
Review Summary
Role: Chief of Staff

We have been working with S-Pro for over a year now, with the task of expanding the MVP solution that we already had into a fully operational online platform. We screened a few developers in Ukraine and S-Pro stood out the most for us. When we presented our ideas to the initial project team, we were really impressed with both the level of technical expertise and also the extensive commitment from S-Pro's side, which made us feel really valued as a customer. Over the lifetime of the project and the ongoing development, we have developed an excellent working relationship with the team. S-Pro has a well-structured way of working, provides good further ideas and specific estimates on the expected development time for each feature, so you're always aware of the current status of the project.
Right Partner, Right Mindset, Right Execution, Winning Combination
Review Summary
We were engaged with S-Pro for almost a year on a full product MVP of a software product. We decided to work with the S-Pro team after having interviews with multiple firms from different countries including Ukraine, Poland, Brazil, and Argentina. We presented our roadmap and product vision to S-Pro and the team was amazing at scoping out the initial discovery and giving us a realistic sense of how long the full build would take. From the day past discovery, it felt like we had a full team on our side. They were always willing to give the good news, and then the tough news but with solutions, which is how it goes in building software products. They were not afraid to ask the right questions and to provide or push for truly concrete specifications: This is key, as all too often other agencies will just go along with your solution when in fact there is something better out there or a deeper clarification is needed. They were also flexible and easy to work with from a time zone perspective. Project reporting and billing was transparent, prompt, accurate, and straightforward. Everyone on their team from the Solutions Architect to the Engineers were professional and fun to work with. I really wish them continued success, they are the ideal partner for any stage of startup whether you are trying to launch something pre-seed or need that extra team to help scope out new opportunities at a larger firm. Their quality will continue to be known and deservedly so, look no further!
What is it about the company that you appreciate the most?
Flexibility, ability to come up with solutions as needed, provide proper reasoning for why things need to be built a certain way, smart development process.
What was it about the company that you didn't like which they should do better?
Cannot say anything really, they have their team and game together in place solid.
Misha Rudominski
, CEO & Founder at at nect WORLD
Posted on Dec 07, 2020
Excellent partner to develop software alongside you.
Review Summary
They were helpful on every stage, even before we started the development with them. The quality of their job is just beautiful with little to no issues.
What is it about the company that you appreciate the most?
Their persistence and overall quality of work combined with perfect communication.
What was it about the company that you didn't like which they should do better?
Hard to say, but there's always a place for growth.
Tim Overton
, Co-founder & CTO at at Modo Energy
Posted on Nov 13, 2020
Nearshore development team
Review Summary
We have been working with S-PRO for over 8 months and are extremely happy with the relationship.
S-PRO has been instrumental in developing our product and continue to provide invaluable support to our team. S-PRO are diligent, flexible, and professional, quickly picking up our business model and contributing new ideas and helping us tailor our product to our users.
We would recommend S-PRO to any organisation looking for a development partner.
What is it about the company that you appreciate the most?
Flexibility, involvement of senior management team, and quality of output.
What was it about the company that you didn't like which they should do better?
Processes around estimations and resource planning could be streamlined.
Luke Zamian
, Staff Software Engineer at Zymergen, Inc.
Posted on May 07, 2020
Great partner in developing interactive internal application
Review Summary
We partnered with S-Pro to develop an internal website for exploring our database of chemical compounds. They integrated their web developers tightly with our backend service engineers and designers to iterate on solutions. Their abilities to adapt to changing requirements; work independently to propose new solutions; and focus on the long-term maintainability have been crucial to our project's current and ongoing success.
Alex Nikolaev
, Director of Digital Production at Arrivals + Departures
Posted on Apr 29, 2020
Extremely reliable team to work with
Review Summary
From the first brief to the last Jira ticket S-PRO team has been super thorough and transparent in communication, not to mention the expertise in React Native development. It was a great pleasure to work with them!
Kealan Shults
, Managing Director at Hire Hub
Posted on Apr 17, 2020
Web Development project.
Review Summary
S-PRO were responsible for a large web project for us over 2.5 year period.
What is it about the company that you appreciate the most?
Their organisation, delivery and transparency.
What was it about the company that you didn't like which they should do better?
Quality of code can always be better, but this is the best agency I've ever worked with.
Joel Sonderegger
, Founder at Voa Labs
Posted on Apr 15, 2020
Excellent partner
Review Summary
We are highly satisfied with the whole team at S-PRO!

S-PRO implemented a non-trivial blockchain project for us. The team at S-PRO delivered top quality with very few bugs. If bugs occurred, S-PRO fixed them the next day. The tech skills are well above average.

Their communication was very professional and responsive. Deadlines have been kept.

We are very satisfied with S-PRO and I'm looking forward to continuing to work with them on future projects.
What is it about the company that you appreciate the most?
Responsive and honest communication, quality of work
Zachary Fitzner
, CEO at Fitzner Blockchain Consulting
Posted on Mar 24, 2020
Great Quality and Service
Review Summary
S-PRO has been a trusted partner of Fitzner Blockchain Consulting for some time now. They are quite diligent and timely which is all that you can ask for in a partner. Our clients have been impressed by their level of knowledge and their innovative problem-solving skills when we're up against a difficult problem. I look forward to working with them for years to come.
What is it about the company that you appreciate the most?
They're knowledgable, quick and creative.
What was it about the company that you didn't like which they should do better?
Nothing honestly.
Arletta Grosicka
, Project Manager at Talent Alpha
Posted on Mar 12, 2020
Partner with perfect communication and high quality work standards
Review Summary
We've been working together over 6 months, and I can say that definitely I can recommend this company as a partner. S-PRO has high quality work standards, keeps perfect communication and knows how to build very positive atmosphere for collaboration. S-Pro constantly drives our partnership to the common success, in the same time caring about all aspects of the collaboration and business requirements. It is pleasure to work with S-Pro and I'm sure we will continue our collaboration in the future on next projects.