Visartech Inc. is a software solution provider that helps businesses solve challenges and reach specific goals using technology. We focus on delivering intelligent cloud IT infrastructure, digital ecosystems, and VR/AR 3D solutions.
Key Visartech facts:
13+ years of proven experience
193+ software projects delivered
132+ partners in our ecosystem
86% of returning clients
We create tech excellence, relying on solid engineering expertise, innovative technologies, and software art. Our team has wide experience in software development for different industries - education, fintech, gaming, social networking, real estate, sports, retail, healthcare, etc.
Our expertise covers the following areas:
IT Infrastructure Optimization
DevOps & Cloud Computing
IT Security Services
VR/AR 3D Solutions
Backend Development
Metaverse Ecosystem
Digital Twin Solutions
WebGL 3D Graphics
Visartech Inc. develops software platforms, applications & ecosystems that receive industry awards and are used by Google, Microsoft, Pfizer, McKinsey & Company, and other giants.
When you collaborate with us, you are completely sure to be shaking hands with a reliable tech partner who is dedicated to creating digital solutions driving the world's changes.
Any questions? Connect with our experts!
United States
8 The Green SUITE #7877
,
Dover
,
Delaware
19901
302-268-6175
Focus Areas
Service Focus
AR & VR Development
Cloud Computing Services
Software Development
IT Services
Visartech Inc. Executive Interview

Slava Podmurnyi
Co-Founder & CEO
Visit Profile
Please introduce your company and give a brief about your role within the company?
Visartech Inc. is a reliable technology partner for businesses ranging from small startups to large-scale corporations. We provide digital experiences from initial concepts to custom software solutions using state-of-the-art technologies—all for the sake of digitally transforming our clients' businesses and guiding them towards market dominance.

We have done so since 2010 and are not going to stop. Today, we have 130+ completed projects up our sleeve and inspiring appreciation from our trusted partners representing diverse industries - from sports to manufacturing, from healthcare to real estate, etc. We are proud of the fact that 86% of them return to continue with our services.

Just like a series of kids games for kindergartens tailored to the needs of a Brazilian client. Or a set of simulations for the US Universities. Not to mention, our long-lasting partnership with SkyTrak during which we have managed to finish the development of several interconnected projects for various platforms. We are always striving to become a trustworthy long-standing tech partner for each client.

As a CEO, I'm responsible for two directions: Strategy and Business Development.
The strategy part requires me to achieve the vision generated together with my partner by being the guiding force for the heads of departments.

In business development, I'm leading sales and customer support teams. I love this direction because I can speak to both clients and our development team, thus getting information from all sources to do the best possible service.
What was the idea behind starting this organization?
Back in 2010, together with my partner, we've decided that we have our vision of how to provide the best possible quality service to clients. Thus began the story of Visartech. Initially, our focus was on native iOS development. But in a year, we've realized that simple apps are too dull.

So we've decided to seek inspiration in art combined with technologies. That has led us to the path of game development. Games are great in many senses - they educate, relax, reproduce unreal situations, and solve severe real-life challenges in simulated environments.

Eventually, more and more clients kept asking for a mixture of games and apps. So we've moved our focus from only games to 3D interactive applications shifting towards the needs of businesses and their customer satisfaction.

Along the way, business owners' demands became more sophisticated. The app development cycle required us to implement complex solutions, including backend development. Thereby we've introduced software product development services to the previously established ones.

As a result, we deliver comprehensive software solutions for businesses acting as a fully-fledged technology partner.
What is your company's business model–in house team or third party vendors/ outsourcing?
Having in mind to deliver the highest possible quality, we take full responsibility for every single piece of code written within each project. Therefore, each step of the way is under maximum control. We cover every aspect of the development cycle and deliver the project under one roof.

At any moment, our client can check the project's progress along with the utilized budget and react accordingly. Our client-oriented business strategy enables us to put everything we have to deliver the expected result.
How is your business model beneficial from a value addition perspective to the clients compared to other companies' models?
Our cooperation with clients is based on a transparent partnership. We guide and assist them at every stage of the work process.
Also, we have finely tuned the communication process both within the team and with the client. Our company adapts to clients from all over the world, so they don't feel the distance. And, plus, we allocate managers responsible for communication with a personality closer to the client's temper.
Each scope of work is agreed with the client, resulting in regular progress updates and detailed reports. Such an approach allows us to build a trust system that is one of the critical values of our company.

This method is an inexhaustible source of inspiration. At the same time, we cover the client's back with our tech expertise through the project's delivery - starting from R&D to support after launch stages.
What industries do you generally cater to? Are your customers repetitive?
We consult, develop, and cover every aspect of the software development cycle for all kinds of businesses - from promising startups to reputable corporations. Not to mention, the so beloved gaming industry.

Our decade-long expertise has given us the flexibility to deliver digital solutions for a diverse range of business areas. The most prominent projects were established in Sports, Real Estate, Healthcare, Education, Retail, Travel, Manufacturing spheres.

Suffice it to mention that one of our sports projects got the Best Indoor Golf Simulator award - SkyTrak. Together with the client, we've developed a system that people love to use. So far, it is the most accurate and cheapest solution on the market.

As previously mentioned, we are focused on bringing the best quality for each client. So, 86% of them appreciate our efforts by continuing cooperation with us on further projects.
Mention the objectives or the parameters critical in determining the time frame of developing software.
The time frame for software development is subjective and is different for different companies because it depends on many factors. One of them is the stage the project is when a client came calling.

For example, if there is just an idea, then we have an R&D department that can validate it and prepare specific technical documentation.
If there is an already existing tech specification, then the development stage depends on the complexity of the project, the number of features, the selected technology stack, etc.
How much effort in terms of time goes into developing the front end and back end of software?
The time frame is a case-by-case thing and mainly depends on the complexity of the project.
For example, MVP development usually takes from 1 to 3 months. Still, the project complexity, the feature set, and the level of feature detail a client wants to include in the minimum viable product make all the difference.

Overall, the ratio of efforts involved in the development of the backend and frontend parts is hard to predict; usually, it is near 2:1. But there are factors like the complexity of the business model, the project size, and its roadmap that may influence the ratio a lot.
What are the key parameters to be considered before selecting the right framework for developing software?
Given that any software is created to solve business needs, first, we try to understand who and how we will use a future application.

In mobile app development, the target operating system is one of the most critical factors. Depending on that, we recommend either native frameworks specific for each platform or cross-platform frameworks like React Native for fast app deployment to all popular OSs at once.

If we talk about other software products, then it is worth considering what tasks this software solves (staff training, gamification, business processes) and how this solution will be integrated into the company's IT system.

For example, the best choice for an app with a custom, gamified user experience would be the Unity3D engine. In the case of web backend, Node.js can handle some small projects, and a more complex one may require ASP.NET CORE that is ready for high-loads.

So, in general, we recommend technologies that best suit each client's business objectives.
Which languages & frameworks do you prefer to use in development of software?
We aim at helping our clients to achieve their goals and gain more recognition on the market. Their demands vary in terms of project ideas, goals and platforms. So we constantly perfect our tech stack to make it as wide and universal as possible. Check out more details about it in our article.
For now, in most cases we prefer using:
Unity as the main 3D engine.
PlayCanvas, Babylon.js, and three.js when Unity is not an option.
Angular and React for Web Application Development.
React Native for Mobile App Development.
Electron for Standalone Development.
ASP.NET CORE for Backend Development.
We are sure that the right technology stack should be closely aligned with each project's requirements.
What are the key factors that you consider before deciding the cost of software?
First of all, we explore the client's business model. Based on our research, we offer several options.

The biggest price influencer is future system elements. For example, if a client works with customers (B2C model), then we need to implement backend with a database to store and process their data. It requires numerous tests of system performance, security, etc.

Some clients choose to start slowly - make a proof of concept, roll it out for a selected audience, and only afterward make a decision regarding full functionality. Others decide to implement the whole system at once.

So, in my opinion, the client's business model affects software development cost most of all. Other factors are just elements of it.
What kind of payment structure do you follow to bill your clients? Is it Pay per Feature, Fixed Cost, Pay per Milestone (could be in phases, months, versions etc.)
We are a service company that not only delivers the result but also builds transparent and long-term partnerships.
Our clients have access to the project progression, can approve each defined scope of work, and pay for the actual functionality delivered. It helps us to provide a product within the agreed deadline and budget.
Do you take in projects which meet your basic budget requirement? If yes, what is the minimum requirement? If no, on what minimum budget you have worked for?
Our client base is extensive and spread across the globe. We serve tiny startups to billion-dollar corporations based in 25+ countries. Therefore, project budgets may differ considerably. For example, we have developed package solutions starting from the US $15,000 for startups.
What is the price range (min and max) of the projects that you catered to in 2019?
Visartech Inc. is a service company, so our clients pay for the actual result delivered.

As mentioned above, the minimum startup package is the US $15,000. We value our clients' privacy, so the information about most of the other projects we catered is a subject of NDA. There are well-established corporations among our clients; therefore, the maximum price is not limited.
Kindly share your feedback on how GoodFirms has been doing so far in increasing your visibility among potential clients.
GoodFirms is a reliable service platform that unites a big IT community with a common goal - to make the world more technological. Visartech gets a range of benefits as its part. We have an opportunity to demonstrate our expertise in the specialization field and show the best cases in the portfolio. Current customers leave their reviews about our work and it helps potential clients from all over the world to find the right tech partner. Thank you for helping us grow and expand the company globally.
Visartech Inc. Clients & Portfolios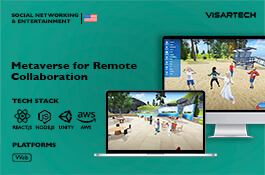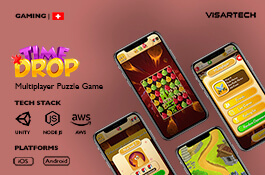 Visartech Inc. Reviews
All Services
AR & VR Development
Software Development
Relevance
Most Recent
Rating: high to low
Rating: low to high
Write a Review
Chester Kuei
, Sr Director, Product Engineering & Development at NortonLifeLock
Posted on Mar 29, 2022
Full service mobile app game project from start to finish!
Review Summary
Visartech handled a mobile game for iOS, android from beginning to end. Game concept, design, UI, gameplay engine, project management, art, sound, and qa. They were very professional to start with and communication was excellent am throughout the project. Quality of work was great, the game was featured on the iOS app store for 3 weeks in the new games category!
What was the project name that you have worked with Visartech Inc.?
Warghs Android and iOS game
Describe your project in brief
Warghs puzzle game on the iOS and Android store. It's a fast action puzzle game with great characters and storyline. It was organically featured on the apple iOS store for 3 weeks!
What is it about the company that you appreciate the most?
Great communication all throughout the project lifecycle. Project manager handled an the major communications
Good quality work from development, to creatives, qa, project management and business dev
What was it about the company that you didn't like which they should do better?
Not much can think of they were great. They handled all the changes
Mark McCullen
, Associate Manager, Search Marketing at Bayer Pharmaceuticals
Posted on Mar 30, 2020
Medical Research
Review Summary
I have worked with this group for over two years on a very complex development project. The entire organization is the best group I have ever worked with on a project -- from the executive leadership, to the developers and QAs, to the project managers. Visartech has exceeded my expectations in every way.
What was it about the company that you didn't like which they should do better?
This group is tops in my view. I would not change a thing. They have been creative, industrious, respectful of budget, trustworthy. I wouldn't go anywhere else.
Sebastian Schmid
, Mobile App Entwicklung at faktor zwei GmbH
Posted on Oct 30, 2019
Mobile Game Development
Review Summary
For our Match 3 Game, Visartech had to re-create an existing iOS Game with Unity from scratch. Visartech is a great partner with high-quality and efficient work, provided by a great team. They were quick to address any feedback we had, and delivered high quality work on time and budget. They have been a joy to work with and we recommend them highly to anyone in the gaming industry.
What is it about the company that you appreciate the most?
Great communication and development skills. Visartech delivered a high quality product. Wr couldn't be happier with the result.
What was it about the company that you didn't like which they should do better?
There's nothing we could complain about regarding our experience, working with Visartech.
James McIntosh
, Founder at BluARc
Posted on Sep 30, 2019
Rock Stars!!!
Review Summary
I'm sitting here in Jefferson, Tx with my friend Slava from Visartech. The team from Visartech has helped me successfully grow every idea that I could imagine. We've worked on everything from Augmented Reality to pioneering proximity messaging and finally into CMS creation.
I've been on the business side of things where you initially do not know if you can trust people working remotely. I started working with Visartech five years ago and I will keep working with them because they take a common sense approach to your project and are up front about all aspects of cost and timeline and most importantly... they deliver what they tell you they deliver!

Again... I'm in Jefferson TX there's not reason that their CEO and the rest of the team should have ever come to this tiny TX town. T?hey do it because they care about their customers and I'm proud to say they have become dear friends.
What is it about the company that you appreciate the most?
Breaking down problems and coming up with solutions.
What was it about the company that you didn't like which they should do better?
... They need hair cuts!
Andy Li
, CPO/co-founder at ExplorR
Posted on Sep 10, 2019
Reliable, efficient and wonderful to work with
Review Summary
Visartech is incredible to work with. They understand exactly what is needed in our project brief. They are responsive, flexible and go the extra mile to achieve the tasks. Full of talented developers, making it very easy to work with. I would highly recommend working with them.
What is it about the company that you appreciate the most?
Flexible and efficient
Seth Frack
, Vice President - Development & UX at SkyTrak
Posted on Aug 20, 2019
Outstanding Developers
Review Summary
I have had the pleasure of working with Visartech for over 4 years. Their developers and team leaders are top-notch - very communicative, personable, and always go above-and-beyond to make sure the job is done right and on time. I cannot imagine working with a better team.
What is it about the company that you appreciate the most?
I can speak directly with anyone on the team depending on the task at hand. There is no bureaucracy. They are hard and fast workers and a pleasure to engage with.
James McIntosh
, Founder at BluARc
Posted on May 15, 2020
Best customer service given.
What was the project name that you have worked with Visartech Inc.?
James McIntosh
Fantastic experience it was.
What is it about the company that you appreciate the most?
Eliciting requirements and documenting and playing it back to ensure that we are all on the same page.
What was it about the company that you didn't like which they should do better?
Overall there has not been anything that I would say was lacking in the projects.
Resources