Megaventory
The Cloud-Based Order and Inventory Management Software Application.
Visit website
Megaventory is a web-based inventory management, order tracking, invoicing, and reporting for medium-sized companies across multiple locations - including production. See stock alerts, supplier availability, and lead times. Track stock levels, cost, and inventory value over time. Handle picking, serials, batches and expiry dates, barcodes, returns, consignment, drop shipping, and internal transfers. User-friendly interface, comprehensive support, and value for investment! Megaventory can manage products in multiple locations, issue invoices, purchase or sales orders, and distribute information across employees, partners, or clients in a web-based, multiuser environment.
Screenshot & Video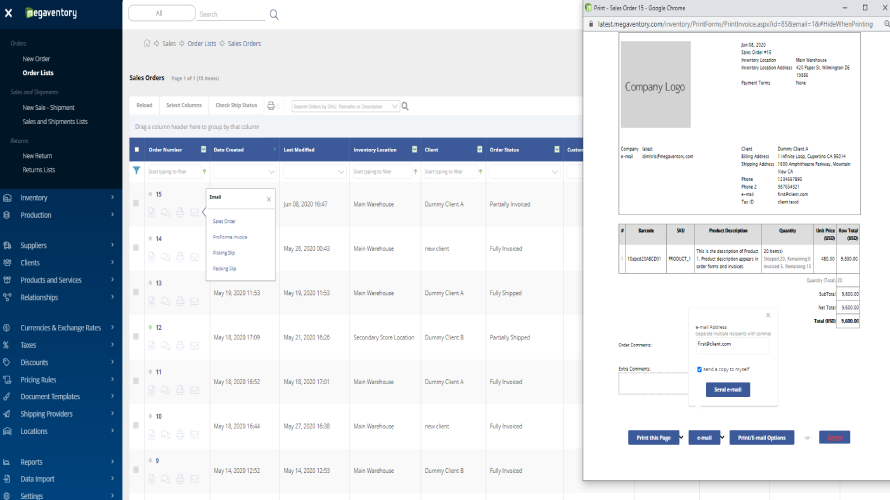 LICENSING & DEPLOYMENT
Open Source

Cloud Hosted

Web-based

Windows
Knowledge Base
Help Guides

Video Guides

Blogs

Webinars

Case Studies
Megaventory Core Features
Alerts/Notifications
Backordering
Inventory Control
Inventory Optimization
Manufacturing
Mobile Access
Multi-Channel Sales
Order Fulfillment
Order Management
Purchasing
Reporting/Analytics
Shipping
Warehouse Management
Back Order Management
Catalog Management
Inventory Management
Order Entry
Order Fulfillment
Order Tracking
Recurring Orders
Returns Management
Reports & Analysis
Shipping Management
Special Order Management
Megaventory Executive Interview
Kostis Mamassis
CEO, Megaventory
Visit Profile
Kindly share your feedback on how GoodFirms has been doing so far in increasing your visibility among potential clients.
Our experience with GoodFirms is positive. Communication with them has been a breeze and we love collaborating with them! At this point, we have not gotten a lot of leads through GoodFirms. We are hopeful that this will change in the future!
Please introduce your product and give a brief about your role within the organization.
Megaventory is a cloud-based order and inventory management software application. With Megaventory, businesses can track their stock in real time, make purchase and sales orders, and understand their business better with business intelligence found in reports of past actions.

As an engineer and CEO of Megaventory, I work closely with both our tech and sales team, overseeing our tech projects and always keeping an eye out for how we can make Megaventory scale. I am passionate about bringing the best we can offer to the market!
What was the objective behind coming up with this software?
The idea for Megaventory came from my previous business back in 2006. At that point, we needed a supply chain management system but didn't find a suitable solution on the market. So in this way, the objective with Megaventory has always been real-life need powered. Now, years later, we want to make sure our clients have the best solutions available to manage their supply chain operations effectively at a reasonable price.
How is your software beneficial from a value addition perspective to the clients compared to other software alternatives available in the market?
Megaventory's pride and joy is our emphasis on great customer support. We believe customer support can be quick, straightforward, and always available. It's great to see our passion in practice: while receiving feedback for our service, customer support is what is highlighted over and over again. Megaventory not only helps businesses stay on top of their supply chain operations effectively but our support team of engineers and operations experts adds practical value to the business of our clients as we work together with them to offer consulting and best-case scenarios for their data set up.
What industries do you generally cater to? Which industries in general are highly benefiting by using your software?
Retail, Wholesale, and Manufacturing (using bills of materials) are the main types of business we cater to. We have clients that work in the food industry, medicine, accounting, tech, fashion, cosmetics, etc. Because of our integrations with Magento, WooCommerce, and Shopify, a lot of our clients are in e-Commerce as well.
What are the key features of your software that makes it stand apart from your competitor products in the market?
Megaventory has a very strong production/manufacturing module, which is praised across platforms. We are also proud to offer localization and multiple languages so that international companies with warehouses and stores around the world can get the maximum impact of effective inventory management.
What is the customer satisfaction rate according to you? What steps do you take to cater to your customer's needs and requirements?
We believe this metric is quite high actually. We regularly engage with our clients in conversations over zoom or phone on how a particular supply chain operation of theirs should be tackled. We are not afraid to get our hands dirty and get really involved with the problem our client may be facing. On top of that, if we find that a requested feature is not readily available in our product, we also provide the option to do custom development and add these requested features to our development roadmap.
Are your customers repetitive? If yes, what is the percentage of repeat customers that you have?
Inventory and supply chain management are concepts that all companies should include as fundamental structures in their business. As such, our service is the basis of the day-to-day operations of a business and it does not really make sense for a client to stop using it even for a few hours.
Does your software product provide any resource or knowledge section for its users? If yes, what kind of material is provided to your users to help them get acquainted with your product?
Yes. We provide a comprehensive Knowledge Base of Megaventory. It consists of step-by-step instructions for different features of the software as well as general information on the product. If you can't find your answer there, our customer support team is here to answer any questions. We also offer free personalized screen-sharing demos and on-screen automated tutorials.

For new clients, we offer a free trial to get started.
What kind of support system do you offer to your clients for catering to their queries and issues?
Megaventory has in-app guides for the day-to-day actions and settings. This way you get immediate assistance with routine issues. There is also a live chat within the app, and our clients can reach us via email or screen sharing sessions for bigger questions. Our support engineers are happy to help with any technical issues.
Where do you see your product in the next 10 years?
We envision being an established inventory management solution for Retail, Wholesale, and Manufacturing businesses, with us being among the top 2-3 go-to-solution of preference in multiple countries around the world.
Megaventory Pricing
Payment Frequency
Monthly Payment

Annual Subscription
Megaventory Reviews
Relevance
Most Recent
Rating: high to low
Rating: low to high
Write a Review
Willard Tingey
Posted on Aug 16, 2022
Megaventory is web-based software for an online inventory management system which is the easiest way to manage products, inventory and orders.
Review Summary
A fantastic inventory software that keeps everything so organized I use this to keep inventory for my business and it helped me very much. Never had any issues since its implementation. Extremely useful and helpful in taking stock of items and adding pictures.
Which features have you used in Megaventory?
Inventory Management Software , Order Management Software
How long have you used Megaventory?
10 Months
How frequently you use Megaventory?
Daily
What do you like the most about Megaventory?
It is a very neat and functional application.
The flexibility to set up this software how you need to is great.
Good for keeping track of items.
What do you like the least about Megaventory?
One needs to be tech savvy to understand some features.
Nick Foster
Posted on May 17, 2022
Megaventory is for hassle free modern ear\'s inventory management software.
Review Summary
I am in the wholesale clothing business, and I currently own 3 warehouses all in different locations. Megaventory has always been very helpful with all my day to day work and making the tedious and repetitive tasks easier than ever. From tracking each and every item to making delivery slips and generating reports of months. Megaventory has also helped me customise the software according to my needs. Big thumbs up for megaventory.
Which features have you used in Megaventory?
Inventory Management Software , Order Management Software , Supply Chain Management Software
How long have you used Megaventory?
7 Months
How frequently you use Megaventory?
Daily
What do you like the most about Megaventory?
Amazing customer support, the executives are very much supportive and professional.
Multiple boxes for the creation of multiple invoices simultaneously is a great feature to be mentioned.
What do you like the least about Megaventory?
The inventory arrangement is not very straightforward to set up for a person who has just started to use this kind of tool.
Inserting graphical data is not supported.
The pricing of the tool is a bit steep, more plans should be introduced with less amount.