SmartRoutes
Streamline your entire delivery process with one platform
Visit website
SmartRoutes is an end-to-end logistics planning and management platform. With SmartRoutes, logistics teams can plan routes, capture PODs, automate notifications and track fleets all from one platform. We keep our clients' customers in the loop as they can track their delivery in realtime using our live tracking portal. Give your customer service team complete oversight to better handle incoming queries.

Implementing a smart solution for logistics planning saves teams time and money with increased efficiency and reduced fuel costs. You will also increase control and insights into your last-mile operations.
Package-freight-delivery
Transportation-trucking-railroad
2 Industries
Try Software Demo
Screenshot & Video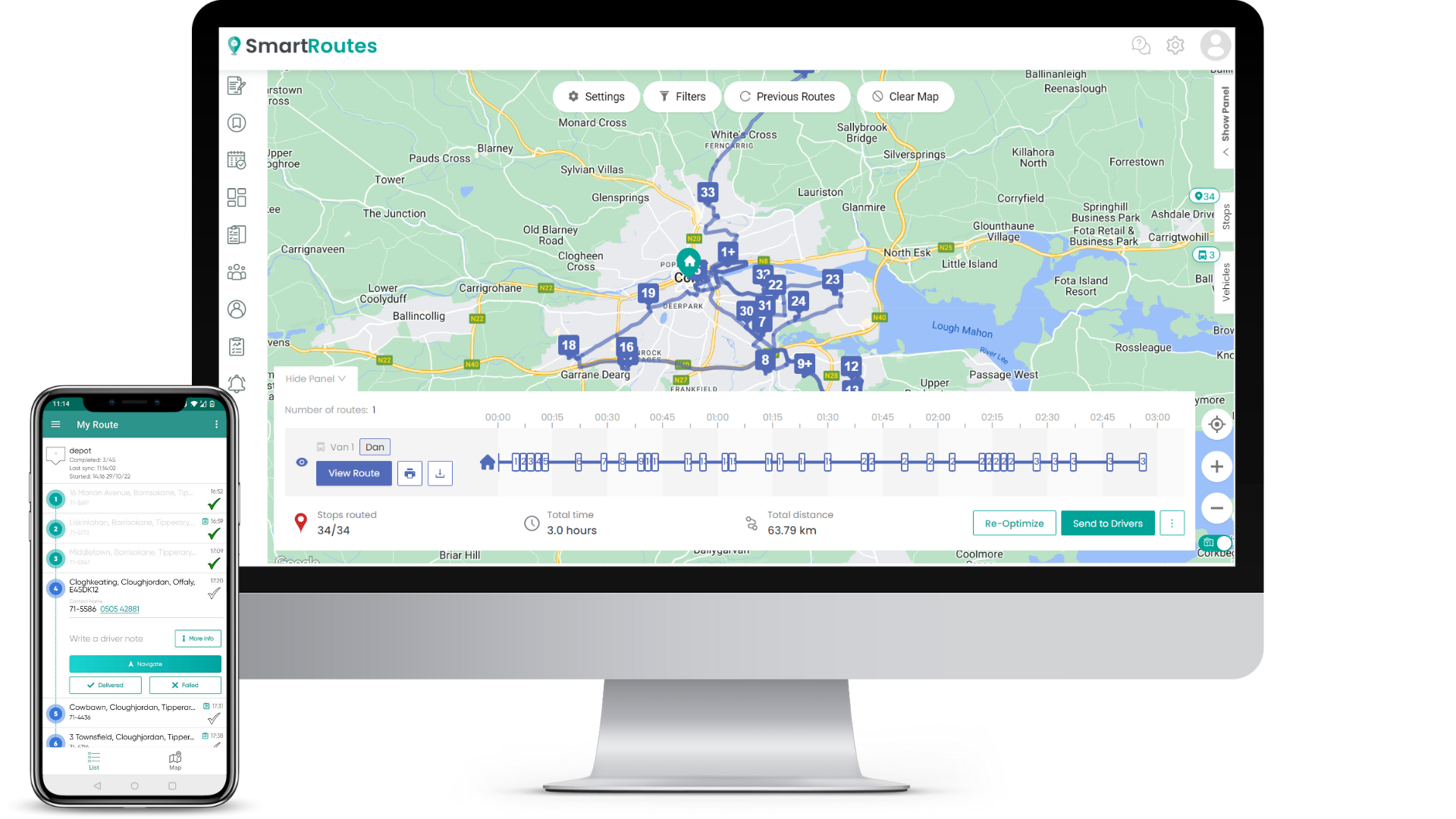 LICENSING & DEPLOYMENT
Proprietary

Cloud Hosted

Windows

Mac
SUPPORT
Email

Chat

Phone

Weekdays

Support Days

Monday
Tuesday
Wednesday
Thursday
Friday
Knowledge Base
Help Guides

Video Guides

Blogs

Case Studies
SmartRoutes Core Features
Customer Portal
Dispatch Management
Driver Management
For Courier Services
For Freight
For Restaurants
Mobile Signature
Real-time Tracking
Route Planning
Scheduling
SmartRoutes Executive Interview
David Walsh
CEO, SmartRoutes
Visit Profile
Please introduce your product and give a brief about your role within the organization.
SmartRoutes is a total delivery management software for anyone from small businesses to large logistics teams. It allows you to plan and optimize your routes while tracking drivers and capturing proof of delivery. SmartRoutes keeps recipients informed of their delivery with up-to-the-minute notifications and a delivery tracking portal.

Implementing a smart solution for delivery management saves logistics teams time and money with increased efficiency and reduced fuel costs. You will also increase control and insights into last-mile operations.

My role within the company has been as founder and lead developer since Day 1. I have built the development team and sales & marketing function in the past 3 years to allow us to onboard some of the biggest companies here in Ireland and we are now expanding our reach into the UK, Europe, and North America.
What was the objective behind coming up with this software?
The purpose of this software is simply to fix what is a very difficult area of the global economy, last-mile operations. The cost of getting goods from the local depot to customers' doorsteps is the same as it is to get those goods around the world from their initial manufacturing location. This is because the last mile is complex and dependent on a lot of real-world variables like traffic, human drivers, and legacy transport infrastructure. SmartRoutes is designed to help all businesses to minimize these challenges and deliver efficiently.

SmartRoutes helps our customers to:
Save time on planning 30-50% versus no system.
Save money 33%.
Increase efficiency to save money or make more deliveries.
Improve process.
How is your software beneficial from a value addition perspective to the clients compared to other software alternatives available in the market?
We have worked incredibly hard to build a product that matches our competitors in terms of functionality suite. This is the first and most important thing we have to do to provide value. Secondly, we have focused on building a highly intuitive app experience for drivers and dispatch teams. This is often seen as nice to have, particularly in pragmatic industries like logistics but we believe the user experience is a huge value add. This is especially true when driver adoption of the tech is dependent on whether they can simply use it while out on the road.

Finally, we understand that software value is a function of cost, in other words, how much value am I getting from this tech per dollar. To this end, we have cut our margins as tight as possible to provide in nearly all cases more functionality at a lower cost than our competitors.
What industries do you generally cater to? Which industries in general are highly benefiting by using your software?
There are three categories of organizations that we typically work with. Firstly, is logistics companies, dedicated couriers, same-day delivery companies, and freight operators. For these companies, our software is designed in particular. Secondly, we serve distribution or logistics teams within large corporates like grocery chains, newspaper outlets, pharmaceutical corporations, and so on. Any team that is responsible for fleets that deliver to customers or the public. Thirdly, we work with small to medium-sized businesses, anyone from a local florist to a food delivery firm. For these businesses, we streamline eCommerce selling and allow them to automate and dispatch deliveries locally.
What are the key features of your software that makes it stand apart from your competitor products in the market?
People love SmartRoutes because it is simple, intuitive, and affordably priced. The main things we hear back from our customers about SmartRoutes include:
Super simple to use.
Very inexpensive for what you get, a total solution.
Incredible customer support.
Totally configurable to our needs.
If you want something changed in the software they will do it.
What is the customer satisfaction rate according to you? What steps do you take to cater to your customer's needs and requirements?
Our churn rate on enterprise clients is 0% and churn on smaller businesses is also below 2% so we are confident that the customer satisfaction rating with our product and support is pretty high. When customers have issues with anything we react very quickly to resolve the issue for them.
Are your customers repetitive? If yes, what is the percentage of repeat customers that you have?
Typically our customers stay with us as indicated by our low churn rate. However, we do have seasonal customers, for example, Christmas tree deliveries, that return to us year after year. Repeat customers do not make up a significant percentage of the overall customer base at the moment but that is growing every year.
Does your software product provide any resource or knowledge section for its users? If yes, what kind of material is provided to your users to help them get acquainted with your product?
Yes, we have a knowledge base that is accessible directly from our web platform so new and existing users can learn about features and finesse their processes. We also have an onboarding manual for all customers that helps them to familiarize themselves with the product at the beginning. However, our support and onboarding team leads product adoption with all new customers through dedicated onboarding meetings.
What kind of support system do you offer to your clients for catering to their queries and issues?
Our support team is available at all times for our clients. They are highly responsive and never leave open requests to go unnoticed by our development team. Issues are dealt with as a matter of urgency and queries around new functionality or custom development work are always entertained by the SmartRoutes team as a whole. In fact, customer queries inform the product roadmap to a great extent and form the basis of quarterly meetings between the sales, product, and development teams.
Where do you see your product in the next 10 years?
We fully expect SmartRoutes to become the number one internationally recognized delivery management software. Our expansion with a small team has been very significant and we are perfectly positioned to challenge some of the larger and more expensive vendors in the market with our full feature set, intuitive user interface, and value-based pricing model.
SmartRoutes Pricing
Payment Frequency
Monthly Payment

Annual Subscription

Quote Based
Plans & Packages
Basic
Features
Unlimited drivers
File importer
Route optimization
Essential route planning dashboard for teams
Online support documentation
Standard
Features
This plan includes all the features from Basic plan
Fleet Tracking
Proof of Delivery
Customer Notifications
Shopify, WooCommerce and Mintsoft integration option
Premium
Min. 5 licences
Features
This plan includes all the features from Standard plan
Delivery Management Suite
Territory Management
Customer booking portal
Labels
Enterprise
This is a guide price. For enterprise customer we offer personalized pricing so please contact us to find out more.
Features
This plan includes all the features from Premium plan
Dedicated account manager
Multi depot structure
Custom API integration
Professional Services