ZenTao is an open-source Scrum tool. It integrates product management, project management, test management, document management, CI management, and todo management. It is a project management software tool that covers the core process of software development projects. The most distinguishing characteristic of ZenTao is that it separates the concepts of product, project, and test. In ZenTao, the three coordinate and restrict each other through a story/task/bug, and ultimately deliver the qualified products through the project.
Screenshot & Video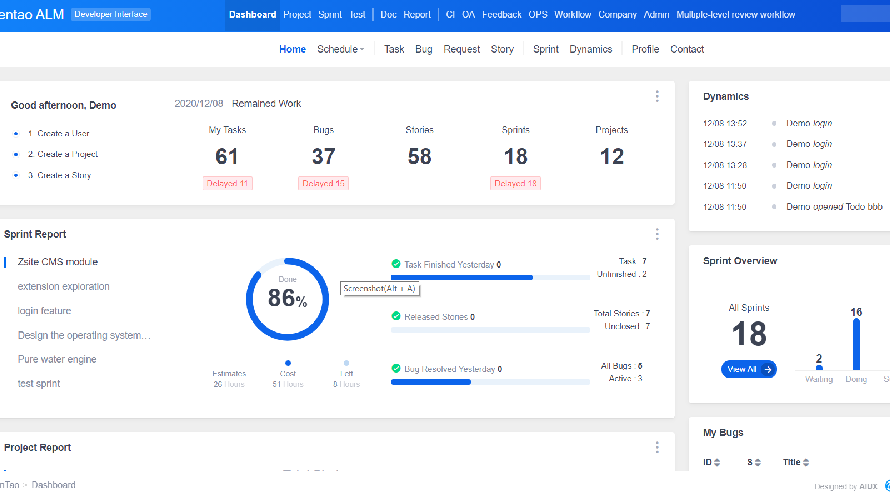 LICENSING & DEPLOYMENT
Cloud Hosted

On Premises

Web-based

iPhone/iPad

Android

Windows

Mac

Linux
Knowledge Base
Help Guides

Video Guides

Blogs

Whitepapers
ZenTao Core Features
Collaboration Board
Daily Reports
Iteration Management
KPI Monitoring
Milestone Tracking
Prioritization
Progress Tracking
Release Planning
Roadmapping
Sprint planning
Task management
ZenTao Executive Interview
Chunsheng Wang
Founder, ZenTao
Visit Profile
Please introduce your product and give a brief about your role within the organization.
I founded EasyCorp, formerly Nature Easy Soft, in 2009 with its initial and main product, ZenTao ALM. We embrace open-source software and take provide management tools to small and medium-sized enterprises (SMEs) as our mission, so ZenTao, a Scrum tool, is open source.
What was the objective behind coming up with this software?
ZenTao is built on Scrum, a popular Agile framework that is functional and pragmatic. It is appropriate for the iterative growth of software projects. Scrum only defines the structure of how to speed up the development project, but it leaves procedures undefined. Based on Scrum and observations of software development in China, ZenTao was released.
How is your software beneficial from a value addition perspective to the clients compared to other software alternatives available in the market?
ZenTao defines the concepts of product, project, and test. The product team, the development team, and the test team work together and check with each other while function differently. The three teams interact with each other through stories, tasks, and bugs, and eventually deliver the product with quality. ZenTao is an Application Lifecycle Management (ALM) tool and an on-premise affordable alternative to Jira.
What industries do you generally cater to? Which industries in general are highly benefiting by using your software?
Our customers are from various industries, but mostly from IT and technology. As long as you have software projects, you need ZenTao to support your project management.
What are the key features of your software that makes it stand apart from your competitor products in the market?
ZenTao is an ALM tool that you can use to manage the entire software development project, especially if you are an Agile team. From the Product/Sprint Backlog items to increments, you can find everything in a development project is tracked and well organized.
What is the customer satisfaction rate according to you? What steps do you take to cater to your customer's needs and requirements?
I would say 99% of customers are satisfied with our product.
Are your customers repetitive? If yes, what is the percentage of repeat customers that you have?
We have a one-year license and a perpetual license. Usually, our customers choose the perpetual one, because it is with the best ROI.
Does your software product provide any resource or knowledge section for its users? If yes, what kind of material is provided to your users to help them get acquainted with your product?
Yes, a complete user manual is available to all users.
What kind of support system do you offer to your clients for catering to their queries and issues?
Usually, we provide email and chatbots to support our customers. Our clients will receive a response within 24 business hours, considering we are located in China. ZenTao also has a user manual that is quite thorough. If they do encounter a tough issue and need us, our tech support team can remotely fix problems for our users.
Where do you see your product in the next 10 years?
We offer a community/open-source version of our products, so we have seen our users and customers are growing globally. We love open-source and would like to support our developers and survive in this very competitive market. So we have premium versions that help companies that look for more inclusive solutions. We hope to see that our products play an essential role in the global market as management tools for small and medium sized enterprises.
ZenTao Pricing
Payment Frequency
Annual Subscription

One-Time Payment

Free
ZenTao Reviews
Relevance
Most Recent
Rating: high to low
Rating: low to high
Write a Review
Wenrui LI
Posted on Nov 18, 2021
Perfect for small teams with a budget
Review Summary
I am working for an instant messenger project for self hosted and internal solution. I was first introduced to this scrum tool by my team lead. ZenTao is affordable for small teams and it offers almost all function points a software project would need, including bug tracking, test case management, build and release, plans and roadmaps, etc. It offers in English and the support team is super responsive. It has minor bugs occasionally but it is released quite often, so it is not a big deal.
Michael Yang
Posted on May 03, 2021
Recommand on this product
Review Summary
We have used Zentao to manage our project for over 3 years. ZenTao is an excellent open source project management software. The main management idea is based on the popular agile project management method-Agile/Scrum. The software mainly separates the concepts of product, development, and test. Product analyst, development team, and testers cooperate with each other,they interact through requirements, tasks, and bugs. Manager use gantt chart and kanban to manage project lifecycle and in the end delivery qualified products. In the mean time, Zentao provide CI/CD solution and git integration. These feature are helpful for manage product furture upgrade. Highly recommand!
Kostas Karkaletsis
Posted on Apr 21, 2021
Using Zentao as Product and Project Management tool
Review Summary
We have switched from Jira to Zentao after using Jira for more than 5 years. Zentao helps us with the predefined workflows which easily fit on our internal procedures. We can use it to manage almost the whole development cycle by having user stories, task decomposition, testing and deployment. It is much configurable and extendable. You can create your own data structures for maintaining additional data records. Some cons now. It can't integrate directly with your existing Git environment and you have to keep in sync your git with the filesystem of the Zentao installation. Role management has to be more configurable and permissions have to be applied per project and not for the whole system in order to be applicable in several environments The overall experience is more than expected and is highly recommended!
Software Response
ZenTao
Thank you for your feedback.
Posted on May 06, 2021
Jon Tenson
Posted on Feb 11, 2021
Highly recommend it
PixelJobs
Posted on Dec 14, 2020
We like open source and on premise the most!
Review Summary
Compared to OpenProject and Taiga, I prefer ZenTao since it's more affordable and implementing Scrum the best. Our team likes open-source and we prefer self-hosted so that we can keep data secure and immigrate with more flexibilities. I like the test part in ZenTao at most, it fits our team so much. We write cases once product backlog items have been created and run cases in a test request which are linked somehow with sprint and user stories. The traceability in ZenTao is very powerful and we deeply love it.
Renee Teng
Posted on Dec 10, 2020
Nice Test Case Management Tool
Review Summary
First of all, I have chose ZenTao because I didn't need a project management tool, but Test Case Management tool (I'm a QA Lead in my team). Also, I need full featured and lifetime free version of Test Management tool because of my company's politics. So ZenTao give me best set of features for my purposes for free, and it looks great and easy to set up and use. Other candidates was: Kiwi TCMS and Testlink. Compared to them, besides functionality, Zentao have the best support and documentation. After trying zentao opensource I have introduced it to the managers of our company, and they suggested to use paid version for project management too. Now we have unorganized variety of Redmine, Openproject, Google Docs, GitLab (every sub-team trying to use they own tool instead of one centralized tool)
张家辉
Posted on Dec 08, 2020
It\'s a brilliant Scrum tool
Review Summary
We have been using ZenTao for almost 3 months for implementing Scrum to manage our App development team. We have the same roles so as in Scrum, PO, SM, and team. ZenTao is an application lifecycle management tool, so it's very complete for us to manage sprint tasks, test jobs and product backlog ( so called as story ). Thumb up:)
Resources
This profile is not claimed
Do you own or represent this business? Enter your business email to claim your GoodFirms profile.