How many times in life have you brainstormed ideas to derive solutions for specific problems or to expand your thoughts? At some point in life, we all have indulged in this rigorous activity. When we brainstorm, a stream of free-flowing ideas form a cluster in our mind. An interesting fact here is that, in the mind, ideas often flow in a random and a non-sequential manner. It is how our thought process works. So, if you want logical conclusions, then it is essential to organize and chart this nonlinear flow of ideas. There are various techniques to do this, but one of the most popular and standard techniques of brainstorming is mind mapping. Mind mapping is the technique to chart the stream of free-flowing ideas in an organized and logical way. It is a technique of clustering ideas around the main topic and relating it with other associated ideas and connections.
In the third century, Porphyry of Tyros did the first recorded use of mind maps. Even Leonardo-Da-Vinci used them for note-making. Later, in the 1970s, when Tony Buzan, the famous British psychologist, and an educational consultant, elaborated the concept of mind mapping in his seminal text-The Mind Map Book and his TV show- Use your Headbroadcasted on BBC, mind maps became a popular way of brainstorming. Since then, businesses have been using mind mapping activities to come up with great ideas and frameworks. In the corporate world, individuals and teams use mind mapping to derive solutions, plan agendas, create models, generate new marketing ideas, improve concepts, identify and categorize customer groups, and many more.
Though you can draw a mind map on a plain paper also, a more efficient way to do this would be using a mind mapping software that assists in creating structured mind maps. With the support of mind mapping software tools, businesses can assimilate more ideas compared to paper-based mind mapping.
Mind mapping software is an application that provides individuals and teams with tools to brainstorm their ideas and create mind maps. It comes with features such as concept mapping, team collaboration, storyboards, presentation tools, publishing tools, create loops and branches, flowcharting, floating images, and many more. A mind mapping software is a visual information tool that lets users create incredible insights in a specialized way.
What are the steps involved in Mind Mapping using a Mind Map Software?
While brainstorming is a completely random and non-sequential process, mind mapping is a thoroughly structured process. To create great mind maps using a mind mapping software one must follow the below four steps:
Begin with the central idea:
The nature of a mind map is to start from within and expand towards the outer area. The central idea is the core axis around which everything else will revolve. Once you have written your main topic, problem, or idea statement in the center, then you can go to the next step. Mind map software has many in-built templates that you can choose from, to begin the process.
Add branches to the main topic:
Think about the various broader subcategories and sub-topics that can be associated with your central statement and then add branches to the main idea to elaborate the subtopics in them. Your ideas need not always be in words. You can use diagrams, symbols, signs, sketches, etc. to expand your main idea into branches. Mind mapping software comes with an in-built clip art library and pre-uploaded images that you can insert in your mind map to make it look appealing.
Analyze branches to add more sub-branches
Think of related ideas, capture more ideas, create a thought structure, and add more branches to the broader branches. Follow your initial ideas as far as you can go with it. You can ask questions such as why, when, how, where, whom, what, etc. to come up with more information, and then you can add it to your core idea. Mind mapping software allows you to add more branches or nodes to expand your ideas.
Add images and colors
Maps that reach a certain density level appear attractive and rich. You can add images and different colors to make the map easy to understand. You can add similar colors for similar types of points. In the mind-mapping process, if you run out of ideas, then you need to come back to the center for more ideas. It will complete the mind mapping process.
When is a mind map used?
Why do businesses need mind mapping software?
For Effective Project management:
With the help of mind mapping software, project managers can make a visual picture of priorities, tasks in hand, resources available, and steps involved in the project.
For making the right decisions:
Businesses can brainstorm the available options, advantages, and disadvantages of the decision and list down risks involved with a mind map.
With mind mapping software, companies can draw a visionary strategic plan that includes vision-mission statements, SWOT analysis, PESTLE analysis, etc. Activities such as strategic planning require a lot of brainstorming by the stakeholders. With a mind mapping software, businesses can consolidate and summarize essential details and create a better road map to the strategic plan.
Busy business professionals can make a visual chart of their weekly, monthly, or quarterly schedule in a hierarchical and radial structure. They can chart priority tasks, secondary works, work in progress, deadlines, etc. to make a viable structure that will assist them in understanding their time-management needs.
For making client presentations in a short time
With the help of a mind mapping software, businesses can make effective presentations in a short duration of time. By putting the monotonous information in a colorful and organized pattern, mind mapping software can help design better presentations in minimal time.
For saving costs involved in Paper-based mind mapping
While paper-based mind mapping might appear an easy escape, it is not feasible for organized businesses. Today, even small scale and medium scale businesses create bulk amounts of data. Mind mapping with paper will not only take more time, but it is also not easy to preserve the paper for the long term. Paper can get misplaced and destroyed easily. Moreover, purchase and storage of paper will cost you more than deploying a mind mapping software. Paper-based mind maps are not that engaging as those created by using interactive platforms of mind mapping software.
Benefits of Using Mind Maps:
A mind mapping software provides you with multiple formats and templates to make mind maps. Users get options to build various charts used in business such as fishbone chart, matrix chart, log-chart, tree chart, flowchart, timeline chart, org chart, etc.
This feature allows mind mappers to visualize their ideas in the presentation form. With customized backgrounds and themes, users can make their ideas more appealing and clear.
Export mind map in various formats
This feature allows users to export and download their mind maps in various formats ranging from text files such as PDF, Word, PPT, Excel, HTML to image files such as JPEG, PNG, SVG, etc.
Mind mapping software also comes with in-built templates in various formats so that you can directly work on it. It saves your time as you don't have to build your mind map from scratch.
Most of the mind mapping software has inbuilt libraries with clip art, images, designs, etc. to decorate your mind map. Some software also lets you import clip art from external sources.
The mind mapping software comes with an interactive, beautiful, and user-friendly interface with a maximum possible distraction-free work screen. Users can choose from multiple themes, fonts, and backgrounds to make their mind maps.
Mind mapping software allows you to work on multiple center points in a single workspace.
Real-time collaboration with teams
The mind mapping software page can open simultaneously on multiple desktops. You can invite your team members to collaborate on the idea chart at the same time.
Mind mapping software also comes with training modules to provide you complete tricks and strategies to make the best mind maps by utilizing the features optimally.
The mind mapping software allows users to see the complete history of the mind mapping process and also lets the users revert to a previous change or position.
The mind mapping software comes with tools such as relationship lines (a line showing the relation of one topic with another), label ( a piece of annotation attached to a topic), loop (create a loop and join branches), and many more.
Compendium
Freeplane
Wisemapping
Semantik
Xmind
Coggle
Mindmeister
Compendium is a free and open source mind mapping software that CogNexus developed for making large scale mind map structures. This software supports both individual and group workspace. The latest version of Compendium is 1.7.1. Right from launching Compendium to completing a mind map, the user interface of this software is easy and interactive. It is available for free under GNU lesser general public license (LGPL).
Features:
Create mind maps in collaboration with team members with the option to editing each other's input
Drag and drop documents and websites into a map
Users can label the connections between concepts to illustrate links
Display links between everyone's ideas in group projects through dialogue maps
Establish a link between idea and information
Create different types of nodes (topic box) by dragging the icon from the toolbar
Overlay a map on top of the image and add graphics and notes
Scribble pad to scribble on the workspace
Add comments, notes, annotations to the nodes
Freeplane is a free and open source mind mapping software application that creates and analyzes mind maps. Freeplane runs on any operating system having the current version of Java. Freeplane as an open source mind mapping software can be downloaded locally on your desktop computers, or if you don't want to download it, then you can run it through a USB device. The main topic is called the root node, sub-topics are called the child nodes, and the broader topics are known as the free nodes.
Features:
Ordering ideas into a hierarchy by connecting them with lines
Classifying idea boxes with metadata (attributes)
Grouping similar nodes with color containers
Automatically styling nodes with color, bubble, etc.
Structuring nodes in terms of the content type such as text, icon, formula, calculation etc
Presentation area (core, details, attributes, notes, images, and tooltip)
Option to fold branches, scrolling and navigating, filtering, and searching content
Connecting nodes with dynamic links, free lines, and labels
Password protecting the whole map with DES encryption
Multi-language support with an inbuilt spell checker,
Drag and drop functionality for icons, text, images, etc.
Extensive support through Forum, tutorial, and documentation
Wisemapping is a free and open source mind mapping software that can be used by individuals, professionals, businesses, and educators to make embeddable mind maps. It can be installed on your local servers, and its license is completely free. It is a Java-based software that provides both private and public workspace. Users can have their own mind maps and the shared maps with teams separately. It supports Windows, Linux, Mac (Open source version) and can also be accessed online ( in its cloud version).
Features:
Topic creator and editor
Team collaboration on mind maps is allowed. Simultaneously you and your team can work on a single workspace.
Export in PDF, SVG, and other image formats
Drag and drop functionality for inserting images, icons, etc. to your map from the desktop
Recover map history to see all previous changes
Customize text size, formats and background style
Add and expand branches radially in various formats
Add color to the topic boxes
Add borders and color borders
Add icons, emojis to the map to make it more engaging
Semantik is a free and open source mind mapping software application designed to help individuals and teams create effective mind maps. It was first developed in 2005 and was named Kdissert. Later the name was changed to Semantik. This further assists in making reports and presentations. Semantik is free under the GPL V3 license. It is an ideal mind mapping software tool for businesses, teachers, students, creative users, and project managers.
Features:
Create mind maps using linear views
Simply and interactive UI
Covert mind maps into documents and presentations
Insert image, picture, table, and diagrams
Create UML diagrams and flowcharts
Supports HTML, LaTex, Openoffice document formats
Export the document in PNG or PDF format
Command-line tools for document export
In Semantik mind maps can be edited in 2D format or flat tree format
Add texts and attachments to the maps
Xmind is an open source mind mapping software application that is designed to generate ideas. Xmind features a center with branches radiating from it. It has an interactive and elegant user interface. This software is used by millions of users worldwide for its deep analysis capabilities. It works easily with Mac, Windows, Android, and iOS platforms.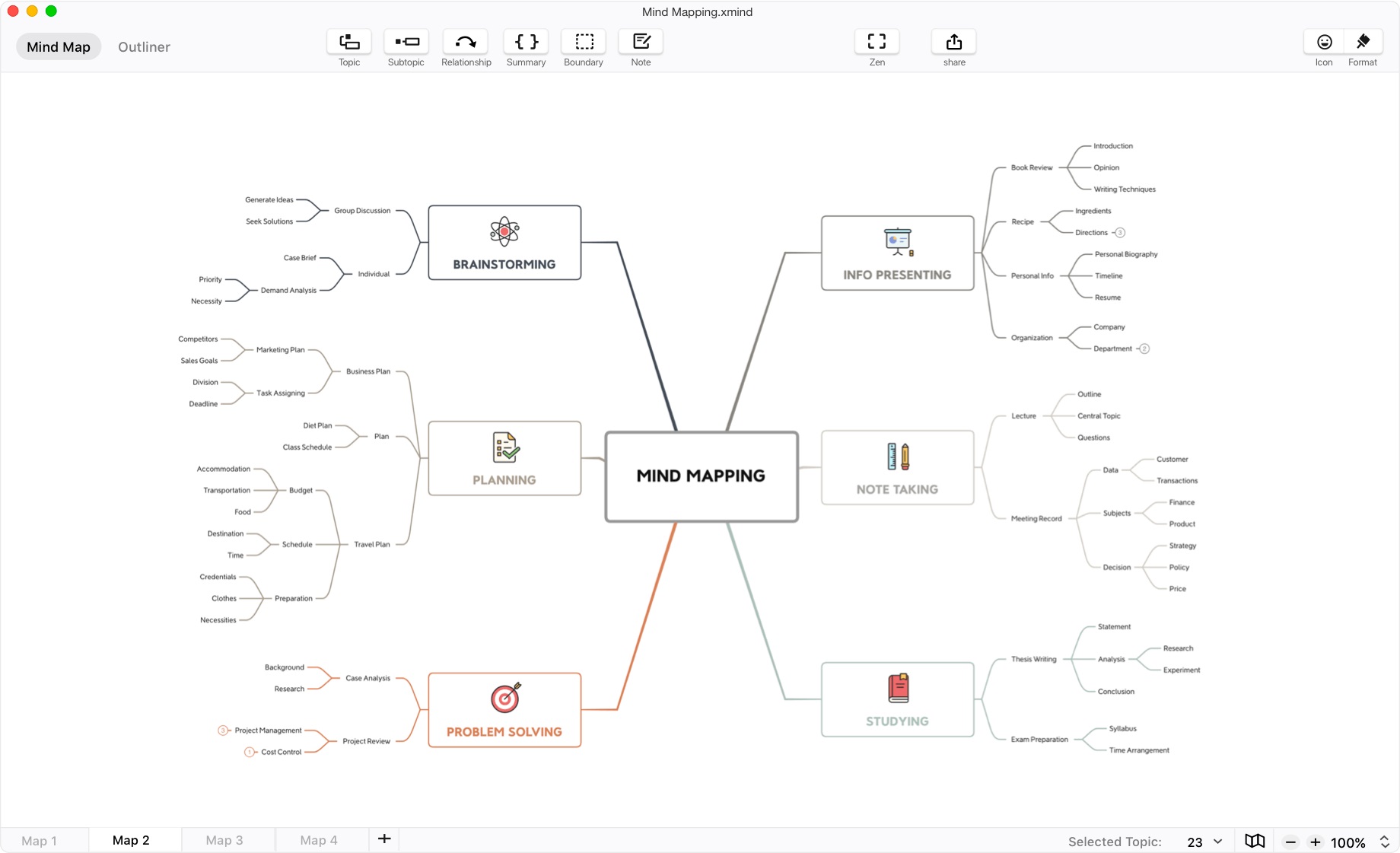 Features:
Comes with in-built templates for mind map designing
Slide base presentation of the mind map
Various map structures such as Org-chart, Tree-chart, and Logic-chart can be drawn
Classify ideas based on their connections
With Xmind you can convert your mind map into Gantt Chart which is a very useful feature for project management
Beautiful workspace user interface
Integrates with Office and export in PDF is enabled
Extensive clip art library
Toolbox with marker, label, notes, information card, and many more.
Coggle is a free mind mapping software tool for creating mind maps and flowchart. In its free plan, it lets you create unlimited public diagrams and has over 1600 free icons. Users can upload unlimited images and can also create three private diagrams. If you want more features, then you can opt for Coggle's paid plans- Awesome and Organization Plans.
Features:
Allows real-time collaboration with other members of the team
Save changes and also revert to a previous position if required
Unlimited image uploads allowed from your PC to the map workspace
Add floating text and images to annotate parts of your map
Create loops and join branches
Multiple center points allowed
Auto arrange branches
See complete map history
Download the mind map in PDF and image formats
Import and export as .mm, and text format
Create flowcharts; process maps other charts and diagrams
Mindmeister is a free mind mapping software that comes with an advanced mind mapping editor. It is a web-based online mapping tool that can be used for brainstorming, project planning, and note-taking. It works with Windows, Mac OS, and Linux. Its free version has limited features with a maximum of 3 free mind maps allowed. For more features, one has to switch to its personal, pro, or business plan.
Features:
Create a structure for idea with notes and attachments
All maps safely get stored in the cloud
Choose map mode and chart layout from pre-built templates, and charts
Customize chart with beautiful themes, fonts, icons, background images, and format
Share and collaborate with other team members
Assign tasks on the workspace to collaborators and set deadlines
Convert map into a stunning presentation in one click
Add notes, links, icons, images, and videos to map
See map building history and revert changes if required
Import and export text and images in various formats
Upload attachment from Google Drive and Dropbox platforms
You can choose from the above list of 7 best free and open source mind mapping software for your brainstorming sessions and save your time. If you still need more robust software with better features to unleash your creativity, then you can add MindMup to your list. MindMup is one of the most popular and collaborative mind mapping software solutions available in the market. Let us see its features in detail:
MindMup is a free mind mapping software that is used to create, share, and publish mind maps online. It lets users create unlimited mind maps for free. This software is used to brainstorm ideas, and one can directly publish the mind maps to social media using this software. It has some powerful set of keyword shortcuts and frictionless interface.
Features:
Create a structure for idea with notes and attachments
Capture and organize thoughts and put them on a storyboard
Adds contextual information and images to mind maps automatically before publishing on Facebook, Pinterest, Google+, and LinkedIn.
Plan and manage projects
Concurrent editing by other team members is allowed for maps saved in the cloud.
Add spreadsheet, text, and videos to your mind
Add and images and icons to your maps for illustrations and context
Allows integration with Office365 and Google authentication
Conclusion:
With the advent of computer-aided and software-based mind mapping, the speed, accuracy, and utility of mind maps increased considerably. Today, businesses are busier than ever before with multiple tasks in hands and multiple departments to manage. Mind mapping software can help them in saving their valuable time. Mind map software also helps them to visualize complicated business situations in a simplified way. Investing in technologies such as mind mapping applications will surely add greater value to their business.
Businesses can choose from any of the free and open source mind mapping software discussed in this article. Apart from the discussed free mind mapping software MindManager, Lucidchart, iMindQ, idea flip, Novamind, Simplemind, and MindGenius are some other mind mapping software that you may choose for your mind mapping activities. We will be glad to get your views about the article in the comments section below. If you have utilized any of the free and open source mind mapping software mentioned above, then do share your feedbackwith us.
If you wish to see the features of any other software or any other software category other than the best mind mapping software, then do look at our software directory.