Flectra
The Open Source ERP and CRM System For Your Business
Visit website
Flectra is the next-generation business ERP system and CRM software that helps you grow your business, with a powerful modular design covering all essential aspects of a business. Protect your critical business data from unauthorized access and use. We guarantee that your business data is safe, secure and private. Flexible, feature-rich, and cost-effective open source ERP systems with powerful modular design covering all essential aspects like CRM, Purchase, CMS, Project Management, Sales, Inventory, Point of Sale, Helpdesk, Accounting, Human Resource, Manufacturing and Marketing Automation. Experience the next generation business management system.
Screenshot & Video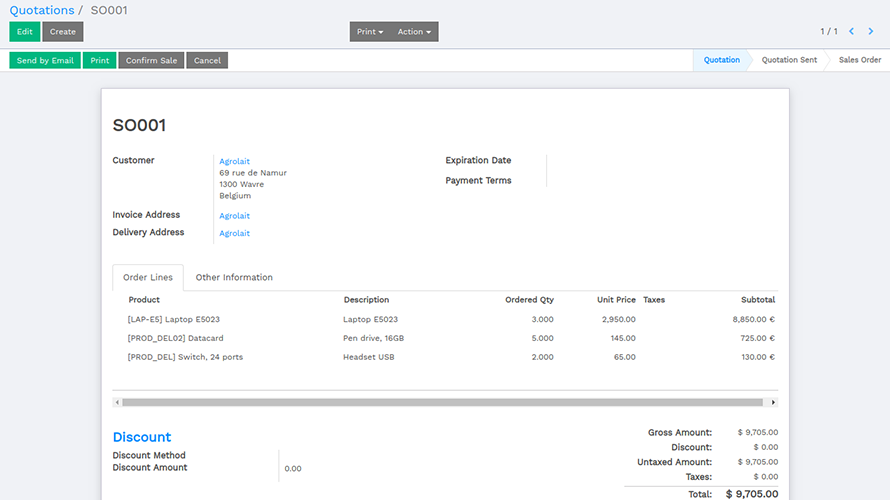 LICENSING & DEPLOYMENT
Cloud Hosted

Web-based

iPhone/iPad

Android

Windows

Mac
Knowledge Base
Help Guides

Video Guides

Blogs

On-Site Training
Flectra Core Features
Asset Management
Customer Management
Distribution Management
Financial Management
Inventory Management
Order Management
Project Management
Purchase Order Management
Operations Management
Supply Chain Management
Tracking and Visibility
Warehouse Management
Flectra Pricing
Payment Frequency
Monthly Payment

Quote Based
Flectra Reviews
Relevance
Most Recent
Rating: high to low
Rating: low to high
Write a Review
Anonymous
Posted 7 months ago
Flectra, easy to use and very helpful ERP solution for businesses to manage their financials, inventory, organize and complete follow-up tasks.
Review Summary
This is a very usable system. I tried about 6 or 8 others before I landed on this. overall, the absolute best ERP solution I've used. sure, it's bloated with more features than I need but it's good. And its manufacturing module includes features for production planning, scheduling, and job costing and our team liked that it is much more flexible and also the software is pretty solid. It easily integrates with other software, so overall it is sufficient for small and medium enterprises.
Which features have you used in Flectra?
ERP Software , CRM Software
How long have you used Flectra?
5 Months
How frequently you use Flectra?
Daily
How do you find pricing of Flectra?
mid-tier
What do you like the most about Flectra?
By far the simplest and easiest tool to use. Feature-rich for anyone who wants to use it effectively. Overall, it is really the best tool that allows us to access the data we need when we need it.
What do you like the least about Flectra?
It needs more intuitiveness in the modules.
This profile is not claimed
Do you own or represent this business? Enter your business email to claim your GoodFirms profile.