FlentisPRO VMS
Procure and Manage Your Workforce with FlentisPRO VMS
Visit website
FlentisPRO, Vendor Management Software, enters the market with a different viewpoint of how companies should be assisted to acquire the top 1% of the talent workforce. They aim to bring functionalities that are unique for the business user and create a platform that fits into the organization. The vendor boasts a turnaround time less than 60% as compared to market standards, and a goal of becoming a name to trust from mid-size to large scale companies.
Screenshot & Video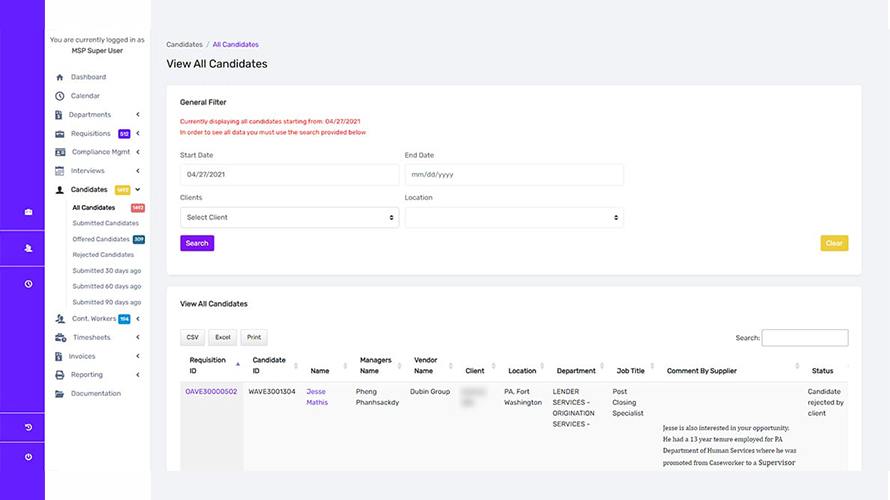 LICENSING & DEPLOYMENT
Cloud Hosted

Web-based

Windows

Mac
Knowledge Base
Help Guides

Video Guides

Blogs

Webinars

Infographics

Case Studies

Whitepapers
FlentisPRO VMS Reviews
Relevance
Most Recent
Rating: high to low
Rating: low to high
Write a Review
Raveena Nijjar
Posted on Nov 10, 2021
Blessed to be a part of Flentis!
Review Summary
Flentis is a great platform to bring out your skills and put them to the best utilization. I am glad to be a part of the team.
Abhinav Bhardwaj
Posted on Nov 10, 2021
Great web application for automating recruiting process
Review Summary
Using FlentisPRO VMS since April 2021. I haven't found any glitch ever since. The help desk team is proactive in responding to any queries. You should definitely try this software or book their demo for more.
Nandani Verma
Posted on Nov 10, 2021
All in one platform for recruitment process
Review Summary
As a regular user of FlentisPRO, I cent percent sure when I say that you cut on a lot of administration chaos that is bound to happen in a human-led recruitment process. We should to be dependent on the regular office software like spreadsheets, mails, cloud storage, etc. However, to recruit 50+ trainers and contractors for an online education firm every month isn't an easy task. We're now using all the tools on one platform and making the best use of it. The user journey is well defined and our teams can collaborate without miscommunication. In fact, our relationship with vendors have improved over the period. I would highly recommend anyone looking for a modern, easy and chaos-free Vendor Management System for their organization.
gomez carolina
Posted on Sep 07, 2021
Excellent Support
Review Summary
It is the best Vendor Management Software that one organization can ask for. It's highly intuitive and predictive algorithm has helped us to manage our talent pool with full integrity and zero human error ever since it has been implemented within our organization. One can never go wrong with FlentisPRO VMS as it offers the best-in-class technology at a price that is highly competitive in the market.