MTWO is a 5D BIM Construction Enterprise Cloud that connects all project teams along with their processes and data – all on one platform. The solution digitalizes project lifecycle management and enterprise management with its comprehensive functionalities and with 5D BIM, BI and Artificial Intelligence integrated into the processes. The end-to-end platform helps to streamline workflow, improve collaboration and maximize productivity.
Screenshot & Video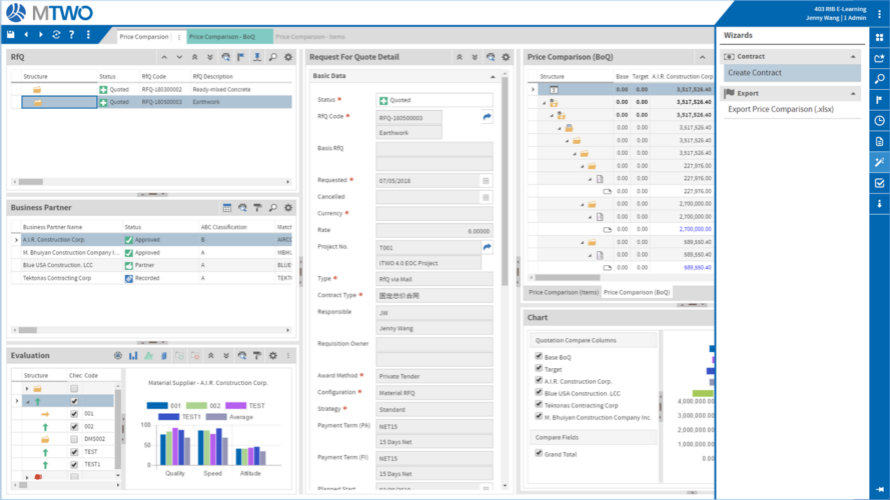 LICENSING & DEPLOYMENT
Cloud Hosted

Web-based

iPhone/iPad

Android

Windows
Knowledge Base
Help Guides

Video Guides

Blogs

Webinars

On-Site Training
MTWO Reviews
Relevance
Most Recent
Rating: high to low
Rating: low to high
Write a Review
Anonymous
Posted 6 months ago
MTWO construction cloud great software that will be part of our team for a long time.
Review Summary
Simple and easy-to-use tool and no more haunting around the computer or desk for the latest version. awesome tool to become informed and engaged with home remodeling contractors. It provides project documentation and tracking at our staff's fingertips. The ability to link associate drawings and details to floor plans saves a huge amount of time every day.
Which features have you used in MTWO?
Construction Management Software , BIM Software
How long have you used MTWO?
6 Months
How frequently you use MTWO?
Daily
How do you find pricing of MTWO?
mid-tier
What do you like the most about MTWO?
Every feature you could ask for in the field of construction. Extremely productive with this system that really helps with our schedule. This solution is easily integrating the management of the entire project lifecycle with 5D BIM in one platform.
What do you like the least about MTWO?
It can be a little tricky getting used to how to use it.
This profile is not claimed
Do you own or represent this business? Enter your business email to claim your GoodFirms profile.