VIENNA Advantage ERP/CRM
Enterprise-level Open Source ERP and CRM solution
Visit website
Enterprise level open source ERP solution with inbuilt CRM, document management system and business intelligence platform. Available on premises and on the cloud. Our customers are medium to large enterprises, multinational corporations and governments.

VIENNA Advantage is one unified business management suite supporting your transformation towards an intelligent enterprise. Hundreds of features within a tightly integrated ERP and CRM solution! Leverage role-based access to critical data and streamline your processes across finance, procurement, manufacturing, HR, service, sales, marketing and more. Manage international operations with a multi dimensional system:
- multi-entity support (multiple-tenants and organizations)
- multiple accounting schemas
- multi-unit support within an entity
- multi-lingual support (print your documents in your customers' languages)
- multi-currency support

Available integration with numerous external services!

Our ERP system is based on VIENNA Advantage Application Development Framework, an innovative open-source web platform that helps users build modules with minimum coding, for rapid development of data-centric business applications. It delivers infinite extendibility and scalability for your organization.

Need more info?
Visit our website and schedule a personalized free demo!
Screenshot & Video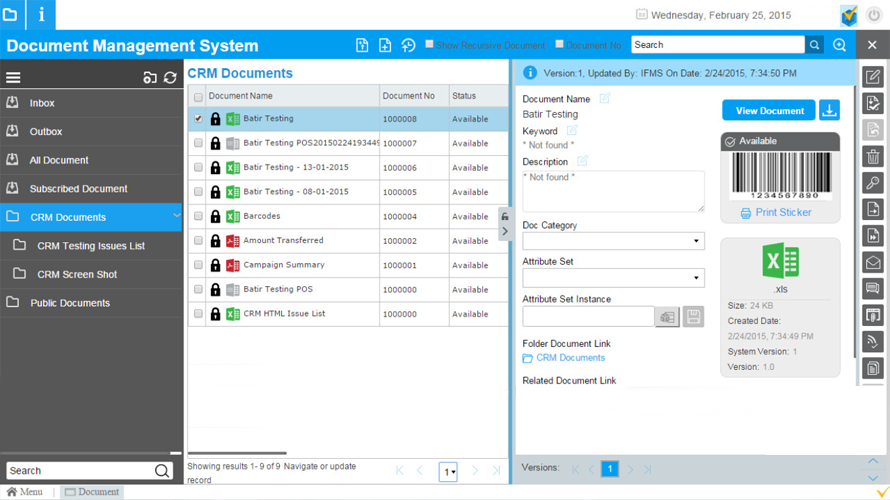 LICENSING & DEPLOYMENT
Cloud Hosted

On Premises

Web-based

iPhone/iPad

Android

Windows

Mac

Linux
Knowledge Base
Help Guides

Video Guides

Blogs

Webinars

Infographics

Case Studies

Whitepapers

On-Site Training
VIENNA Advantage ERP/CRM Core Features
Accounting Integration
Asset Management
Customer Management
Financial Management
HR Management
Inventory Management
Order Management
Project Management
Purchase Order Management
Operations Management
Tracking and Visibility
Warehouse Management
VIENNA Advantage ERP/CRM Executive Interview
Atul Dua
Director & CEO, VIENNA Advantage ERP/CRM
Visit Profile
Kindly share your feedback on how GoodFirms has been doing so far in increasing your visibility among potential clients.
Our products have been listed on GoodFirms for almost two years now, and we are satisfied with the volume of website visits coming from there, especially in the first year. We recommend GoodFirms for their unbiased approach towards listing software and helping businesses to be visible to prospective clients.
Please introduce your product and give a brief about your role within the organization.
VEINNA Advantage is an enterprise-level open-source ERP and CRM solution with inbuilt document management and business intelligence functionalities. It's a single platform that helps enterprises realize strategic goals with one application across the organization.

I'm the CEO of VIENNA Advantage. Apart from leading the executive board, I also lead the product development in the organization.
What was the objective behind coming up with this software?
To create a modern and robust alternative to existing enterprise-level solutions in the market.
How is your software beneficial from a value addition perspective to the clients compared to other software alternatives available in the market?
Our solution offers a single platform for a number of needs of an enterprise. The traditional core value of ERP is a single platform for a number of planning activities in an organization has been disrupted due to a number of mergers and takeovers. Solutions like SAP consist of a number of application silos. With VIENNA Advantage, you have various functions such as ERP, CRM, Document Management, Workflow Management, and even an Application Development Framework on a single platform and components such as Business Intelligence and embedded database as part of a complete package at a very good price point.
What industries do you generally cater to? Which industries in general are highly benefiting by using your software?
VIENNA Advantage ERP is in general industry agnostic; however, VIENNA Advantage has established itself strongly in the following industries:
Energy and Utilities.
Oil and Gas (Upstream, Downstream, and Fuel Retail).
Wholesale and Retail.
Manufacturing.
Healthcare.
Education.
What are the key features of your software that makes it stand apart from your competitor products in the market?
The completeness of features is paired with an innovative and user-centric approach in solving problems. VIENNA Advantage offers a very robust and flexible no-code, a low-code framework on which the ERP is based on hence any customizations or evolution of the solution going forward become easy.
What is the customer satisfaction rate according to you? What steps do you take to cater to your customer's needs and requirements?
VIENNA Advantage has a very high customer satisfaction rate. We measure the customer success rate through studies conducted by external service providers. We have a very tailored approach towards customer service which caters to the needs of the customers according to their size, their solution, and support needs.
Are your customers repetitive? If yes, what is the percentage of repeat customers that you have?
In ERP the customers tend to be on a long-term associated with the service provider, so yes.
Does your software product provide any resource or knowledge section for its users? If yes, what kind of material is provided to your users to help them get acquainted with your product?
The customer and partner portal contains a large number of resources on all knowledge needs around the product. This includes Recorded Training, User Manuals, Configuration Manuals, FAQs, Troubleshooting guides, and more.
What kind of support system do you offer to your clients for catering to their queries and issues?
Ticketing support, Phone support, and onsite support.
What has been the revenue for your product for 2020?
Confidential Information. While we cannot disclose the information publicly, we are happy to provide some stats. Our user base consists of more than 3 million supported users. We have more than 10.000 registered developers and 1 million community downloads. We have 7 offices around the globe with 25 partners spread on each continent.
Where do you see your product in the next 10 years?
We believe that we will be able to establish our product alongside SAP and Oracle in the enterprise market.
VIENNA Advantage ERP/CRM Pricing
VIENNA Advantage ERP/CRM Reviews