Most ecommerce businesses are facing challenges in grabbing the attention of consumers, the majority of whom are in their prime of youth and have extremely limited time spans. As part of a broader marketing strategy, a content marketing funnel introduces new leads to a business through different content types and helps them convert.
Content marketing has undoubtedly become the new frontier for finding targeted audiences online in an intensely competitive marketplace. Efficient content marketing services provide specialized assistance to businesses of all sizes across various industries to engage customers and elevate brand awareness through quality content (blogs, infographics, case studies, and more).
GoodFirms surveyed 110+ Marketing Experts worldwide to find out how to measure and create a successful content marketing funnel.
What Is A Content Marketing Funnel?
A content marketing funnel defines a customer's journey in stages, from first knowing about a product/service/company to finally completing a transaction.
Let us find out what these stages are and what content marketers should do during each stage at a glance.
Discovery Stage(Awareness) or Top Of The Funnel or TOFU - Grab the prospect's attention, make them aware that your product/service is the perfect solution they are looking for.

Consideration Stage(Intention) or Middle Of The Funnel or MOFU - Establish your expertise, help your potential customers create an informed opinion about the product.

Conversion Stage(Desire & Action) or Bottom Of The Funnel or BOFU - Give the prospects clear reasons to buy your products or invest in your services.
A successful content marketing funnel aims to recognize each visitor, provide a step-by-step content flow, and convert them into actual customers that pay for the products or services. It certainly helps to have dynamic content that changes according to user behavior, preferences, and data.
One must keep in mind that there is no consensus on which types of content work best in each stage as it depends a lot on the sales cycle, industry, and audience. Also, there's a lot of overlap between content types and stages.
Still, as the journey cycle of the prospective customer changes, your content should also change accordingly. The key here is to develop a content marketing strategy, where the right content is delivered to the right person at the right time to help them make the informed decision!
How To Establish A High-Value Content Marketing Funnel?
This whole journey starts with the Zero Moment of Truth (ZMOT), a term coined by Google to describe the buyer's early research period. Here are the steps to build a high-value content marketing funnel that can become your best salesperson.
1. Carry Out Intent-Based Keyword Research Regularly
People use different search terms to express their concerns during each stage of the funnel. When they begin to realize their problem, they often use 'issue/opportunity' terms.
Jordan Schneider, Director of Digital Marketing at Soundstripe, nicely explains how it helps them to have so many purchase-intent rich keywords that people are searching for every day in Google that they can go out and rank for. He says, "The more purchase-intent associated with the keyword, the more likely a visitor will become a customer, therefore, the more valuable that keyword is. These keywords are getting more competitive every day, with a higher cost to get on page 1. So our strategy has been to pursue and rank for all of those keywords first, then move our way up the funnel to keywords we know our target audience is searching for, but are less likely to carry purchase intent."
For a better understanding of your target market, first, you must start with any keyword research tool (Google Search Console, Ahrefs, Ubersuggest, etc.). Then, find a seed keyword, and look for keywords that include 'for, how, why, where, with, lower, increase, remove, fix, grow, issue, etc.' in the query.
In the second stage, the prospects start considering the solutions and compare them by looking for - suppliers, software, services, tools, etc.
Later, before reaching the ultimate decision, they like to get assured with reviews, pros and cons, benchmarks, etc. This is why your content and keywords need to be aligned with the buyer's journey stages.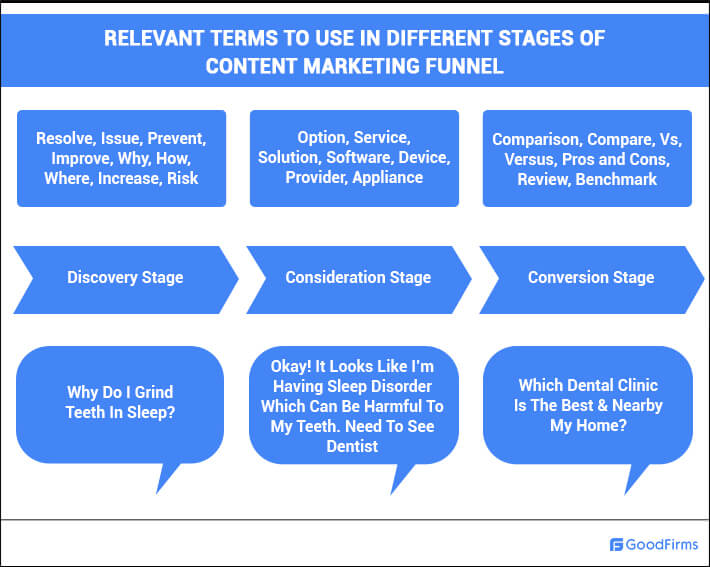 A Digital Marketing Strategist, Brooks Manley, says, "To keep our funnel on track, we perform quarterly keyword research and SERP intent research that fuels our content calendar. We also look at existing pieces' conversion rates to determine what is working at each step in the buyer's journey."
Emphasizing the power of keywords to act as a conduit to connect the target audience with the website, Andrea Paul, Founder of Health Media Experts, says, "The keyword is the backbone of the marketing funnel. If it goes wrong, the whole marketing strategy could collapse. Where the keywords design marketing funnel, regular keyword research is necessary to optimize it. It lets us know in-trend topics, ongoing research, and users' intent. So, we add or eliminate content marketing strategies accordingly. Moreover, tracking keyword performance of our old web content helps us add trendy-phrases and remove those that no longer serve the purpose."
2. Outline Your Content Marketing Funnel
Generally, there are a lot of possible routes that a customer might take before closing a deal. Therefore, instead of figuring out every possible route, you must focus on creating a single, optimized path for getting people to notice, trust, and buy from you. You can start by making a simple outline by writing down the basics of what each step of your content marketing funnel will be.
Paige Arnof-Fenn, Founder & CEO of Mavens & Moguls, is a big fan of content marketing and regularly shares timely and relevant content based on her personal and professional experience. She says, "I look at the calendar for any natural opportunities based on the season or activities to generate ideas. Keep a running list of topics inquired about by my clients and other business owners, and note when I hear or read about something new I want to explore further, or a trend/theme, whichever catches my attention. Once I zero down on an idea, I talk to people for input and just start typing. Any unique perspective that I believe to be useful, I get it out via social media or whatever distribution vehicle makes the most sense."
3. Produce Top Of Funnel Content
In this first phase of content marketing, you need to make an impression and capture your audience's attention with the value-added content, which can answer their questions or solve problems. Distribute the content across different social platforms without asking anything in return to cast your nets wide in search of the people that might become prospective customers.
Alexander M. Kehoe, Co-Founder & Operations Director at Caveni is of the opinion that having the vast majority of content at the top of your funnel is the best way to entice a large volume of potential customers. He says, "In most cases, the top of your funnel will be broad, informational, and relatively dense. Your first stage shouldn't be excessively salesy. Still, it should feature multiple calls to action, which brings your customers to a second portion that serves as the place they can begin the purchase process and can also receive more directly sales-related information."
Rex Freiberger, President at GadgetReview, likes to collect and analyze data at every stage of the funnel and monitor it regularly. He says, "We create the most content for the engagement stage. Our funnel involves CPC ads that lead to a landing page. Once they sign up for our list, they're delivered the offer, which is always free, high-quality content."
Marc Prosser, CEO and Co-founder of Choosing Therapy, considers broad general content to be easier, less expensive, and something that can generate large traffic numbers once in a while. But, he also believes that it does not attract high-value customers and seldom leads to purchase decisions. And so, he insists on creating content that has high value for the target audience.
Marc says, "One of my biggest professional successes was creating a website with high specialized real-time financial content. The typical article had a life span of only 6 hours and was extremely expensive to produce. However, my target audience of active individual traders loved it and came back to the site daily to read it. While the content did not immediately convert any of the readers into clients, it helped us to create a strong awareness and brand identity and gave me a chance to advertise to them."
Though TOFU content is not much conversion-focused, a smart-mix of well-targeted content can help create awareness for people who are just starting their relationship with your brand. Besides, as customers move closer to making a purchase, they will have the stage set for a smoother conversion path.
4. Produce Middle Of Funnel Content
Now that you have made people aware of your presence and provided some degree of free value, it's time to present an enticing offer in exchange for permission to contact them and convert them to an actual lead. Customers are still considering and evaluating your products and services in different ways during this phase, and don't necessarily trust your brand or product. So, it certainly helps to have the right value propositions and content in place.
Richa Pathak asks to design an effective engagement strategy for the consideration stage. She says,
"In the middle of the funnel stage, you need to focus on audience engagement with your brand across the channels. Also, how many people are talking about your solutions, how much time they are spending on the site, how many of them are dropping off."

- Richa Pathak, Founder & Editor at SEM Updates
Jessie Brechin, the Marketing Strategist at The Bloop, believes that the top of funnel content is produced more frequently, but content created for the mid-funnel is the most time-consuming. Giving insights about MOFU content, she says, "It is research-heavy and has to stand up to the scrutiny of its authority. An efficient content marketing program will adapt and repurpose in-depth content at the mid-funnel stage for other funnel stages. Ideas from an ebook can be adapted into infographics or synthesized into thought-provoking social posts. Researching once and using 10 times is the key to a manageable content marketing rhythm."
Often called a 'lead magnet,' MOFU content consists of data-driven educational resources and is laser-focused on being useful and practical. Thus, by providing real and tangible value to your prospects, you get to nurture the relationship and eventually lead them to the bottom of the funnel.
5. Produce Bottom-of-Funnel Content
By now, you've made visitors aware of your brand and given them persuasive, useful, and relevant information. The leads who've reached the narrowest part of the funnel can be wowed in the 'Ultimate Moment Of Truth' with the final direct pitch.
Before boasting that you have won the heart of your prospect, bridge the gap, guide them towards committing to your products/services with the following sales material.
Kevin Miller asks to do everything to establish confidence so that the consumer goes through with the purchase. He says,
"BoFu content is the most important because this is what consumers will read when they are ONE step away from making a purchase. This is where you de-risk their purchase, talk about the quality of the product, any warranty you may have, or a client success story. ToFu content is great, but it often can end up getting a ton of site traffic, with ZERO conversions, aka a waste of time!"

- Kevin Miller, Founder and CEO of The Word Counter
Now, when you have generated a content marketing funnel, it's time to know how it can be measured.
Measure Content Marketing Funnel to Optimize Performance
Jordan Schneider, informs that the value of all of their marketing channels is looked at holistically through a global cost of acquisition. He says, "How much money are we spending (including labor) to create our content, divided by how many customers it has brought in. We measure this using UTMs and last-touch attribution in Google Analytics. If we drill into a particular part of the funnel, then at the top we use engagement (click through, time on page, shares, likes, comments, etc.) as the measure for success, whereas as we move to the bottom, we are looking at conversions and ROI."
UTM stands for the 'Urchin Tracking Model,' the little pieces of data added to URLs to see where different traffic comes from.
How To Measure the Top Of Funnel?
A content marketer's job is not done merely by delivering good content. You have to find out whether it is good at driving intended business results or not. The customer might have read 8 pieces of content before finalizing the purchase. That is why you need to track the content's effectiveness at the beginning of the journey with softer metrics such as pageviews, engagement rate, time on site, and more.
There are various analytics platforms to choose from, but these platforms were primarily built for e-commerce, not to measure content and its impact on business goals. Still, you have to truly understand what these metrics measure before optimizing them towards meeting your goals. You need to observe several metrics mentioned above and segment them by industry vertical, geography, demographics of your target.
Spencer Grover, Senior Product Marketing Manager at LevelJump, admits that content-creation accounts for almost all their top of funnel activity across their entire marketing engine with the blogs doing the heavy lifting. He says, "Top of funnel is measured by organic traffic coming to our site and converting into the actual leads. Basically, how many emails did we get from organic traffic every month?"
How To Measure The Middle Of Funnel?
The middle of the funnel works as a bridge to the bottom of the funnel. Without which, the best prospects stay at the top, read your content, and then navigate away. By improving the MOFU, you can significantly reduce the percentage of marketing leads that never get converted into sales.
As a strong email list possibly serves as the foundation for the middle of your funnel, the channel consistently dominating this phase is - 'email marketing.' You need to measure - active subscribers, numbers of un-subscribers, email open-rates, and click-through rates, email responses from subscribers, etc.
A prospect that shows the right level of interest, meets a predetermined qualifier, and is primed to receive additional contact becomes MQL - Marketing Qualified Lead. If you do not define who is MQL, who's not, you might scare away contacts who aren't ready to buy yet. Undoubtedly, bombarding every lead from your email database can prompt many of them to hit the 'unsubscribe' button. So, you need to segment your emails accordingly.
Managing a startup with ruthless prioritization, Spencer Grover says, "Content downloads measure the middle of the funnel and subsequent MQLs generated. These get tied through to the pipeline, so we look at the number and value of opportunities created as a result of MQLs."
Nurturing your MQLs is the best way to ensure that these prospects continue their way down the buyer's journey.
Also, conversion rates are quite essential to optimize any campaign as it reveals how visitors engage with your website and indicates whether your marketing is profitable. Informing about how they analyze conversion rate, Aqsa Tabassam, Marketing Manager at UpFlip, says, "For the second stage, we look for the new visitor's conversion rate attracted by our blog posts or social media content. We consider the first-time visitor's conversion rate separately from our loyal or returning customers' conversion rates. That way, we can guess where we are going great and where we need to improve."
Andrea Paul says, "The second stage is a consideration, and so, we track our performance based on the new subscribers, and social media commenting rate. These interaction metrics let us know which ratio of clients have considered our business."
SQL - Sales Qualified Lead, also called a 'Hot Lead' is a prospective customer ready to be pursued for conversion into a full-fledged customer. This requires effective communication as well as alignment between sales and marketing.
How To Measure The Bottom Of Funnel?
When used correctly, metrics near the end of the buyer's journey can compare lower-funnel results with higher-funnel activities to determine which TOFU and MOFU strategies have helped generate opportunities, customers, and revenue. There are percentage-based metrics (win rate, opportunity conversion rate), revenue-focused metrics (ROI, sales closing rate), and many more. These metrics give the marketing team valuable data-driven insights to optimize their marketing spend and generate more revenue on iterative approaches to strategy.
Daniel Foley, Director at Assertive Media, likes investing in eye-catching advertisements that grab their desired audiences' attention with a detailed introduction of his company. He says, "The lead to close conversion rate makes a massive difference in my overall sales costs. I generally measure the value by the volume of leads, the speed of how long is spent in each stage by the conversion rate of leads that move from stage to stage. So, ideally, you need to be having responses of 10%+."
For the conversion stage, Aqsa Tabassam tries to make the prospects' experience better than anything that they might have experienced elsewhere by utilizing surveys, special offers, promotion on social media, etc. She says, "In the last stage, other than the ROI, we look for the bounce rate, at which the new visitors immediately click away without doing anything. Since they are not interacting, it means they did not get anything of their interest, and we need to improve our content."
6 Pro Tips to Keep Content Marketing Funnel On-Track
Let us find out what Content Marketing Experts advise to keep content marketing funnel on track.
1. Have A Well-Defined Goal
Khris Steven, Owner, content marketing and sales funnel expert at Khrisdigital, considers goal-setting as an essential tactic in keeping content marketing funnel on-track. He says, "And the reason is not far-fetched, if you don't have a stated goal which you plan to achieve through your content marketing, you would get cozy about creating content but might not have a result to show for it. For example, if your goal is about making sales, then your content marketing funnel must be directed towards getting sales and nothing else. The same goes for any other goal."
2. Look at Google Results and Partner with Experts
Neal Taparia at Solitaired likes to combine two tactics to get the intended result. He says, "We look at what Google surfaces for a given keyword. This tells us what is important to Google. Once we understand this, we find experts on those topics and write long-form authoritative content. The goal is to create the best resource on the internet for that particular topic."
3. Do Quarterly Reviews & Reporting
Advising to plan and visualize your content marketing funnel first, Amir Shahzeidi, Digital Marketing Manager at Uscreen, says, "Make sure to review and track your content marketing campaigns continuously. Quarterly reviews allow you to plan ahead, track your campaigns, and stay agile."
4. Have Evergreen Promotional Strategy
Sarah Noel Block, Founder at Tiny Marketing, says, "Evergreen promotional strategy is key. Instead of writing one-off emails or social media posts, I add them to a workflow to continuously work to promote my content."
5. Resegment Your Target Audience and Cut Unnecessary Costs
Asking to offer free solutions/services to potential leads that would want to pay for your service later down the line, Rameez Ghayas Usmani, Digital Marketing Executive at PureVPN says, "Cut unnecessary costs (cash-heavy internal campaigns, tools you don't use), and consider reconstructing your marketing budget. Stop doing additional A/B testing and focus on strategies that work the best for you during the pandemic."
He further advises, "Resegment your target audience. Some niches will thrive during this tough time; many will crash. Examine if those poised to gain could be your new potential clients/users for the time being."
6. Decide On A Set Amount Of Content For a Time Frame
Technology Marketing Consultant Bruce Harpham explains what he does daily, weekly, and monthly to keep content marketing funnel on track. Bruce says, "On a monthly cycle, I review my analytics to determine which content is the most engaging (measured by time on site) and email list growth. On a daily and weekly level, I focus on producing a set amount of content each week. Since May, I have been focused on writing a business book, so I write about 600-1000 words per day."
Didier Bizimungu, Digital Marketing Director at Webtivity Design Solutions, says, "We make sure to layout a yearly strategic plan with each piece broken down to three sub-topics planned out in advance. From there, we adjust as necessary, depending on changing client needs."
Do remember - hypothetically, a content marketing funnel does not end with converting your audience into customers. You need to have a strategy in place to keep the customers you've invested in to acquire. And if it is an industry where the customers make multiple purchases over the years, then your entire marketing team should be very focused on retaining those customers. Here are the bonus tips that will help you carry out this imperative task!
Bonus Tips : Customer Retention Strategies
The companies and organizations that take initiatives to sustain customer and brand loyalty through various activities succeed in reducing customer defections. A mounting defection rate is a definite indicator of diminishing cash flow from customers to the company. Even though the company might replace the lost customers, new customers cost money to acquire, while older customers contribute to producing higher cash flow and profits than newer ones.
By identifying the root causes of customer departures, organizations can find out business practices that need rectification and ultimately retain them. Here are 4 customer retention strategies preferred by experts.
1. Retargeting Users With Valuable Resources
Allison Chaney, Chief Digital Training Officer at Boot Camp Digital, believes in retargeting users who have interacted with your business before. She says, "We recommend creating valuable resources and ongoing education or curating news about your industry. This indeed is a great way to become an information hub that your audience relies on for information, which can also improve overall loyalty."
2. Collecting Customer Feedback
Supriya Agnihotri, Brand Communications Manager at SurveySensum, believes that nothing can be more annoying than building a great product but having no sales. She insists on knowing how your customers feel about your products/services to improve business and retain them. Supriya says, "We collect customer feedback through 'Net promoter Score' surveys using our own platform. The results are analyzed to know trends in customer behavior, and areas are identified to enhance user experience. We follow the entire process of 'closing the loop' with customers so that we can stop churn before it's too late."
Shari Smith, Founder of Shari - Sells, also advises acknowledging customer's feedback. She says, "Even though the customer's need is satisfied with your product, there will be times that customers wish for a better one, and you have to acknowledge their opinion and make sure they'll feel that you are trying to make improvements."
3. Considering Customer Service As Top Priority
Jash Wadhwa, a Content Writer at EmpowerD, considers customer service as a top priority. He says, "Our customer retention strategies are straightforward and effective. In all our mediums, we share the complimentary services we offer and the benefits for potential clients as well as existing clients. Our newsletter, posts, and blogs contain reliable information, with secure contact information."
4. Utilizing Email Marketing
A big fan of email marketing, Paige Arnof-Fenn, does not believe that one has to be a giant multinational company anymore to have the tools at their disposal as email is unbeatable, fast, convenient, cheap, and effective. She says, "Focusing on retention makes sense, especially during a recession or downturn when budgets may be limited so you can stay connected and focus on being more important to customers you already know and target. Ideally, you allocate money in your budget to stay relevant and grow. Keeping clients happy is harder now than ever before. Email marketing is a cost-efficient way to build your brand and deepen your relationships through ongoing communication."
The engagement strategy that Jordan Schneider uses is an onboarding campaign sent via email to ensure their community is up to date on every feature and function of their application once the prospects become customers. He says, "The email campaign is dripped out over four weeks and contains mostly video tutorials for the most popular features in our product. We also use this content when we find a given customer is using the application at a rate that is below average, in an attempt to make sure they do not find anything in the application confusing."
Conclusion
With the ultimate goal of creating a persistent, engaged audience through storytelling and brand building, a content marketer's job is never done! One of the best SEO practices is creating a perfect content marketing strategy that leads to more indexed pages and backlinks. Particularly for B2C, digital marketing efforts must be focused on developing content that earns the ability to be organically shared. Understand your content marketing funnel to find the holes/likely existing pain points in it — the places where potential customers drop out and never convert. Follow the tips from experts, create compelling, helpful, and unique content, distribute across different channels, be persistent in a respectful manner, and keep the conversation going.