6 Influencer Marketing Trends To Keep Tabs on in 2021
Influencer Marketing has been a popular means of reaching the target audience for quite some time now. However, the COVID-19 accelerated its adoption by the brands as they were forced to rethink their marketing strategies to adapt to the new normal. As more and more brands began to use influencer marketing as a major part of their campaign, the demand for influencers increased too.
In fact, 63% of marketers are planning to increase their influencer marketing budgets in 2021. Furthermore, recent estimates by Business Insider also show that the industry is set to become a $15 billion industry by 2022. These numbers are proof that marketing through influencers is all set to revolutionize the way brands interact and capture the attention of their target audience.
As the demand and popularity increase, it is critical for brands to pay attention to the related trends in 2021. Adapting the latest trends in the industry will ensure that brands are investing their time and dollars in the right things.
GoodFirms surveyed 166 marketing professionals to know the influencer marketing trends that are expected to lead in 2021.
How Do Brands Choose the Right Influencers in 2021?
The first step to a successful influencer marketing campaign is finding the right influencer to partner with. In the process to find one, marketers need to take into consideration a lot of factors. The base of partnering with influencers is that they should align with the goal of the marketing campaign. Some of the deciding factors while choosing an influencer are engagement rates, types of followers, content quality and style, shared values, and the number of followers.
Marketers Consider an Influencer's Engagement Rates The Most Important Factor
An influencer's engagement rate shows how well the audience is connecting and responding to their content. For, 69.2% of surveyed marketers, the engagement rate is the primary factor while selecting a partner influencer. Engagement rate is important because metrics like the number of followers don't guarantee either that the audience feels connected to the influencer or that it perceives the content correctly.
For instance, there are also influencer profiles that have a high number of followers but a low engagement rate. In such a case, there are high chances of their audience ignoring the content. An engagement rate of 2-3% on an influencer's posts is desirable, 4-6% is a great rate. If the engagement rate is in the high tens and twenties then the posts can be called 'viral'.
A combination of a strong engagement rate with other marketing metrics like audience fit and reach efficiency will give the necessary returns on a brand's marketing efforts.
Apart from calculating the engagement rate, another important thing brands should note is how does an influencer responds to his/her followers. Influencers who respond regularly and quickly to their followers are able to create a loyal following. Also, this results in more and more followers returning to their page.
Marketers Go After Influencers That Have Similar Target Audience
A business can get the most out of an influencer marketing campaign when it is focused on achieving specific goals. A part of these goals is knowing the target audience. So, it goes without saying that a brand should partner with influencers that have the relevant audience. About 53.8% of survey participants agree with this. For them, the type of followers an influencer has is the second most important factor while choosing one.
An influencer may have a defined set of audiences but there is also a possibility that their audience also contains an interesting segment of individuals. Knowledge of this segment of individuals can help brands to explore the possibility of acquiring new types of audiences.
A perfect example of a brand partnering with an influencer in the same niche is a Kitchen tool and gadget brand hiring food bloggers, YouTubers, or Instagrammers. If a similar brand wants to get more specific for a product like vegetable slicer, then vegan or vegetarian influencers will be a perfect choice.
What Challenges Do Brands Face With Influencers in 2021?
Influencer marketing has become popular in the last few years and has also proved to be more effective than traditional means of advertising. But just like any other industry that is still growing, influencer marketing has its own share of challenges too. The possible challenges include measuring ROI, rising costs of the campaign, fake influencer activities, lack of influencers in some niche markets, and more.
Measuring Influencer ROI is Still a Challenge For Most Brands
Direct conversions, brand lift, pre-conversion touchpoints, increased brand search volume, links, and mentions, etc. are all the results of a good influencer marketing campaign. But it is not easy for most to decide which metrics to follow, let alone how to. As per 52.3% of survey respondents, measuring the ROI of an influencer marketing campaign is the biggest challenge. This is more true for Instagram as impressions are not available.
Marketers end up in an uncertain situation where investments are done without any precise information of whether the campaign is successful or not. However, there are reasons as to why it's difficult to measure ROI.
The primary reason is that the goal of many such campaigns is to create brand awareness which is anyhow difficult to measure. The major reason, though, is that there are some technical limitations too that have a negative impact on the measurement of ROI.
One example of technical limitations is that Instagram posts don't allow the addition of clickable links. It means there is no click-through attribution. Here, if an influencer adds a branded link, then users have to copy and paste it into the browser. In that case, referrer information is lost and the brand's analytics software will consider this as a direct website visit instead of from an influencer.
The campaign data is also affected in the case of other social media platforms because referrer information is lost even when users click on links in a mobile app that redirects them to web pages in a browser. There is also a possibility that many users will directly search on Google for a brand after seeing an ad. Again, a wrong attribution to the visit.
Rising Costs of Influencer Marketing Strains Many Other Brands
Influencer marketing started out simple. An influencer would post promotional content and would get fair compensation for the same. And not many brands were using it. The problem started when the demand for influencer marketing increased and more tools and efforts were required to reap its benefits. This resulted in rising costs of using this strategy.
About 49.2% of marketers noted that the rising costs of influencer marketing campaigns are one of their main challenges.
The precise cost of such a campaign depends on a variety of factors like influencer ties, social media channels, the scope of collaboration, and much more. Just like all influencers are distinct, the campaigns are too. So, it is not possible to predict the precise cost of partnering with influencers unless every aspect of the campaign is clearly defined. In such a scenario, without a universal standard for influencer pricing, the cost of partnering with both - small and large influencers will keep on fluctuating and rising too.
Another reason for the rising costs of influencer marketing is that as the concept became popular, brands decided to jump on the bandwagon without understanding its nuances. Due to a rise in demand, the influencers were able to charge freely.
Thus, all in all, the brands end up paying not only for the influencer's payment but also the additional costs of the required resources to get the most out of their campaigns.
Industry Niches: What Type of Influencers Are the Right Fit in 2021?
The five main types of influencers are Mega (more than 1 million followers), Macro (500K to 1 million followers), Mid-tier (50K to 500K followers), Micro (10K TO 50K followers), and Nano (1K to 10K followers). Influencers have proved to be better than traditional endorsements and product placements but it is necessary for a brand to partner with an influencer that can garner the maximum returns for their niche.
Industries need to partner with specific types of influencers that are perfect for their niche. According to a substantial number of marketers, the right influencers for B2B (49.2%), Electronics (50.8%), and Food (43.1%) are the mid-tier influencers.
In the case of the clothing and fashion industry, marketers voted equally for mega influencers (44.6%) and macro-influencers (44.6%) to be effective. For the personal care industry, 43.15 marketers recommend mid-tier influencers. The primary reason for this choice is that while personal care is subjective, the audience will still need a good enough number of reviews to be sure that the products/services being advertised are helpful and safe.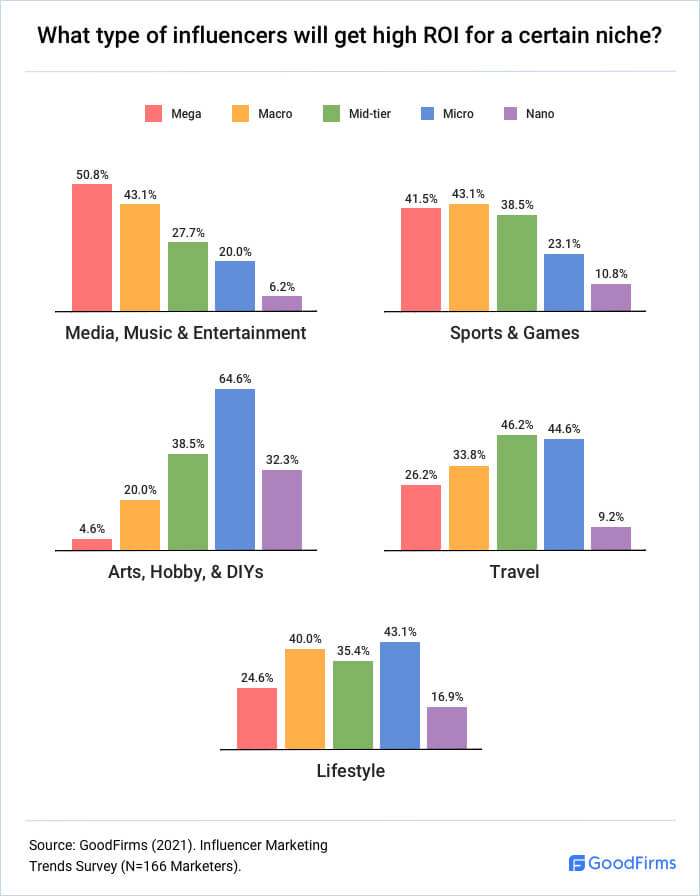 For the media, music, and entertainment industry, a significant number of marketers (50.8%) are of the opinion that mega influencers are the best choice. Next is the arts, hobby, and DIY industry. This type of content witnessed a great surge in popularity in the last year. Here, 64.6% of marketers believe that micro-influencers can garner the desired results as these activities are personal for each individual and these influencers will only have those followers who religiously follow their recommendations. Hence, they are the most effective for this industry.
Hence, it is highly recommended for brands to carry out appropriate research on the type of influencers that work best for their niche to get maximum returns on investment.
6 Influencer Marketing Trends to Keep Tabs On in 2021
Just like all the other marketing trends, there is a reason for the current Influencer marketing trends too. Brands are becoming more inclined towards nano and micro-influencers due to their higher engagement rates and less cost. Similarly, they are choosing long-term partnerships and performance-based collaborations to get the most out of their campaigns. Videos and TikTok are gaining traction because they have proved to be more effective in gaining more customers.
Nano & Micro-Influencers Bring Better ROI Over Others
These are the influencers who have a comparatively small but dedicated following. Nano influencers typically have from 100 to 1000 followers. Micro-influencers are a step above nano influencers. Their number of followers ranges from 1,000 to 10,000. Earlier, brands did not pay much attention to these influencers. But things are changing in 2021 as these influencers are becoming increasingly helpful for small and medium brands in establishing a foothold in the market.
Karen Miller, a Copywriter & Brand Strategist at KMW Content, states what the future looks like for Micro and Nano influencers. She says, "There will be micro-segments where professional service providers who are at the top of their game will rise up and become successful influencers, by way of smaller, niche followings. It's a trickle-down effect. Inevitably, more and more niche markets will absorb the trend until something else comes along."
There is a reason for the rise in demand for micro-influencers. The Co-founder of Happiness Without, Valentina Lopez, discusses the reasons for the high impact of micro-influencers on the target market. She said, "Micro-influencers have a smaller following, usually less than 25K but their bond with their community is strong. They are followed by friends, family members, and acquaintances. Therefore, they have been found to comment and engage with their audience themselves. These influencers are also more likely to run their accounts themselves instead of hiring a VA or a team. This leads to greater trust which further leads to better sales."
Nano and micro-influencers can actually prove to be committed, brand advocates. They are an ideal choice for small businesses that do not have a huge marketing budget but can definitely gain some benefit from a 'word-of-mouth' approach. As the competition increases and trends change, it becomes difficult for brands to alter their marketing strategies quickly. The end result is a decline in the engagement rate.
The Digital Marketing Manager at 21Twelve Interactive, Ashish Goswami, gives some interesting insights about micro-influencers and how brands can leverage them. "According to some 2019 report from Later and Fohr, micro-influencers, especially those with over 25,000 followers, possess the maximum engagement rates at approximately 7%. Considering that engagement rates on Instagram have been decreasing, influencers having an engagement after are getting a closer look at brands, despite fewer followers. By focusing on nano and micro-influencers, brands will have the power to enlarge their influencer marketing budgets while working together with influencers deeply connected to their audiences," said Ashish.
Time, effort, and money invested in influencer marketing campaigns will not generate the desired results if the influencer does not work in alignment with the brand values. To prevent any such thing from happening, Alex Berman, the CEO of email 10K, chooses to partner with micro-influencers.
In his words, "We chose to work with a micro instead of a celebrity influencer. The reason being they're more cooperative and were also relatively budget-friendly for us. The influencer we worked with kept in mind to follow all instructions specified by us and incorporated our brand's products, name in the most creative way in their content."
Videos Are the Most Preferred Form of Influencer Content
For the last seven years, video content is on the list of marketing trends in general and not just influencer marketing. It is not a surprise as people love video content. Moreover, it is not just limited to just enjoying video content, about 90% of customers are of the opinion that videos help them make buying decisions. Additionally, 64% of customers say that seeing videos makes them more likely to buy.
Cloud Task's Marketing Director, Wesley Burger, gives reasons for the expected rise in video content in 2021. In his opinion, "With the increasing popularity of platforms that encourage video marketing such as TikTok and YouTube, I am certain that there's going to be a spike, and possibly a trend in video marketing in 2021. In 2020, for example, Facebook recorded a 50% increase in live video attendance due to the effects of the pandemic such as lockdowns. It can, therefore, be deduced that video marketing is more likely going to be a trend in 2021 considering that the global pandemic's effects are still felt in different parts of the world."
Apart from consumer's connectivity and trust with video content, another reason for the possible rise in such content is the number of platforms supporting video formats. It includes both long and short-format videos. For instance, brands can post long-format videos on YouTube. For short format videos, there are Instagram Stories, Reels, and TikTok.
Courtney states in brief how video content helps in creating a valuable bond with the audience. " visual content is a lot easier for users to digest in a shorter period of time, and is far more engaging. Video content also builds trust. When watching a video, users feel a more personal connection with the Influencer, as opposed to a photo with a few hashtags and a discount code," says Courtney Stables, an Internet Marketing Specialist at Custom Neon.
In the video content umbrella, short-format videos are the ones gaining traction with time. The primary reason is the decreasing attention span of users. To retain customers and engagement, it has become inevitable for both - influencers and brands to create short videos that can catch the attention of the audience as well as inspire them to take some action. The types of short-format videos to include in a marketing strategy are:
Testimonial or review videos
Product tutorial/How-to videos
FAQs/Responding to customer questions
User-generated content
Live-streaming
TikTok Is Currently the Hot Favourite Platform
The use of TikTok in influencer marketing has increased since its foundation but it gained traction in 2020. The platform started as a music and dance video app. This is the right time for businesses to use TikTok as the target audience is most likely to be present there. The platform has become increasingly popular because it is exclusively dedicated to videos as opposed to other platforms that have videos as an option among others.
Jon Torres, a Digital Marketing Consultant, presents his opinion on how the platform is growing with each passing day. "I'm seeing TikTok influencer marketing rise up to meet its runaway adoption rate. TikTok's video aspect is extremely appealing to both creators and their followers. That has helped the platform to grow organically, helping authentic, creative, and consistent creators come up as influencers," said Jon.
TikTok is also becoming marketers' favorite because it gives them direct access to the huge existing audience of the platform. The number of TikTok users is more than 800 million. This is in spite of the recent controversy that the platform faced. TikTok even temporarily faced a ban on downloads. All of this did not make the brands already using the platform discontinue doing the same.
The Digital Director of Kingstar Media states some ways in which TikTok has got an edge over other platforms. "Viral Tik Tok videos will be the influencer marketing trend that will rule 2021. Entrepreneurs are using Tik Tok influencers to launch and market new products. Tik Tok influencers are relatively affordable in comparison to Instagram/YouTube influencers. Brands are able to generate content for a low cost on a platform that is highly engaging. Tik Tok is viral in nature and many new products, recipes, and services have scaled almost accidentally as a result of Tik Tok videos going viral and generating millions of views," says Geoff Crain, the Digital Director.
Some of the top brands or famous names in the industry that use TikTok are:
Thus, it can be said that it is important for brands to have a presence on TikTok. It will increase brand awareness. To get the most out of TikTok, find influencers that work in the brand's niche. The right TikTok influencer marketing strategy has the power to get a brand and its product in front of a huge audience and get potential customers too.
Brands Partner with Influencers For Longer Campaigns Now
In 2021, expect to see brands and influencers come together for long-term partnerships instead of single sponsored posts. There are multiple reasons for this change but the main reason is that it takes time to make a sale. Even highly popular influencers will have trouble in making a real contribution to the brand's sales figures with just a single sponsored post.
Founder and CEO of Snow Monkey, Rachel Geike, further explains this shift in the partnership. In her words, "Influencer marketing trends will start shifting towards long-term partnerships rather than one-off ads in 2021. Marketers are beginning to understand how important brand loyalty is for creating return customers, and ongoing influencer partnerships will help create an emotional connection between that influencer's community and your product."
Milena Farber, a Social Media Manager, states how the role of influencers will change when they enter into long-term partnerships with brands. Milena from Tonara says, "In 2021, the best approach for companies is based on a long-term strategic plan with those influencers who will feature the brand and products regularly. This helps to bring more and better leads and promote brand loyalty. They can become brand ambassadors and will not just be someone promoting the product on their social media, but a celebrity participating in events, Ads, and much more. It is a good way to optimize relationships."
Other key advantages of forming long-term relationships with influencers are:
Running long-term campaigns will give brands the opportunity to track results and optimize their campaigns accordingly.
Long-term relationships will enable brands to find and focus on micro-influencers that have high credibility in their niche.
Long-term partnerships with micro-influencers will allow brands to capitalize on relevant new customers as the niche audience of these influencers increase.
Having said that, there is also a risk in working with influencers for the long term if brands do it without creating a proper contract for the same. Therefore, a part of this trend will also include detailed influencer contracts that will protect both parties - the brands and influencers.
Brands Seek Performance-Based Collaborations With Influencers Now
As the number of influencers increases in the market, there is also the drawback of social media platforms getting overcrowded with them. In such a scenario, influencers may not be able to deliver what they promised initially. Brands also have to survive in the competition, so they will not believe the claims of influencers if they don't translate into numbers. Due to this, in 2021, there will be a rise in performance-based deals.
Marketing VP of Expert Opportunities describes in detail the reasons for brands to adopt this approach. Mitch Harad, the Marketing VP says, "It's easier than ever to amass followers across social media, as more consumers move to social media and integrate these platforms into their lives and purchasing habits. But with that ease comes a dilution of how effective influencers are. Likes and comments are not the same as clicks and conversions. As we push through 2021 it's likely brands will add a layer of protection by moving towards performance-based agreements."
Fair remuneration or commission to the influencers is necessary to maintain a healthy relationship with the influencers. A brand should consider paying an influencer a certain amount of the commission whenever he/she successfully sets potential customers to the conversion path. However, this commission should be paid irrespective of whether the lead converts into a customer or not.
Susan Thompson from Topp Casino Bonus mentions the influencers who will benefit the most from performance-based contracts. "As most of the brands and influencers are seeking long-term collaboration, performance-based influencer marketing will likely increase. It means the client will be expecting some decided clicks or views from the individual influencers. Influencers with high engagement rates can profit from such deals," said Susan, a Digital Marketing Manager.
The concept of performance-based compensation does sound like the right way. Milena Farber, a Social Media Manager, further expands on this topic by explaining how to calculate the right amount of compensation for the influencers in such a scenario.
Milena from Tonara said, "This deal is taking over the influencer market since businesses get much more eager about compensating influencers fairly (based on results brought). It's just that easy to generate a custom link or a coupon code for the influencers. In the back end, companies will track clicks and performance that link/coupon code back to the influencer's marketing activities."
The idea of performance-based influencer marketing is relatively new and not all influencers will get on board with the idea. But as more and more brands adopt this option, influencers will not be left with any other option.
Authentic Content from Influencers Gets the Best Engagement
Gone are the days when audiences on social media would be impressed with the lavish lifestyles of celebrities or influencers. In 2021, brands can expect an increase in preference for authentic and genuine content. People will engage with an influencer only when they get to see their authentic and real-self.
The amount of filters and edits on pictures and videos is expected to reduce to a minimum too. About 71% of influencers agree with this approach and think that an authentic and honest approach will keep the audience engaged.
Kas Szatyłowicz from Tidio Live Chat has a suggestion for brands who have a defined set of target audiences. Kas said, "Forget celebrities and influencers with hundreds of thousands of followers and start looking for authentic trendsetters who connect with their audience on a very personal level. This will be especially important for companies who want to target a specific audience, for example, females between 20 and 30 years old. Of course, this kind of "real" connection based on trust needs to develop continuously, and that's where we can expect more short format, educational videos popping up everywhere. Authenticity is key."
As more and more people are seeking relatable content online, it has become necessary for influencers to market products/services that will solve the real-life problems of people.
CEO of Word Finder, Bishal Biswas, said something on similar lines. In his opinion, "2021 will see a rise in more genuine and authentic content from influencers who have used and availed a product and service. Companies are now more inclined to influencers who are better at communicating about a business in a better and authentic way to engage more customers. Paid content has failed to get the desired results for businesses, and they are now getting the influencers to create real reviews without cinematic effects."
Complimenting the idea of authentic and genuine content, the Founder and CEO of Snow Monkey, Rachel Geike, mentioned how their brand is partnering with celebrities in their field to form a connection with their target audience. Rachel says, "Snow Monkey partners with influential female athletes, including a few future Tokyo Olympics competitions. These include partnerships with Mallory Comerford, Christen Press, Courtney Conlogue, Brisa Hennessy, Ashlyn Harris, and Anna Weis, all of whom were fans of Snow Monkey before coming on as partners. That lends an authenticity to their recommendation that customers do recognize, which in turn makes the partnerships even more effective for Snow Monkey's team."
While adopting this approach, brands should keep these rules of thumb in mind:
The images should not be too staged as the audience will immediately find them to be inauthentic.
Take into consideration the factors like brand-match, demographics, engagement, and the feel of an influencer's account before partnering with one.
Content should appear to be relatable and at the same time influencers should have the creative freedom to express themselves.
Conclusion
8 out of 10 customers purchase something after seeing a recommendation from an influencer. Keeping this in mind, there is no doubt that influencer marketing will be a game-changer in 2021. A major trend that people can expect in the new year is how brands put together content, influencers, and social media to promote business.
Not to forget that brands will prefer a partnership with influencers that share the same values and will choose long-term relationships over single sponsored posts. Micro and nano influencers are expected to become more important and video format will continue to reign this year too.
About The Influencer Marketing Trends Survey
GoodFirms surveyed 166 marketing professionals to gain insights into the influencer marketing trends that will rule in 2021.
We sincerely thank our Research Partners for helping us garner participants and providing their valuable contribution to the research.
Majorly senior-level executives participated in the survey. These included CEOs (20.5%), CMOs (19.3%), Founders (16.9%), Marketing Executives (14.5%), Director of Marketing (12.0%), and Others (16.9%).
In terms of the size of businesses, the respondents belong to a variety of them - 36.14% of Small businesses (1-49 employees), 48.19% of Medium businesses (50-249 employees), and 15.66% of Large businesses (250+ employees).
Leave comment
Your email address will not be published. Required fields are marked *
Author Info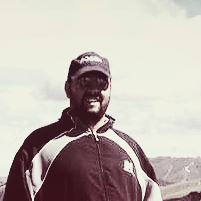 Mark Raymond
Content Developer at GoodFirms