Social Media platforms have provided its users with the superpower of commenting their views on any topic and make it a trend. A mere set of web pages that allowed people to make profiles, share photos and thoughts, connect with mutual friends, express emotions through emoticons - all of it have turned into an online wildfire of engagements. And there is now an era of brands taking part in these interactions to earn the trust and loyalty of their customers via social media platforms.
This virtual forest of Social Media is unstoppable in terms of its inhabitants. According to the global digital report from We Are Social, the figure of active social media users have reached 3.196 billion which is 42% of the total population of the world. This indicates a 13% increase from the year before. But that's not it, 2.958 billion people that are 39% of the total population access social media through mobile devices. It's a clear sign for social media maestros to optimize the social apps from time to time based on users' behavior and preference.
Social Media forums keep on developing as a source of data about products and brands. Global Web Index in its most recent social media trend report display that the youthful socioeconomics are driving these shifts yet even among 55+ multi year-olds, 20% of them say that they have utilized social networks while looking into products/services. This again symbolizes the blossom of social commerce in near future. Strikingly, grown-ups in developing nations tend to utilize social media much more when contrasted with advanced economy parts of the world.
Social Media Statistics for 2019
The research team of GoodFirms perused and gathered data from various reliable online sources to get a hold of the current social media marketing scenario. The most interesting part that came to notice from the social media usage report compiled by Edison Research and Triton Digital was the decline in social media traffic by 4% in the USA, for the first time ever in nine years. This is on the grounds that youthful Americans are grasping messaging platforms like WhatsApp, Facebook Messenger, Snapchat, and others while utilizing social sites and apps on a lesser scale now. Apparently, the need for secure and private space has risen amongst the youngsters in America rather than public online platforms.
This one simple aforementioned fact has given rise to complex predictions for social media in the upcoming years. Keeping the predictions part for later, have a look at the latest social media stats for 2019 below:
1. Which are the most popular social media networks?
The leading statistics portal - Statista has published the latest report of the most popular social networks worldwide, wherein Facebook, Youtube, WhatsApp, and Facebook Messenger top the chart.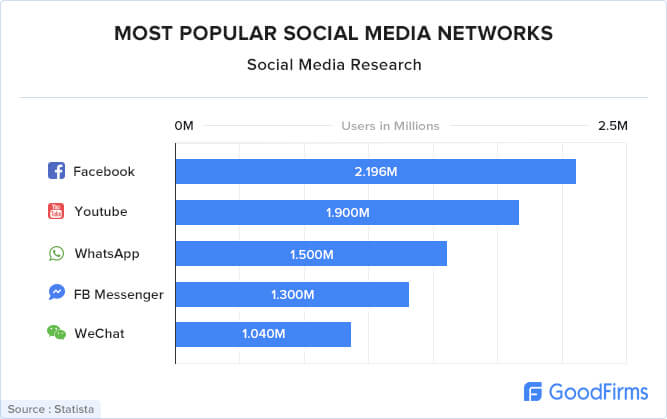 Facebook still rules with the most daily active users (more than 2 billion) and is also productive for organic & paid campaigns with huge potential reach. The social media marketers create successful campaigns by targeting the content to business personas. Google's YouTube is not far behind with 1.9 billion active users streaming videos every single day. Observing the above chart also gives an avouchment of the users' inclination towards social messengers allowing them to communicate privately.
Having said that, the next series has WhatsApp, Facebook Messenger and WeChat in line making these platforms the top 5 social media forums with the most active users in the world. In fact, soon there will be spaces for sponsored ads on social messengers as well. That clearly indicates a golden chance to take advantage of paid marketing along with the one-to-one organic one that is already in practice. Social messengers have empowered brands to market special deals & discounts personally to their loyal customers. It is also being used as a customer relation service, making it more and more convenient for users to interact with the brands.
2. What makes users engage with a brand on social media?
There would be no meaning for brands to be on social media if there is no engagement. But then again, there is a lot of chaos as every brand is trying to get noticed in the beloved eyes of its customers. And to win this battle with the competitors on full-throttle, a brand should be aware of the basic needs of the social audience. Sprout Social has analyzed the behavior metrics of users on social media for different parameters of the brands' personality below. This will give an idea of how brands can leave a positive impact in the minds of its social customers.
The brand personality defines the brand's image and the way it carries itself on social media among the audiences belonging to different generations. The more authentic it exhibits itself on social, the more effective it gets on the customers. Uncommon brand personalities reverberate on social when organizations put time and assets behind social procedures that test existing known limits. Consumers expect brands to be honest, friendly, helpful, funny, trendy, politically correct and snarky depending on their industry type. If a brand is still struggling to find its position in the market, it should focus on what it's social team can do!
Next comes the timing and placing of brand's content out among the social users. A brand should know what type of content to put forward at a respective social platform. The content approach made at Facebook won't necessarily work on Twitter and YouTube. It is important to know what type of videos should be posted on each social media handle depending on the content demand of that platform's audience and their tolerance level for marketing. Conclusively, a brand has to choose which social site needs an admixture of personality and which one needs informational content and then create its content marketing strategy.
Lastly, a brand should know the thin line between annoying and cool. Basically, how a brand implements its social media marketing strategy is as important as the subject brand uses to talk about. Brands always try to relate its products/services with the current events in the world that are popular among the customers. Then again, it becomes critical to know whether a brand's target audience really wants to hear the comments of the brand on those events. This is where the thin line between being the cool brand or an annoying brand emerges. Knowing the right words and engaging in relevant conversations engage customers to react positively.
3. What influences people to buy services/products on social media?
Initially, social media was perused for fun, entertainment and knowledge; and almost a decade later it is now one of the most influencing platforms for eCommerce. According to SUMO Heavy, social networks influence 58% of consumers' buying decisions.
The social media influencers guide their followers or connections with their recommendations, which in-turn generates successful sales for brands. To make the buying process shorter and effective, the social platforms like Facebook, Twitter have introduced paid posts designed for businesses to sell products/services. The brands who know their audiences and their buying behavior well, have started utilizing business pages and sponsored posts offering them with related commodities. The offline word of mouth strategy is being taken over by online social news spread boosting sales for the brands.
The question now remains is, which brand actions on social media influence buying? Following are the top four patterns of the brands as per the survey of 1000 consumers conducted by Sprout Social, that encourage maximum engagement from users:
Being responsive, offering promotions and providing educational content have turned out to be the top three parameters that influence the social users to engage with the brands increasing the possibilities of conversion. Attending to customers' doubts and grievances assure them that the company cares and is always directed towards providing them a good experience.
Offering promotions are the most convenient way to gain the loyalty of the customers encouraging them to keep buying with better prices in the market. And well, as per the opinion of the top content marketing companies, providing content that actually matters to them and acknowledges them of the latest trends will always make them look up to your brand for the latest products or services.
Offering customized deals on social media can undoubtedly increase the engagement ratio from the users. A brand usually asks the customers to review them or like the page or tweet about them in turn for a complimentary gift. This tactic usually works for the best.
Other than the above-mentioned ways, sharing interesting visuals, being funny and offering exclusive content also play significant roles in grabbing the attention of your audience. The news feed on various social platforms is filled with videos and GIFs but the ones that are thumb-stoppers are the actual winners! Also, humor behaves as a great ice-breaker for brands. And well, making a funnier approach mostly does the job of making the customers like the brand.
4. Which trends are bound to rise in the upcoming years of social media?
The game of social media is filled with twists and turns. What works today might not work tomorrow and the vice versa is possible as well. Staying abreast of these norms, the top digital marketing companies keep on evolving their online marketing techniques to match the current tide of customers' preferences. All there can be is definite predictions for a shorter period of time, from the current activities and framing of online marketing strategies accordingly.
To summarize the future of social media marketing, let's have a look at the five social media trends published by Hubspot that will change social media marketing in 2019.
The rise of video content marketing and live videos
As per the social media giant - Facebook's recent announcement, the 'Live Video' feature has been able to grab the maximum engagement from social users; six times more than the normal posts to be exact! This only indicates the rise of live videos with an additional Watch Party feature announced by Facebook's VP of Product, Fidji Simo. Brands have already started using live streaming of the events to broadcast it to the social audience. This indicates a huge attraction of live and uploaded video experiments on social channels to gather audience interactions.
Messenger apps will become critical for brand communication
The fastest social sources till date to make content viral are messenger apps. All the more particularly, numerous brands are using messaging apps to convey one-on-one with clients, which is totally changing the manner in which customer service implements. These applications give a quicker and less demanding route for clients to get the help they require, instead of being put on hold or sitting tight for a returned email.
Virtual Reality will have experimented for better marketing experiences
Virtual Reality is still fairly new to the advertising scene, and in 2019, it is anticipated to become more prevalent in the market. The year of 2019 is relied upon to see an 18% expansion in income and a 25% increment in units sold. What's noteworthy about VR is that it encourages engagement by offering a memorable experience unlike any other medium and brands are quickly recognizing it's value.
Voice input, image search, Augmented Reality will change the way for users to discover brands on social media
Voice-controlled assistants are being incorporated into everything, from savvy speakers to TVs, to cell phones. These voice-fueled gadgets that respond to satisfy verbal summons are getting adapted to human communication more by each day. Voice input and search have already made its debut through various devices and it probably won't be long before they change the manner in which clients peruse and devour content via social networking sites.
Social channels will make it difficult to monetize content to make them safer for the users
Social channels are under more strain to make their systems more secure to utilize for users. That by all accounts mean for it to be winding up more troublesome for brands to monetize through content. The most ideal approach to be found via social networking media proves to be high caliber, customized content that is important to your target audience.
5. Should small businesses continue with social media marketing?
Social media marketing if done right by small businesses can help to instantly connect with their prospects and consumers, especially in their locale. Investing a little amount in social media posts with full control of the demographics can generate an awesome ROI as well as awareness among your target audience.
Every social platform has its own forte; when used appropriately can result in some serious cash inflow for SMBs. Facebook, for instance, holds the maximum traffic consisting the majority of your customers highly active. On the contrary, as mentioned before, for the first time ever, the graph of Facebook's active users has gone down. But, the sun has not set for this social media giant, as Facebook still remains the most popular social network with maximum active users.
Instagram is all about images, so if you own a food restaurant or a cake shop or a photo studio or an apparel boutique - you should not wait to take its full-fledged advantage. For SMBs, allotting budget for social media is one hell of a brainstorm. But if the respective SMB is confident of making a successful impact, that testing should not be held back, especially when it comes to Instagram. The high-end images with beautiful filters come right into the eyes of your consumers. Thus, there are much better chances for your business to bloom catchy images can impress your customers.
On the other hand, if you are a hiring consultant or agency, LinkedIn profile search serves as your online treasure with all the public info you require of your eligible candidates along with sort & filter options.
Basically, there should always be a specific objective defined by small businesses before approaching any social media platform for branding or marketing. And then however you strategize your launch, make sure that your campaign has the ability to start conversations and gain engagements from your audience. This can happen with building local online communities, offering exclusive discounts, posting a video or announcing special events sponsored by your business. If your campaigns stand out of the chaos cluttered on social media; any SMB can achieve its desired results.
Also, know that it is no such rule to come up with flying colors on every social media platform. Just dominate that one platform that churns up your business goals and keeps getting more and more creative with that platform. A focused social media marketing strategy is more efficient than elementary marketing across every social media channel. And yes, social media still has a lot of power if you know how to bloom with it.
Social Media Predictions for 2019
Disruptive advancements and technologies always show signs of change in the field of digital marketing. This constantly puts brands to test their ability to adjust their strategies in order to stay significant in this quick-paced condition. Here's a look at the key patterns distinguished by the team of We Are Social that brands should keep an eye on, and how they will shape the social marketing in 2019.
Direct messenger marketing
SThe social feeds continue to become more cluttered with never-ending content. And hence, users now prefer private messenger platforms to communicate which is set to continue. Users like to choose which promotions they would like to receive and messenger apps are the best for that. Brands are leaning towards business accounts in these chat apps to communicate with their customers. To abstain from turning into tomorrow's adaptation of SMS spam, brands need to convey relevant promotions in a non-meddling way.
Social commerce at present makes up under 2% of aggregate retail deals as per reports, however, that number is relied upon to detonate throughout the following couple of years and income produced could reach $165 billion all around by 2021. What's more, it is required to encounter a genuine tipping point in 2019 for social trade in the US. The promising beta rollouts of shoppable advertisements on Instagram keep inclining in recurrence, while Messenger bots have demonstrated there's genuine potential there to rethink the customer retail encounter.
Search is generally the area of Google, which keeps on sharpening the search algorithm, making it considerably more local, customized and logically significant. Be that as it may, social media channels are proceeding to gather an abundance of information from geotags along with psychographics. And with the advancement of visual search, social platforms are winding up to become a well-known medium for search.
Brands are in a contest to win back customer trust by giving conviction through supreme straightforwardness. The customer's desire for transparency is just the same old thing new, however, in the time of the phony news, the question around brands, media, and governments has gone into overdrive. It will never again be sufficient to state you're straightforward or have your staff say it. It should be approved all through the production network through third-party research and review firms. Brands should be confident enough to discuss everything - not only the great bits. They should demonstrate that they are aware of the negative impacts and they have got solutions for it.
Consumers as Contributors
Brands are progressively being driven by the ideas of qualitative communication with their buyers. This is encouraging the consumers to become contributors by advertising the brand. It's not just about being an easygoing purchaser, it's about a feeling of genuinely having a place with the brand's locale and assuming a functioning part in forming its future. The top market research companies can gather reliable info for the brands from the developed network of co-makers. Through which, new ideas and products can be created in view of continuous criticism from the frequent buyers who purchase from the brand. Apparently, at that point, a brand's community can possibly turn into its greatest resource.
Conclusion
The complete information gathered above from reliable sources is absolutely genuine. It is compiled and shared by the research team of GoodFirms to help brands define their long-term social media marketing strategies. All kinds of businesses need to know their scope in social media advertising besides the current successful trends and their usage. Thus, data from the latest reports published by trustworthy social media firms have been utilized to form this brief social media research article.
GoodFirms is sure that the readers will get much more enlightened with reference to the present social media marketing scenario and its futuristic importance in terms of customer service and community building. All that's now left is to have a rundown of the best social media marketing companies that have the right skills to implement the social branding in a way that uplifts a brand's reputation among the social audience.