Best Workforce Management Software
Are you searching for workforce management software to receive automated solutions to everyday Human Resource tasks? The workforce management system effectively handles payroll and timekeeping functions. Workforce management tools can further eliminate the risk of manual error and ensure a secure, impartial, and orderly workspace. Moreover, most software offers remote access making the application accessible from any device with an Internet connection. It also ensures correct timekeeping as the biometric data collection devices only allow the actual employees to punch in and out, eliminating the malpractice of "buddy punching". So, check out the list below and find the most-suited workforce management software for your project without hassle.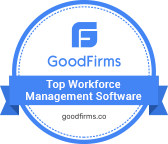 List of Workforce Management Software | Top Workforce Management Solutions
Introduction to buyer's guide for Workforce Management Software
The foundation of a successful organization is built around a strong workforce who are highly motivated, capable, and adaptive. It is due to the joint efforts of the workforce that helps organizations to cope with the most challenging tasks on the field. The process is known as Workforce Management. It ensures that all resources are in the right place at the right time. It is the most valuable asset for any organization bringing positive change to the organization's internal process and people associated with it. Workforce management has a direct influence on employees' work and the company's progress. The better an employee feels about the company, the better would be their performance.
Workforce management enables business owners to increase efficiency at a company level and on the employee level. It's about managing balance with all the business verticals and aligning them for optimum results. It ensures that they have enough staff to serve their customers and have the necessary skill set to perform the task.
The activities involved under Workforce Management includes,
Employee's work analysis
Scheduling work for employees
Talent acquisition
Time, attendance, and absence management
Compensation and benefits
Workforce administration
Performance management
Learning and training management
How has workforce management evolved over the years?
In the last few years, on the cusp of rising competition, the business owners were under enormous pressure to deliver quality products/services at an affordable price. In the event of which they had to revise their business strategy, look for the areas where they can cut the operation costs, and increase the overall output. It forced them to leave the legacy system behind and harness modern technology in their business process. The practice of investing in the workforce management system started emerging then.
In the earlier systems, the factory workers used to punch their entries and exit on the card manually. It has passed through various transition phases, from logging employees manually to automatically registering them through a high-tech biometric system or paying their salary online rather than handing them cash-on-hand. Similarly, many processes related to workforce management have transformed.
The old methods are challenging compared to the modern-day workforce management system. In the past, whether it was fieldwork or office work, the employees had to be present in the location, and managers monitored their work. Now, with sophisticated tools, the employees are free to work from anywhere and monitor their work from any corner of the world without the manager's involvement.
Decades ago, communication was confined to letters and documents, but now it is conveyed through mobile phones, e-mail, instant messaging, and video conferencing via multiple devices. Business organizations are observing a similar transformation. A single workforce management software can now handle all workforce-related tasks, and communication between workers and employers is drastically improving.
In the past, while performing business operations, the ratio of human error was high. There was no such system that sent an alert or notification when employees were out of sync. Also, inaccuracy in employees' clocking time frequently creates friction between employees and managers. In the present time, everything is streamlined with the help of Workforce Management Software.
What is workforce management software?
It is easy to coordinate and manage a workforce manually for a smaller business unit, but for bigger level businesses, it becomes complicated for one person to handle the job schedules. Workforce management software allows the project manager to assign tasks to multiple workers and monitor their work on a day-to-day basis.
The workforce management software is an umbrella term, and it can perform myriads of work. It assists managers in noting employee time and attendance, tracking workforce performance, managing absence requests and shifts, optimizing labor cost, and creating real-time reports for all employees in one system.
It also helps employees to track their work on a day-to-day, weekly, monthly, or annually too. The employees often forget what task they have done previously and how much time they invested in finishing a particular task. In such scenarios, WFM software can give them a detailed view of all their previous work and focus on areas for improvement.
It is meant to improve the productivity of a company's employees and channel better communication among managers and workers. Management software permits employees to manage more tasks themselves – such as viewing and editing their work schedules. Employees can request time off and clock in and out using their phones.
What are the essential features to look for in a workforce management software?
When you are seeking the WFM software, there are several factors to consider, and it would be a daunting task to finalize any one of them. Users must figure out their usage criteria and choose workforce management software that suits the organization. For example, a warehouse manager may use it to track the hours of a delivery man shifting the merchandise from one store to another or front-line supervisor, ensuring team members are working according to the organization's objectives.
While picking up the workforce management software, here are the following questions you need to ask the vendor.
Would it be able to generate real-time reports?

Does it have a mobile application for the services?

Does the software have strong security features, and can it safeguard the employee's data?

Does it have a user-friendly interface and whether it is scalable?

Does it allow the tracking of employee hours effortlessly?

Does it integrate seamlessly with other software applications?

Does it support recruiting and onboarding tasks?

What kind of customer support does it provide?

Does the price vary by the number of users and administrators?

Does it have a flexible and functional shift planning module?

Does it have a compliance management feature?

Does it have features like shift reminders via e-mail & SMS, GPS tracking, remote & mobile time-clocking, missing time algorithm, and so on?

Does it streamline the process for managing teams and payments?

Does it fit your budget?

Does it match your requirements?
What are the advantages of using workforce management software?
The advantages of workforce management software are;
Eliminate Human Error

Better allocation of resources

Reduce expenses

Improve customer satisfaction

Eliminates unnecessary documentation

Real-time reporting

Generate accurate reports

Better view on budgeting organization activities

Evaluation of individual performance

Generate appropriate bills with the help of integrated invoicing

Manage job authorizations, set reminders, and monitor vital documents

WFM mobile apps help users to set schedules on the go

WFM allows managers to know the backlog for any particular employee

Managers can reduce staffing gaps and assign tasks based on skills and preferences
What are the latest trends to be observed in the workforce management software system?
AI in Workforce Management ( Intelligent Scheduling)
The latest trend is no doubt wielded around AI and machine learning. The modern-day workforce management software is using AI to reduce time-consuming tasks like work scheduling, recruiting and hiring, time-tracking, and more. It can schedule tasks automatically for your best performer during peak periods of operation. With the assistance of AI, various data sources can be combined more logically in the future.
2. Advanced Features
In a cut-throat competition, the organization can find an edge over its rivals if it has a product with superior features. The features give a sense of reliability for performance and flexibility to adapt according to the given scenarios. For example, a feature that allows employees to exchange their shifts with colleagues and send notifications to the manager simultaneously.
3. Mobile workforce management solution
The mobile workforce was a concept until it made it into the mainstream on the verge of technological advancements like cloud computing and mobile devices. It has changed the dynamics of how the workers perform their work remotely. In the future, the software vendor may explore this technology for better monitoring capabilities, offline synchronization, and feeding real-time data.
4. Employee Engagement
The new trend in workforce management will focus more on employee engagement. The software will extend its features for e-learning, knowledge management, gamification, and so on. The WFM software may conduct training sessions in a much more interactive way and give employees a more personalized feeling.
5. More Automation
There will be more emphasis on automating key business processes and implementing technology to feed real-time data more efficiently and rapidly to the employees.
What are the different types of workforce management software solutions?
The workforce management solution is a broad term, and the choice may vary depending on the user's needs. There are enterprise workforce management software as well as software for small businesses that are used for specific purposes. The WFM tools used in retail may be used only for noting employees' time and attendance, while software used in a corporate office may be used for multiple purposes like tracking employee time, scheduling tasks, monitoring productivity, taking screenshots, etc. Here are the types of workforce management software solutions.
The users can narrow down the tool choice by deciding on any one of these features or can buy tools with all the features.
Time and Attendance

Absence Management

Mobile Workforce Management

Employee Self-Service Portal
Can Workforce Management Software help in the management of a remote workforce?
Remote working defines the modern working place, giving more flexibility to the workers and adding numerous benefits to the business owners. Through the workforce management app, workers can access schedules remotely and advise if they can work additional hours. They can also share their shift with their colleagues by sending them requests on the same app. Though remote working is the new norm, it comes with unique challenges like tracking productivity and propagating smooth communication. However, by deploying the right workforce management tool, the challenges associated with remote working can be overcome.
While managing a remote workforce,
While managing remote teams through WFM software ensures that your remote team's confidential data like payroll or the company's work process is not compromised
How efficient is Workforce Management software to help the users receive and transmit work-related information on a real-time basis?
Yes, most Workforce Management systems allow you to manage real-time adherence. The flexibility to set dynamic alerts when workers need additional support or send alarms when schedules are in danger.
Real-time data allows managers to predict the employee's needs and reduce the overall operation cost by restricting their expenses usually spent after unnecessary resources. The real-time data with smart algorithms stresses the risk areas early on and recommends managers with action plans. The algorithms can give managers a better understanding of what motivates employees and the common issues they are facing. The real-time data assists the manager in comparing performance against the budget.
How beneficial is Workforce management software for the mobile workforce?
Mobile Workforce management has moved out from the close corridor to field service. In recent years, it is not just limited to dispatching, scheduling, work order management, but also requires a real-time status update, auto-scheduling, route optimization, etc. Mobile workforce management software acts as the link between the managers, mobile workers, office staff, and customers. The industries that are actively using mobile workforce management solutions are house repairing and maintenance, construction, retail, carpentry, cleaning service, manufacturing, etc.
There are different types of mobile workforce management systems available, but they all have the basic setup. They communicate through the main 'dashboard' and perform actions like schedule, manage, and monitor mobile workers. They are connected via the monitoring devices they carry. The 'dashboard' communicates with the GPS-enabled devices used by each mobile worker. The GPS functionality gives a real-time overview of each mobile employee's exact location, together with status reports for tasks.
Some MWF solutions have extended their service to even video conferencing. It ensures the managers have easy collaboration with remote employees and can hold training sessions on the go if required.
The manager can compare productivity levels across geographic locations or remote teams and modulate the on-ongoing process accordingly.
How to implement Workforce Management software ?
Once you are sure about implementing the Workforce Management software, the next step is what approach you choose to implement in the real environment. It is essential that you systematically implement the WFM software to avoid conflicts of view among team members.
Step 1) Gather opinion from team-members
It is an ideal approach to reach the employees and team members and understand their perspectives on Workforce Management software. Try to understand what they like and expect from workforce management solutions. The team members should include employees of all levels and pay grades. Their opinion will help to assert your decision on enrolling workforce management solutions in your business.
Step 2) Note down all your Workforce Management requirements
If you are already using some workforce management tools, then see the gaps you can fill with new software. However, if it is your first encounter with WFM, then note down all your Workforce Management requirements; it may include time tracking, payroll, scheduling, HR, absence management, etc. Check if you need all of them or maybe one of them. Once you narrow down your requirements, it is easy to select the right WFM software.
Step 3) Pick your Workforce Management System
Match your requirements with the vendor's software. You can even compare software with the other alternatives to check how your choice of WFM solution brings value to your organization. Also, make sure the tool falls within your budget. If everything is ok, then you can pick the software.
Step 4) Communicate with your employees
The next step is to discuss with your employees and team members. Explain to them how it will benefit them on a personal level as well as on an organizational level.
Step 5) Training and testing
The user can get the most out of the WFM system if their employees are well-trained and know how to use the software. You can hand out a cheat sheet, a self-learning video, or a demo from the software vendor itself.
Step 6) Review and Revise
After months of software implementation, you can check the software performance and see whether it meets your expectations, you can analyze the result. You can either compare the new system's results with the old one or simply take an overview of the key performance metrics.
Difference between cloud versus on-premise workforce management software?
The workforce management system software is either deployed on-premise or through a cloud infrastructure. The organization that is rigid about data hosting prefers on-premise software, while the organizations which conduct operations from multiple locations and are looking for a centralized system for data analysis prefer cloud deployment.
Cloud workforce management software
Pros
Cloud-based software has no up-front costs

It is deployed quickly and easily

Users can access data from anywhere

A cloud-based software backs up to multiple servers. It means users don't have to worry about losing the data

The number of features is more as the vendor have to serve a wide range of clients

It is a pay-per-use solution that helps to reduce the total cost of ownership over time

It allows maximum scalability
Cons
There is a limitation over customization

Users have to rely on a high-speed internet connection

The cloud vendor has to undergo periodic audits to demonstrate ongoing compliance with the particular country's regulations and standards
2. On-premise management software
Pros
On-premise software gives flexibility for customization

Users can access data without an internet connection

The cost can vary based on the number of administrators and users

Usually, the premise-based software offer the same levels of encryption

Users have more control over the server
Cons
It demands up-front payment

It takes time for set-up and installation

On-premise software may have security loopholes and be prone to security attacks

The off-site employee can't log in or access data remotely

High risk of losing data with limited data-backup capabilities

The number of features is limited

Software maintenance cost is higher

Higher capital investment
What is the average cost of a workforce management software system?
There is a range of software solutions for workforce management available in the market. The price may vary depending on the features, customer support, third-party tool integration, and the number of users. The entry-level software solution may start around $4/user every month, and it may shoot up to around $200/per user.
There is also free workforce management software available, but it may or may not give an end-to-end workforce management solution for an enterprise-level company. In case you are not sure about the paid version, some tools come with a free trial. Few vendors offer service on a "money-back guarantee" within a given timeline. If users are not happy, the software vendor refunds their money in that case.
If your organization can afford it, then try tools like Deputy, Nowsta, SentricHR, Tymeshift. In contrast, those who have slightly more budget and are thinking of buying medium-range tools can select among skedulo, engage manage, Injixo, etc. In case you need a tool laced with advanced features, then high-end tools like TrackTik are highly recommended.
The tools mentioned above are good options, but there is no limitation on finding a perfect match for your organization, especially when you have a list of free and open-source workforce management software.
Why refer to GoodFirms' list of top workforce management software?
GoodFirms is a prominent review and rating site, providing a platform for IT companies to review, list, and categorize their software products. It enables software companies to increase the conversion rate, whereas the consumers can make better decisions on the best software solution for their business. It has helped nearly 164,398 businesses as of the current date find the right software service companies and products.
It is witnessing a noticeable growth in terms of listing categories, authenticated reviews, and research conducted on the latest business trends. Goodfirms has listed more than 9000 services & software companies with detailed information. Just like other software solutions, Goodfirms gives a 360 view of the workforce management software solution after analyzing them on various aspects like features, pricing, types, and so on. There is a complete list of top workforce management software that may give the best insights and solutions to your long-standing workforce management issues.