Chaos Theory is an award winning Sydney based game development studio dedicated to solving problems using emerging technologies.We create virtual reality, augmented reality, and mobile games and apps for marketing, entertainment, research, elearning, and training purposes.We have worked alongside some of Sydney's top agencies to deliver cutting-edge digital experiences for international brands such as eBay, the ABC, and Mondelez. We have also partnered with some of Australia's leading universities to create apps that teach dermatological course content, help optometrists diagnose eye problems, and develop empathy for patients living with a crippling disease.
Australia
Level 4 / 67-69 Regent Street, Chippendale
,
Sydney
,
New South Wales
2008
0290995787
Focus Areas
Service Focus
Game Development
AR & VR Development
Chaos Theory Clients & Portfolios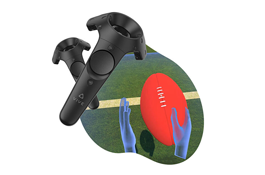 Chaos Theory Reviews
All Services
AR & VR Development
Relevance
Most Recent
Rating: high to low
Rating: low to high
Write a Review
Michael Campbell
, Exited Founder at Leafcutter
Posted on Jan 11, 2020
A Superb Team of Passionate Game Design Experts - Great People, Great Work
Review Summary
I have known this trio since they started their business and supported the launch of Chaos Theory Games - my prior business Leafcutter was their first client and they did some amazing work with us over the years for some very reputable clients.

I also worked with them to bring to life my own game concept, called Honey Bees, which they did an amazing job of creating and were a pleasure to work with.

They are a super bunch and 3 very smart dudes with a great team behind them. Highly suggest you get in touch and just have a chat to see what they have to say. No doubt you will be as impressed as I was/still am!

Goodluck in 2020!
What is it about the company that you appreciate the most?
Simply put - they know their stuff. Its great when you work with a team who so evidently understand their craft and can take you on the journey of bringing your vision to life. PS. Not only do they bring your vision to life but they are able to creatively bring a-lot of value and input to what you had/have in mind! Fantastic.
What was it about the company that you didn't like which they should do better?
Everyone can improve at something but for me writing this now, it is hard to fault these guys. All the usual things that someone hiring an external team might be concerned with (e.g. cost, transparency, timeline, quality etc...) were non-concerns with these guys with regards to the projects they worked on and completed for me. Perhaps they could be more entertaining and fun to work with...?? Oh wait, nope - they were brilliant at that also! Sorry I couldn't be more damning of them - based on my experience they were simply too good.