Social commerce is an increasingly popular trend that is being adopted by almost all brands across the globe. More and more social media marketing companies are devising strategies keeping in mind the best practices for achieving success on social media. As per GoodFirms research, images and videos have proved to be the most popular type of social media posts, influencer posts and stories are not far behind.
In simple terms, social commerce is nothing else but brands publishing posts on social media from which customers can shop directly without leaving the app. There is no denying the fact that there is cut-throat competition in the market to gain the attention of their audience. So, it has become inevitable for the brands to try and engage their audience from every possible touchpoint. This is where social commerce plays a crucial role.
When a brand is publishing shoppable posts, it becomes easier for the customers to purchase from it. Hence, brands are putting efforts into making their easy-to-shop social media posts flawless. However, there are a few things to keep in mind. Firstly, steps to complete the transaction from shoppable posts should be minimum. Secondly, the brands should identify the stage at which their customers are and pitch the content accordingly.
GoodFirms surveyed 108 marketers across industries to understand the effectiveness of social commerce, the most popular types of posts, and how brands can get the most out of social commerce.
Selling Directly on Social Media Can Generate More Traffic
For most businesses, much of the target audience is on social media. The only difference is that different types of audiences use different social media platforms. Our social media usage research shows an average person uses at least 4 different platforms daily.
And it is inevitable that people use these social platforms to compare and research the products they are interested in. Due to this, a substantial number i.e 75.93% of marketers agree that social media can help generate more traffic.
John Frigo, the Digital Marketing Lead at My Supplement Store gives a valid reason for businesses getting a substantial amount of traffic from social media. According to him, "Selling on Social Media absolutely has the ability to generate more traffic as well as more brand awareness. In my experience, about 20% to 30% of customer service questions and inquiries come through social media".
Ivory Coats is the Founder of More Marketing Firm. In Ivory's opinion, social commerce is the best way for brands to know their customer's preferences, leading to a high ROI. She says, "Yes, in fact, it is the primary way most of the businesses that should be marketing right now. Nothing else is going to give you quicker results with the addition of being able to learn everything about your customer base down to their favorite cereal."
While the opinion of marketers and founders does seem appealing, people believe in statistics more. So, the previous experience of Salina Yeung is good enough proof of the success of social media in generating more traffic.
The CEO & Founder of Linkedin-Pro, Salina Yeung, got a majority of her traffic in the past from Facebook. Salina said, "Yes, social media is predominantly the main channel I use or used to drive any sort of traffic and sales to my store. I ran a dropshipping website before which Facebook was the main platform in driving over 80% of all my revenue and sales."
What Kind of Posts Work for Social eCommerce?
People from different age groups prefer a different social media platform. So, depending on the target audience, a business owner will have to learn the tricks to get maximum traction on that platform. However, there is also another variant here. Platforms like Instagram and Facebook allow multiple types of posts like images, videos, stories, etc. A brand needs to identify the format that attracts their target audience the most. The GoodFirms research found that Images and Videos, Influencer posts, and stories are the three most popular types of shoppable posts.
Images & Videos: Voted The Top Choice For Shoppable Posts
The visual appeal of anything always has a high potential of making it a popular choice among the audience. The same applies to products/services being advertised on social media. A substantial number of marketers, about 44.44% of them said that images and videos work the best for them when it comes to social commerce.
As per Eric Jones's personal opinion, images have the most potential to attract a business's target audience. He says, "For our business, images work the best. Audience reach is much more on images rather than the long written contents or videos. The deep algorithm of social media makes it more likely to show our product in front of the buyer who's already inclined to buy those items." Eric Jones is the CEO of Couture Candy.
Apart from images, videos are another form of most preferred content to attract and engage the audience. Videos allow businesses to capture the attention of the audience in the first few minutes. A brand can tell its story to make people more interested in knowing about the products and services.
The Founder & CEO of BrandLoom, Avinash Chandra, said something on similar lines. For him, videos are an amazing way to show customers the user value of products. Avinash said, "In my viewpoint, crafting videos can be the best way to showcase the value of your product or service. Your modern customer wants to see your product or service in action. Therefore, video posts are the best way to engage with your potential buyer."
On the other hand, there is Shari Smith from Shari-sells, for whom both images and videos work well. Shari, a Business Coach & Founder thinks that both the mediums are equally effective. "Images and video content posts are the ones that work for me because it is ideal for grabbing people's attention as well as conveying my personality and passion to my customers," said Shari.
Influencer Posts: Voted Second Choice for Shoppable Posts
Looking at the current scenario, it would be a mistake to ignore the impact of influencer posts. Influencers are not only good brand ambassadors but are inherently good marketers too.
Therefore, 25.93% of marketers say that influencer marketing works best for their brand. Brands can either partner with influencers or hire influencer marketing agencies to do the job for them.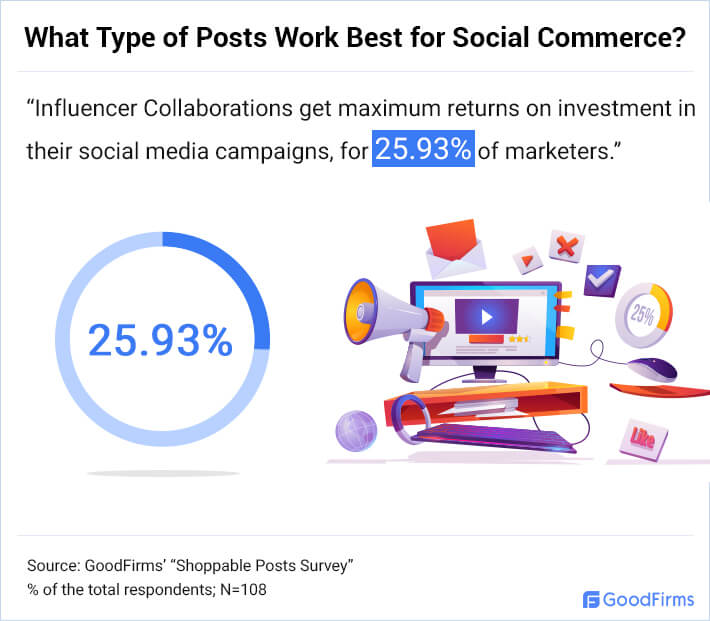 In Dennis Bell's opinion, influencer posts are the way to go as they enable the brand to remove barriers in reaching different audiences. Dennis, the Founder of Byblos Coffee, also points out that influencers have a loyal following base.
"You can make the most out of social commerce by joining forces with influencers. They already have a built-in audience that trusts and values what they say. Collaborating with them helps you increase your reach and generate more sales and revenue for your business," says Dennis.
Kathryn Landis from KLLB Consulting feels that influencers can give a brand's products/services the much-needed push in the market. This is true especially with recently launched products/services. She states, "Influencers on social media would be a great start to get your product seen by target consumers who would be interested in buying. Influencer posts are effective for younger audiences, between the ages of 10-35."
Stories: Voted Third Choice for Shoppable Posts
The format of stories on almost every social media platform is that the post will be visible for 24 hours. It can be either a video or an image. As per GoodFirms' Social Media Usage Report, 52.69% of users are publishing perishable posts (stories).
22.22% of marketers said that stories have proved to be an effective means to connect with their customers.
It is not feasible for every business to make videos complete with production and editing every now and then. In that case, they can use the stories feature. A brand can post short clips or even screenshots of their customer reviews on their official page's stories, showing the product/service being used in real life.
Instagram stories seem to work out well for Dennis Bell, the Founder of Byblos Coffee. He posts interactive Instagram stories to know the pulse of his audience. He says, "On Instagram, stories work best for me. By creating an engaging storyline with polls and questions, I can understand what my potential customers want and provide them what they need."
Robb Hecht is a Professor of Marketing at Baruch College in New York. According to him, only those social media stories can capture the attention of the audience that shows the use of products in practicality. Such stories will inspire the audience to take some action. "Stories. Consumers want stories. Stories are entertaining and engaging. They also help position the purpose, value, and product in a contextual situation, like an actual TV spot, hence we have success publishing a series of stories, stories that have follow-ups," says Robb.
For brands who think the majority of their audience is active on Instagram and require some professional help to capture a large share of the market, partnering with Instagram advertising companies can yield the desired results.
How To Make The Most Out of Social Commerce? Cutting Down the Steps of Purchase
If it takes too long for customers to complete the transaction on a website or shoppable post, they will abandon the process. Most probably they will also never return to the brand. Therefore, 68.52% of marketers suggest that to make the most out of social commerce it is necessary to reduce the number of steps to make a purchase. Shorter the process, the higher the chances of customers completing the transaction.
In reference to making the process easier, CJ Xia highlights the role that chatbots can play. To get the most returns from investing in social commerce, she states, "The best way is to cut down and simplify the purchasing process. A chatbot or messenger bot remind the buyer to revive an abandoned cart and complete the payment method." CJ Xia is the VP of Marketing & Sales at Boster Biological Technology.
Avinash Chandra from BrandLoom is also in favor of making the purchase process short and quick. He emphasizes making it responsive so that customers can shop anywhere anytime. The Founder & CEO of BrandLoom says, " It is very essential to streamline the purchase process. Try to structure it in a way that is easy, quick, and does not involve a lot of steps. You can create a mobile-friendly checkout as many people tend to purchase on mobile phones."
Social media platforms have now included the option to make posts shoppable but there is another way round to do that. Make use of third-party tools. It doesn't matter if a brand uses the in-built features of the platform or third-party tools, the ultimate aim is to make the transition as simple as possible.
Jon Torres from jontorres.com has recommended a third-party tool to make the most out of social commerce and ensure that the customer completes the purchase after landing on a brand's page. He said, "To make the most of social commerce, brands need to make all of their images shop-able. This can be done with Instagram's direct shopping feature or a third-party tool like LikeToKnowIt. By shortening the customer journey from exposure to product to purchase you are eliminating barriers that may prevent them from purchasing." Jon is the Founder.
How To Make The Most Out of Social Commerce? Act According to The Customer Acquisition Funnel
Every customer is at a different stage in the customer journey. To make the most out of social commerce, 48.15% of experts think that it is important to understand at which stage the customer is. If a brand doesn't take that into consideration, there are high chances of losing a potential customer. The right information at appropriate times can work wonders in converting a lead.
Nelson Jordan, a Digital Marketer at Nelson Jordan Marketing explains the concept of customer journey and the role of brand in establishing a connection with the customer. "Every customer has a different level of awareness of your brand and the problem you solve - for example, while one customer may never have heard of you, another may be in the comparison stage. As a business using social media, it's your job to understand which stage the customer you're talking to is in and create relevant content," says the Digital Marketeer.
Justin Hawes is of the opinion that if a brand is able to understand the current stage of the customer and acts accordingly, it can achieve better results as compared to traditional sales methods. The CEO of K&N Sales, Justin, said, "You should recognize the stage of your prospects' customer journey. If it's a research stage, you should use social media to educate them. If you do it right, you'll get more loyal customers than if you try to hard-sell your products on social media."
Yes, understanding the customer journey and posting relevant content is important. But it is equally necessary for a brand to have a plan after the customer leaves their social media page. If a brand doesn't keep the customer engaged after the interaction on social media, they are bound to lose interest and will probably head on to the competitor's page.
Kronda Adair said something on similar lines. The CEO of Karvel Digital recommends, "Understand as much as you can about the customer journey and know what content you need to move your audience from one step to the next. Make sure you have a plan for what happens once you get someone off of social media."
How To Make The Most Out of Social Commerce? Make It Visible On Your Audience's Favorite Platform
There are different kinds of posts that are popular on different platforms. For a brand to get maximum results from social commerce, they need to first research their target audience. For instance, the platform they are using the most and the type of posts they engage the most. Secondly, plan social media posts in the format which works on that particular platform. This process is recommended by 57.41% of experts to get guaranteed results.
CEO of Vicky Wu Marketing, Vicky Wu, explains this concept by giving examples of Pinterest's shoppable pins, Instagram's shoppable posts, and YouTube's merchandise shelf. She says, "You have to first understand which social platforms your customers are on. The different platforms have different capabilities directly related to social commerce, and once you understand where your customers are already hanging out online, you can delve further into those capabilities."
Kathryn Landis's statement also aligns with that of Vicky Wu. According to her, posting appropriate content is an absolute necessity along with understanding the platform. The Founder of KLLB Consulting mentions, " A brand can make the most out of social commerce by understanding where your target audience is, learning how to use different platforms to reach the consumer, and making sure to provide the RIGHT information."
Yaniv Masjedi, the Chief Marketing Officer at Nextive assures that the precise knowledge of the right social media platforms will get a brand the desired results from their social media campaigns. He says, "Brands should conduct in-depth research on which social platforms are the most popular for their target market. The result of the study determined which platforms would generate a high ROI."
Top Things To Keep In Mind for Shoppable Posts
Social commerce is surely an appealing concept. But to stay relevant in the highly competitive market takes some significant efforts. Following are the two tips that marketers gave for the brands to get maximum returns on their investment in social commerce:
Be Authentic, Genuine & Consistent

Interact with Customers
According to Hardeep Johar, President of Stone & Tile Shoppe, a brand should use the social platforms for their original purpose. It means that the brands should communicate with their customers and make them feel heard. Hardeep says, " If you want to win on social commerce, your brand should be truly social when building and maintaining customer relationships. One of the most effective ways to build trust and foster relationships with customers is to encourage user-generated content that features your products."
Just like Hardeep, Jeremy Harrison also believes that using social media to its true purpose can help brands to get the most out of social commerce. The Founder & Head of Content Strategy of Hustle Life, Jeremy said, " To make the most of it, you should use it as intended! Generate awareness and interact with your customers through social media. Get feedback and improve your customer service. Let people know that you hear them through this channel and that you're doing everything you can to improve."
However, Elizabeth Weatherby has a different opinion on this matter. She believes that user-generated content will not only help you succeed at social commerce but will also help the audience to connect to the brand. In the words of Elizabeth, "You have the opportunity to show your products being used authentically and organically, and you can add detail in your posts/captions to even further express your brand values beyond your website product descriptions." She is an SEO specialist at M&M Limousine.
Conclusion
Social commerce or shoppable posts are becoming an increasingly popular choice of various brands. From the bird's eye view, shoppable posts are an easy way to reach a larger audience. But when examined closely, there are a lot of factors that will contribute to the success of shoppable posts. The GoodFirms research shows that shoppable posts can definitely contribute to increasing traffic on the website and sales.
Brands can choose to continue with social commerce activities using the most popular types of posts. The top 3 types of posts that marketers suggest are images/videos, influencer posts, and stories. A brand should design the posts keeping in mind the platform as well as the preferences of its audience. Not to forget, the steps to complete the purchase should be minimal.
Do you need professional help in managing your social commerce? Here is a list of some of the top digital marketing companies that can assist you!