Strategic Workforce Planning for Small Business: Benefits, Challenges, and Tips
The workforce is every company's most valuable asset. An organization invests in its people in time, resources, training, and money, of course, just like an asset. Meanwhile, Millennials, who make up the largest part of the U.S. labor force, are more open to new opportunities that better meet their career aspirations. And so, workforce planning is becoming increasingly critical for the organizations battling high turnover rates.
Not only that, a strategic workforce plan tends to various processes, such as skilled recruitment and retention, having proper-sized staff on hand, identifying talent gaps, training, development, and succession planning. The HR department plays quite a significant role in this ongoing workforce planning process. It determines what staff the company will need by looking at attrition rates, imminent retirements, company fluctuations, and sales numbers. Accordingly, executives can plan budgets for the future, organize their departments, and introduce changes in the office setting and scheduling amongst employees.
GoodFirms surveyed 370 business owners worldwide to know the benefits, challenges they face, and the tips for successful strategic workforce planning.
Why Is Workforce Planning Required?
Talent management and strategic workforce dominate today's futuristic businesses. With their distinctive approaches, these processes work side by side to build, engage, and retain human capital.
"Workforce planning has two goals:
A) To maximize capacity utilization by ensuring qualified people are on staff when needed or transferring appropriately trained employees across departments where additional training can be provided.
B) To offer an accurate prediction of personnel needs at all levels of the organization based on forecasted demand for products and services to anticipate shortages. This includes identifying new abilities that are needed in today's market climate regularly." says William Cohen, Founder of My GRE Exam Prep.
What Primary Needs Should Workforce Planning Be Solving?
A well-structured workforce plan helps organizations identify gaps between current staff skills and competencies required for the future, recruit and maintain a diverse and multi-generational workforce, and address internal and external environmental changes impacting the workforce.
Planning to Retain Positive and Motivated Employees
Turnover could cost employers 33% of a worker's annual salary while hiring and training a replacement. Also, high turnover rates can have severe consequences such as loss of valuable knowledge and experience, loss of belief in the team's competency and capability to perform. None of these are easy or quick to replace.
GoodFirms research confirms the same as 70.3% of the surveyed businesses consider retention a primary issue that must be addressed efficiently in the WFP.
Upskilling must be included in a WF plan as a crucial factor that encourages employee engagement and retention. Amazon also has planned to invest over $700 million to upskill 100,000 U.S. employees for in-demand jobs by 2025.
Planning to Improve Recruiting Efficiency
Naturally, wrong hiring costs any company valuable time and money. Recruiting professionals must know sourcing tactics and hiring strategies, more so in current market conditions. 51.4% of the surveyed businesses consider it essential to improve recruiting efforts by having a proper plan.
Some ideas for improving the recruitment process are - having a great careers page, a thorough and well-balanced job description, a streamlined application and interview process, a multi-channel approach to source the candidates, etc.
Do Small Businesses Have A Workforce Plan?
In addition to being more mobile and diverse, today's employees belong to different non-traditional work relationships and alternate forms of employment: part-time, permanent, casual, remote worker, contractor, consultant, etc. Managing this increasingly complex workforce becomes challenging when a business does not have a structured process or has semi-structured plans.
Often inadvertently, a workforce plan gets neglected due to the business's increased involvement in other key areas of responsibility, such as daily operations, cash management, planning and strategy, sales and marketing, and customer service. GoodFirms research discloses that 43.2% of businesses follow a well-built workforce plan, while 48.6% have low levels of the formal workforce plan.
Mandatory Reports for an Outstanding Workforce Plan
A workforce plan can be built properly with the help of specific data, some reports. For instance, workforce demand projections are essential for predicting a company's workload for day-to-day operations or unusual situations. It must contain business objectives, characteristics, capabilities, and distribution of the current labor force and well-defined staff requirements.
Accordingly, a company can also forecast employee training needs and refrain existing skills from becoming outdated. 78.4% of the surveyed businesses consider 'workforce demand projections' mandatory for WF plans.
Likewise, a workforce gap analysis must be conducted much before hiring talents. 70.3% of the surveyed businesses consider this report essential to have insights into their entire workforce, boost individual learning and development, and build a competent, committed, and creative workforce. It helps companies to stay clear of sudden layoffs or panic hiring.
Who Is Involved In Planning The Workforce?
Strategic workforce planning is often outlined to meet requirements in the coming three to five years. Though the HR department generally looks after many WFP initiatives, it is solely not responsible for the end-to-end process. Line managers, supervisors, low- and mid-level managers, senior leadership are also actively involved in employing people and helping them stay with the organization.
Naturally, for 94.6% of the surveyed businesses, the HR team is primarily involved, while for 75.7%, CEOs are also an integral part of the workforce planning process.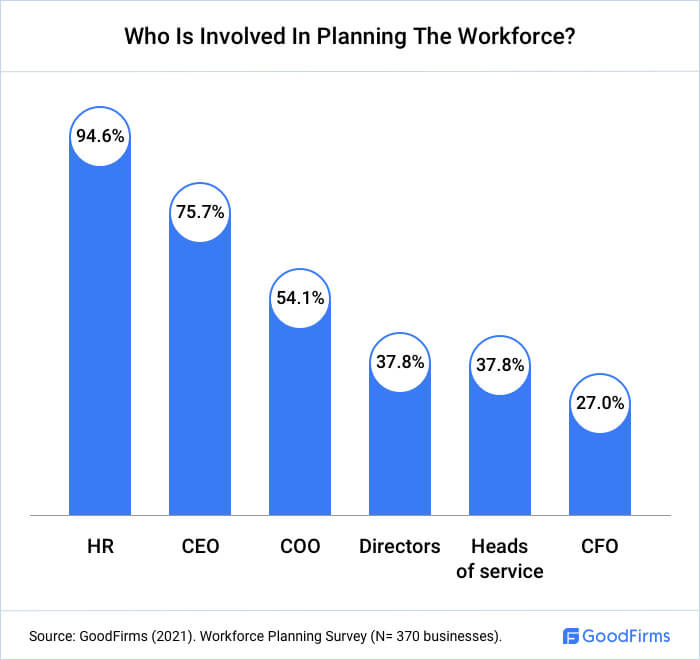 Chris Muktar, Founder of WikiJob says, "Major decisions on the structure of the company are frequently made without consulting any of the company's leaders outside of the management team. Instead, work with department heads and managers, who are in constant contact with employees regularly and are more likely to recognize areas for development."
What Are The Common Challenges With Workforce Planning?
Organizations need to consider various elements such as demographics, technology, flexible working, globalization, outsourcing, legislation while undertaking workforce planning. Getting started might seem pretty tricky and daunting. However, knowing the obstacles that one may encounter on the way ensures that efforts of workforce planning are strategic and successful.
Here are the common challenges in workforce management that any organization may need to tackle.
1) Lack of Collaboration
"Internal communication of the plan is essential. One of the senior HR managers I worked with, who was always good at selecting perfect candidates for the job profile, was so confident about his capabilities that he sometimes ignored other member's suggestions. I witnessed a significant delay of a project just due to wrong recruitment made by him. Collaboration with other members is vital for a successful WFP," says Daniela Sawyer, Founder and Business Development Strategist at FindPeopleFast.
2) Traditional Forecasting Methods
"Traditional forecasting methods are often insufficient when it comes to providing us with useful data for workforce planning. For instance, we are usually unable to effectively predict which departments in our company will likely experience high turnover rates, or even predict which individuals are at high risk for this. As a result, planning which positions will need to be filled and at what level over the long-term tends to become very difficult," says Eden Cheng, Co-Founder of PeopleFinderFree.
3) Misconceptions and Biased Approaches
"Forget about common misunderstandings. When prejudices or misconceptions are taken into account, workforce planning might become ineffective. One of the most prevalent blunders is equating the value of one's job with organizational hierarchy. Traditional or out-of-date performance-assessment approaches might cause issues," says Tanya Zhang, Co-founder of Nimble Made.
She adds, "Other common misunderstandings include segmenting the workforce at the organizational level, having the same employment value proposition for all members, reporting overall attrition, and confusing business and workforce initiatives."
4) External Influences
"Workforce planning is influenced by both internal company considerations as well as the external environment. Your company must be able to estimate demand in the future in order to implement effective personnel planning. The political and economic environment, societal standards, technical improvements, the entry of new market competitors, and altering buyer wants are all important external elements that could have an impact on a company," says Eduardo Perez, Founder of Musician Authority.
Michael Moran also asserts that one's workforce planning can only be as effective as their ability to chart and predict future changes and growth accurately. He says, "There's always a tension between long-term planning and agility in business, and this becomes most obvious during times of significant change. Someone who was planning their workforce in 2019, for example, couldn't possibly have predicted and planned for the pandemic and the labor shifts that resulted from it. Even without those kinds of global disruptions, it's impossible to predict the future with 100% accuracy." Michael is the owner of Green Lion Search Group.
5) Not Being Clear of the Requirements
"When someone has been tasked with X but doesn't have enough time or resources to complete it, that person may also request help from others within the organization without going through proper procedure. This leads to work duplication or other errors caused by incomplete knowledge of what other people are doing within the organization. A good thing for future leaders in this situation is knowing when and how much to ask for resources as they are not always granted immediately," says Jamie Hickey, Founder of Coffee Semantics.
What Are The Best Strategies To Plan Workforce?
Every business must plan and optimize talent pipeline and talent inventory to prevent shortages and surpluses. As discussed earlier, the HR team and relevant senior leaders must sit down, be involved in the entire process, and have regular meetings to accommodate the updates. A plan can only be executed to its peak when everyone understands the blueprint and the individual's role clearly.
Here are the best strategies to ensure the maximum success of a workforce plan.
1) Concentrate on Data Quality
Data should be comprehensive, consistent & coherent across variables, in line with the required timeframe as poor quality data can lead to ineffective decision-making. By collaborating with other departments, primarily IT and Finance, analysts can get accurate data points.
"Data quality is the main pillar of strategic workforce planning. The records you keep and the tools you use to analyze data will have an impact on the results of your efforts. The greatest method to get organized is to have all of your important information in one place," says Brian Dean, Founder of Exploding Topics.
He adds, "It's often strewn among spreadsheets, digital files, and talent management software. By offering you a clear picture and access to the data you need, centralized software solutions will make planning easier. When you have a solid stream of data, you can turn it into action by predicting what future changes and impacts this information will have on your business."
2) Have a Well-defined Hierarchy
A proper corporate hierarchy ensures job description/responsibilities are clearly defined, and there are enough right-skilled employees to accomplish the company's goals. Depending on the organization's size and complexity, management might select a flat (horizontal, with fewer layers of administration) or a vertical structure (multiple layers, including top, middle, and first-level managers).
"One tip that I have is to create a plan and tell your employees exactly what steps they should take to move up in the career ladder. For example, hitting certain KPIs, staying in the company for a certain time period, managing a certain number of people or something else. When employees have specific goals to aim for, they are more likely to work hard to achieve them," says Adam Hempenstall, CEO and Founder of Better Proposals.
3) Clearly Understand the Current Staffing Needs
Various formulas can be used to understand and estimate staffing needs based on the general organizational structure and its estimated and historical performance data like sales and production numbers. The HR department can compile the senior manager's responses from a questionnaire, understand staffing ratios and productivity ratios, and perform statistical regression analysis by comparing relationships in historical data.
"Examine elements such as the number of employees that are due for retirement or early retirement, how many positions have been created or eliminated over the last 10 years, and finally interviewing managers about their workforce needs on an ongoing basis," says William Cohen.
He adds, "It is also critical to recognize and plan for the reasons why someone would leave a job. Lack of management support, promotion chances, personal dissatisfaction with the workload, or corporate culture are all common reasons for quitting. If you have a high turnover rate for one cause, the remedy may be as simple as improving managerial assistance at work. If Employees are dissatisfied with their wages or benefits, compensation packages can be changed so that they are content with their financial condition while on the job."
4) Have Back-up Solutions
Every business needs to cross-train its employees to stop going off-track when a key employee takes a long vacation or quits. With the reduced reliance on others, individuals can be more productive and ease into roles. Having screenshots with proper instructions, helpful links, and a list of internal and external contacts to reach out to help make workflow more efficient.
"When it comes to a key employee, truly sit down and figure out who will fill their role during an interim if they happen to leave for whatever reason during a crucial time. I like to approach this process from the point of view of: "Okay, but what if this changes?" By asking yourself that question when planning, you can come up with failsafes and flexible solutions that enable you to continue operating successfully in the face of disruption—without having to start the WFP process from scratch," says Linn Atiyeh, Founder & CEO of Bemana.
5) Have a Scenario-based Planning
Scenario planning helps leadership best allocate resources strategically and methodically, train employees, and ultimately prepare for unforeseen and foreseeable events. To plan a scenario, an executive or manager involved in strategic planning must go through project preparation, scenario exploration, scenario development, scenario application, and project evaluation.
"Scenario planning allows HR to forecast 'what-if' future possibilities for how particular workforce interventions will impact workforce cost and performance and subsequently business results. Effectively, HR helps executives understand the effects of various plausible future events as a way to improve the workforce in the future.
This way, HR can be more proactive and work side by side with executives to find the right workforce plan instead of getting a binary yes/no response," says Jeff Higgins, CEO of HCMI.
6) Environmental Scanning
Environmental scanning keeps the HR department abreast of the unemployment rate, changing laws and political concerns that might affect the business, local trends, structure and policies of direct competitors, etc. Information about all these factors helps companies know the factors influencing the future of the workforce and determine which of these should be the inputs into scenario exploration.
"Environmental scanning is a method of gathering and systematically interpreting various data and information. Events, strategies, internal and external opportunities, and threats are all covered," says Jennifer Harder, CEO and Founder of Jennifer Harder Mortgage Brokers.
She adds, "Environmental scanning examines how an organization's internal and external environments interact. The primary goal of environmental scanning is to assist management and senior leaders in determining an organization's future orientation. Environmental scanning can improve workforce planning by discovering information about occurrences that have an impact on workers. As a result, you can incorporate this data into your approach."
7) Take Advantage of Remote and In-person Opportunities
Mixing virtual and on-site working is both advantageous as well as challenging. Thoughtful interactions between leaders and teams, assessment of the scenarios, and ensuing arrangements help organizations have the best of both worlds.
"It's crucial to create a workforce strategy that takes advantage of both remote and in-person opportunities. WFPs must focus on the determination of each job position's fitness in a remote work setting to equip the business with accurate work model transition data," says Kris Lippi, Owner of ISoldMyHouse.
He adds, "When organizations know exactly which jobs are suitable and convertible to a remote job, they can create a more functional hybrid work environment that is relevant to the current state of industries. Employers must understand how each work is performed and how well these employees perform remotely, as well as examine these employees' aptitudes toward adopting changes in their traditional work processes."
8) Use Technology to Manage Organizational Communication
Senior officials can better understand their employees' skills, talents, and knowledge gaps with a company-wide communication system.
Hutch Ashoo, Founder & CEO of Pillar Wealth Management, advises creating a company-wide communication system that is both effective and transparent. He says, "Without buy-in and collaboration from other teams/departments, no strategic workforce planning can take place. All stakeholders must communicate and receive input in an open, inviting, and transparent manner.
Communication and teamwork can be aided by technology. For example, the HR department can share survey results with other managers and company leaders to better understand their strategic hiring needs. These surveys are also an excellent way to assess each department's diversity and skills inventory, as well as uncover any existing gaps.
Managers and C-suite executives can participate in webinars or online meetings to discuss workforce planning initiatives. It is possible to collaborate with other departments to set up an applicant tracking system dashboard where HR and other teams can see the entire workforce planning and hiring process while simultaneously screening job applications. Teams within a firm can use intra-company messaging systems to update upcoming hires and solicit instant input from colleagues."
9) Partner with External Organizations
Lean and agile business strategies require new ways of accessing and acquiring talents.
"Partner with local nonprofits, workforce development boards, the Chamber of Commerce, and the Job & Family Services. These organizations work with minorities and disenfranchised populations that are less connected with the labor force but are still extremely talented. It's also a great way to help the community," says Arnold Long, General Ops Manager at Mr. Blue Plumbing.
"Partner with local educational institutions to source the next generation of young employees. This also helps the community because you're giving kids job opportunities straight out of high school, trade school, or college," says Lester Mclaughlin, VP of Operations at Blue National HVAC.
KPIs to Measure Effectiveness of a Workforce Plan
Metrics play a crucial role in letting organizations know how successful their HR practices are and what areas they should be working on to improve the future.
Assessing how the company is doing financially is just a starting point for tracking the effectiveness of a workforce plan. Other than the standard metrics of ROI and Profits, HR must know the Cost per Hire. They should analyze all the costs from recruiting (marketing/advertisements, referral incentives, time cost of recruiter reviewing/selecting CVs, conducting interviews) to determine what it takes to find the perfect fit.
Also, Training Costs to analyze how much a company has invested in onboarding new hires and upgrading one's education. These costs pile up rapidly and heavily on a company's budget. 97.3% of the surveyed businesses measure financial KPIs at the company level.
Customer measures: Metrics like Market Share and Customer Satisfaction are essential to analyze. SMEs cannot afford to lose businesses to competitors if they don't have competent employees that stay attuned to customers' changing tastes and meet their needs. This is particularly true for business owners in the service industry. 62.2% of the surveyed businesses analyze customer KPIs at the company level.
Internal business process measures: 73.0% of the surveyed businesses measure internal processes for employee productivity and deliverability at the team level. Also, KPIs such as Recruiting Conversion Rate, Time to Fill, Talent Turnover Rate, Dismissal Rate, Average Time Stay provide valuable insights.
Learning and growth measures: 78.4% of the surveyed businesses measure learning and growth at the individual level. Some useful KPIs are - Internal Promotion Rate, Training Completion & Attendance Rates, On-the-Job Skill Acquisition, Job Competency Level, Employee Satisfaction Index, Absenteeism Rate, Overtime Hours.
"We are a professional services firm, and our people are, in a sense, our inventory. We manage the workforce using a target utilization rate," says Jennifer L'Estrange, Managing Director at Red Clover.
She adds, "We also know that it takes between 60 and 90 days for a new hire to be fully operational. So, when we are workforce planning, we loosely tie headcount growth to revenue projections, but we don't lock in a hiring plan for the year. Rather, we will trigger new vacancies when we have an effective monthly utilization rate that is at target. It smooths out our hiring and ratcheting labor costs, and helps prevent employee burnout."
Conclusion
For every organization, preserving human capital is as essential as managing its finances is. The key players in strategic workforce planning are - human resources, budget, and coordinated data-focused approach.
HR needs to measure a solid stream of data comprising salary, employee satisfaction, productivity, interactions, time to hire, acceptance rate, cost per hire, total turnover rate, performance & potential, etc. This analysis then helps them identify trends, opportunities, gaps, and risks. Accordingly, senior officials can also have a realistic view of the labor market and make informed decisions. Implement proper workforce planning strategies shared by the experts here to retain positive and motivated employees and have adequate and skilled staff for every essential activity of your organization.
About The Workforce Planning Survey
GoodFirms surveyed 370 business owners worldwide, B2B (37.8%) and B2C (62.2%), to know how SMEs can carry out successful workforce planning.
A mix of senior executives and business process managers participated in this survey. These included CEOs (35.1%), Founders (29.7%), Co-Founders (21.6%), and other executives (13.5%).
These respondents belonged to various sizes of organizations - 89.2% of small companies (1-249 employees) and 8.1% of medium companies (250 to 499), 2.7% of large companies (500+).
Leave comment
Your email address will not be published. Required fields are marked *
Author Info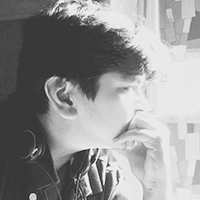 Nathan Sebastian
Content Writer at GoodFirms