The COVID-19 situation has made it impossible to conduct in-person meetings or presentations. As a result, the popularity of webinars increased considerably. Many webinar softwares already existed in the market. But there is always room for a market favorite. In the current case, Zoom has become the most preferred webinar hosting platform due to several user-friendly features. Though, in the long term, business owners have different viewpoints on replacing in-person meetings with webinars.
As a result of the Coronavirus pandemic, marketing activities of businesses shifted to online platforms. Webinars were already being used, but they came to the limelight during the lockdown. As business activities could not be shut down completely, owners and marketing managers started conducting webinar platforms for their internal meetings and connecting with clients and their audience.
Conducting webinars is the safest option for the current scenario, but a considerable investment amount goes into hosting a seamless webinar. The investment is the time for preparations and the capital for buying/renting the equipment. However, it is also necessary to make the webinar engaging. Expert webinar hosts recommend including polls, Q&A sessions, and visual aids to make the presentation interesting. Finally, a webinar should be to the point and of a reasonable time duration so that the attendees don't lose interest.
GoodFirms surveyed 126 businesses and webinar hosts across industries & businesses to find the change in their webinar hosting activities, plans for future in-person meetings, and tips on conducting a successful webinar.
Use of Webinars Have Increased Double Fold, As 3 in 4 Businesses Replaced In-Person Meetings For Now
Due to the COVID - 19 disruption, businesses are incorporating virtual means into their marketing mix. Webinars have been around for a few years now, but they gained massive popularity during the pandemic. The webinar hosting activities have increased significantly as everyone is following social distancing measures.
ON24's webinar benchmark report states that the platform saw an increase of 167% in webinar hosting activities.
GoodFirms research has also noticed a similar trend. While 46.5% of businesses said there was an increase in webinar hosting, 28.3% said there was a significant increase.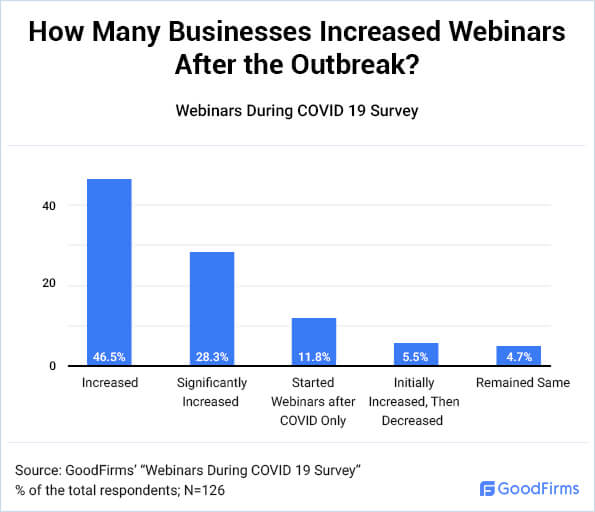 That said, Mark Kantrowitz, the Publisher & VP of Research at Savingforcollege.com, hosts webinars on student loans, saving for college, and the CARES Act. He said, "We have had a significant increase in the number of webinars we've hosted since the start of the pandemic. We increased our webinar schedule, mostly driven by demand from our site's visitors. Demand for our webinars has been very high, even when we've repeated a previous webinar."
Kent Lewis's statement also aligns with that of Mark's. "I would say we've roughly doubled our content. We currently host monthly webinars for two entities I own (they were previously quarterly or every other month in frequency)", said Kent, the Founder of Anvil Media, Inc.
Not only is there an increase in the number of webinars hosted, but it can be said that they covered a wide range of topics.
The law attorneys working with Freeman Mathis & Gary have expertise in different subjects. The firm helped its clients to step up their game and conduct webinars affecting different types of businesses and industries.
Lucia Martin, Marketing Manager at Freeman Mathis & Gary, says, "During the first two months of the pandemic, we hosted a daily webinar (some days two) on different topics affecting a wide array of industries and business. So there was a very significant increase."
Zoom: A Platform That is Massively Popular For User-Friendly Features
There are many available platforms, both free and paid, due to increased demand. The choice of platform will depend on the type of webinar being hosted. The reason being every platform has distinct features suitable for a specific purpose. However, there are all-rounder platforms too.
42.1% of respondents said that Zoom is hands down one of the best platforms to host a webinar due to its easy UI and comprehensive features.
The second popular platform is GoToWebinar, with 15.1% of respondents using it to conduct webinars.
Next in line are the different social media platforms like Facebook and Youtube. 7.1% of respondents choose social media platforms due to their easy availability, and the audience can share the webinars on the walls. Ultimately, it increases their visibility.
The CEO of Discuss Diets, Rex Freiberger, uses Zoom as it is easier and more comfortable to use. Moreover, the audience is aware of the platform, so he can reach a larger audience base. Rex says, "We use Zoom these days to host webinars because everyone is familiar with it. It's been a beneficial solution all around, and definitely less taxing to use than WebinarJam which is what we were using."
RJ Huebert from HBT Digital Consultancy LLC said something on similar lines. He believes that Zoom is the easiest platform to use and the most comprehensive one too. He says, "It has all of the capabilities that one needs, including recording the webinar, an option for polls, and an easy registration process for guests."
The biggest turn off for the audience while using a webinar platform would be the technical issues. If they are repeatedly facing issues in joining the session or during the webinar, then they are going to leave and probably never sign up for another webinar.
To ensure this doesn't happen, Dan Sondhelm recommends Zoom and GoToWebinar as they offer better features than other options. According to him, "We use these as primary platforms for our webinars and those for our clients. While there are many platforms to choose from, we prefer these two because they are secure and offer additional security features that have been vetted by firms in the financial services industry." Dan is the CEO of Sondhelm Partners.
Will Businesses Permanently Replace In-Person Meetings with Webinars?
During the lockdown, businesses adopted webinars to maintain their position in the market and keep in touch with their customers. While using webinars can be called adapting to the situation, when asked if the respondents are planning to replace the in-person meetings completely post-COVID too, a clear difference in opinion was visible.
While some of them are using webinar platforms only till social distancing measures in place, some are not sure about their plans. A substantial number of them realized webinars' potential after being forced to use them in the lockdown. Keeping that in mind, webinars will be included in the marketing mix. It could either be a hybrid model or webinars that will completely replace in-person meetings.
For a Majority, Webinars Are Just a Makeshift Arrangement
Undoubtedly, webinars have turned out to be a savior with the social distancing measures in place. However, the importance of in-person meetings hasn't reduced for the majority of the professionals. For 55.6% of surveyed businesses, webinars are a temporary move, and they will return to in-person meetings as soon as it is safe.
Julie Kemp from Best Response Media thinks that face to face interactions will always be a preferred method to connect with clients. Webinars are a temporary arrangement until in-person meetings can be arranged again.
"No, we still think there is a place to carry on with our in-person events, but we are not carrying out these at the moment until it is safe to do. In-person meetings are still very valuable for us to make connections and have wider discussions, but they have to be done safely," says Julie, a Marketing Manager.
Some business owners say that webinars belong to the initial stages in the process of acquiring a client. Yes, a connection can be established, but for a better understanding of the work and relation with the clients, an in-person meeting is necessary.
Albert Griesmayr from Scribando believes the same about the role of webinars in client acquisition. The Founder says, "In my opinion, webinars are the initial step. They lead to the leads generation and conversions. So the importance of in-person meetings is still the same. In face to face meetings, it becomes easy to gain the clients' attention."
For a Third, Webinars Would Just Be a Part of Hybrid Model
As webinars became the only option to remain connected with clients and customers, business owners found a way to reach a larger audience. 27.8% of surveyed business people say that a hybrid model is the future. A hybrid model is a mix of in-person meetings and webinars. In-person meetings can be used for reaching out to the local clients/audience, whereas webinars can be used for reaching out to a larger audience.
Davie Mach, the Director & CA of Box Advisory Services, believes that in-person meetings will always be relevant to understand client requirements better. Webinars can be used for presentations that are suitable for all types of audiences.
He says, "For as long as COVID is a risk, we will reduce rather than replace all of our in-person meetings. There are certain meetings that need to be conducted in person, such as visits to a new client's business premises to understand their needs better. However, for mass broadcasting of information or FAQs that we're receiving a lot, we're funneling them through webinars."
Scott Asai, a Keynote Speaker from Scottasai.com, also agrees with the opinion. According to Scott, "In-person events cannot be replaced. But with that being said, I envision a hybrid model moving forward. Once venues are comfortable with live events, I will apply to speak at them. Some conferences will save on overhead and details so that they will stay virtual from here on out."
On the contrary, there are also Marketing Managers like Sarah Sibtain, who prioritize their audience while choosing a means of conducting meetings. Sarah Sibtain is the Marketing Manager at The Fashion Jacket. Even though she plans to continue with a hybrid model too, the primary factor in choosing a method is the audience's preferences.
She says, "Soon, I do intend to continue these online webinars but also not replace the regular in-person meetings, dealing with both types of people, some feel more comfortable in visiting in person while some do not intend to do so, keeping both of these sorts of visitors in mind, I'll continue both forms of meetings, alternatively."
For a Significant Chunk, Webinars Would Indeed Be a Permanent Replacement
Not to forget, there are about 16.7% surveyed people who are planning to replace in-person meetings with webinars completely. The primary reason for adopting webinars is time and money savings. In-person meetings and presentations mean spending time in the commute and monetary investments in arranging everything for the guests and the venue.
Moreover, webinars offer a certain amount of flexibility to the attendees and creators as well. This advantage is brought to light by Kim Brown, a Writer at Condo Control Central.
The writer said, "Webinars will likely continue, even after COVID, because the videos can be viewed at any time. Our audience doesn't have to attend at a set time, and we have more flexibility when it comes to producing them as well."
Samantha Russell from Twenty Over Ten mentions that they have used webinars since the beginning, and they don't plan to change this anytime soon. Looking at the current scenario, the plan is to elevate the webinar hosting activities.
"Since we were operating remote since our inception, in-person meetings were never something we've done, so we plan to continue our webinars and virtual meetings with clients as well. If anything, we are planning to increase the number of webinars we host," says Samantha.
Founder & CEO of The Travel Secret, David Adler, also plans to continue with webinars post-COVID 19 but from the marketing perspective. He believes that connecting with the audience digitally is a good way to attract them to the brand and retain them.
David stated, "We plan to continue hosting webinars since so many people are learning about new services on their phones and computers, having that presence in their inbox is still going to be a good way to start the conversation and hopefully get them interested in the webinar and our company."
Webinars Require Considerable Investment - Time and Money the Most
Mainly two types of investment go into making a webinar successful - time and monetary. 54.8% of businesses who host webinars say that time investment is the primary requirement to engage the audience and keep them coming back.
On the other hand, 46% of businesses who host webinars think that monetary investment is equally important as the right equipment and webinar promotion activities play an equally important role in making the webinar successful.
According to Dr. Laura Sicola, the Founder of Vocal Impact Productions, webinars require a different kind of preparation than the in-person presentations. It's a different ball game altogether to keep the audience interested in the webinar.
She says, "The main investment is TIME: You can't drone your way through a webinar the way you could slide by with doing an in-person presentation. You need to create your program in a way that will maximize audience engagement, which requires a completely different structure and delivery."
For Emily Newman, the CEO of If I Made, the time investment in preparing for a webinar is more crucial than a financial investment. Financial investments are actually minimum. She says, "The time investment far outweighs the financial investment. You want to make sure you have a properly thought out event. Financial investments are minimal with a strong internet connection, a good quality webcam, and your webinar hosting platform".
Even though time investment is being given more importance, the necessity of financial investment can't be ignored either. Apart from purchasing the necessary equipment for the webinar, financial investment also includes paid ads and social media campaigns to attract more people.
As a marketing consultant, Bruce Harpham from bruceharpham.com highlighted the importance of marketing a webinar through various means to increase sign-ups. He said, "You need a marketing plan to gather attendees. If you do not have an email list, then you can use online advertising to drive webinar sign-ups. At a minimum, I recommend buying a high-quality microphone and headphones to get clear audio."
How to Keep a Webinar Audience Hooked? 7 of 10 Experts Recommend Q&A Sessions
For the success of a webinar, the presentation/talk must reach the audience's attention. As people are attending webinars from their homes, there are chances that they have many distractions around them. It becomes challenging to retain the attention of the audience in webinars as compared to in-person presentations. So, a common tip that webinar hosts give is to always include polling questions and a Q&A session in the webinar.
The Digital Marketing Specialist at ThoughtWire, Frans van Staden said with his experience of hosting webinars, "We have found that posting poll questions to the attendees during the webinar improves engagement, and makes them feel part of the conversation. We also leave some time at the end of the webinar for a Q&A session and constantly monitor the Q&A box to ensure we answer any pressing and relevant questions in real-time."
If the host doesn't keep the session interactive, the audience can lose interest or get distracted.
Claudia Cruz, an SEO and Linkbuilding Manager in Thrive Agency, realized the importance of polls and Q&A sessions to keep the attendees involved. Keeping this in mind, she says, "Remember that it is indeed necessary to interact with your audience! Zoom offers polls and Q&A, which can be fun at times. Whenever I plan to stop for questions, I make sure that I have a Q&A slide in my presentation, so my audience knows that I am waiting, instead of just asking "any questions?"."
Agreeing on the importance of including Q&A sessions and polls is Gianna Barrere, the Marketing Specialist at PerformLine.
She says, "Once the webinar has started, we like to include polling questions throughout the discussion. It's interactive and will capture attendees' attention more than just talking all the way through. You want to make sure that the questions are, of course, relevant to your audience." Having said that, Gianne also emphasizes on including relevant polling questions that can help the audience in real life.
How to Keep a Webinar Audience Hooked? Keep The Sessions Short & Precise
A webinar or presentation that is too long with just text will not create an interest among the audience. It is a necessity to make the webinars engaging with the help of some visual aids.
At the same time, ensure that the webinar is of reasonable time duration. If that is not possible, consider the topic, divide the webinar into equal parts with a reasonable time duration. This is a tip given by some experienced webinar hosts to keep the audience interested throughout the webinar and making them sign up for future webinars too.
CJ Xia, the VP of Marketing & Sales at Boster Biological Technology, has implemented the same technique to retain the attention of the audience and keep them interested. The VP also suggests making productive use of the break time between two sub-topics. He said, "The other way is to divide the webinar into sub-sections following the "Pomodoro Technique." You would divide the whole topic into 25 minutes sub-sections. A 5-10 minutes break should follow each section. In break sections, you could address relevant questions or do some fun activity."
On the other hand, Samantha Russell from Twenty Over Ten recommends using visual tactics to retain the audience's attention. "Engagement is key when it comes to hosting a webinar, so make sure that you include infographics and strong images to add to your slides as those are much easier to digest than just wording," said Samantha, a Chief Marketing & Business Development Officer.
The Co-Founder of Authority Hacker, Mark Webster, emphasizes the importance of having a precise point to the webinar. "It's important to always have clear inputs, goals, and outputs in your webinar. Make it clear what your audience will be learning, point out the things that the audience can take away and action, and always make sure there is a clear, concise point to your webinar," highlights Mark.
Conclusion
There is no denying that webinars came to the rescue of business owners when suddenly they had to shift their business-related activities online. Even before the pandemic, businesses partnered with digital marketing companies to attract more of their target audience. But once the initial stage was achieved, next came the client meetings and understanding of their requirements. Since social distancing measures are in place, in-person meetings with the employees or clients were not possible. This is where webinars came into the picture. The demand for web conferencing softwares increased.
Despite several options of webinar platforms, few of them were the webinar host's favorite. Now that audience and business owners have become comfortable with webinars; many are giving a second thought to replacing in-person meetings with webinars. The primary motivation for shifting to webinars is the time and money saved by the participants and the hosts.
Apart from hosting webinars, it is also essential to make them successful. Only then can the audience be retained for future webinars. Except for the necessary equipment, a webinar host needs to include some elements that allow interaction with the audience to keep them hooked. Until now, webinars have proved to be quite successful, but only time will tell whether its popularity remains the same or not after the social distancing restrictions are eased.