DealRoomDealRoom is an M&A lifecycle management software designed for collaboration and responsiveness. The platform combines a secure virtual data room with communication and project management tools, reducing the time spent on due diligence by 25-40%. Within DealRoom, all due diligence operations take place in a secure, easy-to-use web-based platform. Requests are directly linked to documents, eliminating the need for spreadsheets and manual searches. Comments are directly linked to documents and requests for streamlined communication. And with all deal activity happening on one platform, DealRoom can derive project analytic data that is not available when standalone data rooms are used. DealRoom also features machine learning to reduce repetitive tasks and robust APIs for CRM and compliance tool integration.

Construction
Education-management
Human-resources
Marketing-advertising
4 Industries
Screenshot & Video
LICENSING & DEPLOYMENT
Proprietary

Cloud Hosted

Web-based

iPhone/iPad

Android

Windows

Mac
Knowledge Base
Help Guides

Video

Blogs

Whitepapers

On-Site Training
DealRoom Core Features
Alerts/Notifications
Collaboration
Document Management
Dashboard
Idea Management
Project Tracking
Project Planning
Reporting and Forecasting
Resource Management
Task Management
Timesheets
Workflow Management
DealRoom Executive Interview
Kison Patel
CEO & Founder, DealRoom
Visit Profile
Please introduce your product and give a brief about your role within the organization.
Our product is DealRoom, an M&A lifecycle management. I'm CEO and Founder.
What was the objective behind coming up with this software?
M&A is highly inefficient and there aren't great tools created to support the lifecycle management, so the objective was to create a more efficient platform for deal management, as well as to create something that promoted collaboration between teams during M&A to create better outcomes.
How is your software beneficial from a value addition perspective to the clients compared to other software alternatives available in the market?
A lot of other products are data rooms, which are outdated, focused more on data security and not collaboration. Excel is still a major platform used in the industry with email being the primary communication tool, which causes information gaps and silos. With DealRoom, our goal is to consolidate information and transactions, so everything is in one database that moves with you through the lifecycle.
What industries do you generally cater to? Which industries in general are highly benefiting by using your software?
We cater to a variety of industries. Any industry or company that's acquisitive would benefit from our software, but we do tend to do a lot of work with healthcare and financial services companies. In terms of specific industries, it's pretty agnostic.
What are the key features of your software that makes it stand apart from your competitor products in the market?
There are a lot of products in the market that is primarily focused on either internal or external communication, but DealRoom differs from those with multiparty functionality. Our product has a really good balance of allowing you to collaborate with your internal team, external team, and the counterparty all in one place. The other big differentiator is the simplicity of our product. Other products can be very complex to adopt, we've placed a large focus on user experience and keeping the product as intuitive as possible.
What is the customer satisfaction rate according to you? What steps do you take to cater to your customer's needs and requirements?
We have about a 98% customer satisfaction rate. Our online reviews indicate we stand pretty well with our customers. We really encourage our customers to write unbiased reviews of our product because we take some of the criticism and use it to improve the product.
Are your customers repetitive? If yes, what is the percentage of repeat customers that you have?
That's kind of a trick question for us. Our larger corporate clients have multi-year contracts with us so the repeat return rate after the multi-year contract ends is low. We also cater to sellers of companies that may be going through a one-time transaction.
Does your software product provide any resource or knowledge section for its users? If yes, what kind of material is provided to your users to help them get acquainted with your product?
When we talk to new users, we offer three mediums of learning. Some prefer a live training with one of our customer representatives to get on-the-spot answers. Others want to learn at their own pace, so we provide videos they can watch at their leisure. Then others prefer written guides, which we provide as well. Additionally, we have a lot of industry-related content such as my podcast, M&A Science, e-books, and published books.
What kind of support system do you offer to your clients for catering to their queries and issues?
We offer live support chat. We really pride ourselves on being responsive as fast as we can with our customers and found support chat to be the most efficient way of doing that.
What has been the revenue for your product for 2020?
Where do you see your product in the next 10 years?
Over the next 10 years, we really want to own the industry and be the best out there. I see our product dominating the M&A deal management industry sector and partnering with a variety of other products to create the best ecosystem for doing transactions, including emerging AI technologies entering the market.
DealRoom Pricing
Payment Frequency
Monthly Payment

Annual Subscription
DealRoom Reviews
Relevance
Most Recent
Rating: high to low
Rating: low to high
Write a Review
Vincent Horton
Posted on Oct 04, 2022
DealRoom is a web-based M&A lifecycle management software to help the team with a better, more collaborative process.
Review Summary
A perfect tool for its purpose. It has been super helpful so far and also has a lot of flexibility and it easily integrates with tools you are already using. It works well for my company. Minimal training is required. It keeps all docs in one place. It really makes everything efficient.
Which features have you used in DealRoom ?
Project Management Software , Virtual Data Room Software
How long have you used DealRoom ?
8 Months
How frequently you use DealRoom ?
Daily
What do you like the most about DealRoom ?
Very flexible and mostly intuitive.
Nice and versatile, with plenty of features.
It is easy to use and simple.
It provides great functionality.
What do you like the least about DealRoom ?
Please add some more options.
Resources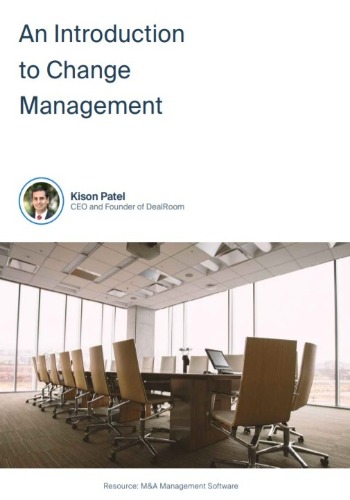 This profile is not claimed
Do you own or represent this business? Enter your business email to claim your GoodFirms profile.