TastyIgniter
Powerful, yet easy to use, online food ordering system
Visit website
TastyIgniter is an open-source restaurant management software that offers a complete online ordering system for restaurants of all sizes. From managing online orders to eat-in ordering, table bookings, credit card processing, reporting, deliveries, and more, TastyIgniter puts restaurant owners in full control of their operations.

With its advanced features and intuitive interface, TastyIgniter streamlines all aspects of restaurant management, helping you increase efficiency and profitability.

TastyIgniter provides open-source PHP flexibility for developers, enabling them to customize and adapt the software to meet the unique needs of their target customer base.

Create and manage multiple menus for different locations, meal times, or seasonal specials with ease. Whether you run a small cafe or a large restaurant chain, TastyIgniter is for you.
Try Software Demo
Screenshot & Video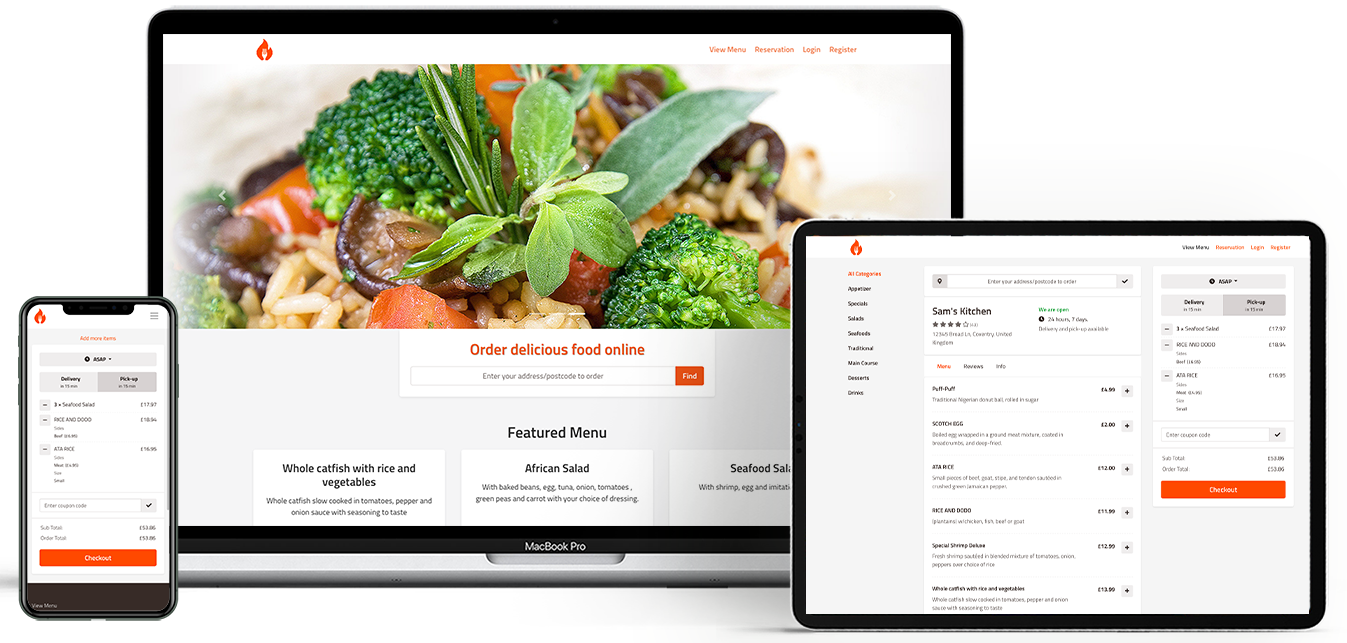 LICENSING & DEPLOYMENT
Open Source

On Premises

Web-based
Knowledge Base
Help Guides

Video Guides

Blogs

On-Site Training
TastyIgniter Core Features
TastyIgniter Executive Interview
Samuel Adepoyigi
Director, TastyIgniter
Visit Profile
Kindly share your feedback on how Good Firms has been doing so far in increasing your visibility among potential clients.
For a business to thrive online, a positive review is essential. GoodFirms gave us a platform to project the positive image of TastyIgniter to a large audience. This is important because 91 percent of people read and trust online reviews as much as they trust recommendations from friends and family.
Please introduce your product and give a brief about your role within the organization.
I am Samuel Adepoyigi, an open source enthusiast. I completed my Masters (MSc) in Information Technology at Cardiff Metropolitan University, and I am the Director and a Software Developer at Igniter Labs. One of Our products is TastyIgniter (TI). TI is an open source, straightforward, free-to-access platform that helps restaurant owners to bring their business online and also build their online customer base. Business owners can use all features from the installation with complete freedom. There's no hidden commission or monthly fee to worry about.
What was the objective behind coming up with this software?
The TastyIgniter story began in 2013. I have a craving for authentic Nigerian cuisine and I became frustrated with the lack of cuisine available for online order and the frequent mistakes when a takeaway order was placed.
I decided to solve this frustration with my final year project: a comprehensive platform that would enable restaurants to quickly and easily adapt to the evolving needs of their target audience, without the need for heavy investments or disruption.
With a helping hand from the open source community, TastyIgniter (a subtle nod to the CodeIgniter PHP Framework) was continually developed and tweaked over the years, officially being launched in May 2016 and facilitating change across the industry.
How is your software beneficial from a value addition perspective to the clients compared to other software alternatives available in the market?
Ultimately, the aim of TastyIgniter is to address one of the biggest challenges facing restaurant owners today: the cost of an online presence. That's why TastyIgniter is, and always has been completely free to download with no commissions or hidden fees for restaurants. It is an All-in-one solution. With TastyIgniter, you won't need to install a wide range of software to run your restaurant efficiently. Also, TastyIgniter is open source, this gives users the ability to extend the platform and build on it.
What industries do you generally cater to? Which industries in general are highly benefiting by using your software?
Our software serves businesses in the food and beverage sector of the hospitality industry. Most of our customers are school cafeterias, restaurants and bars.
What are the key features of your software that makes it stand apart from your competitor products in the market?
The key features of TastyIgniter are; It's Open Source, Easy Online Ordering, Fast Online Booking, Essential Discount System, Multiple Payment Options, Multilingual, Customer review system, Dispatch Integration, and Unlimited Menus & Orders.
What is the customer satisfaction rate according to you? What steps do you take to cater to your customer's needs and requirements?
We can divide our customers into 2 categories; the Software developers and Business customers or end users. Developers use the TI to develop solutions for businesses and Business customers come to us directly. TastyIgniter has enjoyed a positive review so far. Our reviews on GoodFirms and other listing platforms have been overwhelmingly positive.
We are constantly improving our customer support services to better support our customers and alleviate their challenges. We are developing new extensions to add more features to the platform. Customers can also request custom features that are tailored to their requirements.
Are your customers repetitive? If yes, what is the percentage of repeat customers that you have?
Yes, our customers are repetitive, once you give TI a try you'll likely want to stay with it. It is free and it has all the features you need and you might need to bring your restaurant online. Judging from the renewal rate of the yearly subscription for our extension, I can estimate the percentage of our repeat customers as 96 percent.
Does your software product provide any resource or knowledge section for its users? If yes, what kind of material is provided to your users to help them get acquainted with your product?
Yes, we have a lot of resources and knowledge platforms for users. Customers can check our Help Centre, Documentation, and GitHub for helpful resources.
What kind of support system do you offer to your clients for catering to their queries and issues?
We have a thriving community on Discord and TI forum where users can ask questions and get help with challenges relating to the use of the TastyIgniter. There is also a monthly support subscription that gives users fast and reliable customer support.
What has been the revenue for your product for 2021?
Initially, our major source of revenue is custom development projects for businesses. This is not a consistent source of revenue. Now we have a more consistent revenue from the sales of extensions in our marketplace and this started in June 2021. I can't give you a definite figure for our revenue, but we've been recording revenue growth since the third quarter of 2021.
Where do you see your product in the next 10 years?
We will continue to actively develop TastyIgniter. We also have a plan to create other AI (Artificial Intelligence) powered products that will usher in a new era in Logistics Management and Sharing Economy through improved efficiency. Just like TI, they will likely be open source, modular, and easy to extend.