ACE Software n Web Solutions
We believe in intelligent innovation
Visit website
We are a software development company with innovation as our working theme. We are creative nerds, and try to give any business a smart digital solution. As we are into web development, we are consistently delivering solutions on internet. We are giving cyber secured solutions, so that our clients should be rest assured about threat into cyber world. We are also giving smart solutions by using current technologies and IoT, Internet of Things. We apply cyber security and IoT in our mobile app solutions also
India
Charai
,
Thane
,
Maharashtra
400601
9821050283
Focus Areas
Service Focus
20%
20%
20%
20%
10%
5%
5%
Mobile App Development
Web Development
Software Development
E-commerce Development
Digital Marketing
ACE Software n Web Solutions Executive Interview
Aasim A. Khan
Founder & Director
Visit Profile
Please introduce your company and give a brief about your role within the organization.
We at ACESnWS have 9 years of experience in the IT industry. ACESnWS is an IT professional service and software development company based in Mumbai, India. We are having expertise in diversified services including SaaS development, ERP development, eCommerce & Mobile Apps, Website & Portals and we nurture it all with our classified experts team of digital marketing.

Founder & Director with 9 years of experience in IT Services proving excellent interpersonal, presentation, and communication skills. Holds expertise in applying strategy, design, innovation, problem-solving, and improve organizational performance. Developing businesses by understanding clients' needs, budget, timeline, and feasibility.

My efforts are specifically intensive at the intersection of converting raw ideas into finished solutions with the use of the latest technologies, defining a new opportunity, identifying success for the customer, business development, and building our team. Established various industries and organizational structures by realizing existing operations and implementing robust solutions, services, and business practices to optimize how IT engages with all business disciplines.
What is the story behind starting this company?
To build intelligent innovative and sustainable solutions with our passion for technology to bring digitization and hassle-free work culture for our clients and to become a #1 IT solution partner by providing seamless integration of technology with your business to achieve high success & growth.
What are your company's business model–in house team or third party vendors/ outsourcing?
We have a team size of 25+ employees at different levels.
How does your company differentiate itself from the competition?
ACESnWS is a leading Software solution provider for brands and retailers globally. Providing a broad and seamless range of technology and operations solutions to make your business stay ahead.
What industries do you generally cater to? Are your customers repetitive? If yes, what ratio of clients has been repetitive to you?
Restaurants & Food | Travel & Hospitality | Healthcare | Education | Retail & Online | Manufacturing & Logistics | Pharma & Life Science | Banking & Finance | Real Estate | FMCG | Media & Entertainment | Government.

Yes, we have repeat customers with a ratio of 2:10.
Please share some of the services that you offer for which clients approach you the most for?
Customized ERP & Software | Web Application | Mobile Apps | eCommerce.
What is your customer satisfaction rate according to you? What steps do you take to cater to your customer's needs and requirements?
We have a 97% customer satisfaction rate.

We make sure we have understood our Client's requirements and mould them into the technology with our expertise to the best satisfying solution. We have a support and follow-up team who take necessary care of Client's problems and make sure they resolve it in the quickest time span.
What kind of support system do you offer to your clients for catering to their queries and issues?
We have a dedicated support team always helping our Client's with their problems and query solving.
What kind of payment structure do you follow to bill your clients? Is it Pay per Feature, Fixed Cost, Pay per Milestone (could be in phases, months, versions etc.)
Do you take in projects which meet your basic budget requirement? If yes, what is the minimum requirement? If no, on what minimum budget you have worked for?
Yes, we have a minimum budget requirement to acquire a project.

For eCommerce & Mobile Apps it is a minimum of $1000 USD.
For Customised Software & ERP it is a minimum of $6500 USD.
What is the price range (min and max) of the projects that you catered to in 2020?
From $1500 USD to $10000 USD.
Where do you see your company in the next 10 years?
We should be known as the best IT Company for Cyber Security and IoT Solutions. Having our dedicated offices in USA | UK | UAE | Australia | Canada | Singapore with a team size of 10000+ employees across the World.
ACE Software n Web Solutions Clients & Portfolios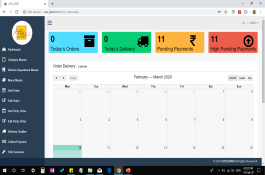 ACE Software n Web Solutions Reviews
All Services
E-commerce Development
Digital Marketing
App Designing (UI/UX)
Relevance
Most Recent
Rating: high to low
Rating: low to high
Write a Review
Books 4 U - ecommerce portal and android app
Review Summary
Our site deals in delivering educational & non educational books for all streams. To get it developed I found ACE Software n Web Solutions as one of the best knowledgeable company in this domain as well as their office was in my city only so it was comfortable to coordinate and have meeting if necessary. We developed portal and android app for my business which is getting a good response in market and very soon we will be coming up with iOS app too.
Ajay Nadari
, Founder at at MyAreaShops
Posted on Feb 08, 2021
MyAreaShops Local shopping portal
Review Summary
An idea behind the development was to connect any local business vendors, supermarkets, retail chains to bring on our portal for getting deliveries as well as promoting themselves.
ACE Software n Web Solutions did the great task of development and handled all our IT requirements effortless. They were as good as our technical partner to fulfill anything that comes as challenge for us. We developed Web Portal, Mobile Apps separately for Customers & Vendors, full-fledged admin panel and digital marketing services too.
What is it about the company that you appreciate the most?
Absolutely great work done by their team whether it was development or digital marketing they did it excellent
Bhavesh Mathani
, Founder at at Bhavesh Foods
Posted on Feb 08, 2021
Eateries Delivery Portal
Review Summary
The idea behind this development was to build an online delivery portal for ready food items like snacks, sweets, namkeen, etc.
After analysing few development companies, we had chosen ACE Software n Web Solutions to work with us based on the knowledge, expertise and experience in eCommerce industry. They did a fabulous work to satisfy all our development requirements and helped us to achieve our goal.
What is it about the company that you appreciate the most?
Their experience, expertise and knowledge in ecommerce industry
What was it about the company that you didn't like which they should do better?
I'm not the right person to suggest any improvements as they already have the best process I have came across so far in my business lifespan. Perfect delivery, great timing, awesome work done.
Very good and innovative developers
Review Summary
We have developed and android app for all doctors where they can store their day today data of patients diagnosis
What is it about the company that you appreciate the most?
They understand the requirements properly and deliver it the best
What was it about the company that you didn't like which they should do better?
NA
Excellent E-commerce development company
Review Summary
They went above and beyond to create a customized E-commerce solution for our cake shop, coupled with an impressive Android mobile app. Their expertise truly shines through in the customized solution they crafted for our cake shop. They took our specific needs and preferences into account that perfectly aligns with our business model. The attention to detail and dedication to creating a tailored experience were evident at every step of the development process. We are incredibly satisfied with the outcome of their efforts, and their contributions have undoubtedly elevated our cake shop's online presence.
What was the project name that you have worked with ACE Software n Web Solutions?
Excellent software development company
What is it about the company that you appreciate the most?
Great & deep understanding of the requirements
Professional work
Review Summary
These are truly professionals and value given timeline.