Bachoo
Web and mobile solutions that boost your business
Visit website
Bachoo Studio is a leading web and mobile solution provider dedicated to creating sophisticated and technologically advanced solutions for our clients. We offer end-to-end services, starting with concept and strategy and continuing through design, development, QA, devops, and support. With roots dating back to 2015, we've won over 50 global awards, demonstrating our visual design, UX, and implementation excellence. Our team consists of under 50 hand-picked experts, with no room for juniors. Many of our specialists hold global certifications, making us a top-notch IT production service provider. At Bachoo, we believe in co-creation, allowing our clients to bring their own ownership and knowledge of their business and brand while we bring our rich expertise to the table.
Belgium
4 Sint-LazaruslaanSint-Joost-ten-Node
,
Brussels
,
Flemish Brabant
1210
United States
1730 E Holly Ave STE825 El Segundo
,
Los Angeles
,
California
CA 90245
+18445301320
Focus Areas
Service Focus
Web Designing (UI/UX)
Web Development
Software Development
App Designing (UI/UX)
E-commerce Development
Client Focus
Medium Business
Small Business
Large Business
Bachoo Executive Interview
Visit Profile
Please introduce your company and give a brief about your role within the organization.
The studio was founded in 2015 by me. Before that, I worked as a freelance designer for a while and was completely swamped with requests, so I figured out that was a good point to start my own firm.

We are a kind of design agency that stands for quality, and that's not just words. We are small and senior-only, and we don't take more projects than we can. And we are growing slowly in order to properly vet our new team members. As a matter of a fact, we are of 20 people now.
Our two branches are web design and product design.

By web design direction we mean corporate websites, landing pages, niche e-commerce websites, and other types of web projects that need neat and original look, accurate and witty copy, and high-end, advanced front-end technologies, like GSAP, WebGL, etc.

By product design direction we mean web- and mobile applications, Saas and e-commerce services, that require straight UX, rooted in user research and proven by usability testing, and accurate, well-structured interfaces with elaborate micro-copy and attention to the emotional journey that lies underneath.
What is the story behind starting this company?
Leading a digital design studio was my dream ever since I got more or less mature as a designer. I always wanted to be able to control the whole complex of work that needs to be done to put stuff online, being responsible only for the design part felt like an incomplete action.

Now, with a team of designers, developers, and project managers, I feel like we are really accomplishing something, we are really responsible for the products we bring to life.
What are your company's business model–in house team or third party vendors/ outsourcing?
As mentioned before, I am a bit of a control freak. It is important for me to be able to control the whole process and know who is responsible for each part of it. That's why we prefer to have an in-house team.

BUT! This does not apply to illustrators and 3d artists. We work with different artists on a per-project basis, and it's the best option, because artists usually have their own style, and our clients require very different styles.
How does your company differentiate itself from the competition?
I can't say that we are much different from most of the really good design agencies. We fight for quality, not in words, but in deeds. We meet deadlines. We also have quite reasonable pricing, because our production is in Ukraine.
What industries do you generally cater to? Are your customers repetitive? If yes, what ratio of clients has been repetitive to you?
Seems like all of our clients have come back to us within two years after the completion of the first project. The longest collaboration went on for 6 years, on and off, and ended only because the company got sold.

We are industry-agnostic because the design and user-research principles are industry-agnostic. And the experience that a designer received in one industry helps when designing for another.

We can successfully apply our knowledge to any specific industry. We have catered for finance and fintech, edtech and learning, apps for children, medical and pharma, gaming and e-sports, architecture and construction, development, and of course, all kinds of startups.
Please share some of the services that you offer for which clients approach you the most for?
Our strength is web design and development, application design, and development.
What is your customer satisfaction rate according to you? What steps do you take to cater to your customer's needs and requirements?
An important step is collecting the requirements. This is the cornerstone for all the future effort, and without a well-written brief, the scope of work, assets collection, etc. a good project can't happen.

And this is what we do first of all for all of our projects, big and small. As the result, we have a meticulous timeline for the project.

Then, we just follow the timeline and deliver great work.

This is how we make our customers happy.
What kind of support system do you offer to your clients for catering to their queries and issues?
We provide free support within 1 month after launch for most of our projects. Then, depending on a specific type of website or application, we can offer options for support.
What kind of payment structure do you follow to bill your clients? Is it Pay per Feature, Fixed Cost, Pay per Milestone (could be in phases, months, versions etc.)
We work on a price per-project basis if a project has a clear and fixed scope, and we work on a per-hour basis if a project is supposed to be flexible.
Do you take in projects which meet your basic budget requirement? If yes, what is the minimum requirement? If no, on what minimum budget you have worked for?
Our minimum project is ~$5000 and it unusually is a short landing page.
What is the price range (min and max) of the projects that you catered to in 2020?
It's 5 - 100,000. 100,000 is for projects that had at least one full-time specialist working on it.
Where do you see your company in the next 10 years?
I think we will become bigger, work with bigger brands, most likely we will work on AR projects a lot.

I am sure I will not leave my position in the studio because this is what I always wanted to do and I don't want to be just an owner of my studio.
Kindly share your feedback on how GoodFirms has been doing so far in increasing your visibility among potential clients.
More or less well. I don't get that many leads, by those who reach out to me are relevant.
Bachoo Clients & Portfolios
Key Clients
Mercedes AMG
Logitech
Giant Magellan Telescope
TSM
Blitz-app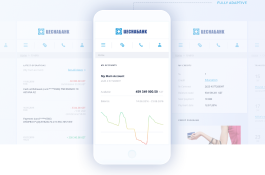 Bachoo Reviews
All Services
Web Designing (UI/UX)
Web Development
E-commerce Development
Software Development
App Designing (UI/UX)
Relevance
Most Recent
Rating: high to low
Rating: low to high
Write a Review
Brittany A Belt
, Mentor at First Round Fast Track
Posted on May 23, 2022
Thoughtful, unique, and tailored design and dev work from real professionals
Review Summary
I worked with Elena briefly some years ago, and even then, her work left a big impression. I reconnected when I was ready to start my own business and was pleased to see I could have the whole team at Bachoo available for the work.

I was bootstrapping my project, so initially the higher price point had me on edge. But, in a sea of design chop shops and reused code, their approach and process stood out. They also met with me a few times to dig in to understand how I envisioned the product working, so they could be confident in the estimates they provided. So while I might have received something faster/cheaper elsewhere, I think it would have resulted in redoing a lot of that work to get it to where it is today (which is just stunning, and unique).

End to end I had solid project management support, weekly check-ins over video, and a very responsive team over Slack.
What was the project name that you have worked with Bachoo?
Software and Web Development for US-based Co
What is it about the company that you appreciate the most?
The team of designers have a keen eye for UX/UI design. They work hard to understand your vision as well as your customer to tailor their solutions.
Strong project management and communication. I never felt like a number.
What was it about the company that you didn't like which they should do better?
They have since hired developers in house, but part of my project was completed by external devs. Communication had some (minor) hiccups.
The team is small, so if you need a lot of people to crush through a big piece of work quickly, this may not be the right match.
Dmitry Chaplinsky
, Senior Architect/Developer at at Zone
Posted on Aug 13, 2021
Great partner to deliver a beautiful products!
Review Summary
I've been working with Bachoo for a couple of months now and I'm very satisfied with the services they provide, they expertise and general approach (creative, yet diligent). Bachoo assigned a team, that works on my project. Even before our first meeting the team made a research on our project it's market, existing presence in media and social media, so they came surprisingly prepared. We've reviewed existing website, agreed on the general direction and they've started delivering! Moodboards, fonts, colours, every option was well thought and well presented. To be honest, it was hard for me to pick. They also listening to your feedback and you can see it being incorporated on next steps. Finally, it's a pleasure to talk to smart and pro-active people who really wants to help you to deliver your project!
What is it about the company that you appreciate the most?
Attention to details, pro-active approach, laser focus
A Great Company To Work
Review Summary
We have worked with this company and they delivered exactly what they promised.
Web Design for Custom Software Development Company
Review Summary
Bachoo designed a website for a company Proxet, that provides custom software development solutions worldwide. The team created the UI/UX design of the platform in an iterative method to ensure the website met the expectations and requirements of the client. The team managed the project excellently, and they were an extremely skilled design partner.
Nirali Patel
, Project Manager at TwoSigmas
Posted on Jan 25, 2019
Brilliant team to work with!
Review Summary
Worked with Bachoo on several projects and they have always delivered exemplary work. Brilliant design team with fresh innovative ideas and always delivered on time.
Yuriy Golubchik
, analysis and planning at Bank
Posted on Dec 28, 2018
cooperation in project implementation
Review Summary
Collaborated with Bachoo design in the framework of 3 opendata based projects (1 public initiative and 2 government-level projects). From the very first project, they have established themselves as top-level specialists. It's a company easy to work with, everything is very responsive and clear. All work was carried out according to the schedule and in time. Plus, thanks to their experience and advice, at one of the projects our team managed to detect and improve the functionality of the portal at an early stage.
Hanna Gavrylova
, Co-Founder and Partner at BRUSH Agency
Posted on Dec 25, 2018
Brand identity for PIRYA Jewellery
Review Summary
We had an excellent experience developing brand identity for our emerging designer jewellery brand PIRYA. The process was smooth, and Elena's vision lead to some unexpected design solutions for the logo. The custom font the team developed is great and has character, we are happy with the way it ties our communication together.
What is it about the company that you appreciate the most?
Creative and simple solutions, efficient time management and a clear goal-oriented approach.
Andrew Veres
, Project Manager at GPI Company
Posted on Dec 04, 2018
Best Co!
Review Summary
The best company and the best creative team I've ever seen!!!

What is it about the company that you appreciate the most?
The team were very flexible in clients demans...
What was it about the company that you didn't like which they should do better?
I do not know for now
Murat Prokopov
, COO at The 8760
Posted on Nov 29, 2018
Amazing job on our website
Review Summary
Our work with Bachoo may take taken slightly longer then expected, partially because we're not the simplest client there is, but the result was awesome. Unprecedented attention to detail and patience, I must say. Half a year later we're still receiving random compliments from clients and partners regarding our website.
What is it about the company that you appreciate the most?
Attention to detail, taste, patience, service
What was it about the company that you didn't like which they should do better?
Scale, to produce more options at a time
Roman Peskin
, CEO at Go Interactive
Posted on Nov 28, 2018
Rock-solid performance
Review Summary
Pros:
high-quality execution on time and on budget, very talented designers, no surprises, very transparent. They guys went an extra mile every time we needed them to do anything. Cost is very reasonable too, meticulously precise billing.

Cons:
none really. I just wish they had more availability although it shouldn't come as a surprise that designers who are that good have tons of work.