ein-des-ein
Design-driven approach to building great products.
Visit website
Ein-des-ein provides a wide range of design and mobile/web app development services for companies with the aspiration to build and develop great products. We operate in 10+ industries. The ein-des-ein mission is to provide high-quality design & tech solutions that help businesses grow, boost revenues and achieve ambitious goals. Established in 2015 as a private company, ein-des-ein grew out of a one-person company and became a diverse team of professional designers and developers. We always do our best to be a reliable partner for our clients.
Ukraine
Sichovykh Striltsiv St, 11
,
Dnipropetrovsk
,
Dnipropetrovska
49000
+380676303443
Focus Areas
Service Focus
25%
25%
15%
10%
10%
10%
5%
Mobile App Development
Software Development
Web Development
App Designing (UI/UX)
Web Designing (UI/UX)
Client Focus
Small Business
Large Business
Medium Business
ein-des-ein Executive Interview
Visit Profile
Please introduce your company and give a brief about your role within the organization.
My name is Michael and I'm the CEO and Founder of Ein-des-ein. Ein-des-ein is a company that offers app & web development services to help businesses build great digital products. We have outsourcing and outstaying engagement models to better aid businesses with accelerating their product growth.
What is the story behind starting this company?
The company was created 5 years ago. We grew from one designer to 60 in-house employees and we continue our growth. In the beginning, we were only design-oriented, but today the company offers full-cycle development.
What are your company's business model–in house team or third party vendors/ outsourcing?
We complete projects with the help of our in-house team. We continue to grow and expand. Our team structure allows us to take on big projects and successfully deliver them on time.
How does your company differentiate itself from the competition?
Our design-driven development approach has proven to be very good for different clients. We analyze each project's goal together with the client and prepare the maximum before the development begins. We are a young but already mature company, very agile and creative. Since we have a full-cycle development team in-house, we are very product-oriented and can execute on the highest level.
What industries do you generally cater to? Are your customers repetitive? If yes, what ratio of clients has been repetitive to you?
We cater to different industries, primarily to Healthcare, Fitness&Health, Logistics, Streaming, SportsTech. We also have a lot of experience with delivery services for food and beverages.
Please share some of the services that you offer for which clients approach you the most for?
Our clients mostly outsource mobile app & web development and ask for UX/UI design and Identity services. Our most popular technologies are Vue, React, and Node.js.
What is your customer satisfaction rate according to you? What steps do you take to cater to your customer's needs and requirements?
The smile of a customer when they see the first draft of their project is something that gives me hope and satisfaction from the work. Each step is very iterative. The creation of an app is a very intimate process between the client and the supplier. We communicate regularly and make sure to keep our clients up to date about every aspect of the project.
What kind of support system do you offer to your clients for catering to their queries and issues?
We give our clients an opportunity to reach us via several channels and make sure their queries are always heard. They can also give us feedback in any form they prefer.
What kind of payment structure do you follow to bill your clients? Is it Pay per Feature, Fixed Cost, Pay per Milestone (could be in phases, months, versions etc.)
We offer all types of engagement models. However, Time & Material and Team-as-a-Service are the best practice.
Do you take in projects which meet your basic budget requirement? If yes, what is the minimum requirement? If no, on what minimum budget you have worked for?
We are starting from 40,000 USD — it is a minimum for a full-cycle project.
What is the price range (min and max) of the projects that you catered to in 2020?
The prices varied from 20,000 to 500,000 USD.
Where do you see your company in the next 10 years?
We will definitely evolve into the product powerhouse. I don't see us growing much in terms of employee count, however, we want to have more unique expertise onboard.
ein-des-ein Clients & Portfolios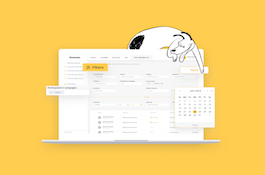 ein-des-ein Reviews
All Services
Mobile App Development
Web Development
App Designing (UI/UX)
Web Designing (UI/UX)
Relevance
Most Recent
Rating: high to low
Rating: low to high
Write a Review
Noah Burgunder
, CEO at Allmetra AG
Posted on Nov 10, 2021
Our experiance with Ein-Des-Ein was very good. The people were very quick and delivered top quality.
Review Summary
I can only describe the work as excellent, they were always very efficient and have had many good ideas to improve the new desing from the Allmetra branding. We can warmly recommend the team from Ein-Des-Ein to all potential customers.
What is it about the company that you appreciate the most?
the speed of work and holding the deadlines was very impressive to us
the quality of the products was super and we got nice feedback from your customers
the whole team was super friendly and motivated through the whole working process
What was it about the company that you didn't like which they should do better?
We cannot make any negative comments at the moment and are looking forward to further joint ventures
Great job, very professional
Review Summary
We were working together on our new market vendor shop and the quality of their work was perfect. They always having good input and try to get the max. of your project. We are really happy with the shop! Thanks for the great job!

What is it about the company that you appreciate the most?
Really good designer and always having some good input.
Reliable and well organised team/project
Review Summary
Ein-des-ein developed our new web site. They were very professional. They developed a plan and stick to it, but at the same time they were flexible enough to accommodate change requests.
What is it about the company that you appreciate the most?
Very professional. They meet the deadlines. Flexible to accommodate changes.
Happy to have chosen Ein-des-ein!
Review Summary
They are fast, flexible and highly skilled! I found them always available and were quick to respond.
Great to work with
Review Summary
Ein-des-ein helped us with building and launching our B2B website. The ein-des-ein team was great to work with, especially in regards to their client focus and their vibrant UI work. We were very satisfied with the result and recommend ein-des-ein to others.
Excellent job of rebranding for my agency.
Review Summary
I ordered a rebranding service for my agency and a logo development. Ein-des-ein is an excellent creative team. I can say that they are really client-oriented. They carried out quite a huge amount of iterations to find a perfect nontrivial solution. Highly recommended.
Anton Viborniy
, Co-founder at at Apiway.ai
Posted on Feb 22, 2021
Reliable and patient
Review Summary
I was really impressed with how well we communicated at all stages of the project. The ein-des-ein team helped us with 3 core issues: build a multi-page website, create a brand book and develop a thoughtful UX design to support the platform engine. I would like to emphasize the patience and the high level of professionalism demonstrated by the team. I was quite with happy the result.
What is it about the company that you appreciate the most?
Ein-des-ein has very good designers that have experience in b2b SaaS products. Designer Named Danylo is the perfect master!!!!
What was it about the company that you didn't like which they should do better?
make the price lower :)

Creative and proffesional agency to work with
Review Summary
I had a really good experience working with ein-des-ein, guy are professionals and creative in all sense. It was great to see level of responsibility and I have been always aware of results, changes or if anything was needed from my side, like feedback. In the end, I am very satisfied of the final result.
Very good agency
Review Summary
We had several projet with the agency and the team is awesome !
We are very happy about what they are doing and the work that have been done. People are cool and very professional, they listen and are flexible.

We had some misundertandings in 2 years of cooperation but we always found a way to a suitable solution. Everytime we identified areas for improvement they have been reactive find a positive way out.

What is it about the company that you appreciate the most?
The team and the reactivity
Resources