Hi! Our company ItFox develops mobile and web applications for existing businesses, and specializes in launching MVPs for startups on a turnkey basis - from market analysis to user feedback.
Outsourcing and outstaffing is another area of expertise - we create IT departments within the existing business, staff teams and help to develop new IT products.
With over 50 developed applications and websites in businesses ranging from Healthcare to Entertainment, our goal is to create IT products that help achieve new business goals.
Why choose us?
free consultation
assistance in preparing a development task
payment only for work performed
United States
81 Plastunskaya St, Sochi
,
Bisbee
,
Arizona
354000
+79288542462
Kazakhstan
Жетысуский район, улица Ратушного, здание 88а
,
Batis Kazakstan
KAZ 398
+7 928 854-24-62
Focus Areas
Service Focus
Mobile App Development
Web Development
Client Focus
Small Business
Medium Business
ItFox Clients & Portfolios
Key Clients
Give away
A multiplatform mobile app for meditation
london group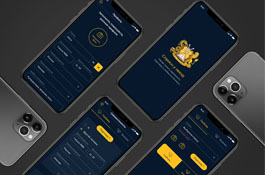 ItFox Reviews
All Services
Mobile App Development
Relevance
Most Recent
Rating: high to low
Rating: low to high
Write a Review
Dmitriy Gudz
, Owner at Gudz
Posted on Aug 29, 2022
They are strong IT specialists and have loyal terms and conditions.
Review Summary
Hello, my name is Dmitry Gudz - I am the head of
Gudz Ltd. is a marketplace for finding permanent and odd jobs, the right specialists, placing ads for buying/selling and advertising on the marketplace itself.
We found out about ITFox through online marketplaces. It took us a very long time to choose. Out of six developers we chose ITFox - they are very responsive. I really liked the guys' in-depth and logical approach to the next steps in mobile app development with code review.
They are strong IT specialists and have loyal terms and conditions.
Since IT needs to be developed all the time,
I plan to continue working with ITFoх in the future.

What is it about the company that you appreciate the most?
responsibility , Friendliness, experience, expertise, loyalty, willingness to help and go above and beyond, openness,, desire to make the product bett
What was it about the company that you didn't like which they should do better?
We need to expand our staff and go global makket. The guys are very good, I want them to get even better.