KODA Integrated Marketing Services
Content Marketing Simplified
Visit website
An award-winning content marketing agency that drives the right conversations, turns leads into interests, and builds your brand.
We are a team of content strategists and marketers with expertise in content creation. As a content marketing agency, we help businesses in achieving their marketing objectives by delivering compelling B2B SaaS content that fuels demand, generates leads, and encourages lucrative customer action with an emphasis on complete funnel marketing strategies. We create engaging content for thought leadership, awareness, and lead generation specializing in both short-form and long-form content. Our services are geared at achieving results and growth because we understand what it takes to help a business expand. We have a dedicated team of content creators and marketers with expertise to understand diverse requirements and provide on-point services.
India
HSR Layout
,
Bengaluru
,
Karnataka
560102
8297161254
Focus Areas
Service Focus
Writing Services
Web Development
Digital Marketing
Client Focus
Small Business
Large Business
Medium Business
KODA Integrated Marketing Services Executive Interview

Visit Profile
Please introduce your company and give a brief about your role within the organization.
Koda Integrated Marketing Services is a content marketing and digital advertising agency with a focus on developing relevant content and digital marketing solutions for B2B Tech and SaaS companies. Our global clientele includes Fortune 500 companies, unicorns, tech start-ups, and companies on the verge of launching their IPOs.

As a Founder, I work closely with my team on all aspects of content creation, client outreach, and strategy. I am committed to delivering quality solutions and creating a workplace that's enjoyable and safe.
What is the story behind starting this company?
Content marketing plays an important role in the B2B Tech/ SaaS space. However, very few people understand the requirements in this space. There is a dearth of content specialists who cater to this market because of which there is a huge talent gap. I started Koda back in May 2019 to address this gap and create content and campaigns that help tech businesses get the desired outcomes. Since we started, we have successfully created 1,000+ content pieces and end-to-end digital marketing campaigns for companies in B2B Tech and SaaS space.
What are your company's business model –in house team or third party vendors/ outsourcing?
We have a dedicated team of writers, subject matter experts (SMEs), digital marketers, SEO specialists, content strategists, and designers in-house.
How does your company differentiate itself from the competition?
At Koda, we have an in-house team with rich experience in fields such as finance, marketing, and technology. All our writers have in the past worked for industries which we write for. As a result, they are able to deliver assets that are easy to understand, well-researched, and lead to conversion. Our content is original and well-thought-out. Our focus is both on strategy and execution for full-funnel content marketing. Despite being a young company, we have our processes in place which make for a strong foundation and help us stay ahead of the competition.
What industries do you generally cater to? Are your customers repetitive? If yes, what ratio of clients has been repetitive to you?
We cater to companies working in Retail Tech, MarTech, FinTech, and IT Services and work with new-age companies in the US, Europe, SE Asia, and India. In the last 4 years, we have been able to get a majority of our clients through referrals and word of mouth. 90% of our clients have come back to us or have recommended us to others.
Please share some of the services that you offer for which clients approach you the most for?
We work on a plethora of content form factors right from a mailer to creating a video. Be it a newsletter, mailer, social media copy, video script, website content, blog, e-book, case study, or white paper we do it all. However, at Koda we understand that content marketing is not just about writing good content it's much more. Some other services that we offer include website design, development, maintenance, content distribution, video production and creation, digital marketing campaigns, and designing brochures, e-books, white papers, presentations, etc.
What is your customer satisfaction rate according to you? What steps do you take to cater to your customer's needs and requirements?
On a scale of 1 to 10, I believe our customer satisfaction rate to be an 8. When we onboard a client we are not just a service provider for them, as a company we truly work like an extended marketing team for our clients. To ensure seamless delivery we have a dedicated team of 2-3 writers per project depending on the size of the account and a project manager who is a SPOC for the client.
What kind of support system do you offer to your clients for catering to their queries and issues?
The team that would be closely working on a project is introduced and contact details are shared with the client at the time of onboarding. The team and the project manager are in touch with their clients by email, WhatsApp, Slack, or any other channel of communication the client may be comfortable with. Clients can also directly reach out to the resources working on their project and in case of any escalation there is an escalation matrix in place.
What kind of payment structure do you follow to bill your clients? Is it Pay per Feature, Fixed Cost, Pay per Milestone (could be in phases, months, versions etc.)
Our payment schedules are mostly monthly retainer clients where we decide on the deliveries per month and charge a fixed cost per month. These retainer contracts are for a minimum of 1 year or 2 years in some cases. The contracts are renewed annually and if the scope of work increases mid-year we revisit and revise the commercials accordingly. We also take assignments that are project-based.
Do you take in projects which meet your basic budget requirement? If yes, what is the minimum requirement? If no, on what minimum budget you have worked for?
Our plans are customized as per business requirements. In my experience, we have started with a small project and have managed to expand our scope of work in due course or convert these clients into retainers. As of now, there is no minimum budget requirement and so far this system has worked for us.
Where do you see your company in the next 10 years?
In today's digitally connected world, content marketing plays a crucial role in helping businesses create visibility and generate brand awareness. With AI making in-roads everywhere content creation is included, the content industry is evolving at an unprecedented pace. As an agency owner, it is my constant endeavor to keep up with changing times. The industry is going through a very exciting time and we are experiencing a technology influx like never before. As a company, I see Koda evolving and re-inventing itself with the changing dynamics. We will surely be bigger and better at what we do in 10 years from now.
KODA Integrated Marketing Services Clients & Portfolios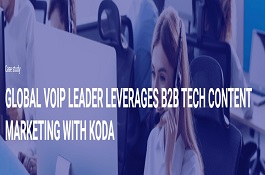 KODA Integrated Marketing Services Reviews
Relevance
Most Recent
Rating: high to low
Rating: low to high
Write a Review
Priyanka Tiwari Pathak
Posted 7 months ago
Best Content writing services
Review Summary
I led the Marketing team for Ecosmob & For creating content for our company's marketing campaigns, websites etc I had been struggling to create content that resonated with our target audience. However, since partnering with your agency, we have seen a significant improvement in the quality and effectiveness of our content.

Your team was incredibly responsive, professional, and easy to work with throughout the entire process. They took the time to understand our brand voice and audience, and their content consistently delivered on our goals and objectives.

Additionally, your team consistently met all of our project deadlines, which was extremely important for our business needs.

Overall, I cannot speak highly enough of your agency's services. I am confident that our partnership with your agency has positively impacted our business, and I look forward to working with you again in the future.
What was the project name that you have worked with KODA Integrated Marketing Services?
Ecosmob Technology Marketing Content Writing
Describe your project in brief
We hired them to write AtoZ content for our company
What is it about the company that you appreciate the most?
Accountability and responsiveness, Technical content writing
What was it about the company that you didn't like which they should do better?
They need to work on their creative writing
Anonymous
Posted 7 months ago
Exceptional content marketing services!
Review Summary
Koda has been a key partner in helping us create meaningful and engaging content for our customers.

I have been consistently impressed with the quality of work and professionalism displayed by Koda over the past 2 years of our partnership. Tuhina and her team have helped us develop engaging and informative blog content that has contributed to our brand journey.
What was the project name that you have worked with KODA Integrated Marketing Services?
Content Curation for Blogs on Easyrewardz Website
Describe your project in brief
KODA was assigned the project to curate content for blogs on the Easyrewardz website
What is it about the company that you appreciate the most?
Their attention to detail and commitment to delivering on time has been remarkable
What was it about the company that you didn't like which they should do better?
-
Resources