OS Digital World
Digital Marketing Expert in Bangladesh
Visit website
We are Digital Marketing and SEO Expert In Bangladesh belonging to OS Digital World, a digital marketing agency in Bangladesh, having experienced and expert professionals in Digital Marketing, SEO, and Web Development. We believe in our strength. You can trust us as your digital partner. When you are thinking about online or digital marketing, or if you want to reduce your marketing expenditure, you need an experienced team with a proven track record. We have a vast knowledge of local as well as global market competition. We have proactive team members who can convert your audience into customers. Finally, we can give you a guarantee about ranking your keywords on the 1st page of the search engines.
Bangladesh
House 5, Road 2, Rupnagar R/A, Mirpur, Dhaka,
,
Dhaka
,
Dhaka
1217
01817096395
Focus Areas
Service Focus
Digital Marketing
Web Development
E-commerce Development
Business Services
Writing Services
OS Digital World Executive Interview
Visit Profile
Kindly share your feedback on how GoodFirms has been doing so far in increasing your visibility among potential clients.
GoodFirms is a very good platform for reaching the target audience. It also helps to improve search engine visibility. Featured on GoodFirms is very helpful for getting potential clients.
Please introduce your company and give a brief about your role within the organization.
Our company OS Digital World is a digital marketing agency. We are providing various types of services such as search engine optimization (SEO), social media marketing (SMM), social media optimization (SMO), search engine marketing (SEM), website design and development, content marketing, and online reputation management, and SEO training. As a founder and CEO, I'm taking care of the company's marketing, making strategies for the clients' job work, briefing the job work and strategy to my teammates, and motivating them.
What is the story behind starting this company?
Actually, it was a long story. I was a senior executive in the apparel industry when I started social media marketing as a freelancer. Gradually I learned SEO and digital marketing by reading various blogs of Neil Patel. In 2018 I have successfully completed 2 Ecommerce SEO in Bangladesh as a freelancer. From that time I got many SEO projects and I started my own agency.
What are your company's business model–in house team or third party vendors/ outsourcing?
We have an in-house team with a job-work basis payment system.
How does your company differentiate itself from the competition?
In terms of search engine optimization, and social media optimization, we provide only white hat services. We don't provide any types of black hat or grey hat service.

In terms of website design and development – we are offering unlimited reviews.

We only accept those job workers who can add value to society.
What industries do you generally cater to? Are your customers repetitive? If yes, what ratio of clients has been repetitive to you?
Generally, most of the work is on e-commerce, B2B, and the service industry. But our offer is for all legal identities that can add value to society.
Some customers are repetitive.

The ratio of the repetitive customers is 50% (Appx).
Please share some of the services that you offer for which clients approach you the most for?
Our most popular service is search engine optimization (SEO), and the top clients are digital marketing agencies from the USA, Canada, India, and Bangladesh. I can't disclose the name of the agencies due to business ethics.
What is your customer satisfaction rate according to you? What steps do you take to cater to your customer's needs and requirements?
According to me – our customers are 100% satisfied as we accept only those customers who know what they need. We don't accept those customers who have no clear idea about their requirements.

The steps we follow are:
In the case of design and development, we provide a dummy, when customers accept the dummy, we provide the originally.
In the case of marketing solutions, we provide a brief of the work and goal by writing. When the customer confirms the goal and the work through writing, we start our work.
What kind of support system do you offer to your clients for catering to their queries and issues?
Queries and issues are handled by our support team and the answer is within the same working day. In case of difficult issues that need some extra time, we inform the client that, it will take this much time to solve the issue.
What kind of payment structure do you follow to bill your clients? Is it Pay per Feature, Fixed Cost, Pay per Milestone (could be in phases, months, versions etc.)
It depends on the type of service. If it is a website design, and development, the cost is paid per feature.

If it is a marketing solution, the cost is fixed and monthly.
Do you take in projects which meet your basic budget requirement? If yes, what is the minimum requirement? If no, on what minimum budget you have worked for?
Yes, take the projects which meet our basic budget. For example, profile or blog website – our minimum budget is $75, business website - $160, E-commerce website - $330
In the case of SEO – our minimum budget is $250 per month.

In the case of social media marketing – our minimum budget is $100 per month.
What is the price range (min and max) of the projects that you catered to in 2021?
Where do you see your company in the next 10 years?
Now our company is located in Dhaka, Bangladesh. In the next 10 years, we want to set up a branch office.

Now we have 12 members team, in the next 10 years, we want 100 members team.
Now we can accept 5 SEO work in a month, in the next 10 years we want to accept 50 SEO/ Digital Marketing work in a month.
OS Digital World Clients & Portfolios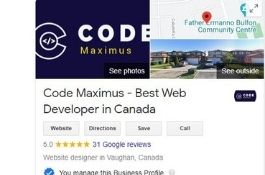 OS Digital World Reviews
All Services
Digital Marketing
Relevance
Most Recent
Rating: high to low
Rating: low to high
Write a Review
A Professional and Reliable Digital Marketing and SEO Agency
Review Summary
OS Digital World is a nice and cooperative, reliable Digital Marketing and SEO Agency. They are really promising to their job. Best wishes for them and hope they will keep continue their service