Uptech
Design & Development company - Apps for bold ideas
Visit website
Uptech is an international software development company that helps build profitable products with product market fit for companies on Fortune 500, Inc. 5000 lists and fast scale-up teams for technology startups. Our customer-centric approach to app development and industry know-how results in our client's remarkable growth and our long-term partnership.
What apps we create:
Native iOS and Android apps
Cross-platform mobile apps (using Flutter)
Web apps
By working with us, you not only get a 5-star product. You get smooth communication, full support, and openness. Why? Uptech is fully transparent and honest. This lets our team work like one organism and deliver service beyond expectation.
Our expertise:
Healthcare
Fintech
E-commerce
Proptech
On-demand apps (like Uber)
Streaming apps (like HQ Trivia)
To know the price and duration of development, contact us at [email protected]. We'll specify the features of your app and provide you a full time&cost estimate.
Let's make your idea real!
Ukraine
59 Zhylianska str.
,
Kyiv
,
kyiv
01033
+380936067875
United States
3415 South Sepulveda Blvd, Suite 1100
,
Los Angeles
,
California
90034
+13107769351
Poland
Antoniego Abrahama 46B
,
Gdynia
,
Pomorskie
81-395
+48 57 126-70-45
Cyprus
Giannou Kranidioti 29,
,
Paphos
,
Paphos
8035
+48 57 126-70-45
Focus Areas
Service Focus
Mobile App Development
Web Development
App Designing (UI/UX)
Web Designing (UI/UX)
IT Services
Client Focus
Small Business
Medium Business
Uptech Executive Interview
Andriy Bas
Co-founder, Team Lead
Visit Profile
Please introduce your company and give a brief about your role within the company?
I'm a Co-founder and CEO at Uptech a design and development product studio based in Kyiv, Ukraine. We're a team of 50+ engineers helping companies all over the world bring their bold ideas to life. Our focus is to handle all product lifecycle, from the market and user research, generating and validating prototypes applying the best design thinking methods, design, development, release, and support.
What was the idea behind starting this organization?
While working in other companies, my Co-founder Dima Kovalenko and I felt that the way organizations are run is not the most optimal one. We believe that the team can achieve outstanding results if we create an environment where every team member can reach their full potential. Thus we founded Uptech, and built the work processes based on trust, freedom, and responsibility, made everything transparent inside the organization and stay committed to our mission of creating an inspiring work environment.
What are your company's business model–in house team or third party vendors/ outsourcing?
All engineers are based in Kyiv, in a single office. We believe in the power of teams working together (even though we allow our team members to have a flexible schedule and work remotely from time to time). We don't outsource to other vendors, the projects we handle all in-house (or if we cannot handle it in-house, we refer the client to one of our partners, who takes over the project completely).
How is your business model beneficial from a value addition perspective to the clients compared to other companies' models?
We're a one-stop product studio for clients. We can do almost all parts of the product development in-house by our team. It's a rare combination of culture and team expertise that is found mainly in the best tech companies such as Facebook or Google. So the clients benefit from working with us without the need to combine different expertise from different teams. We take ownership of our products, working together with clients to solve user needs and achieve business goals.
What industries do you generally cater to? Are your customers repetitive?If yes, what ratio of clients has been repetitive to you?
We don't limit the industries we work with (we've done projects in over 15 industries). The most common are fintech, education, the marketplace, on-demand delivery apps, social apps.
We are blessed to have a lot of repeat customers. In fact, 80% of our new projects come from the referrals of the existing ones. This is a good metric that signifies how our clients are satisfied with our services.
Mention the objectives or the parameters critical in determining the time frame of developing a mobile app.
Our first step when any project starts is to conduct a Discovery. Without the proper Discovery, it's just speculation about the timeframe of the project. Before that, we roughly estimate how much time/effort such a project might take (with a wide range of the low-high estimates). If the client is okay with the range, we start the Discovery, during which our team analyses the project, conducts research, builds the prototype if needed, and only after that can send the proposal. To give you some numbers, the first version of the mobile app for one platform (iOS or Android) can start in the range of $40,000 — $80,000.
How much effort in terms of time goes into developing the front end and back end of a mobile app?
It really depends from one app to another. For example, for the data-focused advertising platform Advaice that we built, the main focus and challenge were on the backend. On the other hand, for the consumer-focused location-based video chat Yaza — it's a much more frontend-focused project.
What are the key parameters to be considered before selecting the right platform for a mobile application?
Here are a few questions that you need to answer before selecting the right platform:
• What are your business goals and the expected roadmap?
• Who is your target audience?
• What are the Jobs-to-be-Done of our target audience (or their needs)?
• How will the product solve those needs?
• How do you know that you have a Product/Market fit? If not, what minimal effort can we do to validate/invalidate it?
• How do we plan to reach that audience?
• What is the budget?
• What are the business/user/market/privacy/legal constraints we need to take into account?
• What is the desired timeline for the project?
Which platform do you suggest your clients to begin with when they approach you with an idea (Android or iOS) and why?
It depends on what is the product, in which industry you work, what are user expectations, who are the competitors, what is the budget, etc. Our clients often start with the iOS, and after a few iterations, when the Product/Market found is fit, we develop and bring the Android version up to speed with the iOS.
Android or iOS, Native or Hybrid — which platform is best to use to build your app? What are your recommendations?
It also depends on the product. For example, for the established, well-known brands, we don't recommend to start with the cross-platform app since it might harm their reputation.
For the less-known brands that are just starting, it might be okay to start with one platform or to start with the cross-platform solution (React Native or Flutter) for the MVP. And migrate to the native solution once they get traction.
In general, we see that the user expectations increase and the quick MVP with minimal functionality is not good enough to start. Thus it's better to launch on one platform with a good MVP, rather than on both platforms with buggy MVP.
What are the key factors that you consider before deciding the cost of a mobile application?
It depends on the type of product that we work with. Some of the most common factors are:
• The number of features in the app.
• The UX requirements of the product (how smooth/fast the app should work).
• The complexity/quality of the design.
• Offline/online support.
• Types of some specific features/technologies involved (audio/video processing, location-heavy features, video streaming, AI, VR, etc.)
• Edge cases handling.
• Screen orientation support.
• How many different types of devices do we need to support?
and many many more.
What kind of payment structure do you follow to bill your clients? Is it Pay per Feature, Fixed Cost, Pay per Milestone (could be in phases, months, versions etc.)
We usually work according to the 2 models. The first is the Dedicated Team model when the client hires the team to work on the project and pays for the week or month of the work of that team. Such team usually include PM, designer, backend and frontend developers, QA. The benefits of this model that we can start faster and iterate on the go. It works best for long-term projects, as it requires less planning before each iteration.
The second model — Fixed-price project. It requires more planning up-front but allows the client to make sure the project would fit within the limited budget.
Usually, we start with the client with the Fixed-price project for the first MVP version and then move to the Dedicated Team model for the next releases.
Do you take in projects which meet your basic budget requirement? If yes, what is the minimum requirement? If no, on what minimum budget you have worked for?
We focus on working only with the projects where the full project-team can be assembled. Usually, we start with projects from $40,000 for the first version.
What is the price range (min and max) of the projects that you catered to in 2018?
It depends on the project. The minimum was about $40,000; the maximum was over $500,000.
Which business model do you suggest to your clients enabling them to generate revenue from mobile applications? Why?
It is usually up to the client to define the business model. If the client has not decided yet, we brainstorm and discuss different revenue models, including subscriptions, in-app purchases, fixed costs, etc. The most sustainable in 2018-2019 proven to be the subscription model. But it depends on the product and the industry a lot. Thus I cannot give any strong recommendations without the product/industry details.
Kindly share your feedback on how GoodFirms has been doing so far in increasing your visibility among potential clients.
GoodFirms is a good platform where clients search and compare different vendors. The GoodFirms presence and client reviews on the platform helped us earn credibility from our potential clients.
Uptech Clients & Portfolios
Key Clients
GOAT
Aspiration
Dollar Shave Club
Yaza
Cardless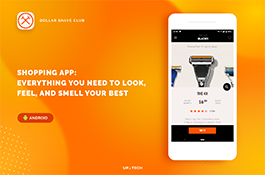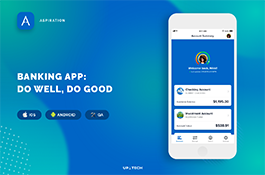 Uptech Reviews
All Services
App Designing (UI/UX)
Mobile App Development
Relevance
Most Recent
Rating: high to low
Rating: low to high
Write a Review
Peter Sisson
, CEO at Yaza
Posted on Oct 18, 2022
Top notch team with a rigorous process able to take on challenging projects.
Review Summary
Uptech built our app for capturing and mapping videos that can be shared with a link and play in a browser. The map uses Google AI image classifier to make videos searchable, built-in chat, a social feed, and a "playable map" interface. The deliverable was an iOS app, all its backend server work, and the web-based link player.

There were some initial performance issues, but those were addressed over time. The app was launched targeting travel use cases just a few months before covid started. Uptech worked with us to help us reposition the app for other use cases to help the company survive. That burned more money than we had budgeted, but Uptech allowed us to pay it over time. The only thing I didn't like is that when it became clear our money was low, they passed us on to another firm who were not so great. In the end we were able to raise more money and it would have been much better for us if they had stuck with us.
What was the project name that you have worked with Uptech?
Yaza video mapping and sharing
Describe your project in brief
An iOS app for travelers to map and share their experiences with short videos that can be shared as links that play with a map in web browsers.
What is it about the company that you appreciate the most?
The people there are great. Talented, smart, and able to take on challenging projects.
The have adopted the latest lean startup practices. It feels very much like working with a firm straight out of Silicon Valley
What was it about the company that you didn't like which they should do better?
I didn't like being dumped when we were between rounds and low on cash.
Although they discounted billing to address some of the performance issues, It was a bit of a battle to get there.
Their bottleneck was having two few UX/UI designers in house, but perhaps that has been addressed with more hires.
Mahmoud Haji
, Head Of Technology at Sprent
Posted on Aug 23, 2018
The best team I had worked with so far
Review Summary
They are really good at what they are doing, always provide suggestions on how to improve the product, well organized, fantastic quality and for sure friendly team.

One of the best development company I had worked with and I highly recommend them to anyone who cares about his product :).
Jeff Solomon
, Founder & CEO (Profitable in 11 months, 16% month over month growth) at Audiojoy
Posted on Jul 26, 2018
Srsly, these guys are the best, that is really all that needs to be said
Review Summary
The whole team is on it. I've build real friendships along with a strong business relationship. I continue to give the team more responsibility, more projects, more tech variations and more complex PRD's.
What is it about the company that you appreciate the most?
They suggest improvements over my original scope.
What was it about the company that you didn't like which they should do better?
The only area we could improve is the task management. I'm sorta a PT guy and they like Trello (not a huge fan). But we manage and we're improving.
Dan Flanegan
, Co-Founder & CEO at Butter
Posted on Jul 23, 2018
Amazing Team and Expertise
Review Summary
The UPTech team has been consistently a great group to work with! Not only is the quality of their work superb, but they are always there to hunt down answers to our most pressing questions regarding the right way to approach product development! We love working with them and look forward to a long lasting relationship!
Hunter Scarborough
, Product Manager at Brigade
Posted on Sep 08, 2017
Best of the best
Review Summary
I had the privilege of working with UpTech last year. They did a phenomenal job, always delivering everything ahead of schedule. Most notably, they would go above and beyond, asking permission to add this or that component to improve usability free of charge. They truly care about the products they build, which is incredible to find in an agency.