Electric Car Registrations See a Rise in Major Markets
Abstract:
The rising popularity of electric vehicles is evident in the surging sales volume of electric cars in all major markets. This research details a wide collection of recent research studies that evaluate key elements related to electric cars, major electric car markets, key players in the EV industry, and challenges in the industry. The research also undertakes a PESTEL analysis of the EV industry to analyze reasons for increasing market penetration of electric vehicles. Along with modern freight-sharing solutions, advanced transportation systems, etc., the adoption of electric vehicles can revolutionize the concept of mobility for the better.
Table of Contents:
Introduction
A technology that was hibernating until 2009, the electrified vehicles or the electricity-powered vehicles or the electric propulsion system is creating a new quest in recent times to replace the 125-year old gasoline-powered cars. So, why is there a sudden demand for Electric vehicles? Why are some jurisdictions acting a bit faster and a few slower? Although the idea is not that old, the very first production was back in 1884, and the first demo was in 1888. But, the interest never took off in speed. The EV technology, however, got revived in recent years with HEVs (hybrid electric vehicles), PEVs (plug-in electric vehicles), BEVs (battery electric vehicles), PHEVs (plug-in hybrid electric vehicles), and FCVs (Fuel cell electric vehicles), creating another chance to prove as a long term sustainable solution. Is it the energy security, or the policies of oil-importing-exporting, the attention towards urban air quality, the climate change, the political economy, or the corporate innovators the reason for this sudden interest? Whatever the trigger might be, the fact is we are here on the verge of taking off with large deployments of EV cars.
This research details a wide collection of recent research studies that evaluate the key aspects of electric cars, areas of innovation, the major electric vehicle markets, top players in the EV industry, and global sales data of the electric vehicles, in addition to the global acceptance of this novelty. Research further analyzes the reasons for the surging car numbers in light of PESTEL analysis of the EV industry.
Current Trends and Developments in Electric Vehicles (EVs)
An electric vehicle forsakes an internal combustion engine (ICE) and runs on a battery-powered electric motor. There are four major types of EVs in the market:
BEV (Battery-Electric Vehicle) – Runs on an electric motor powered by a rechargeable battery. For recharging, the battery needs to be plugged into an external electricity source unit.
PHEV (Plug-In Hybrid Vehicle) – PHEVs have both an electric motor and an ICE (internal combustion engine). Like BEVs, PHEVs are also plugged into an external electricity source for charging batteries. Plugin hybrids have costlier batteries than normal batteries. As it also comes with a fuel tank, service and maintenance costs add up for maintaining a plug-in hybrid vehicle.
Hybrid – One of the most popular types of EV, Hybrid vehicles come with an electric motor and ICE that can charge their motor using regenerative braking. Hybrid Cars are comparatively environment friendly but still don't eliminate the dependence on a combustion engine. They are also expensive in contrast to mere BEVs or PHEVs. As the power is generated through regenerative braking, a plug-in to the charging station is not required.
Fuel Cell Vehicle (FCV) or Zero Emission Vehicle (ZEV): EVs that come with FCV technology deploy fuel cells that are capable of converting the chemical energy of the fuel cell into electric energy required to run the electric vehicle. As the vehicle can generate electricity autonomously, a plugin at the charger station is not required.
While Fuel cell vehicles may produce no harmful gas, fumes, or pollution, the technology is not mature yet and is very costly. Elon Musk has been against the FCVs due to their high-density functions that need gigantic fuel tanks with high pressure. Automobile giants, Toyota and Nissan have developed FCVs with a high range and advanced features. GM has, however, backed out from the FCVs model based on hydrogen fuel cells.
Electric Cars Sales Are Seeing Unprecedented Growth - How far are we from a Hydrogen Economy?
The automobile industry, which got the hardest blows during the pandemic, was again quick to revive in the aftermath as pent-up demand and new launches boosted consumer confidence. Also, multiple factors piled up together to fuel up the demand for EVs that are currently soaring in sales volumes. The growing demand from all quarters (private, public, and industrial mobility) for higher fuel economy, carbon-free fuel alternatives, and greener mobility solutions are fuelling the growth of the electric vehicles industry.
Over 3.2 million units were sold in 2020 globally. The estimate at the end of 2021 is 6.4 million units. The electric vehicle market is expected to reach 2495.4 billion dollars by 2027.(1) According to Canalys, EV sales are up 160% in the first half of 2021.(2)
(Source: EV Volumes)
Below are some reasons for the soaring EV sales. The research analyzes the reasons with the PESTEL analysis method.
Political and Economic Reasons
Governments that Push EVs have Popular Support
Governments that make policies to push electric vehicles ahead of the traditional ones are seen as environment saviors, rational, and caring of the people's health and long-term economies. Therefore, governments have been pushing for EVs and providing subsidies and tax benefits. On August 5, 2021, the White House announced President Joe Biden's ambitious target to make 50% of the USA's new vehicles sold in 2030 electric ones.(3). The executive order will help the US achieve its long-term fuel efficiency goals (saving an estimated 200 billion gallons of gasoline). China extended benefits offered in its 2018 circular that exempted EVs from purchase tax till 2022.(4),(5). Such legal undertakings by the government have helped in the surge of electric car sales.
Poor Countries Can Free Themselves from Dependence on Oil Producing Countries:
Many third-world and economically weaker nations also see EVs as an opportunity to get themselves free from the dependence on the oil-producing countries for fossil fuels. As the prices of fossil-based fuels such as petrol and diesel keep marching on the upward trend, economically backward nations can capture the potential benefits of electric mobility. The fast-growing electric car market can redefine the geopolitical dynamics. Bolt, the transport giant is all set to bring electric taxi options in South Africa.(6)
The Long-Term Costs of Electric Cars are Lower than Petrol/Diesel Cars
Conventionally, electric vehicles are perceived to be more expensive than gasoline cars. However, when we combine the up-front costs, operating costs, and maintenance costs, EVs seem to win the expense race. A report(7) by the US Department of Energy states that the long-term costs for electric vehicles are comparatively lower than gasoline cars. Even maintenance costs for EVs are lower than petrol/diesel ones.(8). Also, currently, EVs have tax benefits and also don't require pollution under control (PUC) certificates.
Social Reasons
Popular Opinion in Favor of Electric Vehicles
As the pandemic struck, the world came to a halt, transportation and movement restrictions left fewer vehicles on roads. The world witnessed a purer air quality. Social awareness for health benefits, national environment, etc., increased. People understood that cleaner air leads to reduced expenses for healthcare, prevents the impact of viruses, and therefore a popular opinion in favor of electric vehicles started building up.
Boosts Public Health and Prevents Death-related to Air-pollution
Healthcare costs are rising every day. According to a recent study by Harvard School for Public Health, air pollution due to fossil fuels causes 1 in every 5 deaths worldwide.(9) In the long-term, EVs boost public health and save them air pollution-generated healthcare expenses.
Technological Reasons
The resilience of the auto industry and the perception towards electric vehicles have changed from what it was a few years back. Recent advances in technology are big stimulators for the electric vehicle industry. With electric cars that can run at a top speed of 145 miles per hour, can travel for 370+ miles in one recharge,(10), and can charge fully in 15 mins,(11) can run on auto-pilot mode, etc., there is no dearth of reasons to buy an electric car today.
Technological advancements, especially the innovations by Tesla, have been a prime reason for increasing electric car sales globally. Today EV makers can deliver software updates for their cars' firmware over the air. Technology and government support have also brought the costs down for EVs.
Environmental Reasons:
Tackle Climate Crisis and Advance Environmental Justice
Electric cars are devoid of the internal combustion engine that contributes to both noise and air pollution. Since EVs have no tailpipe emissions, they are zero-emission vehicles and, therefore, more efficient in reducing pollution. The objectives in the Paris agreement to limit global warming to well below 2, preferably to 1.5 degrees Celsius,(12) compared to pre-industrial levels are aligned with the electric vehicle adoption.(13) Catalyzing the surge of electric vehicles (EVs) will be key in reaching the targets set by the Paris Agreement and, more recently, by COP26.
Achieving Goals for Urban Sustainability
For years the supporters of sustainable mobility have advocated creating a robust public transport system, dedicated corridors for public transit, separate routes for cycling, etc. Traditional urban sustainability models focus on creating a safer natural environment by reducing private mobility vehicles and prioritizing public transport. However, the COVID19 pandemic outburst affected public transport the most.
In fact, no government entity faced as much loss as the public transit ones owing to almost negligible ridership and closures.(14) The pandemic encouraged people to buy more private vehicles and shun public transport. Now, in the aftermath of the peak-pandemic period, there are many who still avoid the public transport system and prefer to travel by their own vehicles.
While traveling in private vehicles can be a safer alternative for those who fear virus infection, it will have damaging repercussions on the environment, urban sustainability, and liveability index. Fortunately, electric mobility solves all these problems.
With the right policies, government subsidies, and mass awareness on themes of environmental protection and urban sustainability, consumers are pushed to buy only electric vehicles for private transport(15).
Save Non-Renewable Resources
EVs can help prolong the depletion phase of fossil fuel resources and make them available for industries that can't do without them, such as construction, aviation, chemical, plastic industries, etc.
Legal Reasons
Adhering to and Improving Emission Standards
Many are buying electric vehicles to adhere to the latest emission standards and regulations that are getting stricter every year. The stringency rate for adherence to emission standards is increasing with every new policy proposal. As policy-makers are creating EV-friendly policies and encouraging the transition to EVs, electric vehicles saw increased sales volumes.

Overview of the Top EV Markets
USA, China, and the European Union are currently the top-performing EV markets in the world. India is also all set to emerge as a major market for EVs by 2030. Let us analyze these markets and the position of EVs in them:
USA
The availability of trained workers, charging infrastructure, commitment from grid players, and push by the government are reasons behind the recent surge in EV sales in the USA. EV sales soared from 54K in the second quarter of 2020, to 160K, In the second quarter of 2021 (almost three times the vehicles sold in the second quarter of 2020). (34) Also, the percentage of electric vehicles as compared to fossil fuel vehicles is constantly increasing in the US. EV sales have shown promising growth recently- from 1.8% (II quarter of 2020) of the total vehicles sales to 3.6% (II quarter of 2021) of total vehicle sales. US regulatory rules are conducive to the EV market, and also, there is a rise in positive sentiment about electric mobility among consumers.
China
The spread of electric mobility has been aggressive in China. OEMs in China have a huge capacity to produce and distribute electric vehicles at significantly lower rates than any other country in the world. Currently, China represents half of the EV sales globally. The Chinese electric mobility industry runs in a highly structured ecosystem with an extensive network. Chinese BEV manufacturers have faster time-to-market capabilities and strong production capacities. China sold nearly 2 million battery electric vehicles (BEVs) in 2020, and a report by McKinsey(16) suggests that BEV sales will reach 9 million a year by 2030.
European Union
Stricter emission targets, regulatory pressures, and consumer commitment has led the European union to spreadhead the EV adoption movement. Currently, at 8%, the EV adoption rate is supposed to reach 50% by 2030. Top EV players in the European Union have already committed to 100% EV sales by 2030. Europe is also building battery giga-factories to meet the rising demand.
India
India's electric vehicle market size is expected to reach USD 152.21 billion by 2030. Although EV technology is at a nascent stage in India, the EV market is expected to grow at a CAGR of 94.4% from 2021 to 2030.(17) The stringent regulations by the Indian government, commitment to climate change policies, provisions for subsidies for EVs, incentives in scrapping fossil-fuel vehicles, and efforts in developing sustainable infrastructure in response to the rising levels of emissions will drive the expected growth for the EV market in India.
Other Countries:
The below chart shows the rising market share of electric vehicles in Germany, France, the UK, Canada, Korea, and Japan from 2015 to 2020. Except for Japan and Korea, other countries have shown considerable growth when it comes to EV market share.
(Source: IEA)
In 2020, the top 10 countries having the highest market share of electric vehicles compared to traditional ones were:
1. Norway (74.8%)
2. Iceland (45%)
3. Sweden (32.2%)
4. Netherlands (24.9%)
5. Finland (18.1%)
6. Denmark (16.4%)
7. Switzerland (14.3%)
8. Portugal (13.5%)
9. Germany (13.5%)
10. Luxembourg (11.4%)
Source: (livemint)

Top Players in the EV Segment
The below table shows market share as per the sales volume in the first half of 2021. Tesla ranks among the best-selling electric vehicle manufacturers worldwide, and it sold close to 421,000 units in the first half of 2021. Tesla has also built a world-class infrastructure to support EVs and solve customer-facing challenges with its global network of vehicle service centers, charger stations, car engineers, and body shops.

(Source-Statista)
Currently, Tesla's market capitalization is over one trillion dollars, and its Model 3 is the best-selling electric car to date in the world(18); and it topped monthly sales in the European market too.(19) Apart from manufacturing expertise, Tesla also creates vehicle control software for driverless car experience. Volkswagen Group and General Motors were among the runners-up with a market share of 12.52% and 8.55%, respectively.
Other top players in the global electric vehicle market include Stellantis (Netherland), BMW Group (Germany, BYD Company Ltd. (China), Daimler AG, Hyundai Motor Company (South Korea). These electric car companies manufacture and sell high-performance fully electric vehicles. The top 5 best-selling plugin electric vehicles in September 2021 were Tesla Model 3, Tesla Model Y, Wuling HongGuang Mini EV, BYD QuinPlus PHEV, VW ID4.(20)
The Persuading Consumers of Electric Cars
The widespread acceptance of EVs is limited by anxiety over range, especially for users who travel long distances.(21) The vehicles that offer greater range are mostly expensive, and medium-priced electric cars can travel fewer miles than their premium counterparts. Charging time is another contentious element dissuading users from buying EVs. However, users are mostly satisfied when it comes to electric cars' ergonomics, design, software interfaces, attached entertainment and media devices, navigation, mileage performance, and customer service.(22)
The Ongoing Challenges of Electric Car Industry
Government Spendings Are not Enough:
An analysis of consumer spendings on EVs and Government spendings on electric vehicles shows that for the past five years, national government spendings on electric vehicles has been on the decline mode in the IEA (International Energy Agency) countries.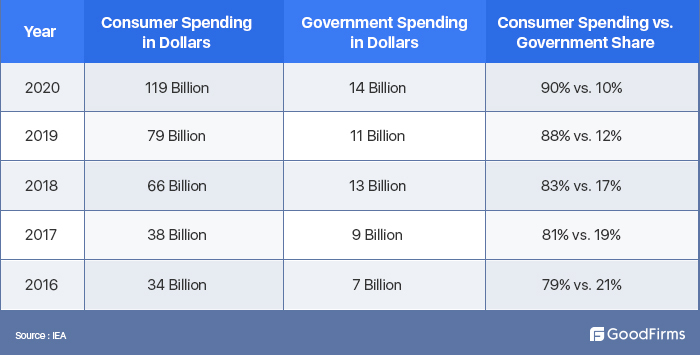 (Data Source: IEA)
Consumer Spendings: Consumer spendings are calculated on the basis of total money spent on the purchase of the EVs minus any government subsidy, incentive, or tax waiver.
Government Spendings: Government spendings on EVs is based on subsidies provided on the basis of purchase incentive expenditure, tax waivers, direct/indirect benefits, etc.
Lower government spendings in comparison to consumers indicate a poor enthusiasm of governments in handling the climate change crisis. (negative for EVs future).
Supply Chain Issues:
On the episode of 'This Week in Startups' (a popular show about entrepreneurs), Tesla's co-founder and current advisor J.B Straubel warned major automakers about their ambitious announcements to go all-electric with specific timelines. Strauble says, "I don't think that they have done the math fully when it comes to what it entails in the supply chain and tracing it all the way back to the mines."(23)
In an obvious reference to Mercedes that announced going fully electric by 2030(24) or GM that announced to produce only electric cars from 2035(25), Straubel highlights a very pertinent issue about the limitations of the supply chains.
When all potential automakers run together to chase the EV models, there will be a shortage of battery components, nickel, cathode, etc. Also, due to a sudden surge in demand, the prices of base metals such as lithium, nickel, etc., have skyrocketed in recent years. (in some cases surging 177% year on year).(26)
Battery Charging Issues:
An easily accessible and vast network of charging stations is a prerequisite for the success of electric mobility goals. While governments and private players are striving hard to develop a robust charging infrastructure unique to their native transport ecosystem, challenges persist, especially in developing and underdeveloped countries.
There are real questions pertaining to battery charging that haunt the electric vehicle industry and owners.
Is the charging infrastructure ready for the electric vehicle revolution?
How long will it take to charge the EV battery?
Will I have to keep a charging station at home/Garage?
In the absence of fast-charging stations, many buyers are dissuaded from purchasing electric cars. Also, homeowners can still have their personal charging stations, but the residential apartment residents have difficulties getting charging stations. Common areas can also not have stations that can cater to all residents at the same time. Lack of sufficient curbside charging stations adds to the anxiety surrounding charging batteries.
Electricity Availability Issues:
Many third-world countries still have electricity deficient states. Many countries are unable to meet their household and industrial electricity supply demands. There are nations that witness power cuts for more than five hours per day. In such countries, it will be difficult for the OEMs to build confidence in the general buyer.
While today only 1% of the US vehicle market is electric, by 2030, around 15% of vehicles will be all-electric. In any case, it is not enough to create an electricity crisis for a developed country like the USA. But still, as Elon Musk says, there will be a need to double the electricity generation capacity. Countries like China, UK have already started working on their grid systems to increase electricity production.
Spatial Issues:
As electric cars need separate charging spaces and additional infrastructure that occupies space, the feasibility of EVs in densely populated cities is a grey area. The construction of more charging spaces can put additional pressure on land, urban planning, and already congested cities.(27)
Managing E-waste
Despite policy initiatives, management of e-waste from automotive batteries and preventing toxic emissions, soil and water pollutants will be challenging going forward. Without proper waste management, the environmental benefits achieved from EV adoption will be negated by the E-waste disaster.
Marketing Difficulties
Electric Vehicles, with all their benefits, are still not very appealing to all types of consumers. Many advocates of fuel tank electric cars are still reluctant to adopt electric cars as a substitute for gasoline ones. People still reel under the old mindset that sees electric vehicles as inferior in performance and usability to the petrol/diesel models. Changing the perception of people will be challenging for electric car manufacturers and marketers.
Electric Cars and Sustainability: Are Electric Vehicles Really Green?
Most developing nations (even some developed countries) use fossil fuels to create electricity. Vehicle emissions such as air pollutant particles, greenhouse gases, etc., contribute to haze, smoke, and health problems. Electric cars cause zero direct emission. Electric vehicles can cause well-to-wheel emissions (based on the source of electricity generation).
Well-to-wheel emission is a category of emissions that take into account the indirect emissions caused due to fuel-burning involved in fuel production, processing, distribution, and use.(28) Even electricity (unless created from renewable sources such as Wind/Solar) is not completely devoid of emission.
The green effect created by EVs is mitigated to some extent by the traditional electrical energy generation process, which requires the large-scale burning of fossil fuels. Also, the extraction, treatment, transportation, recycling, and disposal of battery materials such as Lithium, Copper, Aluminium, etc., add to adverse impacts on the environment.
Unless electric cars run on electricity derived from green renewable sources such as solar or wind resources, the green effect of EVs cannot be fully realized.
The US Environment Protection Agency (EPA) states, "To the extent that more renewable energy sources like wind and solar are used to generate electricity, the total GHGs associated with EVs could be even lower."(29)
Occupant Safety of Electric Cars
There are two popular aspects of occupant safety of car-crashworthiness and crash avoidance. Crashworthiness is the measure of the ability of a car to protect its occupants in case of a crash. Crash avoidance is the performance test metric that analyzes cars' technology and equipment power ability that helps in preventing crash situations or lessening the impact. Electric cars are proving to be safe.
IIHS (Insurance Institute of Highway Safety) finds electric vehicles to be as safe as conventional petrol/diesel vehicles. "We can now say with confidence that making the US fleet more environmentally friendly doesn't require any compromises in terms of safety," says David Harkey, IIHS President.(30)
The Pace of Transition for Electric Mobility
The world is viewing electrification of the vehicle fleet as a solution to address environmental, sustainability, and energy challenges. Despite some challenges, electric vehicles are on the road to achieving economic, operational, and convenience parity as their fossil fuel counterparts. The support factors for EVs are sufficient to counter the concerns about meeting supply chains and challenges in the extraction of battery-related resources.
Soon, EVs might surpass fossil fuel cars on all parameters.
The optimism that surrounds electric cars owing to their ability to mitigate adverse environmental impacts and provide increased energy efficiency, is further fuelled by such resolutions that come from elected governments. In a historic decision to ban the sale of petrol/diesel cars by 2030, the UK Government has taken a step forward to decarbonize all vehicles by 2035.(31) China's Shenzhen city operates 16000 electric buses and 22000 e-taxis, achieving the feat of a fully electric vehicle public transportation system.(32),(33). "Some people don't like changes, but you need to embrace the change if the alternative is a disaster," says Elon Musk. Smart decision-makers and economically forward nations need to quickly embrace the change. China and UK have already taken steps towards this. The rest, need to follow.
Electric Car Industry:
The electric car industry is set to reap the benefits of recent developments, growing consumer enthusiasm, government push, and the regulatory policies that favor the sale of electric cars. However, the electric car industry will have to counter the challenges posed by rising battery component prices with technological exuberance to bring down the manufacturing costs. Continuous development in mileage, coverage per charge, features, design, comfort elements, and charging process will be the key differentiators.
EV Sellers:
For sellers, distributors, and showroom owners, the future seems bright if they can develop strong order to delivery capabilities, customer touchpoints, and impeccable after-sales.
EV Buyers:
The joint efforts from the government, industry, and distributors will mean better models, faster deliveries, and cost-efficient electric cars for buyers. Buyers will also get better service and subsidy support to ditch their traditional cars in favor of the electric ones.
Key Finding
The share of Electric Vehicles in the automobile industry is set to increase year after year.
There is a huge demand for BEVs and PHEVs globally.
Government subsidies and incentives are critical to raising consumer sentiments regarding EVs.
The development of an optimally integrated and vast EV charging infrastructure is ubiquitous to achieve electric mobility goals.
OEMs that will provide better connectivity features, navigation, entertainment, maintenance, and insurance will perform better than their peers.
EVs will play a major role in reducing carbon footprints in the third and fourth decade of the 21st century.
Decarbonizing electricity production is critical to reaching the zero-emissions goal set by various nations with EV implementation.
EVs are safe when it comes to occupant safety.
Supply chain issues can hinder the EV mobility targets set by various OEMs.
Rising battery component prices due to a surge in base metals can affect EV affordability.
Quick local authorization for charging station lands and continuous supply of electricity are conditions that accelerate the growth of the electric car industry.
The future of passenger cars is electric.
Conclusion
The transition from combustible engines to electric mobility is set to revolutionize the transportation sector. The information, technology, and innovations in this field are going at an unprecedented level. Multi-billion dollar worth automotive players and also incumbents have leveled up their capacities and are doing their best to make EVs economically viable. Governments and regulatory agencies are also supporting mobility transportation wholeheartedly. Electric vehicles have embarked on the journey to decarbonize the sector. Hertz's deal with Tesla for buying 100,000 Electric cars as a part of its rental car fleet is a turning point for the car rental industry too.(34)
However, electric vehicles are highly dependent on charging stations. Without a superior network of charging stations, bringing Electric vehicles into mainstream mobility will be impractical, challenging, and disastrous. It may result in a bad consumer experience that may further affect its mass adoption. Also, there are other pertinent questions to be dealt with before we plunge into the EV market. How will governments compensate for the taxes they receive from fuel sales? What will happen to the future of existing fuel stations and their employees? Who will build the charging infrastructure?
The future of electric vehicles will depend a lot on how we answer these questions and how solutions are evolved. It is not just about how to smack down the gasoline market or creating a revolution, it is also about how sustainable the alternatives are. Electric cars appear to be far more sustainable than any other alternative.
References:
https://www.globenewswire.com/news-release/2021/09/16/2298712/0/en/Electric-Vehicle-EV-Market-Worth-2-495-4-Billion-by-2027-Market-Size-Share-Forecasts-Trends-Analysis-Report-with-COVID-19-Impact-by-Meticulous-Research.html

https://www.canalys.com/newsroom/global-electric-vehicle-sales-up-160-in-h1-2021-despite-supply-constraints

https://www.whitehouse.gov/briefing-room/statements-releases/2021/08/05/fact-sheet-president-biden-announces-steps-to-drive-american-leadership-forward-on-clean-cars-and-trucks/

https://research.hktdc.com/en/article/NDE0MDc3MTc3

https://bzxx.miit.gov.cn/bzxx/reply/detail?id=8a828384643af2700165315026ea2387&appellateId=8a828384643af2700165315026ea2387

https://techcrunch.com/2021/10/27/bolt-to-expand-ev-option-in-south-africa/

https://publications.anl.gov/anlpubs/2021/05/167399.pdf

https://www.forbes.com/sites/jimhenry/2021/10/28/electric-vehicle-service-costs-30-lower-than-gasoline-vehicles-says-research-firm-we-predict/?sh=78a8dae113c2

https://www.hsph.harvard.edu/c-change/news/fossil-fuel-air-pollution-responsible-for-1-in-5-deaths-worldwide/

https://ev-database.org/cheatsheet/top-speed-electric-car

https://www.tesla.com/supercharger

https://unfccc.int/process-and-meetings/the-paris-agreement/the-paris-agreement

https://climateactiontracker.org/documents/753/CAT_2020-07-10_ParisAgreementBenchmarks_FullReport.pdf

https://time.com/5869375/public-transit-coronavirus-covid/

https://www.sciencedirect.com/science/article/pii/S2590198221000816

https://www.mckinsey.com/industries/automotive-and-assembly/our-insights/winning-the-chinese-bev-market-how-leading-international-oems-compete

https://www.researchandmarkets.com/

https://electrek.co/2021/02/04/tesla-model-3-still-best-selling-electric-car-world-not-even-close/

https://www.bloomberg.com/news/articles/2021-10-25/tesla-model-3-becomes-first-electric-car-to-top-european-sales

https://cleantechnica.com/2021/11/01/top-20-plugin-electric-vehicles-in-the-world-september-2021/

https://www.humanist-vce.eu/fileadmin/contributeurs/humanist/Vienna2014/Rauh.pdf

https://iasdr2019.org/uploads/files/Proceedings/pe-f-1240-Zha-L.pdf

https://thisweekinstartups.com/fantasy-startup-investing-nfts-former-tesla-cto-jb-straubels-redwood-materials-e1299/

https://media.daimler.com/marsMediaSite/en/instance/ko/Mercedes-Benz-prepares-to-go-all-electric.xhtml?oid=50834319

https://www.nbcnews.com/business/autos/gm-go-all-electric-2035-phase-out-gas-diesel-engines-n1256055

https://www.mining.com/value-of-battery-metals-in-new-electric-cars-surges-177-year-on-year/

https://www.sciencedirect.com/science/article/pii/S2210670720308957

https://afdc.energy.gov/files/u/publication/ev_emissions_impact.pdf

https://www.epa.gov/greenvehicles/electric-vehicle-myths

https://www.iihs.org/news/detail/with-more-electric-vehicles-comes-more-proof-of-safety

https://www.gov.uk/government/consultations/consulting-on-ending-the-sale-of-new-petrol-diesel-and-hybrid-cars-and-vans/outcome/ending-the-sale-of-new-petrol-diesel-and-hybrid-cars-and-vans-government-response

https://www.wired.co.uk/article/shenzhen-electric-buses-public-transport

https://www.forbes.com/sites/brookecrothers/2021/02/14/this-chinese-city-has-16000-electric-buses-and-22000-electric-taxis/

https://www.cnbc.com/2021/10/25/tesla-hertz-ev-deal-signal-to-rental-car-fleets-its-time-for-electric.html
Leave comment
Your email address will not be published. Required fields are marked *
Author Info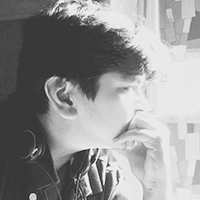 Nathan Sebastian
Content Writer at GoodFirms