Did Privacy Issues Change Facebook Marketing? | GoodFirms Research
For months now, Facebook has been under severe scrutiny concerning privacy issues and data policies. The changes that were made in the aftermath have been affecting the marketing world.
Last year, around this time, three independent news platforms reported the data debacles, which would go down as "Facebook–Cambridge Analytica data scandal" through the history of social networking platforms. It was reported that Cambridge Analytica has harvested personal data of millions of Facebook users without their consent. And even used it for major political purposes around the globe.
This data scandal was just one among the many privacy issues that the company had to deal in the recent past. However, it acted as a tipping point in the public understanding of personal data.
The affairs eventually led Facebook CEO Mark Zuckerberg to publicly accept and apologize, regarding the flaws in data policies. And even testify in front of the United States Congress.
Following the bubble burst, the company is continuously bringing rigorous changes in its business ethics, systems, and eventually, algorithms.
About Survey
GoodFirms surveyed 120+ social media marketers as well as digital marketing experts to analyze the current state of Facebook marketing. The research was prepared with the aim of providing digital marketers with insights into the changing marketing practices.
The respondent agencies serve a versatile client base that spans across countries such as Australia, Canada, Germany, India, Italy, the Netherlands, Nigeria, the United Arab Emirates, the United Kingdom, and the United States. This brings an essential, socio-economic diversity of brands, as well as social media users, to the research.
Following are some of the leading digital marketing agencies that have avidly partnered with our research: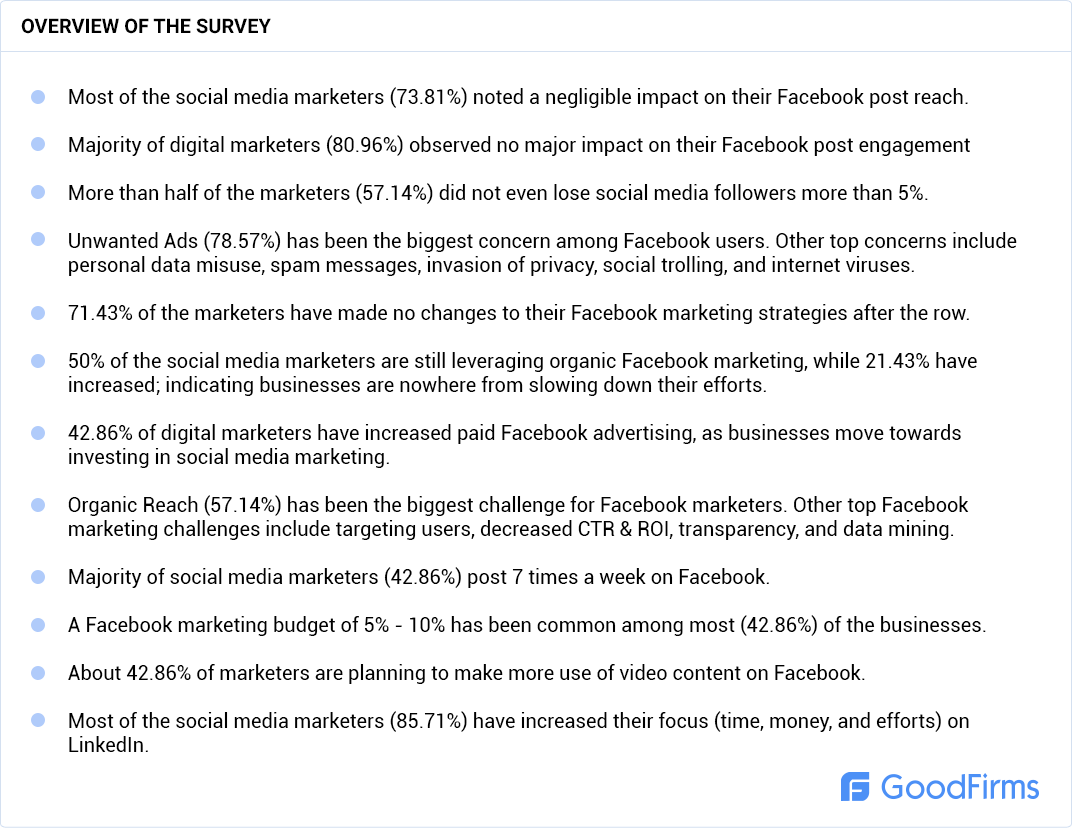 Detailed Findings
Facebook remains the most popular social network worldwide by the number of active users. Even through the ongoing privacy issues and subsequent changes, the social network offers the largest platform for businesses to reach out to new customers, provide customer support, and maintain an excellent online repo.
But for that, businesses should re-assess the relevance of the platform for organic and paid marketing. Especially, after the significant changes that Facebook made to news feed algorithms, targeting options, and messenger services.
For this purpose, marketers were surveyed to quantify their post metrics such as post reach, engagement, and the number of followers. Also, they were asked to share the top marketing challenges they are facing.
The social media marketers were also asked to discuss their current Facebook marketing strategies that include organic efforts, paid efforts, post per week, budget, and prospective tactics.
Read the following research, surveyed and compiled by GoodFirms, to find detailed insights and stats:
How were post metrics impacted after Facebook privacy concerns?
What Facebook attracts most of the marketers is the reach, and required engagement that can be produced by a series of strategic posts. Eventually, these post metrics define the success of Facebook marketing campaigns.
The marketers were asked to indicate how their Facebook post reach and post engagement were impacted following the Facebook privacy issues. The respondents were asked to mark from - No effect on marketing results, Somewhat impacted, or Largely impacted. The responses are as below:
Most marketers noted a Zero (35.71%) or Somewhat (38.10%) impact on their Facebook post reach.
While only of the respondents reported large impacts (26.19%).
On social media, post reach remains critical to businesses for brand awareness. And marketers still prefer Facebook as there are enough active users who could actually view their posts.
Of the surveyed, the majority of marketers had Zero (38.1%) or Somewhat (42.86%) impact on their Facebook post engagement.
A few digital marketers observed a large impact (19.05%).
There would be no meaning for brands to be on social media if there is no engagement. Businesses leverage this engagement to not only connect but also embark the buying journey of internet users.
How many page followers were decreased, after Facebook privacy concerns?
Brands see the number of followers as one of the most significant metrics, as a measure of their social media popularity. Immediately after the privacy issues on Facebook, many marketers saw a decline of followers due to the decreasing trust of users.
During the survey, the marketers were asked to estimate the percentage of decrease in following after the incidents. The stats obtained from the survey are as below:
Of the surveyed, a majority (57.14%) of marketers had reported only a minor decline (less than 5%) of followers.
About 35.71% of the respondents noted a considerable decline (5% – 10%) of their Facebook followers.
And, only a few (7.15%) digital marketers said they saw a major decline (10% – 20%).
But, many of the marketers reported a similar increase in their Instagram followers. It is widely perceived as the millenniums are seemly switching to Instagram, which is owned by Facebook itself. And as Instagram and Facebook are technically connected, the social media network still offers the biggest marketplace.
Interestingly, none of the social media marketers observed a huge decline (more than 20%), the likes of which would have been alarming.
Top Facebook Users' Concerns
A majority of Facebook users are concerned following the data scandals and privacy issues. For social media marketers, these user concerns are pivotal for their marketing, branding, advertising, and customer support efforts.
78.57% of users get annoyed due to unwanted ads and subsequent ranting. It ruins one's social media experience; even degrades brand image as pesky.
64.29% of Facebook users are concerned over leak and misuse of their personal data. The concerns are booming high after the privacy rows at Facebook, and other popular platforms, forcing to re-assess the present business ethics and data policies.
57.14% of users find it irksome due to spam messages or ads send over Messenger or even emails.
35.71% of Facebook users are even worried about the invasion of their privacy, either by the social media site itself or a page/app that uses the site as a platform.
28.57% of users are afraid of social trolling & shaming, over their social media activity or opinion, is often causing disgrace.
7.14% of Facebook users are worried about internet viruses.
Have marketers changed their Facebook marketing strategies after the row?
Marketers were asked if they have changed their strategies immediately after the row. Respondents were asked to indicate the kind of changes if any were made.
The stats derived from the survey responses are as below:
A majority (71.43%) of respondents made no major changes to their marketing strategies.
While remaining (28.57%) of the companies made some appropriate re-alignments to their Facebook marketing strategies. These were in regards to the changing algorithms and user behaviors on social media.
The privacy matters at Facebook did not impact the marketing efforts of the industry much.
Yet marketers have indicated experimenting with posts and analyzing metrics & results to base their new strategies on. Many of these companies find it necessary, so as to adopt new standards and efforts for clients from different industries.
After policy changes, how have been organic Facebook marketing efforts?
As Facebook drives its efforts to bring people closer together and build relationships, it made changes to show more posts from friends and family that spark conversations. And with limited space in news feed, posts from pages and businesses would be less preferred to show.
While announcing major News Feed changes in January 2018, Adam Mosseri, Head of News Feed at Facebook noted that pages may see their "reach, video watch time and referral traffic decrease".
Amidst all the changes, it's interesting to know how have been the marketers' efforts for organic reach, post the changes in algos. The responses from the surveyed marketers are as below:
A fifth of digital marketers reported an increase in marketing efforts for organic reach (21.43%).
Around half of the surveyed marketers acknowledged continuing organic Facebook marketing as previously (50.00%).
However, a third of the social media marketers decreased the efforts for organic reach (28.57%).
Businesses are still far away from slowing down on their organic Facebook marketing efforts.
Interestingly, no marketer reported either stopping efforts for organic reach (but retained the page) or even deleting the page altogether.
The key to thriving organic reach is a marketing campaign that starts a discussion among users on Facebook. So, marketers are encouraged to creatively leverage videos, live videos, events, and public posts to engage users and to be relevant in their news feed.
After policy changes, how have been paid Facebook advertising efforts?
Since the industry saw a steady decline of organic reach, there was a move towards paid advertising on Facebook. Boosting post/page lets you expand your reach, while Ads micro-target the exact potential. With thousands of targeting options available, it's a sure way to deliver your brand message to each that might be interested.
Following the privacy manipulation issues, Facebook made several changes to its Advertising policies, to fix user reliability. In a significant move, the social media network barred third-party firms from extracting personal data of users. They even made it mandatory to let site visitors aware of Facebook Pixel. And, removed over 5,000 of audience targeting options from advertisements to protect users' privacy.
The surveyed marketers were asked about the course of their paid marketing with Facebook's changed environment. The stats are compiled below:
Almost half of the digital marketers (42.86%) reported increasing their paid marketing on Facebook.
A third of surveyed marketers (35.71%) continued their paid efforts as previously.
A fifth of the social media marketers (21.43%) decreased paid advertising.
While none of the marketers reported having stopped either paid posting and advertising.
These results inferred a sharp increase in businesses' inclination towards paid Facebook advertising efforts.
Even after the barred data acquisition and reduced audience targeting options, marketers still opt to focus on paid efforts.
Top 5 Facebook Marketing Challenges
Facebook brought several changes during 2018 – end of targeted advertising, disclosing information of Advertisers, tightening of data policies, etc. What challenges are marketers facing because of these changes?
Following are the stats obtained from the survey:
Tapping into the organic reach (57.14%) has poised as the biggest marketing challenge after Facebook started rolling out new changes related to the news feed. As a result, marketers are pushed to consider paid Facebook marketing, and formulate new strategies.
Targeting users (42.86%) for advertisements has increasingly become a challenge for digital marketers after the platform closed hundreds of targeting options. Though marketers can still micro-target, much of the work would be manual now.
A decrease in CTR and ROI (28.57%) poses the third most significant challenge for marketers. The reasons are generally perceived as a mix of poor targeting, wrong bidding options, and experimentations.
Bringing transparency to your brand voice (21.43%) has also turned out to be a severe concern for advertisers owing to prevailing falsities on social media. While data mining (3.17%) under tightening ethics and rules of Facebook is concerned by just a few of the marketers.
How often marketers post on Facebook?
The number of posts per week has increasingly become crucial in the current state of competitive News Feed.
Marketers need to timely post for staying visible, to take maximum benefit of organic reach. Even have to consider users' Facebook habits, age range, interests, and location among many other things to stay relevant, and to maximize post engagement.
The surveyed were asked how many Facebook posts per week work best for them. The answers ranged from 1 per week to 14 per week. The data is illustrated below:
A very few (7.14%) digital marketers prefer less than 3 posts per week. Almost 35.71% of the social media handlers post on Facebook 3 times per week.
A majority of social media marketers (42.86%) favor 7 posts per week on Facebook. While a few others (14.29%) post on Facebook for more than 7 times per week.
On average, most marketers prefer to post a minimum 3 times per week while keeping a maximum of 9 Facebook posts per week.
How much of digital marketing budget do businesses spend on Facebook?
Facebook provides free social networking services to individuals as well as pages. But businesses need to go beyond if they want to unlock the full potential of the platform for marketing. Special efforts range from paid advertising to hiring social media experts; each of them needs investment.
But when it comes to social media marketing, spending more doesn't ensure more success and marketers could end up burning their revenues. Thus, it's advisable to practice wisdom, and certainly, a limited budget.
Following are the budget slabs as mentioned by the marketing professionals:
Interestingly, marketers are not reluctant on spending a considerable chunk of their digital marketing budget on social media.
Most of the marketers (42.86%) prefer to spend 5% – 10% of their digital marketing budget on Facebook itself.
While a significant number (28.57%) of digital marketers spend more than 15%, which infers a huge utility of the platform.
Top Facebook Marketing Tactics for 2019 and Beyond
Given the changes in user behavior and the dynamics at Facebook, marketing strategies need to be re-aligned.
The marketers were asked to share their Facebook marketing tactics for 2019 and beyond. The top mentions by the surveyed are listed below:
Videos have lately dominated social media, with video posts exponentially raking up much of the user engagement online. Marketers are equally enthusiastic to tap on the opportunity. The survey showed that 42.86% of marketers are planning to infuse video content into their Facebook activities.
Paid Facebook activities have been gaining momentum with marketers. About 23.81% of the surveyed have made plans to increase their efforts on Facebook Ads, and 14.29% of them have projected to invest strategically to boost their posts, pages, and events.
Of the surveyed, 19.05% are planning to add Facebook Pixel on their website. This essentially would help to measure, optimize, and build audiences for advertising campaigns.
Also, 11.90% of marketers said they would use Audience Insights for a precise understanding of their audiences, and eventually, increase ROI.
Around 9.52% of the marketers are planning on engaging with popular influencers to expand their reach and foster the brand voice.
While 7.14% of the marketers even mentioned increasing the use of Messenger to provide customer support.
Social Platforms That Have Attracted Marketers' Attention
With the support of 22.5% of the industry experts, social media is the second most preferred digital marketing technique.
Individuals can leverage Facebook for personal as well as professional use, making it hugely popular. But, there are other platforms that have been climbing the ranks in terms of active users. Thus, providing marketers with enough options to target and market their desired audiences.
The surveyed marketers were asked to point out social platforms that they have started focusing (time, money, and efforts) more. The stats are illustrated below:
85.71% of social media marketers are now focusing more on professional networking service LinkedIn. For the B2B community, the platform offers the best, more targeted audience for inbound marketing and lead generation. Businesses can even establish strategic partnerships for greater reach.
78.57% of marketers increased their focus on photo & video sharing platform Instagram, mainly to build brand awareness. The social media rapidly gained popularity among Gen Z and Gen Y alike, offering a vast audience across geo-economic borders.
50% of the digital marketers are increasing their efforts on online video-hosting platform YouTube. As videos are more natural to consume, they have become quite addictive for internet users. This platform allows marketers a medium to create support content as well as to advertise their products.
42.86% of the surveyed marketers are leveraging social networking site Twitter more and more. The micro-blogging site over the years has emerged as news and broadcasting platform for every kind and size of business.
35.71% of marketers have increased their efforts on Q&A website Quora, which boosts their inbound marketing efforts.
While 28.57% of digital marketers are focusing on the catalog-of-ideas website Pinterest, curating ideas, stats, and guides.
While 14.29% of the marketers are increasing their marketing focus on other social media such as WhatsApp, Messenger, Reddit, Skype, Snapchat, and others. Many of these platforms have been heavily used for customer support and advertising.
With Changes, Facebook Marketing Grows Better
In their attempts to clamp down on privacy challenges, Facebook is working rigorously on the changes to build a better community, and thus a better marketplace. With all things said, businesses of every vertical ought to know their current capacities in Facebook marketing.
GoodFirms hope that the above facts and insights would help those who are skeptical about marketing on Facebook amidst the controversies. GoodFirms listed top social media marketing companies are simultaneously measuring and leveling their efforts to gain maximum return on investment. These agencies would help service-seekers to stay transparent and relevant to their customers.
Leave comment
Your email address will not be published. Required fields are marked *
Author Info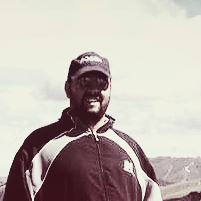 Mark Raymond
Content Developer at GoodFirms