Teamwork Projects
Project Management Software for Professionals.
Visit website
Teamwork Projects has everything you need to track project management from start to finish. The flexibility, combined with the intuitive features the app offers mean your team will not only become better collaborators but they will massively increase their productivity on a daily basis.
Accounting
Construction
Education-management
Human-resources
Retail
5 Industries
Screenshot & Video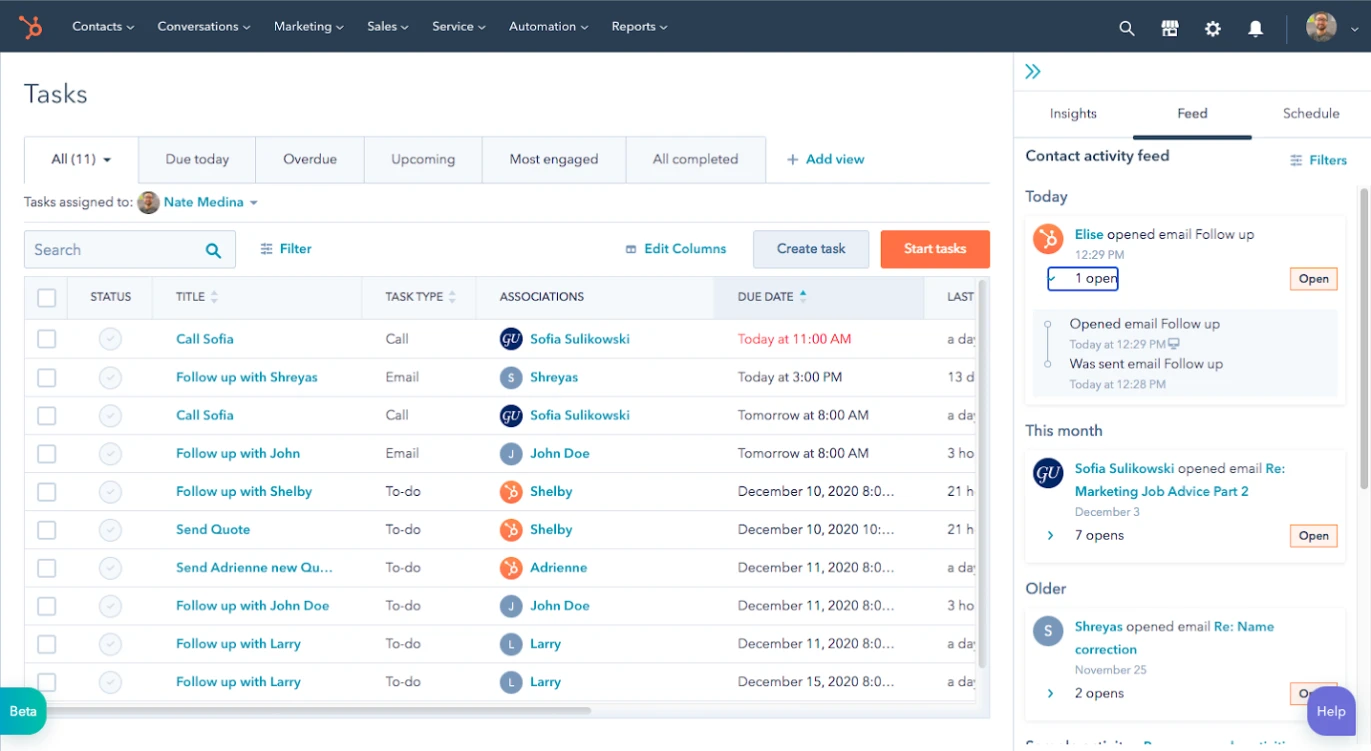 LICENSING & DEPLOYMENT
Proprietary

Cloud Hosted

Web-based

iPhone/iPad

Android

Windows

Mac

Linux
Knowledge Base
Help Guides

Video

Blog

Webinars
Teamwork Projects Core Features
Alerts/Notifications
Collaboration
Dashboard
Idea Management
Portfolio Management
Project Tracking
Project Planning
Reporting and Forecasting
Resource Management
Task Management
Timesheets
Workflow Management
Automated Reports
Customizable Dashboard
Financial Reports
Marketing Reports
Report Export
Visual Analysis
Teamwork Projects Pricing
Payment Frequency
Monthly Payment

Annual Subscription
Teamwork Projects Reviews
Relevance
Most Recent
Rating: high to low
Rating: low to high
Write a Review
Stefan Chekanov
, CEO & Co-Founder at Brosix
Posted 7 months ago
Teamwork provides us all the tracks of different tasks and projects
Review Summary
We Brosix use Teamwork to log and track all the different projects individual members at our company are working on. It gives us a rough idea of how long it takes for them to complete certain tasks.
How frequently you use Teamwork Projects?
Daily
Raine Gui
, Founder and Creative Directo at Model Chic
Posted 7 months ago
Teamwork makes it easy to do business with and take care of clients
Review Summary
We Model Chic use Teamwork. When it comes to software for managing projects, I believe Teamwork to be the greatest option. In contrast, paid programs allow an unlimited number of team members. Freelancers, consultants, and agencies focusing on customer service can now conduct business with their clients in an environment optimized for two-way communication and creating a final product tailored to each client's specific requirements. Teamwork's plans are a little more expensive than the competition, but they all come with a 30-day free trial, so you can make an informed decision before committing. Paid subscriptions include client-facing features like team chat, a collaborative document editor, intake forms, client-access controls, and time tracking and invoicing. Deliverables, tasks, and milestones can all be discussed with clients for feedback to accommodate their demands better. This bodes well for business since more contented customers indicate more potential repeat business.
How frequently you use Teamwork Projects?
Daily
Marc Bishop
, Director- Business Growth at iDigiMagnet
Posted 9 months ago
Teamwork Projects is worth looking at and a fully-fledged project management system
Review Summary
We iDigiMagnet use Teamwork Projects. The app's UI is clean and easy to use, revealing helpful information without bombarding users with lengthy lists and complex charts despite its extensive feature set. Tasks can be seen as kanban boards and the menu options eliminate the need to navigate through numerous screens to locate the required information. As with many other similar applications, Teamwork Projects enables you to automate various tasks, both within the app and through external applications and services. These integrations can be a significant time-saver, but they need initial configuration work.
How frequently you use Teamwork Projects?
Daily
Daniel Carter
, SEO Manager at Skuuudle
Posted on Feb 22, 2022
Teamwork Projects are certainly worth looking into if you\'ve ever been intimidated by the sheer complexity of utilizing a full-fledged project management system.
Review Summary
My company is using Teamwork Projects for a while now; despite its extensive feature set, the app's design is simple and intuitive, doing a decent job of presenting relevant information without bombarding users with endless lists and intricate charts. Tasks can be seen as kanban boards or regular lists, and the intuitive menu options keep you from having to go through many screens to obtain the information you need. In addition, teamwork Projects, like many other similar programs, allow you to automate numerous operations both within the app and through third-party tools and services. These kinds of integrations can save you a lot of time, but you'll have to put in some effort in the beginning. The organization offers many pricing alternatives, from a free tier that only allows two projects and has limited storage space to a high-end business edition. The $10 per month per user plan, which includes unlimited users, 300 projects, and 100 gigabytes of storage space, will suffice for most smaller organizations. A 30-day free trial is available on all premium tiers. Apps for iOS and Android are available, as well as a conventional Web view.
How long have you used Teamwork Projects?
149 Days
How frequently you use Teamwork Projects?
Daily
Logan Rae
Posted on Feb 21, 2022
It\'s incredibly useful beyond anything else I've ever used. Their development team is responsive and they are constantly releasing new features.
Review Summary
We at Argon Agency use Teamwork to manage and delegate projects, project assets, deliveries and deadlines. The pros are that it is super user friendly, has a lot of customizable features and can be used to collaborate with outside people without giving full access. The cons are that there is a lot of room for human error, setup can be a hassle until you get your process right and onboarding a new team member can be tedious.
How long have you used Teamwork Projects?
100 Days
How frequently you use Teamwork Projects?
Daily
Bil Thompson
, COO/Project Leader at Thompson Dryers
Posted on Mar 25, 2020
Overall a solid program
Review Summary
We used Teamwork for a while and found it to be great for managing smaller parts of our larger projects. It was great to have a shared task list, the noteboard feature was also really handy and gave us a clear understanding of who was doing what. We ran into problems with the complicated & repetitive nature of our projects. We used it for designing, estimating, fabricating, shipping and other parts in the process of large industrial equipment and found the data entry of all the pieces to be too time consuming so stopped using it. For smaller stuff it worked great and they may have improved the ability to copy tasks since I used it. I certainly recommend trying it to see if it works for your projects.
McKay Salisbury
, Founder/CEO at Five Star Commerce
Posted on Mar 25, 2020
It does the job, kind of expensive but has lots of good features.
Review Summary
I used Teamwork a while ago. I really liked how the format was somewhat primarily focused on the "task view." Personally, I really don't like board view (Trello is basically ONLY board view) so it made it really easy. It's really easy for team members to see what they need to work on in a specific day and where that eventually leads. The time tracking feature is actually quite robust. I'm not sure if it has all the billing features that a software like Harvest has for billing, but it's great for internal time tracking.
Daniela Beleván
, Account Strategist at DecoGraphic, Inc.
Posted on Mar 17, 2020
The best platform for Project Management out there!
Review Summary
My digital marketing agency consist of a small team of 10 -- and after searching many years for a project management tool that worked for all of us, we finally came across Teamwork. I recommend Teamwork to any business who has a remote team, wants to keep in touch with all the projects going on, and loves a well designed platform. You won't regret using Teamwork. It's easy, fast, and very user friendly!
Jeff Mendelson
, President at Las Olas Technologies
Posted on Mar 16, 2020
Teamwork runs my business
Review Summary
I always tell people: "I don't care if you're around the corner, or half-way around the world. You're REMOTE to me". And the only way to manage your remote people is by having a solid project management system in place. Teamwork does that for me and more.
Jose Quintero
Posted on Mar 16, 2020
Mobile yet Powerful Project Mangement, Anywhere
Review Summary
We use Teamwork Projects extensively in all our IT projects. We prefer it because of its simplicity yet concise and complete coverage of the project lifecycle, including keeping track of tasks, milestones, billable & non-billable time dedicated to each and even an option to create a Kanban-style board with your backlog, which is very useful for Agile projects. It can be more comprehensive in reporting, but it excels in project tracking and security. Also, as it's Cloud-based, it's accessible anywhere you have an Internet connection.
Marc Herschberger
, Director of People & Process at Revenue River
Posted on Mar 12, 2020
A powerful PM tool that can get a little overwhelming
Review Summary
Teamwork projects is a great tool with powerful PM capabilities - it seriously has everything. It has so many helpful tools, in fact, that it can get a little overwhelming for a non-PM. That said, it's relatively easy to use, customizeable to what you need, and has a very good support team. Would recommend.
Tom Wondra
, Consultant / Senior Account Executive at Givenly
Posted on Mar 11, 2020
Great for small teams
Review Summary
I use Teamworkfor a small consulting firm. We track tasks and time, which has improved the invoicing process quite a bit. We have better information available, which allows us to invoice quicker (and receive payment sooner!).
Matt Graf
, Assistant Director of Production at The Southern Baptist Theological Seminary
Posted on Mar 11, 2020
Teamwork Projects is Great!
Review Summary
Teamwork Projects helps us to stay more organized and more efficient with all of our work!
Dustin Brackett
, CEO at HIVE Digital Strategy
Posted on Mar 11, 2020
The Best Solution We\'ve Found
Review Summary
We have tried A LOT of project management tools. The problem has always been that they don't have the functionality that we actually need. They all have pieces, but there is also always something missing. Teamwork isn't perfect, but it is far and away the best solution that we've found. Our clients love it and it helps to keep our team on task and on target for deliverables. Highly recommend it. They've also rolled out Teamwork Chat which has been a great addition for our team.
Zarar Ameen
, CEO at CANZ MARKETING
Posted on Feb 11, 2020
Connects the team better, offering better communication
Review Summary
As a CEO of CANZ MARKETING, here I am sharing m experience of using Teamworks - Pros, Cons, and Overall Experience:
Having used Teamwork for project management, I found it extremely simple yet helpful. The interphase is user-friendly, and it connects the team better, offering better communication.
The way teamwork allows you to keep an eye on the team's workload, work completion, following deadlines, coordination on a project as well as the progress is incomparable. The cherry on top is the integration factor with other apps.
In a nutshell, I have found it to be custom made to boost one'sproductivity.
However, if you are dependent on teamwork projects for all the chores, your team better be vigilant, updating it regularly or you lose visibility of the progress. Additionally, sometimes, technical glitches also hamper your vision (i.e., the working hours do not update, etc.) This could disguisedly render some of your productive team members unproductive.
This profile is not claimed
Do you own or represent this business? Enter your business email to claim your GoodFirms profile.