We are big on creating eminently successful businesses - 🖥 products we have developed from scratch so far have raised in excess of 💰$495,000,000 in funding!
🙅‍♂️ No one failed projects
In addition, we were named as 👨‍🔬 "Best & innovative development company on the market" (c) RBC
Plus, we became🏅"Top #2 Web Development Company in the world" (c) Manifesto
Under-the-hood:
⏳ 11+ years on the global markets (🇺🇸, 🇬🇧, 🇻🇬, Asia, Eastern & Western Europe)
🗞 Publications in TechCrunch, Forbes, Business Insider, NY Times, Wired
🏪 HQ in London and plans for 🗺 New York and San-Francisco during next year
🚀 90+ unparalleled projects we are proud of
🏂 80+ developers, you can leverage (most of them are seniors)
🧗‍♀️ Own awesome Startup Competitions in London in partnerships with WeWork, Barclays, F6S, 11FS, Capital Enterprise, VCs
United Kingdom
99A Gagarina street
,
London
,
London
430027
+79602516041
United Kingdom
8 Devonshire Square, Spitalfields
,
London
,
London
EC2M 4PL
+442039174556
Focus Areas
Service Focus
Web Development
Mobile App Development
Software Development
Client Focus
Medium Business
Small Business
Large Business
4xxi Executive Interview
Evgeny Scherbak
VP of Product
Visit Profile
Please introduce your company and give a brief about your role within the company?
4xxi is World-class technology partner & Startup Launcher based in London with 3 international development hubs. My role as VP of Product includes business development and branding on the global market.
What was the idea behind starting this organization?
Developing high-end apps using cutting-edge technologies. Help startups to build the apps from scratch, improve the product itself, pack the product market fit for various international markets, connecting with VCs and angels for raising money. And go through this journey hand-in-hand with our startups as a partner.
What are your company's business model–in house team or third party vendors/ outsourcing?
In-house only.
How is your business model beneficial from a value addition perspective to the clients compared to other companies' models?
We add not only "coding" value but the production value as well. Applying our unparalleled expertise of the industries we involved in (see above - we help companies to develop the apps from scratch, improve the product itself, pack the product market fit for various international markets, and also connecting with VCs and angels for raising money).
What industries do you generally cater to? Are your customers repetitive? If yes, what ratio of clients has been repetitive to you?
FinTech, EdTech (Education), MedTech (Healthcare).
95% of our customers are repetitive and recommend us to others.
Mention the objectives or the parameters critical in determining the time frame of developing a mobile app.
OS versions that need to be supported, design deviations from the given guidelines, number of effects and complex design elements, work with the server (API).
How much effort in terms of time goes into developing the front end and back end of a mobile app?
As we use native development platforms, there is no fundamental difference in the efforts.
What are the key parameters to be considered before selecting the right platform for a mobile application?
It is necessary to use those development platforms that are enormously supported by the OS manufacturer.
Which platform do you suggest your clients to begin with when they approach you with an idea (Android or iOS) and why?
Native development, of course, because it provides full access to the OS's development tools.
Android or iOS, Native or Hybrid — which platform is best to use to build your app? What are your recommendations?
We recommend the development of MVP on Android, since Android allows you to distribute test builds faster and more importantly, it also depends on what the application is used for.

We advice leveraging only on native development (for high-end products). Hybrid development does not allow using all the features of the OS, and requires native development for the functionalities that the hybrid platform does not provide.
What are the key factors that you consider before deciding the cost of a mobile application?
OS versions that need to be supported, design deviations from guidelines, number of effects and complex design elements, working with the server (API).
What kind of payment structure do you follow to bill your clients? Is it Pay per Feature, Fixed Cost, Pay per Milestone (could be in phases, months, versions etc.)
We are quite flexible here, and payment structure can be agreed depending on the client`s vision or product form. For instance, if we are talking about MVP / Prototype development we usually suggest the scheme with 30% prepayment only and 70% after we develop everything, deploy, release and being accepted by the client. Otherwise, the client pays nothing (but it had never happened).
The payment structure could be presented as Time & Material, Team-Based, Phases-based with monthly invoicing and so on. To be honest, it doesn`t matter a lot.
Do you take in projects which meet your basic budget requirement? If yes, what is the minimum requirement? If no, on what minimum budget you have worked for?
$10,000 is the minimum budget of the project we take.
What is the price range (min and max) of the projects that you catered to in 2018?
The price range we catered in 2018 was from $10,000 to $450,000.
Which business model do you suggest to your clients enabling them to generate revenue from mobile applications? Why?
There is no monosyllabic answer here. It greatly depends on the product goal(s), country and countless other aspects. It could be Advertising - e.g., VICE
Commerce and Retail - e.g., Warby Parker
Transactional Services - e.g., Uber
Subscriptions - e.g. Salesforce
Marketplace - e.g., Etsy
Usage Fee - e.g., T-Mobile pre-paid
Service fee per unit - e.g., most of the Development agencies
Rental or leasing - e.g., Zipcar Licensing
Auctions - e.g. eBay
Data - e.g., Duedil
Transaction processing - e.g., Stripe
App downloads - e.g., Minecraft
In-app purchases - e.g., Clash of Clans, etc
We can work with every mobile apps` revenue model.
4xxi Clients & Portfolios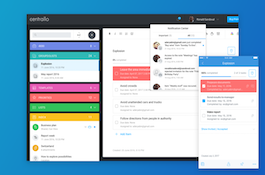 4xxi Reviews
All Services
Web Development
Mobile App Development
Relevance
Most Recent
Rating: high to low
Rating: low to high
Write a Review
Emily Jipson
, General Manager & Chief Product Officer at WorthFM
Posted on Sep 19, 2017
Top development team
Review Summary
4xxi has been a great partner to WorthFM. I appreciate how they've grown with us, providing services ranging from in-depth architectural support to design. The project manager is the best I've ever worked with, understanding our business needs and helping craft technical specs that allowed for a seamless product development execution.
What is it about the company that you appreciate the most?
Excellent partnership and commitment to quality
Konstantin Seregin
at umnayashkola
Posted on Aug 30, 2017
Review for 4xxi
What was the project name that you have worked with 4xxi?
App Development Project
Michael Sher
, Founder at Groupdolists
Posted on Aug 24, 2017
Amazing to work with. Super smart. Super responsive.
Review Summary
Blessed that I found them almost 5 years ago! Just paid my 47th invoice and happy to pay them. Quality work. Quality people. Quality everything. We are NYC based and the time difference works perfectly for us.

What is it about the company that you appreciate the most?
Speed. Quality of product. Responsiveness. Energy. Passion. Brains. Ability to quickly find quality candidates to fill various positions when we need to expand the development team.
What was it about the company that you didn't like which they should do better?
Nothing, honestly.
Mara Berkman Landis
, Founder at NutmegAspirin.com
Posted on Aug 22, 2017
4xxi Exceeded Expectations
Review Summary
A friend recommended 4xxi to build a business website. Working with them was extremely professional. They are honest and deliver a great product. They custom built a high functioning, fantastic site. They came in on budget and on time. And they are always available for any tweaks or fixing glitches. Response time is almost immediate. They also brought many ideas to the table that we implemented. They offered their opinions based on experience rather than just implementing what we wanted. Their advice was greatly appreciated.
What is it about the company that you appreciate the most?
Easy to work with, extremely reliable and delivers.
What was it about the company that you didn't like which they should do better?
They are Russian. THey speak English but may not catch typos!
David Nadezhdin
, Co Founder, CEO at SIG.NUM
Posted on Aug 09, 2017
Woolmark Prize
Review Summary
We wanted to create a promotional site for the international competition Woolmark Prize with a unique visual algorithm by which our users could create and promote derivative works based on 12 pieces by leading designers. The challenge was to launch the website in very limited time.
The project started in December 2015 and was completed in 1 month. The project was delivered on time!
What is it about the company that you appreciate the most?
We just provided 4xxi the concept of the project and the designs. We needed: a website (backend and frontend) + server infrastructure setup & support. Due to the limited time we had a lot of calls to finalize the scope.