Yellow
Business-First Approach to Software Development
Visit website
Unlike most other firms, we take business needs first, making cutting-edge tech work for the goals of your company.
We are great at web and native mobile engineering. Good, efficient architecture is king. Your product should be scalable, maintainable and future-proof, and we'll make it happen.
One of our core values is design. As fans of all things simple, we create clean, in-your-face user interfaces even for the most sophisticated workflows.We strongly believe in the lean methodology, which means we'll encourage you to spend as little money as possible for the first version of your product. Instead of making assumptions and allocating huge budgets upfront, we should quickly create an MVP for you, take it to the market, collect feedback and reiterate fast!
United States
44 Tehama St
,
San Francisco
,
California
94105
+1 (415) 470-2865
UAE
Level 23, Boulevard Plaza Tower - 2 Sheikh Mohammed bin Rashid Blvd
,
Dubai
,
Dubai
Singapore
Grzybowska
,
Singapore
,
Singapore
048619
9 Raffles Place
Focus Areas
Service Focus
Software Development
Mobile App Development
Web Development
Web Designing (UI/UX)
Cloud Computing Services
Yellow Executive Interview
Visit Profile
Please introduce your company and give a brief about your role within the organization.
Yellow is a digital product agency that has already helped more than 40 businesses build software solutions. We strongly believe in the lean methodology and instead of making assumptions about the product's destiny on the market, we create an MVP and base any further updates on the feedback. Our team gives a hand to companies of each size, from an ambitious startup to an international enterprise.

Personally, I'm the CEO of Yellow.
What is the story behind starting this company?
It's quite typical: we started doing freelance and consulting and we gradually grew to be able to take over bigger and more interesting projects.
What is your company's business model – in-house team or third-party vendors/ outsourcing?
We are a fully in-house digital product agency that provides companies with high-quality software development services. We were recognized as a Top B2B Company and a Top 1000 Global Service Provider.

Also, we create our own applications. It allows us to better understand our clients and their needs since we participate in the product lifecycle from the very beginning to the end.
How does your company differentiate itself from the competition?
Our greatest advantage is a business-before-technology approach that we apply to all our projects. It means we are proactive during the development process and put business needs first when choosing tools and technologies. We conduct thorough research to create a stack that suits each particular requirement and function.
What industries do you generally cater to? Are your customers repetitive? If yes, what ratio of clients has been repetitive to you?
Our primary focus is telecommunications. We are great at the development of audio and video calling applications, messengers, and other forms of chat in the broad understanding of the term. A chat can be a standalone application or a part of a big and sophisticated business process inside a company. We are a certified partner of Twilio and are submerged into the ecosystem to a significant degree.
Other business areas we closely work with include healthcare, tourism, and fintech. For example, we worked with the Driving Rehabilitation Institute on a learning tablet app and with the National Association of Tax Professionals on a web blog.

We tend to see clients as long-term relationships and it's typical for us to work for 3+ years with the same client.
Please share some of the services that you offer for which clients approach you the most for?
The clients mostly come to us with ideas about web (complex, heavy-load-ready web applications), mobile (Android, iOS), or cross-platform development. We are also big on design and provide UX/UI services.
What is your customer satisfaction rate according to you? What steps do you take to cater to your customer's needs and requirements?
The overwhelming majority of our clients are completely satisfied with the services we provide. It can be concluded from the fact that they stay with us for years. Sometimes we face minor inconveniences, but we quickly resolve them together with the client.
The strategy we stick to consists of several steps. First, we help our client validate their ideas with constant communication and thorough research. Then, we create a prototype that helps us understand how the solution is going to function. The main stage is development and design when we create the product and constantly update the client on what is going on. Testing and cross-review of code is ingrained into the process and goes on all the time. After the launch, we provide full post-release support.
What kind of support system do you offer to your clients for catering to their queries and issues?
It depends on the client's need, as our boutique size lets us adjust to every particular client. With a successful software product, support is often indistinguishable from further development, as the product grows all the time and you have to maintain it as well as upgrade it at the same time. In technical terms, we do provide L2 and L3 support.
What kind of payment structure do you follow to bill your clients? Is it Pay per Feature, Fixed Cost, Pay per Milestone (could be in phases, months, versions etc.)
We are working with a Time and Material model meaning a client pays for the development based on time and resources spent on it. Our team provides the upfront project estimation and then when all terms are agreed upon, we issue monthly invoices.
Do you take in projects which meet your basic budget requirement? If yes, what is the minimum requirement? If no, on what minimum budget you have worked for?
No, we don't have any basic budget requirements. For today, the minimum budget we worked with was about $10,000.
What is the price range (min and max) of the projects that you catered to in 2020?
A yearly budget for our typical project can be between $10,000 and $700,000.
Where do you see your company in the next 10 years?
We see ourselves as a top-notch, world-class digital product agency that creates beautiful, easy-to-use, and future-proof products for clients that are in need of constant successful digital transformation.
Yellow Clients & Portfolios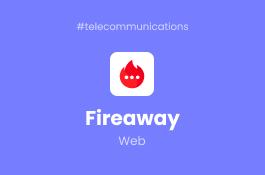 Yellow Reviews
All Services
Software Development
Mobile App Development
Web Development
Relevance
Most Recent
Rating: high to low
Rating: low to high
Write a Review
Vladimir Gorin
, Co-founder & CEO at at Twinslash
Posted on Sep 06, 2021
Building a Chat for a Call Center App — Their experience is outstanding
Review Summary
Role: the CEO of Twinslash.

Yellow helped us create a chat architecture and a design for the chat. This agency had the relevant experience in working with chat apps, so we opted for them.

They started the general scheme of chat flow, which we appreciated. They also offered some tech solutions for each development step. Then they created several wireframes and offered a suitable tech stack. In the end, we formed the final tech stack and started the development process.
What is it about the company that you appreciate the most?
Their outstanding experience and their proactive approach to development and communication.
What was it about the company that you didn't like which they should do better?
Nothing that I can think of.
Eugene Maislin PSP, MCSE, CCNA, BEng
Posted on Jun 17, 2021
Mobile and Web Development
Review Summary
Mobile and Web Development — Their communication is definitely one of the strongest sides
Yellow developed the web application's backend for both iOS and Android. For some projects, we provided them with mockups and wireframes beforehand, but most of the time, they start from the beginning.
They provided us with detailed reports and a weekly timesheet, and every 2-3 days we communicated via WhatsApp.

What is it about the company that you appreciate the most?
Their communication is definitely one of the strongest sides. They provided us with detailed reports and a weekly timesheet, and every 2-3 days we communicated via WhatsApp.
Mobile App UI/UX Design - We easily found a common ground
Review Summary
We already knew Yellow since we have already completed a web development project together, so we decided to choose them to embark on the design project for an iOS app. We needed some illustrations for onboarding, a simple UI/UX design for main screens, and the logo redesign.

First, they created several illustrations in three styles, then via A/B testing we chose the final version and finished the rest of the project in that style. Since we worked together before, it was easy for us to coordinate the processes and find a common ground.

An iOS and Android Apps for Workflow Organization
Review Summary
I'm the CEO of SLON Media.

Yellow helped us develop iOS and Android apps for the internal workflow. At first, they developed an MVP, and after testing and discussion with us, Yellow built the whole app. They were extremely precise and fast in the delivery and always carefully listened to our feedback. All tasks were completed on time or ahead of schedule. Also, their project management skills are excellent. The team was always accessible and attentive to everything that we had in mind. They were extremely proactive and attentive.
What is it about the company that you appreciate the most?
They were extremely proactive and attentive.
What was it about the company that you didn't like which they should do better?
Nothing comes to mind.
A chatbot for customer service — Fast, honest, and forward-looking team
Review Summary
Our team needed a chatbot for customer service. The features should include sending automated messages, asking questions, collecting info for a database, and routing clients to representatives. Yellow had the necessary experience and expertise, so we started working with them.

Yellow is very proactive and honest with their reporting. We barely encountered any issues while working with Yellow, and if we did, they used everything possible to handle it smoothly. We were constantly on the same page with them.

What is it about the company that you appreciate the most?
Their team is fast, honest, and forward-looking. They are not just developers, they are people fully committed to their tasks.
What was it about the company that you didn't like which they should do better?
Everything was fine.
Ian Ross
, CEO and founder of at OppSites
Posted on May 28, 2021
Yellow is great at solving the issues we need to address.
Review Summary
. Our app works with projects for business investment and real estate opportunities. The challenge was to update our existing web app and add more functionality to the marketplace. Yellow was able to optimize the performance and fixed bugs to get us back on track. Now we are working on the admin panel for us to monitor the platform. Yellow has done extremely well at completing the tasks we ask of them. I enjoy working with our PM at Yellow and they make it easy for us even though we're based in California.
Oleg Lipunov
, Co-founder at abiatec
Posted on May 18, 2021
A progressive web app - They are an extremely experienced team
Review Summary
Yellow helped us create a progressive web app (PWA) for one of our web projects. We needed it to be as fast and trouble-free as possible across all devices.

We worked with a project manager, a developer, and the Head of Business Development, and all the team completed the task extremely efficiently. We prepared all the necessary requirements they asked us to, and the final product came out with incredible quality. The level of their commitment, attention, and proactivity truly surprised us.

The communication between teams was good, we were always on the same page, and all standups and updates were understandable and on time.

What is it about the company that you appreciate the most?
They were accessible all of the time, and the level of their experience is terrific.
What was it about the company that you didn't like which they should do better?
Nothing comes to mind
Coverium — I really liked how transparent they were
Review Summary
Coverium is a platform for sharing cover songs, it ranks videos by the number of views, likes, and comments, and also arranges them by time, type, and the number of performers. The community started growing significantly, and I wanted to implement more features like chat and YouTube integration. I provided Yellow with the specifications, and they truly exceeded my expectations.

This was a full-stack project, and we had some backend already written with Java Spring Hibernate and the frontend was done with Bootstrap and jQuery, but Bootstrap wasn't able to adapt to the screen on some pages. Yellow fixed it with a more flexible UI, and also provided us with QA services. Users enjoyed the updates and gave positive feedback.

I really liked how transparent they were. Yellow and I had frequent communication and I was able to see the updates daily and reach the team if needed. They truly felt like an in-house team, not an offsite company.

I was surprised by the kind of performance they had provided. We finished the project ahead of the deadline, so we were able to work on additional improvements.

As a client, I am completely satisfied with their performance.
Experienced and friendly team
Review Summary
Racefully is a virtual activity tracking platform primarily delivered via a mobile app. We wanted to release the initial iOS version as soon as possible, but taking into account the high competition on the market, we needed it fully-featured. To achieve this, we decided to increase our development capacity using a third-party company, and Yellow was our choice.

Two developers and a QA from Yellow worked with our in-house developers and UX designer to help create the app. They organized a consolidated team with our developers and built both the front and backend. Yellow was also responsible for QA.

They worked well within our instructions and productively responded to feedback. We enjoyed working with them and would definitely use them again.
What is it about the company that you appreciate the most?
Their team had extensive working experience. They fitted in as team members, not just an external company, and it was clear that they cared about the quality of the app. Their team made sure that everyone did their best.
What was it about the company that you didn't like which they should do better?
The collaboration was went very well and we don't have any suggestions for improvement.
DriveFocus — Yellow has a talent for thinking outside the box
Review Summary
The Driver Rehabilitation Institute is a non-profit organization that works with people that have medical conditions that may keep them from driving, such as stroke or traumatic brain injury. We started working with occupational therapists, but we soon found there was a demand from people all over the world.

We wanted to create a video-based game app that taught people how to focus their attention while driving. We asked driving instructors from different parts of the world to film the route they use to train their students. We made important objects in these videos - like traffic signs, pedestrians and brake lights - "clickable"

We collaborated with Yellow to implement those features, and they totally nailed it. They quickly figured out how to make certain areas of a video clickable, delivered a proof of concept, and then developed an entire Android app.

Yellow is a team of highly experienced developers and designers. The UI/UX is visually pleasing and user-friendly. They approached the development process methodically, and kept us up to date as they progressed.

What do you like most about the company?
Yellow was truly interested in the project through the entire process. They pulled in appropriate talent and engineers with experience as needed in the development. They thought outside the box and were ready to provide us with new tools and solutions.

What they should improve on?
Nothing crosses my mind.
What was it about the company that you didn't like which they should do better?
Nothing crosses my mind.
William Hamilton IV
, Co-Founder at at SmartPath.co
Posted on Apr 08, 2021
SmartCenter - They truly helped our company go forward.
Review Summary
We needed an experienced team to replace the previous one on the development of a management solution for small tax firms. They had to start working with a code they didn't write, but they quickly figured out how to get on board with the project and handle it right.

We had a mobile-responsive, minimum viable product (MVP), and Yellow finished the development through the final version of the app. Now we have a fully functioning portal that meets industry requirements for personal data, such as social security numbers and year-end numbers, and integrates real-time chat features. The portal now is an industry leader. Yellow was able to interpret our goals right and build a user-friendly platform for small tax firms.

What makes Yellow stand out is their ability to pay attention not only to the code but to the results and clients. All members of the Yellow team cared about the product. They don't just start coding right away but instead, they look at the big picture first.

I can't think of anything they have to improve on, it was a great experience to work with them.

What is it about the company that you appreciate the most?
We've worked with several remote development teams over the past 10+ years and no one has done a better job with communication. Yellow constantly stays focused on our business goals and at the same time allows for strategic adjustments in real-time. Having a team that can lend valuable perspective is crucial for success in today's environment.
My favorite development partner
Review Summary
We hired Yellow to act as our web development team, helping us deal with the new web functionality needs of our clients. Their team was the most skilled among other vendors we considered.

Their main tasks were to optimize web speed, website development and updating, and bug fixing. Their performance was great: site speed was increased by 10 (Google speed optimization), which enhanced user experience and SEO.

Language and time difference are never an issue, we communicated smoothly via Skype and email and everything is great.

What is it about the company that you appreciate the most?
Yellow was able to quickly solve problems and communicate when needed. They truly value partnerships.
What was it about the company that you didn't like which they should do better?
There's nothing they have to improve.