ABSTRACT:
Cloud computing has become a strategic ecosystem, a standard for businesses that desire resilience, agility, and innovation-driven growth. Cloud computing is critical for rejuvenating existing IT infrastructure, digitization of core IT operations, and achieving hyper-scalability. Cloud computing enables faster development cycles, and proactive organizations can create unique business offerings with cloud computing technologies. However, there still can be implementation and budget challenges.
The survey titled: Cloud Computing: Current Trends, Future Prospects aims to provide organizations with valuable insights that will help them realize the true potential of cloud computing. The research attempts to identify and analyze current cloud computing trends and the challenges organizations face while shifting their legacy systems to cloud-based infrastructure. The research also explores the prospects of cloud computing tech. GoodFirms conducted an online survey between 5th August 2022 and 19th August 2022. A total of 310 responses were collected. Businesses worldwide shared their cloud computing initiatives, strategies, challenges, processes, and spending. This research brings valuable insights into the current trends of cloud computing and elaborates on what the future holds for this technology.
Introduction
In recent times, cloud computing has evolved as a critical storage and computing technology that allows shared computing resources through online deliverability. The technology provides speed, agility, scalability, and continuity to organizations that strive for digital transformation and improved processes. Cloud computing has changed the business paradigm by providing access to resources from anywhere; thus, the cloud has become a key enabler for remote work.
Cloud computing delivers storage, databases, servers, networking, software, and analytics over the internet. Instead of storing data on hard disks, or mobile storage, the cloud allows storing data on virtual servers. This system allows large and mid-sized organizations to store more data with less effort and more safety.(1)
This research titled- 'Cloud Computing: Current Trends, Future Prospects' is an attempt by GoodFirms to identify, understand, and analyze the ongoing cloud computing trends and explore the future prospects for this technology.
Survey And Data Analysis
GoodFirms' online survey queried businesses of all verticals regarding their cloud computing status, initiatives, issues, expenditure, and future plans. The survey revealed valuable insights regarding the current cloud deployments, delivery models, related infrastructure types, global top cloud service providers, and prominent cloud computing technologies businesses use. The participant organizations also revealed their top challenges in cloud deployments and services.
Let us have a look at the most significant cloud computing patterns exposed by the latest survey:
Current Status of Cloud Deployments
53.3% of organizations have already deployed cloud applications
Cloud adoption is a prevalent choice for organizations hoping to reduce expenses, smooth out productivity, and guarantee that systems and information are accessible to employees anywhere and anytime. Cloud technology can improve business cycles, and organizations can gradually change from servers to cloud suppliers based on their demand. 53.3% of surveyees reported that they had already deployed cloud applications in their organization.
33.3% of organizations are in the process of cloud-based deployments
Organizations now know the change cloud computing can bring to their business functions. It is helping businesses in storing, managing and accessing their data in a more sophisticated manner. 33.3% of surveyees reported that they are in the process of deploying cloud computing in their organizations.
19.5% of businesses are currently evaluating cloud alternatives
Most businesses are implementing cloud computing technology in their operations. But not all are focused on this technology. Instead, they prefer traditional methods. Constraints like lack of knowledge, high dependence upon the internet, cost, performance challenges, etc., are hampering the implementation of cloud computing in organizations. Fog computing and edge computing have become alternatives to cloud computing due to benefits such as low latency, reduced server failures, and high efficiency as systems are installed on nearby locations instead of remote servers.
6.7% of surveyed companies have no plan to deploy the cloud
These mainly include small and mid-sized organizations that cannot bear the cost of cloud computing. Two of the main reasons behind no cloud deployment are small chunks of data and minimal business functions that don't need cloud functionality.
Preferred Type of Cloud Infrastructure
There are three deployment models for the cloud: private, public, and hybrid. Each gives clients access to applications that drive their business and helps organizations with storage, virtualization, servers, etc. However, these three models differ in deployment criteria and shareability of resources (dedicated, private, or shared).
Public Cloud is the Preferred Choice of Businesses
45.6% of surveyees reported having a public cloud infrastructure
A public cloud is a system where third-party providers manage on-demand computing and infrastructure through cloud servers. Users can access these cloud services as a part of a shared ecosystem whenever required. The public cloud is cheaper than the rest of the cloud services, making it more reachable to small and mid-sized organizations.(2) 45.6% of budget-conscious organizations reported having a public cloud infrastructure.
Hybrid Cloud is the Second Most Preferred Cloud Infrastructure
34.9% respondents have a hybrid cloud infrastructure
A hybrid cloud is a mix of public and private clouds. A hybrid cloud infrastructure connects at least one public and private cloud. For instance, pharmaceutical companies generally use the hybrid cloud to store their data. General data of pharma companies related to distributors, employees, logistics, and consumers is stored on public clouds. In contrast, more sensitive data, such as clinical trials and formulations-related data, is generally stored in private clouds.(3)
Private Cloud is Preferred for its Security Functions
19.5% of surveyees prefer private cloud over public and hybrid cloud infrastructure
The private cloud is considered the most secure cloud infrastructure, with all resources dedicated to a single customer. Generally, defense, automation, and finance organizations (data-sensitive organizations) prefer the private cloud. 19.5% surveyees are using private cloud infrastructure for storing their data. The private cloud is the most expensive because it requires more resources, dedicated set-up, and complicated maintenance.
Types of Cloud Delivery Model Adopted by the Surveyed Organizations
SaaS (Software as a Service)
66.6% surveyees use the SaaS model for cloud delivery
In the SaaS model, customers purchase licenses or subscriptions to utilize an application facilitated by software vendors. The SaaS model is also known as an on-demand software service. By using SaaS, organizations don't require installing and running applications on their servers. It reduces overall hardware maintenance and requirements as applications are managed by the vendor's infrastructure.
PaaS (Platform as a Service)
27.1% respondents use the PaaS model
The PaaS model allows customers to create, host, and dash their applications. With the PaaS model, organizations don't need to stress over programming refreshes and working frameworks. An example of the PaaS model includes Google App Engine or SAP cloud.
A PaaS environment supports DevOps and offers a consistent set of services, including middleware and programming.
"PaaS, accessible via both private and public cloud platforms, boosts the reliability of the development platform, making it more straightforward to create apps, store data, and test software," says Tiffany Payne, Head of content, Pharmacy Online.
IaaS (Infrastructure as a Service)
6.3% surveyees use the IaaS model in their business
With the IaaS model, businesses manage everything from the cloud operating system and middleware to the information and application on a pay-as-you-go basis. IaaS is helpful for businesses in reducing their costs associated with maintenance, hardware purchase, etc. A few organizations use IaaS as a lift and shift methodology segment, wherein they relocate their information and application to the cloud. 6.3% of surveyees reported using the IaaS model.
"IaaS is ideal for using resources such as computing, network, and storage resources on-demand, over the internet, and pay-as-you-go. Using pay-per-use cloud infrastructure saves firms money on acquiring, operating, and maintaining IT infrastructure," says Steve Pogson, Founder of First pier.
Preferred Cloud Service Providers

Google Cloud
60% of the respondents use Google Cloud
Google cloud platform (GCP) is a Google product that utilizes different cloud models like IaaS, PaaS, SaaS, etc. It comes with 150+ cutting-edge products that provide servers, data storage, computing, analytics, and network tools. Google Cloud is the only cloud provider using additional renewable energy sources for its operations. The low pricing of Google also makes it shine among its competitors. Therefore, 60% of respondents use Google Cloud in their organizations.
AWS
53.3% of the respondents use AWS
Amazon web service (AWS) is an extensive and one of the fastest growing cloud technologies. AWS is considered a leader in the cloud industry. The Amazon elastic compute cloud (EC2) works on a public cloud infrastructure model. AWS charges on an hourly basis and also follows a pay-as-you-go model. AWS is famous for its incredible security and astounding capability to store large data sets.
Azure
40% of the respondents use Azure
Microsoft Azure uses IaaS, PaaS, and SaaS models. Azure's unique storage facility makes it different from its competitors. Azure has more delivery points and storage centers than others, and this allows Azure to store more and quickly deliver to provide the optimal experience to the users. Azure flexibility and scalability make it easier to use.
Oracle Cloud
16.7% of respondents use Oracle cloud
Oracle cloud is a next-gen cloud infrastructure that is built for the future. Oracle cloud is the most integrated public cloud with a plethora of integrated utility apps. Automation tools and their interoperability makes Oracle cloud unique. Oracle clouds run applications faster and more securely.
IBM Cloud
6.7% of respondents use IBM cloud
IBM Cloud is a private cloud that works on IaaS and PaaS cloud platforms. IBM cloud was formerly called bluemix. IBM strongly focuses on R&D and customer relationships. The 24/7 support system offered by IBM cloud through the ticket system also comes with its free plan. IBM claims 99.99% server availability. IBM is serving free as well as paid tiers for their customers.
Alibaba Cloud
5.2% of respondents use Alibaba cloud
Alibaba Cloud is offered by the Chinese giant organization Alibaba group. Alibaba Cloud is also called Aliyun. This cloud is generally used for online businesses and E-commerce infrastructure. Alibaba Cloud is cheaper than all the competitors. There is no data storage limit in the Alibaba cloud.
Others
19.3% of the respondents use other cloud platforms
Many mid-sized and small organizations use other cloud services besides these cloud giants. Organizations like Salesforce, Dropbox, Intel Corporation, etc., also come with excellent cloud services supporting IaaS, SaaS, and PaaS infrastructure. Vultr, Digital Ocean, Linode, etc., are one of the cheapest cloud providers in the world. 19.3% of businesses reported using other cloud services.
Cloud Computing Technologies Used by the Surveyed Organizations
Kubernetes and Blockchain are the Leading Technologies in the Cloud
56.7% organizations reported using Kubernetes and Blockchain
Kubernetes is an open-source system for automating the deployment, scaling, and management in the cloud. Kubernetes protects users from any application downtime and resulting business disruption. Blockchain combination with Kubernetes technology is a powerhouse and will lead to dynamic transformation and advancements in cloud computing. 56.7% of surveyees reported they use Kubernetes and blockchain technology in their organization for decentralization, scalability, elasticity, and network security.
"Kubernetes for blockchain helps to rapidly scale environments and ensure high availability by always having multiple containers running for critical services," says Dan Close, Founder & CEO, We Buy Houses in Kentucky.
Artificial Intelligence (AI) is an Evergreen Technology in the Cloud
46.7% surveyees use Artificial Intelligence
The power of AI and the Cloud is that it can shift through a massive amount of data in a short time and come up with unique precise insights or suggest actions in a way that often surpasses humans. AI is powerful; it augments what humans can do and helps organizations look at problems uniquely.(4) Organizations use artificial intelligence to improve R&D and customer satisfaction.
Big cloud providers like Google invested a significant amount in AI to create pre-trained models, AI products, and solutions that are directly accessible. Artificial intelligence abilities in cloud computing are essential for making business activities more productive, vital, and knowledge-driven while giving extra adaptability, skill, and cutting-off costs. 46.7% of surveyees reported using artificial intelligence in their organization to enhance cloud performance while driving digital transformation.
Container Technology
40% of businesses reported using Container technology
As a critical enabler of the modern IT approach, especially the cloud-native, Containers are important bundles of software that contain operating system virtualization that permits users to run an application. Containers help software to run reliably when shifting from one computing environment to another. The container image consists of an entire runtime environment, an application, and everything needed to run its code, runtime, system tools, system libraries, and settings, all bundled into one lightweight, feasible container. By containerizing the application, multiple containers can be deployed on a single operating system and share the same operating system speed.(5)
Microservices
40% of organization use Microservices
Microservices are single application structures built by amalgamating multiple loosely coupled components. Every application works as a bunch of administrations; each help runs its cycles and is imparted through APIs. The development that gave rise to cloud microservices architecture started in the early 21st century.
DeVOps
33.3% of organizations use DeVOps cloud computing technology
DeVOps approach is a mixer of two departments (Development and Operation) to work fast in collaboration. The DevOps approach makes organizations adapt faster to updates and development changes. DeVOps manages a streamlined flow between teams and makes the software development process successful. DeVOps lifecycle is planning, coding, building, testing, deploying, operating monitor, and integration.
Serverless
20% of surveyees use Serverless technology
In serverless applications, the server is separated from the app development process and is instead handled by a cloud service. Developers can build and operate applications without having to manage servers. Even though servers still exist in serverless applications, they are hidden from app development.
Serverless is a cloud computing application improvement and performance model that empowers developers to construct and run application code without much assistance from developers.
Providers of cloud services handle the procurement, management, and scaling of server infrastructure. Developers can build their applications in containers and deploy them.
With serverless, engineers never pay for inactive limits. The charging begins when execution starts and closes when execution stops; commonly, valuing depends on execution time and assets required.
AR and VR
13.3% of businesses reported using AR and VR
Augmented reality overlays digital information onto the physical world. Virtual reality places a person into an artificial world with computer-generated imagery. Combining AR and VR with cloud computing power makes it possible to create new experiences that weren't previously possible at low costs. The improved versatility and decreased cost have significantly expanded opportunities among buyers and opened up numerous new experimental use cases in big organizations.
With the growing adoption of cloud technology, augmented reality and virtual reality will have great scope in gaming, e-commerce, and other fields in the future. Both technologies are famous for their enriching experience in the 3-D or virtual world. Gartner states, "The AR industry will reach the $50 billion imprint in 2024".(6)
Internet of Things (IoT) and 5G
26.7% organizations reported using the Internet of Things (IoT), and 6.7% use 5G
IoT, and cloud computing are closely knit future internet technologies. IoT-focused cloud computing is also rapidly taking its rightful place in the cloud computing market. It provides various connectivity options along with large network access. In addition, with IoT and cloud computing combined, businesses can scale their services and enhance product portfolios as per their needs.
6.7% of surveyees indicated that they are currently using 5G. Organizations also use 5G or 5th generation cellular network technology for cloud computing. The high speed and low latency network capabilities of 5G can revolutionize the cloud computing industry. 5G allows businesses to transfer their data in a fast and smooth manner, which also enhances efficiency. By combining cloud and 5G, organizations are increasing their capacities, functionalities, and flexibility.
#Preferential Analysis: Cloud-Based Systems vs. On-Premise Systems
56.3% reported using partial on-premise and partial cloud-based systems but more on the cloud
Many participants agreed to have both on-premise and cloud systems, but most of their data is stored over the cloud. Only a tiny amount of critical data is stored on the on-premise systems to ensure complete security. Cloud also comes with more flexibility, data privacy, and mobility.
26.7% reported using cloud-based systems
For organizations with low-end IT infrastructure, the cloud is a better option when it comes to security. As data is stored at the vendor's server, it protects organizations from hacking and other threats. Usually, vendors spend more on keeping applications and networks secure from hacking attempts. Big and medium organizations mainly use Cloud-based systems as they have huge chunks of data to store. Storing this massive data on on-premise systems often leads to high costs.
13.3% use partial cloud-based and partial on-premise but have more data on on-premise systems
Organizations with in-house IT teams and more sensitive data prefer on-premise systems. Also, a cloud-based solution can be costly for small and mid-sized organizations with low requirements but may have to pay for the complete offering.
3.7% reported using on-premise systems
On-premise system comes with many benefits, as they can work without or with minimum internet usage because it uses the internal network to store data. As on-premise doesn't wholly rely on the internet, it is a preferred choice for 3.7% of small and mid-sized organizations.
#Cloud Spending Utilization Analysis - A study that highlights the percentage of value derived by the surveyees in the cloud investment
In the modern era, almost all organizations use cloud computing or cloud-based solutions at either small or massive levels. Cloud computing offers many advantages that help organizations improve their business structure, agility, and delivery power. However, our survey revealed that not all businesses that implement cloud computing can fully utilize their cloud infrastructure.
As per GoodFirms' survey, only 6.7% of respondents can utilize more than 90% of their cloud spending. Most respondents, i.e., 43.3%, utilize around 51-75% of their total cloud spending. Only 13.3% utilize around 76-90% of their total cloud spending. 33.3% of respondents stated that they are only utilizing 26-50% of their total cloud spending. Some 3.4% of surveyees only utilize 10-25% of their total cloud resources. Most of these surveyees belong to small and mid-sized organizations.
Some of the reasons behind the low utilization of cloud resources are as follows:
Low amount of data and operations to perform.
Lack of knowledge and trust between users and service providers
Many organizations utilize partial cloud and partial on-premise to store their data
Compliance issues
Poor knowledge of cloud services among employees
Organizations with skilled employees, cloud training sessions, and efficient resource planning are better positioned to utilize cloud resources.
Factors Affecting the Cloud Partner Selection
Price is a Major Factor Impacting the Selection of Cloud Service Providers
66.7% agreed that price affects their cloud partner selection
Cost is an essential factor for organizations when choosing a cloud service provider. Selecting a cloud partner at a low cost is preferred by the organization. While organizations have dynamic needs, the pricing plan offered by cloud service providers must be flexible and meet corporate needs.
Businesses Also Consider Post-Deployment Support Facilities in Selecting a Cloud Provider
61.5% agreed that post-deployment support facilities affect their cloud partner selection
Organizations shifting towards cloud computing also consider the requirements associated with cloud implementation, deployment, and post-deployment management. Shifting from the orthodox model to the cloud model isn't easy and requires consideration of multiple elements.
After deploying the cloud, post-deployment support is critical for businesses to keep their applications running without glitches. Cloud service providers that provide excellent post-deployment support are able to build excellent and long-term relationships between organizations and cloud providers. Therefore, 61.5% agreed that post-deployment support facilities affect their cloud partner selection.(7)
Cloud Offering Alternatives (private/public/hybrid)
60% agreed that cloud offering alternative affects their cloud partner selection
The cloud deployment model comes in three categories:- Public Cloud, Hybrid Cloud, and private Cloud. The cloud deployment model is categorized by the organization's dwell and nature of business. Each deployment model fulfills different organizational requirements, so picking one out of them is significant. 60% agreed that cloud offering alternatives (public/hybrid/private) affect their cloud partner selection.
Deployment Assistance is Required
58.3% agreed that deployment assistance affects their cloud partner selection
After the terrible period of Covid-19, organizations understand the importance and crucial requirement of cloud deployment. Quickly adopting change is a must for all organizations, irrespective of their size. Cloud service providers offer different models, such as public, hybrid, and private clouds.
Therefore, business organizations need continuous assistance during the deployment of the cloud. Cloud providers should ensure that they serve continuous deployment assistance to businesses so that organizations can adopt any model according to their concerns.
Reviews
53.3% reported reviews affect their cloud partner selection
Cloud computing is a highly competitive market, and selecting one cloud partner among various providers can become easy after checking reviews. Organizations with multiple positive reviews and feedback often attract customers the most. After going through the reviews and other important information as per their requirements, customers took their decision whether to purchase or not.
Factors associated with cloud services, such as costs, performance, efficiency, server down rates, etc., are considered by people through reviews in order to select their preferred one. However, finding cloud partners from reviews can also impact the overall productivity if purchased without checking organizational needs.
Benefits of Moving Businesses to the Cloud
Cloud computing is widely adopted by organizations to ease access to computing resources, such as storage and processing while reducing costs. The benefits of cloud computing are numerous: it can reduce capital expenses, enable scalability, and improve security. These advantages have led to rapid growth in the use of cloud computing services for enterprises.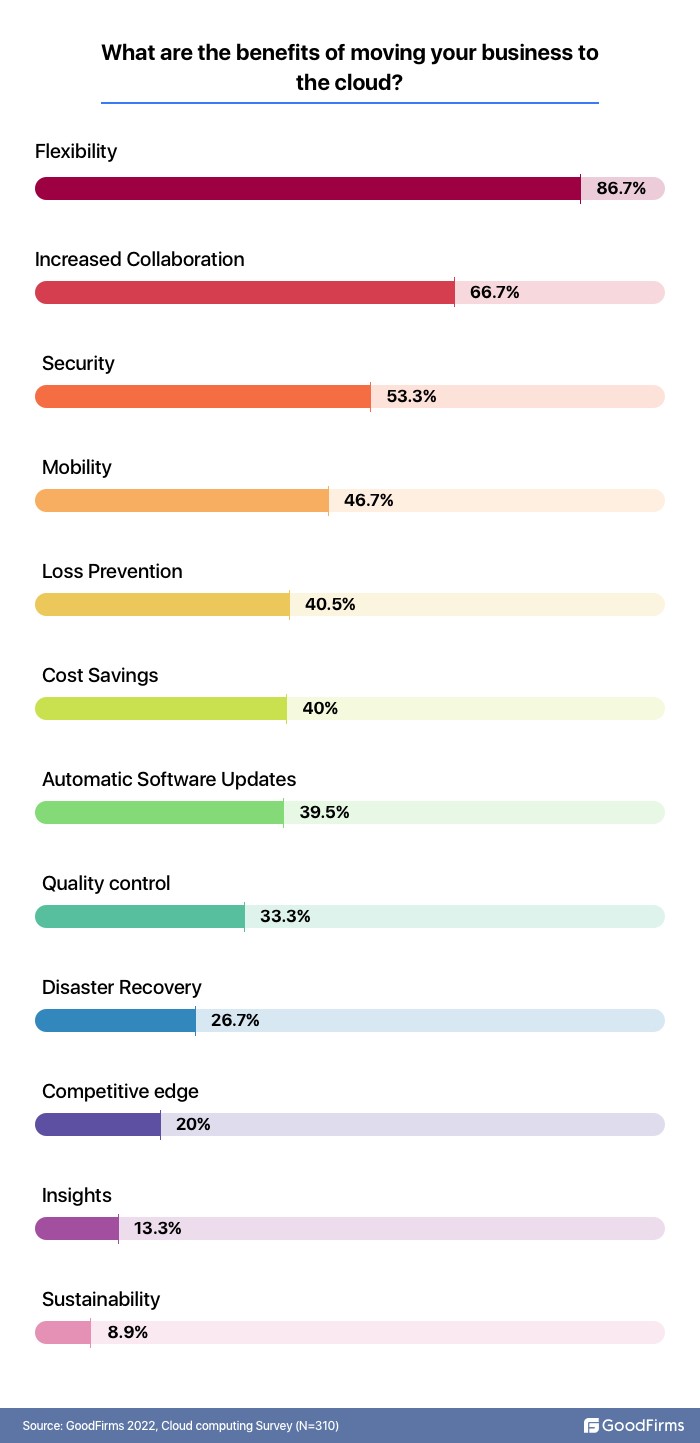 Flexibility is the Biggest Advantage of Cloud Computing
86.7% consider 'flexibility' as the top benefit of moving their business to the cloud
Cloud computing offers more flexibility to businesses. Through cloud computing, employees get the flexibility to work from their homes without many issues. They can access the necessary files and other information from their mobiles and laptop. In addition, the cloud allows businesses to alter their services according to demand and needs.
Increased Collaboration is Also a Popular Cloud Benefit
66.7% consider increased collaboration as a critical benefit to moving their business to the cloud
Cloud computing allows different business functions to collaborate effectively. With the help of cloud computing, collaboration has become a simple task. Team members can share and check information simply over a cloud platform. Cloud also enables different clients to alter reports or work on data simultaneously in an easy way.
Cloud Computing Offers Better Security Than On-premise Systems
53.3% reported 'security' as the main benefit of moving their business to the cloud
Data security becomes crucial for surveyees, especially when switching from local data storage to cloud storage. Cloud computing delicately monitors data security and provides businesses with advanced security features such as confirmation, data encryption, etc. Security is one of the most concerned criteria due to which organizations are rapidly switching to cloud computing.(8)
Mobility is Another Top Benefit of Cloud Computing
46.7% state 'mobility' as the top benefit of moving to clouds
Two third of the total world population is using smartphones. In July 2022 total number of unique mobile users was 5.34 billion.(9) Users, employees, and clients want access to their data, applications, and files even when they are traveling. Smartphones can access most cloud-enabled apps. Continuous growth in mobile is contributing to the increased cloud adoption and activity. Cloud computing offers anywhere and any device access to people for real-time updates.
Cloud Computing Offers Loss Prevention
40.5% state loss prevention as the top advantage of moving their business to the cloud
Cloud data loss prevention is an advanced method to deal with cybersecurity. On the cloud, data can be recovered through several methods, but in the case of on-premises systems, there are high chances of data loss in case of system failure. In cloud computing, all data is stored with multiple real-time backups on cloud servers situated in varied locations, which helps organizations restore files, passwords, etc., without much worry.(10)
Cloud Computing is Cost Efficient
40% of surveyees state that 'cost saving' is a primary benefit of moving their business to the cloud
Cost reduction is one of the best advantages of cloud computing. Since organizations don't need to assemble their own IT frameworks or buy equipment to store data, it reduces capital expenditure costs. Pay-as-you-go also assists a lot of surveyees in cutting off their initial investment. Cloud computing hugely reduces the infrastructure budget if appropriately implemented. It also prevents organizations from investing in systems that may get redundant with updates in technology. Cloud computing also allows companies to save money by taking advantage of shared resources and centralized management.
Cloud computing is a model for delivering computing services over the Internet. Its appeal is that it reduces the need for customers to invest in their own hardware, software, and network infrastructure. In addition, cloud computing abstracts the underlying complexity of managing servers, storage, and network resources so that customers only pay for what they use.
People Also Prefer Automatic Software Updates Benefit
39.5% consider automatic software update to move their business to the cloud
Performing manual software updates and waiting for system updates irritates busy organizations. However, the cloud-based software automatically updates itself continuously, requiring no or negligible manual efforts. 39.5% respondents stated that automatic software updates are the primary reason for moving their business to the cloud as it saves people time.
Cloud Usage Enhances Quality Control
33.3% consider quality control as a top benefit of moving their business to the cloud
Cloud computing assists organizations with quality control in numerous ways. In cloud computing, all data is stored in a single place and in real-time. When everyone in the organization uses and shares the same information, it reduces human errors and brings in more efficiency. Therefore, 33.3% considered quality control to move their business to the cloud.
Disaster Recovery Assistance is Popular Among Businesses
26.7% consider disaster recovery as an advantage to moving their business to the cloud
Data loss can cause massive harm to an organization of any size. Data loss also affects the productivity of the organization. Disasters can hugely damage the infrastructure and data of businesses, and some such businesses that have gone through disaster never open again. Whereas, with the help of cloud computing, organizations can recover data quickly and securely from a disaster site as only a few pieces of equipment are needed to access data.
Cloud Provides Competitive Edge to Businesses
20% organizations reported competitive edge as the top benefit of shifting to the cloud
Cloud computing is adopted by organizations daily. However, many organizations still stick to a habitual pattern of data storage. Adopting cloud computing can give organizations a competitive edge because the modern cloud doesn't require complex and specialized skills to perform tasks. In addition, employees within the organization can easily coordinate with each other when the data is available online. This enhances efficiency and productivity, ultimately resulting in a better competitive edge.
Cloud Enables Valuable Insights For Better Productivity
13.3% state 'insights' as a top benefit of moving to the cloud
In the digital era, it is clear that "data is power," or simply, data is the new oil for the modern era. Cloud computing allows more accessible data analysis and customized reports and helps organizations get valuable insights to make further decisions. These analyses and insights can boost the efficiency and productivity of surveyees to meet their goal. Thus, 13.3% considered insights to move their business to the cloud.
Cloud Computing is Sustainable
8.9% consider 'sustainability' as a benefit of moving their business functions to the cloud
Public cloud providers provide greater work flexibility, higher server utilization rates, and more energy-efficient infrastructure than enterprise-controlled data centers making them more sustainable than other computing technologies. Cloud computing saves more than 59 million tons of CO2, saving more than $200.81 billion annually for companies. (11)
Cloud also eliminates the need for disposing or recycling of physical hardware; no more need for an onsite server either.
Challenges Organizations Face in Cloud Computing
Cost is a Critical Challenge in Cloud Computing Implementation
60.5% of businesses reported cost as a critical challenge
Most cloud service providers become costly for many organizations due to their pay models. If services are used inefficiently, it leads to additional hidden costs. Also, if the application performance is low and there is a sudden decrease in resource use, this can affect the overall cost. New applications are one of the reasons for the cost rise, along with maintenance and service costs. Some employees also lack cloud operating knowledge, so companies have to give them training sessions. This also increases the costs for organizations.
"Adapting to the cloud can be costly. You have to allot so much budget for this, especially since there is great demand for this," says Doug Marrone, Founder, App store Apps.
Integration With Third-party Applications
33.3% reported integration with third-party applications as a critical challenge
Third-party integration connects two or more applications built on an external platform. This is the essential difference between native integration and third-party integration. Third-party integration requires utilizing any application to depend on an independent setting to simulate combinations between applications. These settings are explicitly planned to make combinations between applications. 33.3% of surveyees reported integration with third-party applications as a critical challenge they face in cloud computing.(12)
Data Privacy and Security
28.8% organizations reported data privacy and security as a critical challenge
When shifting towards cloud computing, data security and privacy are organizations' main concerns. However, cloud service providers guarantee data security through double verification, validation, encryption, and access control. Organizations generally encrypt data before sending it to cloud storage to make it more secure.
Data privacy protects organizations from fraud, malware contamination, phishing, and hacking. But, there is a lack of trust between cloud providers and users, a significant concern that holds many organizations to shift toward cloud computing. 28.8% of surveyees reported data privacy and security as critical challenges they face in cloud computing.
Cloud Performance and Reliability
26.7% reported cloud performance and reliability as a critical challenge
Cloud performance and reliability refer to the frequency of element failures, service downtimes, speed of software services, application performance, and security. Recurrent security issues and component failures are signs of poor cloud performance and low reliability. Under-provisioned cloud resources result in performance issues. Misconfigured cloud resources are susceptible to phishing and less reliable. 26.7% of surveyees reported cloud performance and reliability as one of the top challenges they face in cloud computing.
Lack of Skilled Workforce in the Usage of Cloud-based Processes and Applications
25.8% companies reported a lack of a workforce well-versed in cloud-based processes and applications
Cloud is such a complex area, and there is so much need for research and development. Working with the cloud often becomes tedious. Cloud computing requires much knowledge and skills to operate efficiently. Even though there are numerous experts in the market, they need to improve themselves constantly. Cloud experts in the market must be reskilled to successfully manage cloud-based applications and get optimum outcomes. 25.8% of surveyees reported a lack of workforce that is capable of handling all functions of cloud-based applications as the top challenge they faced in cloud computing.
Compliance Issues
20.5% surveyees reported compliance issues as a critical challenge
The advantages associated with the cloud also present a set of challenges for organizations, including compliance challenges with data privacy laws. While most cloud providers adhere to data privacy and security standards, it is important to note that there is no such thing as zero risk in data privacy.
A couple of years have seen an explosion in the number of laws passed regarding how information is passed in cloud computing. GDPR, the California purchaser security act, and HIPAA are the most famous, yet many guidelines cover a range of specific regions and businesses. Lack of compliance with these guidelines can tend to legal challenges, fines, penalties, and other allegations.(13)
By complying with the GDPR, an organization ensures that all data submitted to a third party via cloud services will be processed in accordance with GDPR regulations. Furthermore, an organization must ensure that all data stored on servers is protected from unauthorized access by taking appropriate measures such as encrypting it. In addition, it should maintain records about the transfer of all personal data to ensure that it does not violate GDPR regulations or other laws in the future.
Emerging Technologies in Cloud Computing
Artificial Intelligence (AI)
Artificial intelligence (AI) is the simulation of human behavior and cognition. AI is already a transformative force in virtually every sector of modern life, from healthcare to transportation to finance, and it's only going to become more important as computing power continues to grow exponentially. Cloud computing and AI are helping each other grow at a much faster pace than anticipated. AI enables machines to think, and this helps organizations to build auto-driven cars, manufacturing machines, etc. They are joining AI with cloud computing access organizations to amplify the value of the two applications efficiently.
"Artificial intelligence services increasingly rely on cloud computing. Scalable, enterprise-grade cloud implementations are necessary for massive data bandwidth and processing capacity for machine learning systems," says Robert Warner, head of marketing, Virtual Valley.
Blockchain
Blockchain is called distributed ledger in cloud computing. In layman's terms, it's data stored across a peer-to-peer network of computers. This data is cryptographically linked to secure the information and make it immutable. Since it's distributed, all the nodes participating in the blockchain each have their copy of all the data. So, if one node goes down, the data remains unscathed.
Blockchain helps to ensure traceability and trust in all the information stored on the server in our current world of relentless cybersecurity threats. Blockchain technology is segmented into three categories: Public, Private and hybrid. Bitcoin and Ethereum, for instance, run on public blockchains. Then, there are Ripple and Enterprise Ethereum on private blockchains.
Decentralization of Cloud Infrastructure
The lack of computing power limits some applications. When data is centralized and managed by only one or two players, it can cause security and accessibility problems. Decentralization solves these problems because it renders data security and privacy and offers a peer-to-peer network for the cloud marketplace. The decentralized cloud computing framework deals with the host and helps maintain the performance of cloud computing. Decentralization is a far more compelling and sustainable economic model for organizations with growing data.
Docker and Kubernetes
Kubernetes is an open-source container orchestration system that automates containerized applications' deployment, scaling, and management. It allows developers to compose applications composed of multiple containers on a single host, reducing load and increasing resource utilization. It is an important part of modern container infrastructure technologies such as Docker and Kubernetes Engine.
Kubernetes can help organizations accelerate their adoption by simplifying the deployment process and reducing operational complexity. It is also used in private cloud environments to enable application portability between on-premises deployments and managed public clouds. Kubernetes can also be used to build private or hybrid clouds with high availability, elasticity, and scalability.
Docker is another example of an open-source containerization platform. Docker virtualizes the application layers. Docker containers start and run fast. Docker focuses on the needs of developers and operating systems to separate the dependency of applications on infrastructure.(14)
Docker and Kubernetes can efficiently automate business processes on the cloud as well as on-premise infrastructure.
Quantum Computing
93% agreed quantum computing has a future
Quantum computing is also rapidly growing and becoming a major success factor for firms. Quantum computing harnesses the laws of quantum mechanics to solve complex computing issues and process large data sets. The processors used in quantum computers will have massive computing powers, and Quantum computing is set to revolutionize the cloud computing landscape. Different countries have invested a significant amount of funds in quantum computing. China reported plans to put $15 billion into quantum computing, the European Union $7.2 billion, the U.S. $1.3 billion, the U.K. $1.2 billion, and India and Japan $1 billion each.(15) 93% of surveyees agreed that quantum computing has a future.
Keeping the technological revolution and investments in mind, quantum computing can gain unprecedented success in the upcoming future. Quantum computing has the power to bring massive transitions in all elements of cloud computing, including resource pooling, virtualization, elasticity, resource deployment, and metered billing.
"Quantum computers will become increasingly important in the years ahead, and businesses that can harness their power will have a significant competitive advantage," says Mark Good, Founder of Golden Gorilla Media.
Containers
Containers have added advantages over the other traditional alternatives and can reduce overhead expenses by deploying lightweight technology. Containers can also handle large deployments with a cluster approach that implements multiple containers. Containers consume fewer resources, and containers can become a game-changer with the growing plea toward sustainability. They are also highly portable and can perform consistent operations that help in speeding up development cycles and testing.
Will Edge Computing Replace Cloud Computing?
Edge is designed to solve the gaps and challenges associated with cloud computing. However, it will not replace cloud computing but rather complement the cloud technology. Edge computing, a faster and latency-free model will be a better choice for applications that require faster response time. However, both technologies will co-exist and support each other. Cloud computing can be used where edge computing is not relevant. As the edge is designed to handle more complex tasks, it will have the upper hand on cloud computing in the future.
Key Findings
Public cloud infrastructure is most preferred by business firms, along with hybrid and private cloud.
SaaS or Software as a Service model is the most popular model for cloud delivery.
56.3% reported using partial on-premise and partial cloud-based systems but more on the cloud.
45.6% of surveyees reported having a public cloud infrastructure.
66.6% of surveyees use the SaaS model for cloud delivery.
Flexibility and increased collaboration are the top benefits of cloud computing.
Price, post-deployment support, and cloud offering alternatives are the major factors impacting the cloud adoption of firms.
66.7% agreed that price affects their cloud partner selection.
61.5% agreed that post-deployment support facilities affect their cloud partner selection.
86.7% of business owners plan to deploy their workloads on cloud-native platforms anytime soon.
Google Cloud is the most popular cloud choice, along with AWS and Azure.
Multiple challenges are still preventing the growth of cloud computing, such as cost, third-party integrations, and data security.
53.3% of respondents have already deployed cloud applications in their business functions.
AI, Kubernetes, and Blockchain are the most used technologies for cloud computing.
56.7% of organizations reported using Kubernetes and Blockchain
46.7% of surveyees use Artificial Intelligence
Only 6.7% of respondents can utilize more than 90% of their cloud spending.
60.5% reported cost as a critical challenge in implementing cloud computing.
33.3% reported integration with third-party applications as a critical challenge.
Quantum computing is a rising technology that can improve the growth of the cloud computing market apart from AI and blockchain.
Conclusion
Cloud computing is becoming essential for businesses in the digital era. Cloud computing challenges the conventional method of data storage. It provides a new dimension to storing data with privacy, scalability, security, and many more in the list. Cloud computing is constantly evolving and reaches new heights every year. Advanced technologies like blockchain, artificial intelligence, and quantum computing are changing organizational approaches toward the cloud market.
Cloud computing provides scalable infrastructure for organizations where applications, data storage, hosting, etc. can be delivered with direct cost benefits. Cloud computing increases IT deliverables' utility, capability, responsiveness, reliability, reusability, and scalability. Organizations with expertise in cloud computing-enabled distributed services, risk assessment, procurement, and service negotiation will reap more benefits from the technology.
We sincerely thank our Research Partners who participated in the survey.
References
https://www.forbes.com/advisor/business/what-is-cloud-computing/

https://www.doit-intl.com/blockchain-security-and-the-public-cloud/

https://www.ibm.com/in-en/cloud/hybrid

https://www.datacenters.com/news/artificial-intelligence-in-cloud-computing#:~:text=The%20popularity%20of%20Artificial%20Intelligence,driving%20digital%20transformation%20in%20enterprises

https://cloud.google.com/learn/what-are-containers#:~:text=Containers%20are%20packages%20of%20software,on%20a%20developer's%20personal%20laptop

https://cloud.google.com/blog/products/gaming/streaming-vr-and-ar-content-google-cloud-nvidia-cloudxr

https://www2.deloitte.com/us/en/blog/human-capital-blog/2020/your-cloud-journey-does-not-have-to-end-after-deployment.html

https://rapidscale.net/resources/blog/desktop-as-a-service/compliance-cloud-june-webinar-recap

https://datareportal.com/global-digital-overview#:~:text=The%20latest%20data%20reveal%20that,5.34%20billion%20in%20July%202022.

https://www.technology.pitt.edu/security/laptop-theft

https://www.accenture.com/in-en/insights/strategy/green-behind-cloud

https://www.integromat.com/en/blog/what-are-third-party-integrations

http://www.leginfo.ca.gov/pub/01-02/statute/ch_0051-0100/ch_58_st_2001_sb_400

https://azure.microsoft.com/en-in/topic/kubernetes-vs-docker/

https://www.forbes.com/sites/gilpress/2022/04/14/the-state-of-quantum-computing-future-present-past/?sh=669672684f8f