ABSTRACT:
The shipping industry encompassing the marine, air, railways, and freight is a significant contributor to the global trade arena for goods and services. The industry is also known as the world's largest employer, especially its freight segment. The growing manufacturing industry, technological innovations, and the increasing consumer end-product demand are the major driving factors of the shipping industry. But on the contrary, the increasing fuel costs and maintenance of aircraft, marine vessels, trucks, and rails stand as the biggest challenge for the shipping industry. With increasing Intercontinental trade, and import/export of food, raw materials, and manufactured goods, there is a huge prediction that this industry will grow and sustain itself in the future.
The research survey on Global Shipping Industry is an attempt to analyze the current state of the global shipping industry and the unprecedented challenges that it is facing presently. The survey also reveals customer satisfaction levels with shipping providers, challenges faced by shipping customers, and their preferences. The survey also highlights the key measures taken by the shipping industry to attain zero-emission goals in the future. The research provides valuable insights regarding the current demand drivers, recent developments, and the future of the shipping industry.
Introduction
The shipping industry, comprising vast networks of rail, road, air, and sea transportation, is the backbone of global trade and commerce. Predictable supply chains are critical for global economic growth. Industrial development initiatives cannot materialize without collaboration and support from the shipping industry.
The shipping industry has also evolved immensely to cater to the demand from new-age industries like the e-commerce sector. Investment is increasing in the shipping industry to mitigate the existing shipping challenges and to develop intelligent shipping ecosystems.
Today, technologies such as GPS, blockchain, AI, etc., enable shipping customers to track their shipments mile by mile. The delivery times have shortened from weeks to days and from days to hours for certain products. One-day delivery, which was once considered to be a novelty or a privileged service, has now become a common expectation. Moreover, the consistent development of emerging markets and e-commerce has persuaded shipping companies to expand their capacities and scale operations to meet the increasing demand.
However, the shipping industry is not without challenges. The current developments around the world are creating taxing situations even for the most foresighted shipping companies. There are challenges such as supply chain disruptions, changing regulations, surging fuel prices, etc.
This research survey titled: The Global Shipping Industry - Demands, Challenges, and the Future Outlook is an attempt to gauge the current state of the global shipping industry, including the key trends impacting consumers and shipping providers, challenges faced by customers and shipment companies and efforts towards sustainability and zero-emission goals.
Current State of the Global Shipping Industry
The ongoing Ukraine-Russia war, energy crisis, inflation, job cuts, Covid-19 resurgence in China, tighter monetary stance, and supply-side bottlenecks have weighed down on business sentiments and led to weak consumer demand. Higher inflation is also resulting in a fall in consumer saving and reducing their purchasing capacity.
The current cues from European markets remain weak with falling imports amidst the ongoing war. The global container demand is expected to contract further, and the demand for air freight also remains muted. Landside transportation is also suffering from cooling consumer demand. The pent-up demand in the aftermath of the pandemic that led to chaos at ports with a historic surge in cargo volumes is now fading away. There are cases of piling up of empty containers at some ports due to dampening consumer demand, a major indicator of economic slowdown.(1) With more than-expected inflation, and fears of an upcoming recession causing a setback in consumer demand and imports, shipping companies are witnessing canceled sailings.
While the near-term indicators for shipping businesses remain largely negative, the long-term positive view of the industry remains intact.
"While the industry may see some headwinds in the short term, major dynamics are in favor of the industry. With technological innovations, sustainability measures, and restructuring of core channels, the industry is likely to post better results in upcoming times."
The shipping industry is known for its resilient work structure and experience in working under extremely tough situations. Even amidst tough economic times, there are some global shipping companies that have posted decent financial results and showing no signs of a slowdown. A.P. Møller – Mærsk A/S, the global shipping giant's financial results in Q3 2022 witnessed an increase of 37% in revenue. A.P. Møller – Mærsk A/S reported that higher freight rates, normalized supply chain disruptions, and unwinding of port congestions (to some extent) led to higher profitability.(2)
The shipping costs for containers (Maritime) have increased as much as 500% from their pre-pandemic levels.(3) Regained manufacturing activities in the post-pandemic period and port congestion are primary reasons for the surge in shipping costs. The logistical issues due to the war have compelled top shipping companies to increase freight charges to keep their bottom lines in the positive territory. Maersk's CEO attributed the exceptional results to soaring freight rates which have now peaked.(4)
The industry is also working incessantly to decarbonize its operations and make systemic changes to transition to a zero-carbon future.
"The world needs to see the commitment by industry, governments, and workers to the structural changes necessary to decarbonize the shipping sector. The decisions made by leaders over the coming weeks – about shipping and all transport sectors – will be crucial to preventing irreversible climate change in the future," says Stephen Cotton, General Secretary, ITF (International Transport workers' Federation).(5)
People in the shipping industry, especially those who sail deep into the oceans, are already witnessing the effects of climate change. The plea to shift to sustainable operations is more than ever.
The growth of Cross-border eCommerce has also brought a sea of changes in the shipping industry. There is a shift towards more efficient and cost-effective logistics and shipping solutions, such as multi-modal transport, advanced tracking technologies, and automation to fulfill the increased demand for faster and more reliable shipping services. Shipping companies are now using granular trade-flow modeling systems to understand how macroeconomic factors develop and how they should strategize responses to create resilient operational models. Such digital disruption and reinvention will create value-oriented services targeted to provide customized shipping services to customers. Digital transformation will reduce supply chain frictions and spur trade growth.
Also, governments, particularly in emerging markets, are encouraging cross-border trade and establishing special economic zones that promote free trade (exemption from tax and customs duties). The foreign direct investment flow is significant in these zones. The popularity and growth of these special economic zones will further shift the trade balance in favor of emerging economies, and the shipping industry will be a direct benefactor of this development. The shipping operators provide the trading network via transport links that connect markets.
Already, the world's biggest shipping giants and multinational logistics providers have entered emerging markets. Shipping companies such as DHL, FedEx, Maersk, etc., operate in more than 150 countries and service every emerging market. With government support, quality infrastructure, and industry-friendly regulations, the shipping sector is all set to achieve new highs in the coming times.
Survey and Data Analysis
GoodFirms queried 695 selected users of shipment services regarding their preferences, experience, and challenges when dealing with shipment companies. The participants comprised individuals (who send personal or business parcels), e-commerce businesses, corporate clients (that send bulk shipments), and organizations (those hire shipment companies as their delivery partners).
Most Used Shipment Services Types:
E-commerce deliveries, courier services, and logistics providers are the three most used shipment services.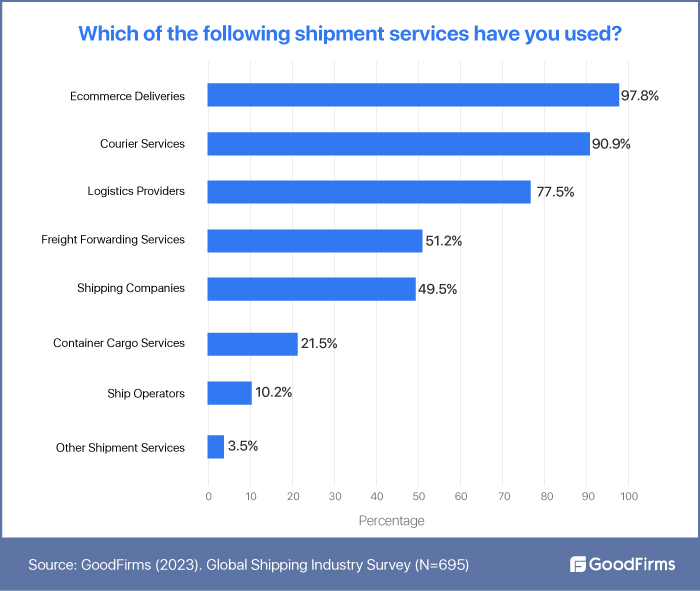 97.8% of surveyees have used e-commerce deliveries
Users of online services order products from e-commerce websites. These products are delivered to them by e-commerce websites that generally partner with parcel shipping companies (third-party logistics companies) or have their own delivery infrastructure. E-commerce deliveries are typically faster and more reliable than traditional mail services, as they are optimized for speed and convenience. E-commerce deliveries also provide customers with tracking numbers (in-app or web order tracking), so they can follow their package's progress and ensure its secure delivery.
90.9% of surveyees have used courier services
Courier services are delivery companies that specialize in providing fast, reliable, and secure delivery of packages and documents. Courier services are used for time-sensitive deliveries, such as parcels, letters, documents, and other items that require speed and security. Courier services also provide customer service, tracking, international deliveries, and parcel insurance.
77.5% of surveyees have utilized the services of logistics providers
Logistics providers are companies that specialize in managing the movement of goods, such as industrial materials, equipment, consumer products, etc. Logistics providers provide various services, such as warehousing, inventory management, transportation and distribution, shipping management, and order fulfillment. Logistics providers also help e-commerce businesses in their deliveries.
51.2% of respondents have used freight forwarding services
Freight forwarding services help businesses, and companies transport their goods. Freight forwarders work with carriers to transport goods via the best shipping routes for their clients. Freight forwarding services include air, ship, rail, or highway carrier options.
49.5% of surveyees reported utilizing the services of shipping companies
Shipping companies are transport providers that move goods on a large scale. These companies move goods via road, rail, air, and sea and also provide warehousing and bulk storage solutions.
21.5% of surveyees have used container cargo services
Container cargo services specialize in the loading and transportation of containers. Container cargo services are often used to transport goods, products, and services in large quantities via waterways. Container cargo services are used by businesses, e-commerce vendors, and even individuals to export/import goods in large quantities.
10.2% of respondents reported using the services of shipping operators
Shipping operators are companies that provide shipping services, such as vessel and aircraft charters, ship management, and cargo handling services.
Top Factors that Prompt Customers to Prefer a Shipping Firm over Others
GoodFirms queried surveyees regarding the factors that prompted them to choose a particular shipping firm. Speed of delivery, Cost, and Reputation of the firm emerged to be the top three factors that influence shipping customers to prefer a particular shipping firm.
Speed of Delivery
70.8% of the respondents consider the speed of delivery for selecting a shipping company
Delivery speed is a critical factor in customers' shipment partner selection decisions. When customers select a shipment company, they want assurance that their orders will be delivered quickly and reliably. Companies that provide value propositions such as fast and on-time deliveries, tracking and shipping support, etc. are important to customers.
Even companies that utilize shipping services also prioritize delivery speed. Before entering into contracts with shipping providers, companies evaluate delivery speed. Nearly 41%[6] of online customers expect same-day delivery, putting pressure on businesses to meet their demands. Several shipment companies said that delivery speed is their most crucial selling factor, which they cannot compromise.
Cost of Delivery
For 50.5% of respondents, the cost of delivery is a critical factor that prompts customers to prefer selecting one shipment company over others
Customers want to get the most value for their money and often compare prices between companies before selecting their preferred shipping solution. Companies that offer discounts for businesses with frequent shipments, as well as volume discounts for larger orders, are preferred. Offering both affordable and fast shipping options is important to consumers, so optimizing fulfillment operations based on where customers reside can help shipping companies provide cost-effective services.
Many shipping companies give customers incentives and loyalty credits to encourage repeat business. The leading players in the shipping industry, such as USPS and FedEx (7), offer flexible price ranges based on location, package size, and delivery time to keep delivery costs down. In light of this, 50.5% of respondents said they only select shipping partners or enter into agreements with shipping companies that offer competitive prices.
Reputation of the Firm
40.6% of respondents consider the reputation of a firm before choosing it as their shipment provider
Customers carefully consider a shipping company's reputation before choosing one. Manufacturers and online retailers look for companies with a good reputation in the market because many risks are involved, including cargo damage, cargo loss, fraud, theft, and abandonment, to name a few. An established reputation guarantees that their transit risk is minimized and that they can rely on the business for on-time delivery, superior services, and top-notch customer support.
Package Tracking System
37.6% of surveyees revealed their preference for a parcel tracking system
A parcel tracking system is vital in a highly competitive market where companies must respond promptly to customer inquiries and maintain a transparent communication channel. Customers favor shipping providers with a streamlined package tracking system, revealed the GoodFirms' survey report. According to the participants, transparency of all communications and real-time data about their parcel's current location boost their confidence in the shipping partner's efficacy.
Customer Service
Customer service was mentioned by 33.4% of respondents as a critical factor in choosing one shipping firm over another
While many focus on cost minimization, customer service is crucial in the cut-throat competition in the shipping industry. The leading shipping companies optimize the various customer touchpoints and provide exceptional customer services. For example, they empower customers with faster grievance redressals, end-to-end visibility, add-on services such as free packaging material, lucrative credit services, and auto-alerts for prompt updates. All these results in more excellent customer service standards and enhance the credibility of the shipping company.
Shipment Insurance Benefits
The polls indicated that 22.1% of customers look for the shipment insurance benefits offered prior to partnering with a shipping company
No standard shipping contract exists without shipment insurance, as there is a high likelihood of mishaps, losses, or theft of goods. Therefore, shipping companies need to provide shipment insurance benefits to their clients. Many shipping firms offer free coverage for the declared value of the shipment up to a certain amount. For instance, some shipping companies offer local delivery coverage up to a certain amount but offer more for international shipping. However, sometimes shipping firms collaborate with insurance companies that provide compensation in the event of unforeseen circumstances. It provides clients with a safety net and encourages them to use the services again.
Packaging Material and Quality
10.2% of customers place great value on packaging material and quality when deciding which shipping provider to use over others
Poor package quality and material can cause financial and reputational losses to the clients. Therefore, shipping firms' packaging materials must be capable of safeguarding the items from the external environment during transit, including protection from spoilage, theft, and damage during handling and ensuring safe delivery. In some scenarios, it is necessary to meet specific requirements, such as tamper resistance and preservation for food and pharmaceutical components. Although it can be overwhelming to meet unique packaging requirements every time, shipping providers can focus on one specific or related industry with similar packaging requirements. It will help them scale, become specialized and become industry leaders.
Top Challenges Faced in Shipment Delivery Process
Annoying customer service
70.9% of surveyees reported annoying customer services as the biggest challenge they face while dealing with shipment companies
Many surveyees put additional comments in the survey form, revealing that they do not engage with the shipping company where employees are not transparent and have multiple contact points. Resolving the clients' concerns to their satisfaction on the first communication will avoid further agitation. Hence, attentiveness to customers' needs can serve as a powerful competitive advantage. Excellent service to customers ensures their continued patronage.
Late delivery
61.8% of the respondents said that late deliveries cost them financially
Cases of delayed delivery negatively impact customers' experience. Shipping companies often end up bearing delivery costs with negative reviews from their customers. Moreover, the common causes of delayed deliveries are incorrect addresses, package redirections, incorrect order forms, poor weather conditions, delivery vehicle breakdowns, employee shortage situations, inefficient processes, and customs.
Damaged items during shipping
50.5% of surveyees suffered due to damaged items during shipping
According to the survey polls, delivering damaged goods is one of the biggest issues with shipping businesses. When customers receive broken goods, it is challenging to win back their trust. While customers suffer due to damaged products, repeated requests and claims for replacements and refunds are burdens on shipping providers too. Ill-fitting packaging is the most common cause of damaged goods.
Choosing the right size of the boxes and using the appropriate packaging material can avoid the risk of damaged goods. Other causes are poor labeling, employee disorientation and negligence, and climate change. When the shipping staff is unaware of the type of items they are handling, it can lead to breaking fragile items. Also, using humidity or heat-resistant packaging can ensure safer delivery.
Refund issues for damaged products during shipment
33.5% have faced refund issues for damaged shipments
The respondents stated they bear significant losses as the damaged products can no longer be repaired or used. However, it is challenging to get refunds as shipping companies are reluctant to provide adequate refunds. On the other hand, even shipping companies have to bear several costs due to damaged products. These include costs of reverse logistics, quality checks, surcharges, packaging costs, refurbishing, and restocking inventories, among others. Adequate packaging practices, palletizing techniques, and collaboration with reliable third-party logistics operators are some of the best practices to prevent damage during shipment.
Poor package tracking
According to the survey results, poor package tracking is one of the most common challenges 28.6% of customers face with shipping businesses
A company can fall prey to endless inefficiencies without a robust package tracking system. Such inefficiency may result in shipment delays or even total loss. On the contrary, visibility issues can also arise from complex dashboards and navigations provided by shipment tracking apps. It hinders the transparency of the whole process. Therefore, a user-friendly and easy-to-navigate tracking system can help shipping companies and customers resolve this issue.
Improper packaging
19.5% of surveyees consider improper packaging as one of the drawbacks of a mediocre shipping business
The product will likely arrive at its destination in a less-than-ideal shape if the primary or secondary packaging is not strong enough to resist the circumstances encountered along the supply chain. This is the most evident consequence of poor packaging.
Along with the monetary costs of a product or package damage, such as lost sales, refunds, discounts, or compensation, bad packaging choices also harm a brand's reputation. Especially in the case of more expensive luxury goods, consumers have higher expectations for the packaging (and the product), and the brand reputation is at stake.
Complicated Process and Documentation for Claims
Complicated processes and documentation for claims are the top challenges faced by 16.4% of shipping customers
The survey revealed that complicated documentation processes are common problems customers face. For sending consignments, customers are forced to go through lengthy and arduous form fillings and submissions of numerous documents. Even for refunds and claims, filing entails a lengthy process that involves submitting numerous forms, proofs, and documents. This method doesn't have a clear result and necessitates repeated document submissions and back-and-forth discussions.
Over-priced services
13.5% of respondents admitted that they refrain from shipping companies that charge above the market rates
Overpriced services can cause customer dissatisfaction. 13.5% of customers reported over-priced services as an issue that they faced while dealing with shipping companies. Although shipping companies have no control over the spike in fuel prices, offering competitive shipping packages can greatly help them to retain customers.
Wrong package delivered
3.1% reported having received a wrong package
Delivering an incorrect package hampers the customer's experience with the shipping provider and thus needs to be attended promptly by the company. If dealt with wisely, the shipping companies can connect with the customers better. When the shippers respond quickly, professionally, and kindly, the consumers may come away with a more positive opinion of the company. Shipping companies can utilize this chance to their advantage by staying in touch with the client after resolving the issue.
Lost shipment
1.9% reported cases of 'lost shipment'
Although customers get refunds for their lost shipments, it doesn't help mitigate the pain of losing valuable packages such as birthday or anniversary presents. The problem of lost shipment often causes complications for the business. Constantly misplacing clients' orders can be disastrous, as it encourages them to vent online, which can harm the company's reputation. Best practices entail checking if the shipment was lost, making a claim right once, and constantly communicating with clients. Companies need to find solutions that can assist in reducing the likelihood of these problems and protect their company's reputation.
Shipping Customers: Satisfaction Levels, Perception, and Preferences
Customer Satisfaction Levels with Shipping Services:
#Delivery Speed
70.4% of surveyees are satisfied with the delivery speed of shipping services
Delivery speed is an important factor that affects customer satisfaction levels in shipping. GoodFirms survey revealed that customers who receive their orders quickly are more satisfied with the shipping services and overall experience. Fast delivery times also increase customer loyalty, as customers are more likely to come back and engage with a business that provides quick and reliable delivery. Faster delivery times can also result in higher customer ratings and reviews.
#Punctuality
65.7% of shipping customers are satisfied with the punctuality of their shipping providers
Punctuality of delivery in the shipping business matters to 65.7% of customers. Customers expect their orders to be delivered within the promised timeline. On-time delivery in shipping is a major factor in customer satisfaction and therefore, the shipping industry must focus on ensuring that their orders are delivered on time. Shipping providers need to ensure that efficient processes, proper tracking of orders, well-trained personnel, and inventory management systems are in place. Finally, businesses in the shipping industry must make use of the latest technologies and tools to ensure that their orders are delivered on time.
#Price
Only 32.4% of the customers are satisfied with the charges taken by shipping providers
The price of delivery in shipping is an important consideration for customers when making purchases. The higher the shipping costs, the lower the satisfaction level of customers. Higher costs also refrain customers from using the services again if alternatives are available for the same service at a lower cost. By providing competitively-priced delivery, shipping companies can ensure customers return for future orders.
#Quality of Packaging
47.9% of customers expressed their satisfaction with the quality of packaging in the delivery
Customers expect their purchases to arrive quickly, in good condition, and in the packaging that was promised. Shipping businesses must ensure that the packaging quality in delivery meets the customer's expectations. Shipping businesses should look for packaging materials that are designed to protect the contents of the package but also to reduce the amount of waste associated with the packaging.
Packaging material that is too flimsy or too bulky can damage the contents, and packaging that is too large for the items can raise shipping costs. Shipping businesses should look for packaging materials that are lightweight but still provide adequate protection for the contents. Shipping businesses must also consider the environmental impact of the packaging materials they use. The use of recyclable materials is a great way to reduce waste and make customers satisfied with packaging quality.
#Communication and Updates
39.9% of customers are satisfied with the communication and delivery updates provided by shipping companies
Customers appreciate receiving updates about their orders and shipping, so it's important to offer them tracking information and accurate delivery times. Offering multiple shipping options, sticking to shipping times, and providing shipping tracking updates are all great ways to keep customers happy and satisfied.
#Documentation Process
Only 24.8% of surveyees expressed their satisfaction with the documentation process
Arduous documentation lowers customers' overall satisfaction with shipping companies. Mostly, while sending international shipments, customers are made to go through a complicated documentation process.
"Shipping products internationally is an entirely different problem. There are customs regulations, documents that must be filled out, transfers between carriers, etc. Working with a crating and shipping business that has extensive expertise in transporting goods to overseas destinations is the most effective approach to ensure that your international shipments go well," says Max Whiteside, Content Lead at Breaking Muscle.
#Handling of Shipment
Only 22.4% of shipping customers are satisfied with the handling of their shipments
Around three-fourths of shipping customers expressed their dissatisfaction with the way shipping providers handled their shipments. Issues ranging from mishandling, damage, poor packaging, etc., were reported by the surveyees.
"Once an item enters the delivery stream with certain shipping providers, it can feel as if it has dropped into a black hole. It's a different scenario with premium shipping and packaging companies," says Kenny Van Boxmeer, Co-Founder & CEO of Motion Invest.
Customer Experience Matters in the Shipping Business
Customer experience is crucial in the shipment business. In the age of intense competition in the shipping industry, one negative experience results in losing clients. The insightful information gained in the survey regarding customer experiences will help the shipping companies to understand their pain points and revisit their shipping strategies.
Faster deliveries matter to 81.5% of the surveyees willing to change the shipment partner or method.
Whether for e-commerce or industrial goods, faster delivery is always one aspect that tends to generate more loyal customers and increase business conversion rates. Customers link faster deliveries with efficiency. In fact, faster deliveries have become a single point of competition among e-commerce companies. It is no surprise that 81.5% of surveyed customers admitted that they will not hesitate to switch to different shipment partners or alter their delivery approach to improve the delivery speed.
55.2% of surveyees worry about their shipment until it arrives
When e-commerce is replacing traditional trades, the importance of shipping companies can never be overstated. Previously, the shipping industry was only relevant for distant regions, but today customers buy gifts, cakes, and medications to be delivered even locally. Even more so during the holiday season, the shipping routes get congested, and long delivery lines are frequent.
All these aspects create pre-parcel anxiety. Customers demand instant updates and quick delivery options from shipping companies. It also necessitates the adoption of customer-centric shipping tactics. That entails dashboards or apps for order tracking, cloud-based route optimization, and automated message and email delivery systems.
40.5% of surveyees feel shipment companies are not very responsive to customer complaints
When the shipping providers receive any complaint, their clients must receive an appropriate response, whether it is their mistake or not. Taking ownership and demonstrating empathy and responsibility can surely improve the customer experience.
39.6% of surveyees are always concerned about package damage and theft
Damage and theft worries are the results of previous experiences. As a result, customers' primary concerns revolve around the safety of their packages and the possibility of theft or damage during transit.
68.9% are willing to pay more for green deliveries with lesser emissions
Most consumers say they are more likely to support a company dedicated to sustainable operations. Consumers in the present era are environmentally sensitive and strive to live more sustainably.
"The shipping industry is largely driven by customers' demands. Now, more than ever, customers are demanding that companies offer more eco-friendly shipping options," says Kyle MacDonald, Director of Operations, Force by Mojio.
68.9% of surveyed shipping customers are willing to pay more if doing so results in lower emissions and less traffic. The best shipping companies ensure last-mile deliveries using electric or hybrid fleets. Electric and hydrogen-powered trucks, cargo bikes, and push bikes are part of the zero-emission fleet.
Reasons for Customers Switching to Other Shipping Providers:
95.8% of surveyees would reconsider a shipment company if their previous shipment came with damaged goods
While 95.8% would reconsider a shipment company if they received damaged goods, their future approach will also depend on how the shipping company resolves the issue. Customers expect responsible action from the shipment companies. If a shipping company has retail clients, it may lose future business and huge revenues. In worst cases, customers can dent the company's reputation on social media. In such cases, prompt resolution to the complaint and responses to customers' inquiry is essential.
87.8% of surveyees are willing to switch their shipment provider if they didn't get adequate cover for damages
When customers don't get fair recompense for damage, it's far more apparent when they switch to the competition. Shipment companies must have contracts and insurance in place to mitigate such risks. However, the issue of inadequate claims can arise due to the shipper's negligence in not purchasing sufficient coverage for damage or theft losses. In such cases, 87.8% of surveyees will switch their shipment providers.
86.5% of surveyees would seek another shipment company if their previous shipment arrived late than expected without giving any explanation
Any delay in the shipping industry is detrimental to the firm in terms of dissatisfied customers, shipment value loss, and additional expenses. However, delivery delays are inevitable due to unforeseen circumstances. Customers become anxious when their package is delayed. Nonetheless, the situation worsens when customers do not receive an adequate explanation or delivery status updates. It causes them to doubt the reliability of the shipping firm. In such circumstances, there is no question that clients will switch to a different shipping company. Therefore, businesses must place a premium on client communication.
90.2% of surveyees would refrain from the shipping company if their calls for updates went unanswered
Not responding to consumers' requests for updates can devastate a shipping firm's reputation for customer service, costing the company sales to rivals. Missed phone calls can cause consumers to question the professionalism of a business, paving the way for them to develop negative feelings about the brand. It may result in bad reviews and, in many cases, a lost client. If missed phone calls, unanswered emails, etc. continue to occur over time, the company may establish a poor reputation, which may be exacerbated by negative word-of-mouth publicity from dissatisfied customers.
82.% of respondents wouldn't think twice about leaving a shipping firm that had hidden costs
How a company treats its customers and conducts all contact with them influences their perceptions. When clients discover that the shipping company did not inform them about specific fees, their impression of the company's integr3000ity is affected. They feel misled and frequently opt to switch to another firm. Therefore, businesses must inform clients of all the hidden costs upfront.
69.5% would consider using a different shipment company if their delivery tracking method was erroneous
A flawed delivery tracking process or technology is also one aspect that could negatively affect the customers' experience, the survey revealed. More than 60% of clients choose real-time parcel monitoring because it ensures timely and safe delivery.(8) Effective real-time tracking is critical, especially in regions where package security is an issue.
77.9% of respondents would not reconsider the shipment company's services next time if their delivery agents were unprofessional
Customers may shift to competitors due to the unprofessional conduct of the delivery agents, resulting in revenue loss and an increase in expenses. Moreover, the shipping industry is a service industry where client satisfaction is of the highest significance. Customers typically read reviews before selecting a shipping company. Negative reviews can skew a shipping company's reputation and diminish the company's trustworthiness.
The unavailability of a preferred mode of delivery could cause 48.8% of respondents to switch shipping companies
The availability of a desired mode of delivery also influences a customer's choice to reconsider. For example, ocean freight is favored for the shipment of bulky goods. On the contrary, retail and automotive firms are more likely to utilize air freight to achieve just-in-time inventory replenishment. Additionally, perishable items such as groceries, flowers, and certain pharmaceuticals benefit from shorter travel times. Without the choice of shipping mode, many will change their shipment partner.
Shipping Industry: Challenges, Sustainability, and Future Outlook
Challenges faced by Shipping Organizations
1. Rising operational costs
"The unexpected holdup at certain docks and rising fuel costs have led the freight costs to skyrocket to levels never seen before," says Jonathan Merry, Founder & CEO at Bankless Times.
The shipping and logistics business requires a lot of resources and operational costs related to transportation, fuel costs, labor, and facilities. The cost of fuel and other energy sources has risen in the wake of the Ukrainian conflict and subsequent oil sanctions on Russia. The cost of labor is also increasing due to inflation and increased demand for skilled labor. Overall, the rising operational costs in shipping and logistics are a major concern for the industry.
2. Disruptions due to Wars
The current Russia-Ukraine conflict has caused widespread disruption to the global shipping industry and exacerbated existing supply chain disruption, port congestion, and crew shortages. Shipping businesses must be resilient and capable of adapting to major disruptions in order to develop long-term solutions that ensure their delivery chains remain secure and efficient.
3. Re-routing expenditures
"Many factors outside your control can, in my opinion, affect shipping routes. Examples include natural calamities, political upheaval, and pandemics. Although these occurrences cannot be avoided, there may be strategies to circumvent them in many circumstances," says Rikin Shah, CEO of GetSure.
Bad weather, landslides, lockdowns, and political rallies are all potential causes of supply chain disruptions causing re-routing expenditures. Shipping businesses must develop a risk management strategy that includes contingency plans to respond to potential disruptions and supply chain vulnerabilities.
4. Regulatory issues
Regulatory challenges are an ever-present challenge for the shipping and logistics industry, and businesses must stay up-to-date with the latest laws and regulations to ensure their operations remain compliant. This can include researching and understanding cargo security regulations, environmental regulations, and customs regulations, as well as ensuring the company has the proper permits and licenses. Additionally, businesses must also be aware of the potential for misaligned global laws that differ from country to country.
"Increasing regulatory requirements have added complexity to shipping operations, necessitating increased paperwork and reporting. Operators of foreign-flagged vessels are expected to be conversant with the berthing regulations and customs requirements of each country they visit," says James Angel, Co-Founder of DYL.
5. Lack of skilled employees
The shipping industry is a labor-intensive sector. The lack of skilled employees and trained workers is a major challenge for the shipping and logistics industry and is a key factor in soaring labor costs. Companies must invest in employee training and development programs to ensure they have a skilled and qualified workforce capable of meeting the demands of the industry. This can include offering competitive salaries, employee benefits, incentives, mentorship programs, and internships to attract and retain talent.
6. Handling materials categorized as 'Shipping hazards.'
Handling materials categorized as shipping hazards is a critical challenge in the shipping industry, as these materials can pose a risk to the safety of workers, the environment, and the goods being shipped. Companies must be aware of the materials they are shipping, and develop safety protocols to protect their employees and goods. This can include properly labeling hazardous materials and investing in safety equipment, and proper training for employees.
7. Weather issues and harsh shipping routes
Harsh shipping routes and extreme weather conditions are detrimental to the shipping and logistics industry, as they can lead to costly delays and interruptions in the supply chain.
"In the shipping stream, conditions can be extremely harsh. When products are put onto trucks, planes, and ships and carried across bumpy roads, turbulent air, and wild seas, they are subjected to much greater forces than when they are at your business or residence. The danger of damage is drastically decreased when a qualified and experienced packing engineer designs the right packaging and crate system," says Leo Ye, Forbes Member, Co-Founder & CEO, CUBO.
Companies must take steps to prepare for these types of events, by investing in weather forecasting technology, route optimization software, and backup plans for when severe weather strikes.
8. Pirate attacks/Highway Thefts
"The high number of instances of piracy and armed robbery against ships that occur off the coast of Somalia and in the Gulf of Aden is something that the entire world is aware of, and it is a growing concern for the maritime industry that is heavily affected by these incidents," says Steve Elliott, Franchise Owner of Restoration1.
Pirate attacks and highway theft are two of the most serious challenges facing the shipping, logistics, and trucking industry. Companies must take steps to protect their cargo and personnel, such as re-routing ships around areas prone to pirate attacks, increasing cruising speed, and investing in security services for protection against such attacks. On the highways, companies should consider investing in tracking and surveillance technology, as well as implementing driver safety protocols.
9. Port Congestions/Road Traffic and delays
Port congestion can cause delays, delivery halts, and other supply chain disruptions. Cargo stranded in congested ports can get damaged.
"When cargo is left stranded in locations that lack protective measures and security controls, there is a danger that it will be damaged as a result of high temperatures, fire, or delays. The majority of the time, cargo insurance will not cover any damage or loss that occurs as a consequence of delays," says Jamie Irwin, E-commerce Growth Expert, James, and James Fulfilment
Companies must be aware of the potential risks associated with port congestion and take steps to mitigate the impact, such as investing in technology and automation, forecasting peak times, and diversifying supply chains.
10. Approval delays and harassment by customs officials
Approval delays and harassment by customs officials can be major challenges for the shipping and logistics industry.
"Keeping up with the ever-evolving rules can be challenging for shippers. Even a small slip-up in paperwork can add unnecessary costs, delay delivery, or cause a customs detention on an international shipment," says Steve Rose, Vice President at MoneyTransfers.
Companies must ensure they are abiding by all regulations and policies. One way to do this is to invest in technology and automation to streamline the documentation and compliance process.
11. Cyber-security attacks
Cybersecurity issues and ransomware attacks are major challenges facing the shipping and logistics industry. The data and shipping info is hacked for ransom demands, competitor sabotage, pirate attack plans, etc. Companies must take steps to protect their networks, and data by investing in cybersecurity technologies and services, implementing secure access protocols, and training employees on cybersecurity practices.
Shipping companies should consider investing in cybersecurity policies and procedures and establishing incident response teams and cyber insurance policies to ensure they are prepared for any potential cyber-attack.
12. Increased Container Costs
Container freight rates have been surging substantially since the onset of the pandemic. Shipping a 40ft container in March 2022 costs around 8,200 U.S. dollars, which is over six times more than in 2020.(9)
"Shipping container prices are, in my opinion, the industry's biggest problem. Due to factors such as constrained industrial capacity, rising penalties, rising demand for data insights, and increased investment in technology, the cost of shipping containers is on the rise," says Raine Gui, Model Chic.
13. Manual Processes
Manual processes in the shipping industry are mostly outdated and can cause inefficiencies and workflow delays.
"In my perspective, the shipping industry's biggest problem is that it requires an excessive amount of manual data entry. Over half of logistics professionals consider daily manual entry difficult for routine import/export operations due to the mountain of paperwork and disparate systems they must juggle," says Alex Contes, Co-Founder & SaaS Expert of ReviewGrower.
Automation of key shipping processes can help reduce inaccuracies, and paperwork and provide more visibility into operations.
14. Connectivity Issues
The lack of reliable broadband is a major barrier for the shipping industry. It can limit operations by hindering navigation, maintenance, and reporting systems. Connectivity issues at sea decrease seafarer satisfaction as the crew is disconnected from their families.
"The maritime industry has harsh operational conditions and complicated shipping routes. These firms need global connectivity, reliable broadband, and data links. This is problematic for mobile assets thousands of miles from land. Worst, current supply chain stresses underscore the need to improve operational performance, reduce environmental impact, and strengthen maritime transport infrastructures for better connectivity," says Tom Miller, Chief Marketing Officer (CMO), FitnessVolt.
15. Statistical Reliability
"A major difficulty for the Shipping industry is providing accurate ETAs. Due to advancements in digitization, carriers and third-party service providers are now able to supply more information about ETA or amended date of arrival. However, because of inconsistent data standards across carriers and even within a single carrier, much of this information is inaccurate," says Travis Lindemoen, Managing Director of Nexus IT Group.
Shipping companies' failure to provide an accurate Estimated Time of Arrival (ETA) to customers is an ongoing issue in the shipping and logistics industry. While the delivery systems have become increasingly complex, many shipping providers still work with subpar tracking technology. Shipping companies coordinate multiple delivery points and services, making it difficult to accurately predict delivery times unless highly sophisticated tracking systems are in place.
Sustainability and Green Shipment Measures for the Global Shipping Industry
Shipping industry's ambitious zero-emission trajectory to curtail global temperature to 1.5 degrees celsius needs a transition from fossil fuels to scalable zero-emission fuel (SZEF). A.P. Møller – Mærsk A/S, the global shipping giant, announced the introduction of 8 container vessels that will be operated on carbon-neutral methanol. These ships will sail the ocean in the first quarter of 2024.(10)
"I don't think that there is a way yet for shipping to actually be entirely green, but there are plenty of ways to make improvements. And many companies are already making improvements which is great. One of the biggest changes we see recently is the decrease in plastic usage and the minimization of materials for shipping in general. Companies realize that they can actually save money by doing this, so it's a win-win," says Trevor Sookraj, CEO, Divisional.
61.5% of shipment companies are finding alternative routes (zero carbon routes) to reduce emissions
Even though three-fourths of the world's cargo is moved by ocean vessels, most freight emissions (62%) come from road vehicles like vans and trucks [11], making it essential to adopt fuel-efficient measures. Therefore, route optimization is one of the best ways to achieve green shipment. It can save up to 40% on fuel and drive time resulting in lower emissions. The leading shipping companies use route planners and optimization software. These solutions are cloud-based, provide real-time visibility of the routes, and allow shipping companies to find alternative routes to cut down the driving time and distance.
"Many companies have started using "green ships" which use renewable energy sources such as solar power rather than traditional fossil fuels. While these changes may not be cheap initially, they could offer long-term savings as well as demonstrate a commitment to sustainability which could help attract customers who prioritize these values," says Scott DePeralta, President, Scott DePeralta Consulting LLC
78.6% believe in green corridors for shipments
Green shipping corridors link major port hubs along which zero-emission technologies are advocated and demonstrated. It is a global initiative to attain reduced shipping emissions.
It allows the policymakers to establish ecosystems that promote less pollution across the shipping routes. Several countries have come together to build this ecosystem through regulatory measures, safety regulations, and financial incentives.
The shipping industry can choose a fuel pathway and set up systems to increase demand and share costs and benefits among a smaller group of actors. And these corridors can have "spill-over effects" that can lead to less pollution from shipping on other corridors.
57.9% deploy technology to reduce carbon footprints
The relentless expansion of the shipping industry calls for technological integration to improve the shipping businesses' bottom line. Consequently, shipping leaders worldwide aim for technology-oriented operations that comprise route planning and optimization solutions, real-time, data-backed performance and reporting capabilities, reporting, CRMs, predictive analytics, and more. Big Data Analytics assists them in sifting through the data to discover more efficient business operations.
It helps them identify data patterns and conduct complex statistical studies. It also provides companies with critical information and trends regarding the supply chain, allowing them to enhance their operations. On the other hand, machine learning and AI algorithms help the shipping industry to simplify processes and operations. Furthermore, it aids in the creation of algorithms to identify the elements of the supply chain inefficiencies and eliminate unnecessary costs.
29.5% seek cross-industry collaboration to achieve their carbon reduction goals
Cross-industry collaborations such as a partnership with transport companies, third and fourth-party logistics, and IT solutions firms help shipping companies to lower carbon emissions. Shipping companies can benefit from other firms' and industries' resources. For instance, collaboration with multiple retailers and manufacturers can help utilize their trucks and vessels to their total capacity and reduce emissions from frequent dispatching.
On the other hand, a collaborative transport network will have exclusive access to a network of carriers. It will be better positioned to select the ideal carrier for the inventory. Moreover, it is easier to consolidate shipping into more oversized freight, hence reducing shipping costs and fuel consumption for each of its customers. In other situations, shipping companies collaborate with IT solutions to implement route planning and optimization, thus reducing carbon footprints.
11.8% availed government subsidies for decarbonizing operations
Governments across the world incentivize the decarbonization of shipping operations. That includes subsidies for less-carbon-intensive technologies, alternative fuels, and transport electrification. Not all shipping companies can afford eco-friendly operations. Therefore, government subsidies in the form of tax rebates, incentives, and grants for green operations enable shipping companies to operate sustainably.
32.6% have investors' support and funding for achieving sustainability goals
Regulations for emission control have become more stringent in recent years. Even financial institutions ensure the finances are provided to the shipping companies prioritizing decarbonization. Consequently, investors provide funds to employ digital solutions and electrification of vehicles and invest in renewable energy sources to achieve the sustainability goals of shipping companies.
43.7% said they do not have sufficient resources to adopt zero-carbon alternatives
While many shipping companies seek zero-carbon alternatives, many firms also lack the resources to do so. Besides that, there are several hidden costs that small shipping companies must bear. It includes the cost of lost productivity while transitioning to the new infrastructure and the increased prices from sustainable vendors.
Undoubtedly, the cost of low-carbon transformation in shipping is expensive. Research [12] confirms that the industry will require more than $1 Trillion to achieve zero-emission in the next few years. However, the shipping industry must take energy efficiency measures wherever possible. That is because the increased demand for faster delivery is the leading cause of the higher level of emissions from the shipping industry.
Some shipping routes are complex and require the products to transit through various modes (trucks, planes, and ships). The rough transit routes, coupled with extremely harsh weather conditions, can cause items to damage during the shipping process.
"As for its feasibility, it is certainly achievable to reduce the carbon footprint of vessels through the implementation of technological improvements such as more efficient engines and fuel types. However, it is also important to consider that reducing emissions will lead to increased costs for shippers and carriers. Therefore, in order for zero-emission goals to be achieved, there must be incentives or regulations in place to encourage the adoption of these measures," Thomas Curry, Content Management Specialist | Moving Feedback.
Guiding Forces and Projections of the Global Shipping Industry
Drawing on the insights of our surveyed shipping industry experts, we project that the industry will be guided by the following forces:
#Use of Technology and Applications in Shipping
Automation, data analytics, and blockchain technology will be broadly adopted across the entire shipping value chain, including ports, rail, trucking, air terminals, etc. All these technologies will increase personalization, reduce latencies in deliveries and expedite shipping processes.
"If a business uses multi-carrier shipping software, they only need a single interface to handle shipments to every destination in the world. They can also perform other common shipping tasks and look at metrics on the same screen. Shippers can be more efficient if they use a central interface to handle all shipping tasks," says Oliver Goodwin, Director & Marketing Strategist of Synthesys.io.
Other technologies that will further boost sea, landside and port operations include IoT-enabled devices, Drones/ROVs, smart grids, robotics, and smart energy management tools. The combination of sensors, monitoring systems, and a constant connection between ships and land, coupled with software that offers support for decision-making, will lead to a more data-focused, agile, and connected industry that is part of the global transportation system.
#Continuity of Current Asset Types
The shipping industry typically banks upon the assets purchased that deliver profits for years. Trucks, ships, planes, containers, etc., are long-life assets. There will not be any immediate replacement of these assets in favor of futuristic shipping assets such as sea hyperloop or autonomous floating containers. Even the standard container size will not change and the frequency of containers will be given priority over their size. In short, the industry will work and deliver within the constraints of existing infrastructure and assets. However, the shipping industry will create new green assets that lower carbon footprints.
#Consolidation
The smaller shipping companies, incumbents, and digital natives will merge into the larger leaders, and the industry will undergo a consolidation before moving towards an upward trajectory. Many smaller shipping firms will choose to partner with big players for scaling up their operations.
#China's Belt and Road
China's Belt and Road Initiative (BRI) will impact global trade and transport. The initiative aims to strengthen China's connectivity with the world by creating improved transportation networks and industrial infrastructure. This could lead to a reduction in trade costs between countries involved in the BRI, potentially increasing world trade, improving access to new markets for involved exporters, and creating more efficient supply chains for strategic commodities. However, there are concerns over the potential for excessive debt burdens in developing countries, as well as potential environmental risks.
#Consumer Habits Shifting Towards Services
The current consumption trends are pointing towards a consumer inclination for services rather than products. For example, ebooks are overtaking physical books; Uber rentals eliminate the need to buy a car, etc. This dematerialization can eventually lead to low production of physical goods or can cause a shift in the need for products. While ebooks can lower the need for paper production, physical deliveries, printing presses, etc. but increase the need for buying a mobile, tablet, or computer.
Key Findings
E-commerce deliveries, courier services, and logistics providers are the three most used shipment services.
97.8% of surveyees have used e-commerce deliveries.
90.9% of surveyees have used courier services.
77.5% of surveyees have utilized the services of logistics providers.
51.2% of respondents have used freight forwarding services.
49.5% of surveyees reported utilizing the services of shipping companies.
70.8% of the respondents consider the speed of delivery for selecting a shipping company.
For 50.5% of respondents, the cost of delivery is a critical factor that prompts customers to prefer selecting one shipment company over others.
40.6% of respondents consider the reputation of a firm before choosing it as their shipment provider.
37.6% of surveyees revealed their preference for a parcel tracking system.
Customer service was mentioned by 33.4% of respondents as a critical factor in choosing one shipping firm over another.
The polls indicated that 22.1% of customers look for the shipment insurance benefits offered prior to partnering with a shipping company.
70.9% of surveyees reported annoying customer services as the biggest challenge they face while dealing with shipment companies.
61.8% of the respondents said that late deliveries cost them financially.
50.5% have suffered due to damaged items during shipping.
33.5% have faced refund issues for damaged shipments.
70.4% of surveyees are satisfied with the delivery speed of shipping services
65.7% of shipping customers are satisfied with the punctuality of their shipping providers.
47.9% of customers expressed their satisfaction with the quality of packaging in the delivery.
Only 32.4% of shipping customers are satisfied with the charges taken by shipping providers.
Faster deliveries matter to 81.5% of surveyees willing to change the shipment partner or method.
68.9% are willing to pay more for green deliveries with lesser emissions.
55.2% of surveyees worry about their shipment until it arrives.
40.5% of surveyees feel shipment companies are not very responsive to customer complaints.
39.6% of surveyees are always concerned about package damage and theft.
95.8% of surveyees would reconsider a shipment company if their previous shipment came with damaged goods
87.8% of surveyees are willing to switch their shipment provider if they didn't get adequate cover for damages
82.% of respondents wouldn't think twice about using a shipping firm that charged them hidden costs.
69.5% would consider using a different shipment company if their delivery tracking method was erroneous.
Rising operational costs, disruptions due to war, and re-routing expenses are the top challenges faced by shipping companies.
61.5% of shipment companies are finding alternative routes (zero carbon routes) to reduce emissions.
78.6% believe in green corridors for shipments.
Conclusion
The connectivity that the shipping industry provides shapes the global trade arena. The future of shipping will be characterized by strenuous regulations and intense rivalry, and shipping providers will likely put more money into technological systems to enhance their productivity, environmental friendliness, and competitiveness in the market.
As the public's growing interest in sustainability is changing the standards across all industries, the tide will turn in favor of the early adopters of alternative energy like solar and other greener and emission-free sources of energy. Exceptional speed and watertight reliability will be differentiating factors for shipping firms in upcoming times.
However, the rising global temperatures, depleting fuel sources, extremely complicated supply chains, disruption-prone shipping routes, etc., are challenging situations going forward. Hyper-competition and protectionism during economic uncertainties are also risks to the shipping industry. But, the industry is known for its resilience and resourcefulness. Undoubtedly, the convergence of new-age technologies and disruptive business models will keep the massive global shipping industry intact.
We sincerely thank our Research Partners for their valuable insights.
References:
https://www.cnbc.com/2022/11/11/global-shipping-industry-faces-a-new-problem-too-many-containers.html

https://investor.maersk.com/static-files/1dced02f-6cb7-476c-bc40-2071cfd0e92f

https://www.imf.org/-/media/Files/Publications/WP/2022/English/wpiea2022061-print-pdf.ashx

https://www.cnbc.com/2022/11/02/shipping-firm-maersk-a-barometer-for-trade-warns-of-dark-clouds-on-the-horizon.html

https://www.itfglobal.org/en/reports-publications/itfs-sustainable-shipping-position-paper

https://www.statista.com/statistics/1279369/delivery-time-expectation-online-shoppers-worldwide/

https://www.thebalancemoney.com/best-shipping-companies-for-small-business-5091897

https://optimoroute.com/customer-order-tracking/

https://www.statista.com/topics/9237/container-freight-rates/#topicOverview

https://www.maersk.com/news/articles/2021/08/24/maersk-accelerates-fleet-decarbonisation

https://climate.mit.edu/explainers/freight-transportation

https://www.globalmaritimeforum.org/content/2022/09/Climate-action-in-shipping-progress-towards-shippings-2030-breakthrough.pdf