Turning a Loss Into a Strategic Gain - Top Tips from Top B2B Experts
ABSTRACT:
Businesses win sometimes; sometimes, they learn to win. But the scope for success comes only when there is an attitude to see setbacks as opportunities. All successful companies have a strategy that prepares them to grow even after a fall, learn from mistakes, and improve. To reach there, business owners must be adaptable and possess strong organizing and planning abilities. Taking proactive measures, reexamining processes for further improvement, and adopting essential technologies at the right time are the prudent ways organizations can maintain their viability in their respective markets. Even businesses that are struggling amidst prolonged periods of decline and financial instability can recoup losses and revitalize their businesses through restructuring and strategic innovations.
GoodFirms' survey titled: 'Turning a Loss Into a Strategic Gain - Top Tips from Top B2B Experts' queried selected B2Bs to find out how to deploy innovative strategies, reinvent the workforce, and utilize technologies to turn losses into strategic gains. The survey focuses on organizations' approach and execution during such business turnarounds. The survey will help businesses with insights needed to achieve such turnarounds.
Introduction
Even businesses with firm foundations and a history of consistently positive performance are not completely immune to stressful times and periods of decline. Excessive leverage due to new acquisitions, operational challenges due to a recent change, low employee morale, or poor customer confidence due to the sudden loss of key people, etc., can shake the stability of even the strongest of firms. However, there are instances when businesses have recovered dramatically from the excessive lows and regained their market position. By attempting root-cause analysis, crafting strategic plans, and rethinking their operating models with a long-term vision, businesses can beat the disruptive forces and scale even higher than previous peaks.
GoodFirms' survey titled: 'Turning a Loss Into a Strategic Gain - Top Tips from Top B2B Experts' attempts to collect the top tips from B2B industry experts to help B2B operators turn their losses into gains. The research findings will help B2B players better understand the current market situation by learning from the real-life experiences of other businesses.
Survey Results and Data Analysis
Types of Strategic Risks
Financial Risks:
66.8% of surveyees face financial risks in their business
An organization's long-term performance depends on its ability to recognize, assess, and manage financial risks. Financial risks may impede a business from successfully achieving its financial goals(timely loan repayment, maintaining a healthy level of debt, or on-time product deliveries). A business will most likely experience improved operating performance and produce better returns by comprehending what causes financial risk and implementing safeguards to prevent it.
Competitive Risks:
53.6% of respondents are dealing with competitive risks
One of a company's leading sources of risk is from rivals, which may present the danger of new products or cheaper cost structures from peers. It is imperative to search the market for rivals continuously, and the best action for safety is to alter the business model swiftly before competitors make their moves. By taking this action, businesses can reduce the strategic overlap with rivals and carve out a profitable niche in their industry.
Technological Risks:
47.5% of surveyees reported technological risks in their business
Technological risks can hinder the performance of businesses. The introduction of any new technology can render a company's goods and services obsolete. Technology risk management aims to foresee possible technological risks and implement a mitigation plan. The internal and external technology hazards that could harm a business are examined by risk management strategies.
Employee Turnover Risks:
According to the GoodFirms survey, 31.2% of businesses face employee turnover risks
Employee turnover puts the company at risk if the current employees leave the company to pursue other alternatives. When efficient employees leave, it can have serious consequences for the business's bottom line. It can also be disruptive to an organization's culture and morale.
Economic Risks:
29.3% of the surveyees are facing economic risks in their businesses
Economic risks vary from the potential loss of an investment made in a foreign country due to shifting market conditions to the unfavorable impact of macroeconomic factors. Such factors can be government policies or the fall of the current administration, or a fluctuation in exchange rates. Economic risks are the potential negative outcomes that could impact the financial health of a business. One of the biggest economic risks that any business faces is the possibility of going out of business. This is especially true for small businesses or startups with limited resources.
Operational Risks:
18.4% of the surveyees say they currently face operational risks in their business operations
Operational risk is the possibility of suffering a financial loss due to internal systems, personnel, processes, or other failures that could affect daily business operations.
Regulatory Risks:
17.7% of the respondents deal with business risks related to regulatory compliance
Regulatory risk is the possibility that laws and regulations could change and impact a particular industry or business sector. Such regulatory changes may considerably impact the structure of an industry, the cost structure, etc.
Legal Risks:
12.5% of surveyed marketers are suffering from legal risks.
Legal risk is the possibility of suffering financial or reputational loss due to careless disregard for the law and its application or by operating without knowing how the law applies to the organization. Legal risks in businesses are the potential consequences of violating local, state, or federal laws. Businesses operating in a foreign country may be subject to laws different from their native countries. Businesses are subject to fines for breaking any laws that apply to their business or for not complying properly with local regulations.
Governance Risks:
10.2% of the surveyees say they face governance risks in the business
Governance is the management of an organization's operations, structure, resources, etc. Generally, the board of management and executive management decide the company policies, mission, vision, hierarchies, etc. There are many different types of risks that can affect a company's governance. These include issues like fraud, corruption, and regulatory violations due to poor governance decisions and corrupt people in the governing bodies. The risk can hinder business operations because of ineffective governance, risk management, and compliance procedures.
Reputational Risks:
5.6% of the respondents are coping with business reputational risks
Reputational risk is the risk of having business linked to a negative reputation, which can damage a company's reputation and lead to lower sales, higher costs, and lost business. Numerous factors could be to reason for this, including failure to comply with regulations, shareholder activism, or poor performance in ratings given to the general public, such as those used to gauge ESG performance. In addition, there are other factors that can affect a business's reputation, including public policy decisions, government regulations, arbitrary actions of third parties, statements from competitors, or the media.
It is important to be proactive in managing reputational risk by regularly monitoring the news and social media channels. In addition, businesses need to make sure that all customer communications are clear and that businesses are honest with all stakeholders.
Strategic Planning and Risk Identification Tools
Strategic planning is a process that helps organizations and business teams identify and prioritize key goals, objectives, operations, and priorities. Strategic planning provides organizations the ability to figure out their strengths and weaknesses, plan better and focus on critical requirements. Finally, it can help organizations avoid wasting resources by ensuring that resources are used in the most effective way possible.
There are a variety of tools and methods that can be used for strategic planning and also for identifying future risks. GoodFirms surveyed businesses regarding their strategic planning methods and risk identification tools. SWOT analysis (77.8%) and PESTEL analysis (53.8%) emerged to be the most widely used tools for strategic planning and risk identification.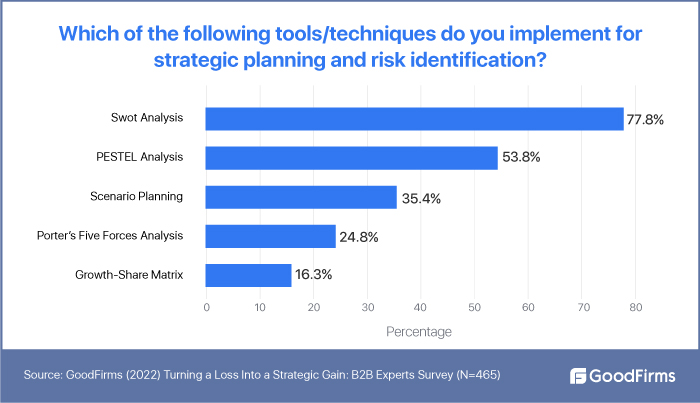 Swot Analysis (Strengths, Weaknesses, Opportunities, and Threats): The SWOT analysis enables business owners to identify the competitive advantages, areas for business expansion, and weak points. 77.8% of surveyed marketers use this tool to discover their business's possibilities and risks.
PESTEL Analysis (Political, Economic, Social, Technological, Environmental, and Legal): This analysis is a quick and efficient method for locating the main external (macro environment level) forces that could impact a company. These factors might present an organization with both opportunities and threats. 53.8% of the respondents implement PESTEL Analysis for strategic planning.
Scenario Planning: The various uncertainties, or realities, of what might happen to the business in the future are identified through scenario planning. According to 35.4% of surveys, marketers steer their business in the long run by developing this set of assumptions.
Porter's Five Forces Analysis: Porter's five factors have varying degrees of influence depending on the nature of the industry. These five forces affect the business's profitability since they impact the costs, prices, and capital investments necessary for an industry to survive and compete. 24.8% of survey managers use this five forces model to ascertain their business's competitive structure and aid in strategic decision-making.
Growth-Share Matrix: 16.3% of the surveyees use the growth-share matrix for strategy building and risk identification. The Growth-Share Matrix enables businesses to determine which areas of their operations should be given priority and which might potentially be dropped. The business's operations can be divided into one of four groups by building a 2x2 table along the dimensions of growth and market share: stars, pets, cash cows, and question marks.
Types of Business Loss
While strategic plans and risk identification tools are in place for mitigating adverse business situations, they do not completely safeguard businesses from suffering losses. Losses are ubiquitous and, many times, unavoidable. However, with strategic plans and tools, businesses can lower the intensity of losses and setbacks.
GoodFirms queried organizations regarding the losses and the types that they have suffered, and our survey revealed that financial losses and loss in market share are the two most common types of losses that businesses face.
Financial Loss
41.5% of the surveyees say they have suffered a financial loss in their business
Financial loss occurs when a business has a discrepancy between the amount of money coming in and the amount of money going out, resulting in a net deficit. Financial losses can be caused by various factors, including a lack of consumer interest, ongoing legal proceedings, the cessation of business owing to a third party, and others.
Customer Loss/Loss in Market Share
37.5% of respondents have faced customer loss
A product's market share indicates buyers' preference over competing goods. A larger market share typically translates into better sales, less work to sell more, and puts a higher barrier to entry for rival businesses. Whereas a low market share means fewer sales, more effort to sell, and higher chances for other competitors' entry.
Supplier-related Losses
31.1% of the surveyees reported suffering from supplier-related losses in the business
Delays from suppliers, forgery, connivance with competitors, and unethical practices are supplier-related issues. These events can cause huge losses to businesses. To reduce risks such as supply disruption, dependency on key suppliers, and reputational harm from supplier actions, businesses must increase supplier engagement in an environment where supplier-related risks are rising.
Theft/Frauds
26.6% of respondents say they have dealt with losses due to theft and fraud
Thefts and frauds are two of the most common losses that businesses face. They can be expensive and complicated for a business to deal with, and they can also cause damage to the reputation of the company. Embezzlement losses heavily hit most businesses because they are unable to absorb them.
Cybercrime-related Losses
22.5% of businesses have suffered losses due to cybercrime-related issues
Businesses are becoming more exposed to cyber thieves as marketers store more of their data online as well as the data of their clients. Dealing with cybercriminals drives up cybersecurity costs and causes unpredictable losses.
Loss of Skilled Employees
11.4% of the surveyees have faced the loss of skilled employees
The loss of skilled employees directly impacts the business output's productivity and results in increased operating costs and business performance.
Other Losses (Broken deals, Reputational Loss, and Legal Setbacks)
13.3% of respondents say they have faced losses in business due to broken deals and vendor agreements. 8.2% of businesses have gone through a reputational crisis and have suffered indirect losses owing to it. While 6.9% of surveyees have dealt with losses due to legal setbacks in their business.
Top Tips from B2B Experts to Turn Losses into Gains
While losses are inevitable and are part and parcel of business life, many organizations have shown tremendous resilience to losses and have recovered from their lows in an exemplary manner. The world has witnessed many inspiring turnaround stories. GoodFirms' survey asked business owners to share their experiences and tips to turn losses into strategic gains. We have collated the top tips and experiences as shared by business owners, experts, and top executives.
Strive For an Accurate Budget Planning
The key to keeping all expenses under control is the budget. A set business budget must be strictly maintained to guarantee that the funds stay in order. The business will generate more profits if the budget is rigorously adhered to. Also necessary is a quarterly, if not monthly, review of the budget. This will assist in keeping the budget in line with the company's expansion.
By creating budgets, businesses can reduce overall costs by imposing stringent restrictions on how much can be spent in various areas. Budgets can be used to cut costs by setting wage limitations, restricting one-time expenses, and reducing administrative costs, among other things. For instance, organizations spend a lot on digital marketing and online paid advertising. While generally, the ROI from these activities is on the higher side, sluggish times may require companies to restrict their spending and control the budget.
Brian Case, Director of E-commerce & Retail at Selkirk says- "Pay-per-click (PPC) and other forms of paid digital marketing can get a little out of hand when times are good. When it comes to improving your Google Quality Score, you don't have time to manage the vendor or team member responsible for doing so. While the economy is in a slump, hold off on some purchases while waiting to see what unfolds. Research the numbers and put your agency to the test by demanding proof of return on investment."
Maintain/Reduce the Operating Costs
According to Joe Troyer, CEO & Growth Advisor at Review Grower - "Customers can be lost if prices are too high, and profits can be lost if they're too low. Establishing a product or service price typically involves factoring in the total cost of sale (including production, marketing, sales, and all overheads) plus a margin or profit or looking at what the market will bear for similar offerings. However, the latter approach is not a magic bullet; you will still need to calculate your total sale cost to ensure you have a profit margin on your products and services.
Reputable small businesses may wish to consider charging rates commensurate with their offerings' high quality. It's possible to charge more than the competition if you offer a superior product or service and can convince your customers that the extra cost is worth it. No matter what method you use to determine prices, keeping an eye on rising shipping, material, and labor costs and adjusting prices accordingly is essential. To ensure their price is sustainable, business owners should investigate factors like their position in the market, operational expenses, and profit margins."
The costs involved in maintaining a business are called operating expenses. Rent, utilities, inventory, equipment, marketing, advertising, research and development (R&D), selling, general and administrative (SG&A), and payroll are all operating expenses.
Operating costs are sometimes the first area businesses try to reduce spending because they are unrelated to production. To maximize revenues, business executives must examine all cost-cutting measures and comprehend how to do so.
Learn From Mistakes
According to Charmaine Chan, Founder of Icesword - "As a B2B expert, I've acquired the ability to transform losses into strategic advantages with my experience throughout these years. I utilize the setback as a motivator, an opportunity to sharpen my talents, learn, and better, rather than dwelling on previous setbacks or failures. Instead, I consider my mistakes, learn from them, and use the little setback as a springboard for improved performance in the future.
To learn from my mistakes, enhance my performance, and perform better the following time, it is essential that I, as a B2B business person, maintain precise records of all elements that may have an impact on the outcome of my company. Consider whether you are learning from your mistakes by contemplating market conditions, client strategy, operational planning, or risk management strategy."
Businesses that learn from mistakes and do not repeat the same develop a moat around themselves that is not easy for competitors to penetrate.
Matthew Debbage, COO & CEO of Creditsafe says:
"One of our ethos' at Creditsafe is "fail fast" – By that, we mean it's ok for things to go wrong, but react quickly and learn from it. The key to turning any failure into a win is learning. Understanding why the failure occurred, being honest and reflective of your role, and figuring out how to address those deficiencies. Very early in Creditsafe's history, we opened our first UK office in London. London seemed like the obvious choice, given that, at the time, it was the world's financial capital.
Still, it was realized very quickly that the labor market was competitive, and Creditsafe didn't have the same attraction as other top-tier companies in the city. Creditsafe then opened an office in Caerphilly in South Wales, and not only could we build the team quickly, but the people had a great attitude and were hungry for success. At the time, there were few job opportunities in the region, so people were excited and gave it their all at work. This led to tremendous success, and we apply the same principles when we move into new markets and territories even to this day."
Implement B2B Sales Technologies
"Today's technology can already tell whether a response is favorable or unfavorable, as well as what your best next move should be during the sales process. Through 2020 and beyond, it will only advance in sophistication... The game is changing thanks to neural networks, deep learning, and sophisticated learning algorithms". - Max Altschuler, Founder of Sales Hacker and VP of Marketing at Outreach(1)
Chatbots: Chatbots are getting more prevalent and advanced as the need for personalization and immediate communication keeps growing in today's on-demand economy. By 2024, the industry is projected to have increased from $2.6 billion to $9.4 billion.(2)
Automated machine learning and AI: Automated machine learning is not a new concept; it is progressively used in sales, and artificial intelligence (AI) has also played a significant role in sales initiatives, including sales enablement, which delivers real-time focused insights by filtering out the noise while keeping track of data about the targeted market, business, or rival.
Hosea Chang, Co-Founder/COO for Hayden Girls and Hayden Los Angeles says:
"Unfortunately, we've made our share of mistakes. However, rarely is such a loss a pure loss with no salvageable value. For instance, it took us double the estimated time to go live with our ERP system, and while a lot of time and expense was invested in that process, our operations team understood how data flowed through the system. As a result of that understanding, while we're not software engineers or developers, we can now talk at a sufficient level of sophistication to vet developers for freelancing projects. Moreover, recently, we were on a call with a senior developer at a well-known B2B marketplace company discussing integrations.
He commended the team for our level of sophistication despite being non-technical. As I said, we're a fashion company, which traditionally isn't an industry known for its technological prowess. This sophistication has allowed us to continue upgrading our tech stack, thereby improving operational efficiency, especially compared to our competitors. We must continue to level up and challenge our team by helping them develop something they wouldn't develop at a competitor and to do more with less!"
Focus on Lead Generation and Conversion
B2B lead creation is challenging since marketers can not copy and paste a successful plan of someone's business. Things that are effective in one business may fail in another. In B2B marketing, content marketing, social media marketing, PPC, getting social shares, creating a solid email list, etc., are the most efficient lead generation techniques.
Finding a method that works for one's particular organization is crucial, and effective lead generation is frequently built on some sort of content. The key is to know the target market and how they interact with the business.
Deian Isac, Head of Service Provider Pro says:
"We learned that streamlining services is crucial to customer retention and business success. When we started the business, our services were all over the place. We had email for client communication, a separate help desk, and spreadsheets for tracking orders - it was a mess, and our clients had a bad experience with our product. Admin was taking up so much time that we could not respond to client queries quickly and efficiently, and it was hard to manage their expectations because we could not keep track of client feedback efficiently.
So we built a better solution. Our business became profitable as soon as we had a seamless product that made sense to our clients. We can manage all our client's needs on one platform and respond in real-time on a personal level."
Hire the Right Employees
A productive employee can offer value to the organization through their labor, which helps it become more profitable. Team members performing well in a firm's sales, manufacturing, transportation, and other crucial aspects can boost productivity and revenues.
Focus on Team Motivation and Coordination
According to William Kemper, Owner of Craig and Landreth Cars - "One of the first steps that can be taken to help increase profitability is to get together with other team members to establish shared objectives connected to boosting profits. If all team members are aware of the company's objectives, it will be easier for them to make decisions that will contribute to achieving those objectives, and it will drive them to improve the amount of work they get Done."
Building team members' coordination to accomplish business goals is one of the important steps in increasing profitability. Completing the organization's goals can be aided if all team members are known of their respective duties, inspiring them to work more efficiently and make better judgments.
Adaptability and Perseverance
"Business buyers don't go to work and forget what they do as humans. The distinction between B2B and B2C is becoming hazier. All they ask for is customization."(3)
The act of customizing business advertising offerings and communication efforts to each B2B customer's needs is known as B2B personalization. Providing corporate clients with quicker, more relevant, and expected experiences involves smarter targeting and better understanding.
Eran Galperin, Founder & CEO at Gymdesk, shares a story:
"It takes adaptability and perseverance to turn a loss into a strategic gain. When I started my business, customer retention was low, and the effort felt wasted. I didn't know what I was doing wrong. So, I decided to send out customer surveys to get their feedback and find the underlying problem.
Instead of an automated response, they wanted to speak to a natural person who would take their concerns seriously and keep them in the loop while resolving their concerns. From then on, we adapted our process for resolving issues, and I ensured my team made an effort to respond to all inquiries personally and to provide regular updates until the issue was resolved.
This slight change in how I communicated with my customers made a huge difference. If I hadn't been willing to adapt to new situations and persevere during tough times, I wouldn't be the successful B2B entrepreneur I am today."
Boost Vendor Relationships
According to Michael Liam Miller, Editor at Luxury Cars A2Z - "It's no secret that the COVID-19 pandemic has forced many businesses to shut their doors for good. But for those who are still hanging on, it's important to find ways to turn a loss into a strategic gain. As a B2B expert, I believe the key to doing this is to focus on your relationships with your customers and partners. Presently like never before, it's critical to sustain your connections and keep the lines of correspondence open. This is the only way to ensure that you're meeting your customer's needs and that your partners are still committed to working with you. By checking in with your customers and partners, you can create a strategy that will help you weather the storm and come out ahead."
Vendors supply businesses with various raw materials that aid in producing goods and services. By negotiating lower prices through existing connections, a company can lower total costs and increase profitability.
Choose Effective Digital Marketing Channels
Digital marketing enables advertisers to reach the correct audience and draw them to the advertised good or service. By implementing a digital marketing strategy, businesses need not rely on a single tool to deliver all the desired outcomes. The brand's business objectives will also determine the best digital marketing channel for the company.
According to 34% of B2B tech marketers, email will continue to gain prominence in 2021.(4) Each marketing channel needs to be assessed for its importance within the overall marketing strategy and should align with the business goals.
Top Digital Marketing Channels:
Use of social media
Optimization for search engines
Paid-Per-Click Promotion (PPC)
Email Promotion
Content Promotion
Affiliate Promotion
Online PR and display advertising
Alex Novkov, Partner at Automagically says:
"During the first couple of years after we started our agency, we grew our revenue incredibly fast without making any effort to promote our business. Shortly before our 3rd birthday, we lost 60% of our revenue in a single month. We used to have a 5-person team, but the work was only to keep 2 people busy. Instead of laying off unnecessary (at the time) people, we decided to put them to work on our marketing. We had enough resources to keep the company afloat for several months even while we were losing money, so we turned the loss of revenue into a strategic gain, redirecting capacity into promoting ourselves.
Thanks to that, we attracted so much business in just four months that we had to hire two new people to handle the increased workload. So if I have to say it briefly: When you experience a loss, don't panic but consider what opportunities it brings and go for them."
Analyze Outcomes
To improve continually, high-performing sales teams should track the outcomes of their operations. Businesses and teams can increase productivity and overall performance when frequently monitoring and working to improve the outcomes of B2B sales KPIs. B2B sales teams should monitor the following crucial metrics: Leads Conversion Rate, Average Lead Response Time, and Sales Productivity Metrics.
Acceptance, Appreciation, and Asking
Aissatou Djalo, Business Development Rep for Tiny Giants Co, reveals her organization's Triple-A approach to turning losses into strategic gains.
"Acceptance: Firstly, accepting the loss is important, and not trying to change a potential customer's mind. In B2B, as I'm sure you know, buying decisions usually involve large financial investments, and buying decisions are highly rational, thoughtful, and evaluated from multiple perspectives. Questioning the customer's decision can be perceived as inappropriate and can lead to the customer further disengaging from their plan.
Appreciation: Value the relationship and contact - even if it has not led to a conversion. This is where the loss turns into a strategic gain. If the customer feels that they are valued and important, they are likely to engage further and leave the door open for future conversions.
Asking: To ensure that no misunderstandings lead to a loss, it is worth asking why the rejection occurred. If there are no misunderstandings, you will still get valuable feedback to evaluate your overall offer in terms of price, MSRP, and communication. Regardless of the outcome, asking about the rejection can only further help you understand what is and isn't working in your approach to your clients.
As a creative agency, we find ourselves in a highly competitive industry, and this is our approach to creating successful, long-term relationships with our clientele."
Other Measures that Can Expedite Strategic Turnarounds:
Strategy Planning
B2B marketers must build a strategy with a long-term perspective because business takes time to develop. The business's long-term growth must be stated each year. The firm's complexity will increase as it develops over time, so the financial plan must do the same. This means that strategy must specify how to create money and make the most profit. Review the strategic plan frequently to ensure the outcomes correspond to the intended business objectives.
Establish quarterly, semi-annual, or annual short-term goals and design a strategy to assist you in achieving them. Ensure that your plan considers any potential resources you may require, including cash, personnel, equipment, inventory, and additional running costs, and that the outcome will be a service or product that customers are looking for. Decide on the metrics you'll use to measure your success in achieving that objective, and then modify your plans as necessary based on how close or distant you are to achieving it. Find out why you aren't accomplishing your goal if you don't: Is it a shortage of funding? Is marketing ineffective? Do you have the proper consumer segment in mind? - Terri Urbanek, Consultant & Business Outreach Specialist, Wisconsin SBDC at UW-La Crosse (5)
Using KPIs and Benchmarks for Performance Evaluation
Setting standards is essential for assessing business performance and enabling ongoing progress. Regularly reviewing KPIs and dealing with anomalies ensures that issues are discovered and fixed before they become severe and expensive.
In 2021, 80% of B2B IT companies met or exceeded their marketing targets, while their 2020 KPIs and objectives surpassed only 15.2% of B2B tech marketers.(6)
The B2B Experts in the business sector offer a model for how the company should run. Utilize their techniques and adapt them to create your own to grow the company and become a market leader. Knowing how to increase the business income will put the business in a position to succeed.
Keeping an Eye on the Rivals
Evaluating the business or business unit with one or more competitors is known as a B2B competitive analysis. The goal is to recognize opportunities and threats and take appropriate action. All different types of stakeholders can and should benefit from using competitive analysis. The company's products, promotions, or value propositions are dependent entities. As a result, when the entire organization has access to competitive information, all the workers are better able to do their duties successfully and confidently.
Practicing Corporate Social Responsibilities (CSR)
CSR is the best approach to boost a brand's reputation since demonstrating a commitment to improving the world can help businesses attract new clients and expand worldwide loyalty. CSR-focused marketing can increase the company's global competitive edge while making the brand more relevant and human. There are numerous ways (donations to cancer research or support a nonprofit such as a homeless shelter, supporting underserved communities, and offering sustainable products to help the environment) to engage the business in meaningful CSR initiatives consistent with the organization's values and stakeholders.
Reducing Waste Generation
Businesses can reduce waste by detecting and fixing processes that lead to defects, reducing overproduction, limiting downtime, improving transportation efficiency, limiting excess inventory, and reducing excessive processing, among other methods. These tactics can enhance the number of finished goods or services that reach consumers and generate income for the business.
Hosting Social Media Marketing and Advertising
According to 31% of B2B IT marketers, social media and PPC will have increased prominence in 2021.(7) Creating accounts on all major social media sites is another way to expand the company (Instagram, Facebook, Twitter, etc.). An active profile enables better B2B marketing for the company.
Prospects can locate a business more readily and are more likely to recommend it to friends if the business account is updated frequently throughout the key platforms. Social media marketing is the best method to make the audience experience more engaging, increase their sense of connection to the business, and foster trust.
Following the Latest Market Trends by Conducting Market Research
The capacity to quickly adapt to the latest trends in reaction to changes in the market is one quality that many prosperous entrepreneurs share. Business owners may better understand the target markets' reasons for buying the goods and services by conducting market research.
Organizing Networking Events
B2B marketers can meet people who share their interests at networking events, many of whom have original viewpoints and insights that can benefit the business. Attending networking events can result in relationships and contacts that can be useful for future contracts.
Key Findings
66.8% of surveyees face financial risks in their business.
53.6% of respondents are dealing with competitive risks.
47.5% of surveyees reported technological risks in their business.
77.8% of surveyed marketers use the SWOT analysis tools to discover their business's possibilities and risks.
53.8% of the respondents implement PESTEL Analysis for strategic planning.
41.5% of the surveyees say they have suffered a financial loss in their business.
37.5% of respondents have faced customer loss or loss in market share.
The best ally for business is technology; with changes like machine learning and AI, the B2B environment is becoming customer-centric.
Review the strategic plan frequently to ensure the outcomes correspond to the intended business objectives.
The key to keeping all of the expenses under control is a budget.
To maximize revenues, business executives must examine all cost-cutting measures and comprehend how to do so.
Regularly reviewing KPIs and dealing with anomalies ensures that issues are discovered and fixed before they become severe and expensive.
In B2B marketing, content marketing, social media marketing, PPC, getting social shares, creating a solid email list, etc., are the most efficient lead generation techniques.
The capacity to quickly adapt latest trends in reaction to changes in the market is one quality that many prosperous entrepreneurs share.
Social media marketing is the best method to make the audience experience more engaging, increase their sense of connection to the business, and foster trust to make business gains.
Team members performing well in a firm's sales, manufacturing, transportation, and other crucial aspects can boost productivity and revenues.
Building team members' coordination to accomplish business goals is one of the first steps in increasing profitability.
Businesses and teams can increase productivity and overall performance when frequently monitoring and working to improve the outcomes of B2B sales KPIs.
Conclusion
Businesses that plan ahead and set goals are more likely to be successful. They can also learn from their mistakes and improve their business model over time. One of the best ways to prepare for a crisis is to have a clear mission, vision, and values. Another way to prepare is to have a robust organizational structure with clearly defined roles and responsibilities. A business should also have well-defined lines of communication to identify and resolve problems quickly. Furthermore, businesses should be prepared for unpredictable situations by setting up processes to handle unexpected situations. By adapting to changes in the market, businesses can increase their efficiency and profitability.
Marketers need to evaluate and constantly enhance their business tactics. The tips mentioned above may seem obvious, but the best results may only be achieved by combining, applying, and experimenting with them.
We sincerely thank our Research Partners who participated in the survey.
Survey Participant Demographics:
Data Source:
The data is sourced from a survey of the selected group of 465 B2B experts worldwide. The queried B2Bs comprise 39.5% of the banking sector, 23.1% of surveyees are from the marketing/advertising/entertainment sector, and 21.3% are comprised of online retailers. Others are from the manufacturing industry, education sector, business/consultancy services, ecommerce, SaaS, IT, logistics, fashion, healthcare, finance, and more.
The survey participants belonged to the below demographics:
Age Group:
18-24 (20.7%)
25-39 (55.7%)
40-59 (16.7%)
60+ (6.9%)
Gender:
Female: 42.5%
Male: 57.5%
References
https://www.outreach.io/blog/b2b-technology-sales-changes

https://markets.businessinsider.com/news/stocks/global-chatbot-market-anticipated-to-reach-9-4-billion-by-2024-robust-opportunities-to-arise-in-retail-ecommerce-1028759508

https://instapage.com/blog/b2b-personalization

https://www.93x.agency/b2b-technology-marketing-trends-in-2022

https://www.forbes.com/sites/allbusiness/2019/04/03/expert-tips-take-your-business-to-next-level/?sh=5f4718147644

https://www.93x.agency/b2b-technology-marketing-trends-in-2022

https://www.93x.agency/b2b-technology-marketing-trends-in-2022
Leave comment
Your email address will not be published. Required fields are marked *
Author Info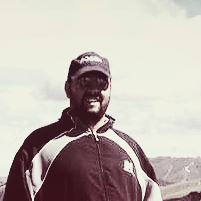 Mark Raymond
Content Developer at GoodFirms