ABSTRACT:
Businesses win sometimes; sometimes, they learn to win. But the scope for success comes only when there is an attitude to see setbacks as opportunities. All successful companies have a strategy that prepares them to grow even after a fall, learn from mistakes, and improve. To reach there, business owners must be adaptable and possess strong organizing and planning abilities. Taking proactive measures, reexamining processes for further improvement, and adopting essential technologies at the right time are the prudent ways organizations can maintain their viability in their respective markets. Even businesses that are struggling amidst prolonged periods of decline and financial instability can recoup losses and revitalize their businesses through restructuring and strategic innovations.
GoodFirms' survey titled: 'Turning a Loss Into a Strategic Gain - Top Tips from Top B2B Experts' queried selected B2Bs to find out how to deploy innovative strategies, reinvent the workforce, and utilize technologies to turn losses into strategic gains. The survey focuses on organizations' approach and execution during such business turnarounds. The survey will help businesses with insights needed to achieve such turnarounds.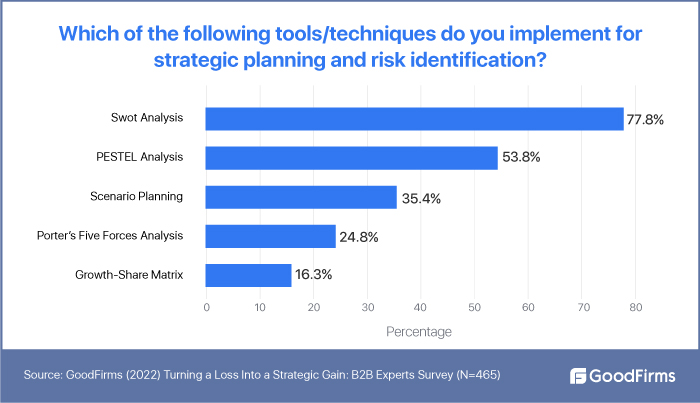 Swot Analysis (Strengths, Weaknesses, Opportunities, and Threats): The SWOT analysis enables business owners to identify the competitive advantages, areas for business expansion, and weak points. 77.8% of surveyed marketers use this tool to discover their business's possibilities and risks.
PESTEL Analysis (Political, Economic, Social, Technological, Environmental, and Legal): This analysis is a quick and efficient method for locating the main external (macro environment level) forces that could impact a company. These factors might present an organization with both opportunities and threats. 53.8% of the respondents implement PESTEL Analysis for strategic planning.
Scenario Planning: The various uncertainties, or realities, of what might happen to the business in the future are identified through scenario planning. According to 35.4% of surveys, marketers steer their business in the long run by developing this set of assumptions.
Porter's Five Forces Analysis: Porter's five factors have varying degrees of influence depending on the nature of the industry. These five forces affect the business's profitability since they impact the costs, prices, and capital investments necessary for an industry to survive and compete. 24.8% of survey managers use this five forces model to ascertain their business's competitive structure and aid in strategic decision-making.
Growth-Share Matrix: 16.3% of the surveyees use the growth-share matrix for strategy building and risk identification. The Growth-Share Matrix enables businesses to determine which areas of their operations should be given priority and which might potentially be dropped. The business's operations can be divided into one of four groups by building a 2x2 table along the dimensions of growth and market share: stars, pets, cash cows, and question marks.
Financial Loss
41.5% of the surveyees say they have suffered a financial loss in their business
Financial loss occurs when a business has a discrepancy between the amount of money coming in and the amount of money going out, resulting in a net deficit. Financial losses can be caused by various factors, including a lack of consumer interest, ongoing legal proceedings, the cessation of business owing to a third party, and others.
Customer Loss/Loss in Market Share
37.5% of respondents have faced customer loss
A product's market share indicates buyers' preference over competing goods. A larger market share typically translates into better sales, less work to sell more, and puts a higher barrier to entry for rival businesses. Whereas a low market share means fewer sales, more effort to sell, and higher chances for other competitors' entry.
Supplier-related Losses
31.1% of the surveyees reported suffering from supplier-related losses in the business
Delays from suppliers, forgery, connivance with competitors, and unethical practices are supplier-related issues. These events can cause huge losses to businesses. To reduce risks such as supply disruption, dependency on key suppliers, and reputational harm from supplier actions, businesses must increase supplier engagement in an environment where supplier-related risks are rising.
Theft/Frauds
26.6% of respondents say they have dealt with losses due to theft and fraud
Thefts and frauds are two of the most common losses that businesses face. They can be expensive and complicated for a business to deal with, and they can also cause damage to the reputation of the company. Embezzlement losses heavily hit most businesses because they are unable to absorb them.
Cybercrime-related Losses
22.5% of businesses have suffered losses due to cybercrime-related issues
Businesses are becoming more exposed to cyber thieves as marketers store more of their data online as well as the data of their clients. Dealing with cybercriminals drives up cybersecurity costs and causes unpredictable losses.
Loss of Skilled Employees
11.4% of the surveyees have faced the loss of skilled employees
The loss of skilled employees directly impacts the business output's productivity and results in increased operating costs and business performance.
Other Losses (Broken deals, Reputational Loss, and Legal Setbacks)
13.3% of respondents say they have faced losses in business due to broken deals and vendor agreements. 8.2% of businesses have gone through a reputational crisis and have suffered indirect losses owing to it. While 6.9% of surveyees have dealt with losses due to legal setbacks in their business.
We sincerely thank our Research Partners who participated in the survey.
Survey Participant Demographics:
Data Source:
The data is sourced from a survey of the selected group of 465 B2B experts worldwide. The queried B2Bs comprise 39.5% of the banking sector, 23.1% of surveyees are from the marketing/advertising/entertainment sector, and 21.3% are comprised of online retailers. Others are from the manufacturing industry, education sector, business/consultancy services, ecommerce, SaaS, IT, logistics, fashion, healthcare, finance, and more.
The survey participants belonged to the below demographics:
Age Group:
18-24 (20.7%)
25-39 (55.7%)
40-59 (16.7%)
60+ (6.9%)
Gender:
Female: 42.5%
Male: 57.5%