Genesys
Simplify your customer support and help desk
Visit website
Every year, Genesys® delivers more than 70 billion remarkable customer experiences for organisations in over 100 countries. Through the power of the cloud and AI, our technology connects every customer moment across marketing, sales and service on any channel, while also improving employee experiences. Genesys pioneered Experience as a Service℠ so organisations of any size can provide true personalisation at scale, interact with empathy and foster customer trust and loyalty.


Genesys recruiters will never ask for sensitive personal or financial information during the application phase. Initial inquiries might come through LinkedIn, but all communication thereafter is through an official Genesys portal. Continue to stay alert and safe.




Accounting
Banking
Financial-services
Information-services
Information-technology-services
Marketing-advertising
6 Industries
Screenshot & Video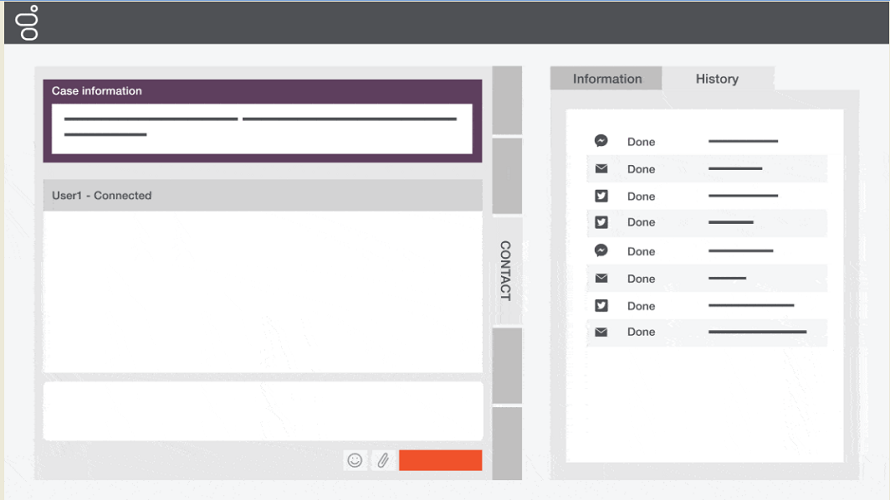 SUPPORT
Email

Chat

Phone

24x7 Support
Knowledge Base
Help Guides

Video Guides

Blogs

Webinars

On-Site Training
Genesys Reviews
Relevance
Most Recent
Rating: high to low
Rating: low to high
Write a Review
Anthony Horton
Posted 4 months ago
Genesys is a suite of cloud- services that enable companies to deliver a personalized experience that makes life easier.
Review Summary
Nice and very helpful solution. This suite has made my life at work so much easier. Super-fast to submit a ticket, I can input plenty of information, plus I can see all updates. customized domain, knowledge base, and self-service portal. Overall, it is a cool tool that makes it easier to track your work.
Which features have you used in Genesys?
Help Desk Software
How long have you used Genesys?
8 Months
How frequently you use Genesys?
Daily
What do you like the most about Genesys?
Flexible and good products for the helpdesk.
Very reliable and great interface.
Straight forward with all the best features.
What do you like the least about Genesys?
I feel it still needs to improvise the workflow.
Kristopher Kauth
Posted 10 months ago
Solid products with good support, and the clout behind them to keep developing.
Review Summary
We began with a product called PureConnect, which worked well for our contact center. It has tons of features and configuration options, and could be on-premises, in the cloud, or blended (we were on-prem). With changes in our company structure and goals, we decided to switch to the new PureCloud (now Genesys Cloud CX), which allowed us to use the product as a completely hosted solution and even to connect to our cloud carriers for voice traffic. This is a newer product from Genesys, so it is still playing catch-up on some features compared to others (mainly related to chat/messaging), but they are continually updating it, because Genesys is a large, established company, with plenty of resources. One of the main decision points for us to use Genesys was that they have a concurrent user pricing model option. When running a business with multiple shifts (e.g. morning to evening, or 24 hours), then this is the only option to consider.
How long have you used Genesys?
8 Years
How frequently you use Genesys?
Daily
What do you like the most about Genesys?
Has the majority of needed features (no provider checks all of the boxes).
Has a concurrent user pricing model option, which is a slam dunk for companies with multiple shifts.
Has the ability to supervise and manage teams of users (e.g. contact center), where most other products in the market don't have that concept.
What do you like the least about Genesys?
Chat and Messaging configuration in CX is not as good as others in the marketplace (e.g. even Genesys DX).
Some aspects of administration are more complex to plan and understand than others.
Richard Oberle
Posted on Feb 26, 2021
Great Call Center phone systems
Review Summary
I have enjoyed the Genesys Call Center phone systems for years. Their support has been excellent. I have to say that I see the quality of their support degrading recently however. As they put all their energy into Cloud, premise support is waning. No one wins in that scenario.
Robert Wakefield-Carl
Posted on Jan 12, 2021
Genesys Cloud - all the technology and know-how under one roof!
Review Summary
With Genesys Cloud, there is not the need to hunt and shop for bolt-ons to fit your needs. Being fully cloud-based, our users can be anywhere, especially from home presently and access all the features as if they were sitting in the office. Our cloud integrations allows our agents full features at home and IT-support is none existent. With all channels in a single interface and features like Agent Assist, our people get up to speed faster and have the tools at their fingertips without leaving their single pane of glass. Even advanced technologies like speech analytics, learning management, and and workforce engagement are just part of the package and not a 3rd-party add-on. With Genesys Cloud, we have one back to pat and one source for routing of any interaction.
This profile is not claimed
Do you own or represent this business? Enter your business email to claim your GoodFirms profile.