SOLAR Digital
Custom web development & marvellous WOW websites.
Visit website
Long-term technology partner that extends your business. Strong scalable team for any of your web challenges — developing complex, reliable web & mobile applications, platforms and interfaces. You are with the guys, who can solve these challenges properly.
Your creative agency that carriers out projects on time. We make your ideas happen — from branding & design concepts to final production & release. The creative digital agency that brings the WOW to your customers.
Need effective Web&Mobile solutions with deep immersion in your business?
Contact us right now!
[email protected]
Ukraine
Katherine square 8
,
Odessa
,
Odessa
65000
+380934661696
Focus Areas
Service Focus
Web Development
Digital Marketing
Web Designing (UI/UX)
E-commerce Development
Client Focus
Small Business
Medium Business
SOLAR Digital Clients & Portfolios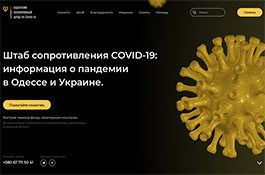 SOLAR Digital Reviews
All Services
Web Development
Web Designing (UI/UX)
Relevance
Most Recent
Rating: high to low
Rating: low to high
Write a Review
Renata Doralieva
, Marketing Specialist at at Cherubino
Posted on Dec 24, 2020
I could strongly recommend working with Solar Digital
Review Summary
A company with an outside-of-the-box mentality at its core.
I could strongly recommend working with Solar Digital to anyone who is looking for a fully dedicated, open-minded and out of the box thinking partner, not simply a website developing company. You receive a team that prioritizes what is important to you, studies carefully the processes and needs of your company and designs a product that works for you and your clients with a bonus of bettering your competition. A professional, flexible and reliable long-term partner, this is what you would sign up for by choosing to work with Solar.
Company Response
SOLAR Digital
Many thanks for your review. Will do our best to deliver at least the same level on next projects with you.
Posted on Dec 24, 2020
I am the CEO of Wetterheld, an online weather insurance
Review Summary
I am the CEO of Wetterheld, an online weather insurance. We hire Solar Digital for IT Audit remediation - we needed to develop measures to fix issues that were found during an IT audit. We went through a list of IT audit issues and identified remediation actions on each. We were supported by an experienced project manager. The list of remediation actions was scrutinized and confirmed by the audit team which identified the issues. The workflow was effective and without any unnecessary delays. They're experienced and quickly understood our needs.
Solar Digital developed the website successfully in a timely manner.
Review Summary
I work as an online media publisher. We write about culture, urbanism, social issues and science.

About a year ago, our media has grown and transformed greatly - we began to work for a wider audience and write on broader and more complex topics. After transforming the content, we also needed to change its visual presentation - branding and website. We asked Solar to bring our content to visual harmony across our platforms.

We have seen lots of complex projects the team has implemented before us.
We started by developing a new branding. The team offered us four pretty good options, of which we chose one. He, already finalized, was sent to us in the shortest possible time. Then we moved on to developing the site design.
The team immediately managed to find the right direction for our site. In total, we made about 20 edits - communication was very simple. After that, the team moved on to the layout and then to the implementation of the project.
We communicated with the manager and the designer. There must have been more people working on the project, but we had easy communication with these two people.

Our engagement rates have increased due to the fact that the site has become faster and visually better organized.
Their maximum polite and quick responses, attentiveness in relation to the client's requirements.
We were impressed with their polite and quick responses. They were attentive to the client's requirements.
We have been cooperating with Solar Digital for several years now, and we are satisfied with all the projects.
Review Summary
We contact to Solar Digital to design a logo and create a website for our company. After successful cooperation, we re-applied to create a service for booking tickets for intercity and international bus transportation. Everything was developed and launched in the shortest possible time.
What is it about the company that you appreciate the most?
The guys at solar digital love their job. And this is the most important criterion for us.
Company Response
SOLAR Digital
Many thanks for your review!
Posted on Oct 20, 2020
I Satisfied with the cooperation
Review Summary
I could strongly recommend working with Solar Digital to anyone who is looking for a fully dedicated, open-minded and out of the box thinking partner, not simply a website developing company.
I recommend the team of professionals at SOLAR for cooperation!
Review Summary
Solar Digital designed and developed a web platform for featuring extracurricular activities for children, focusing on making it user-friendly for parents. They also provide data storage and long-term support. The team is really exceptionally well put together and talented... They developed the platform really quickly, and have added over 450 businesses to the database and 1,000 one-time events to the calendar so far. Their ideas and 24/7 availability are incredibly valuable, although their true expertise lies in UI/UX.
I recommend for cooperation
Review Summary
Solar Digital handles end-to-end web design and development and created a real-time database for booking yachts easily (Sailica.com). The MVP version of the site was delivered on time and actual users will be able to use it and give feedback soon. They have great designers on their team, which is their biggest strength. Making sure that every aspect of the project is clearly discussed is essential for the work to run smoothly. We had a complicated and expensive website project and needed to find professionals that could deliver well at not too high of a price. I had my own requirements for the website's design and function, but I also asked Solar Digital about how it should look in two years. They gave me advice and have helped make it real. It's an end-to-end production, from design to the functional elements. Our service involves large databases which need to be retrieved from our partners' yacht-booking systems. The first goal was to create a large database of yachts from all over the world, and we currently have around 5,000 entered but it's complicated to gather good content and enter it into the service. The objective is to have a real-time functional database that allows customers to book yachts with a single click, so our managers receive the requests by email in a few seconds and answer at any time. Solar Digital had a six-person team working with us, which included a designer, two backend developers, a frontend developer, and a project manager. We had daily Skype meetings. I found them by recommendation: A good friend recommended them to me; they had been working together for a year. He said that if I'm looking to work with an IT company on a long-term project, I needed to get in touch with them. I talked to their owner and we understood each other. I didn't start any tenders; it was a matter of referrals and Solar's good price and impressive team. I really like them and I can say that anything has been excellent.
Company Response
SOLAR Digital
Thanks a lot for long-term collaboration! Wish you a stable growth and new achievements!
Posted on Oct 07, 2020