Top Custom Software Development Companies
Are you looking for a top custom software development company? Here is the list of top software developers that deliver full-cycle software development services. Today if there is one thing that your business needs to run smoothly and efficiently, it is customized software development solutions. However, not all software development firms can deliver highly efficient software products. To deliver outstanding enterprise software solutions, a software development company needs a team of developers that keeps track of emerging technologies, languages and platforms in the software industry. Based on this and several other crucial parameters, Our research team has prepared a list of the best custom software development companies. Hire a custom software company as per your business requirements and budget from the below list: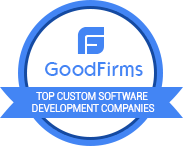 List of Best Custom Software Development Companies & Developers
Introduction
There is a variety of software that automates the day-to-day tasks within business corporations, educational institutions, as well as public sector and private organizations. Companies can either buy a pre-designed software or customized software to accommodate their requirements.
What Are the Different Types of Software Development Methodologies?
The four most prevalent software development strategies are the Waterfall development method, the Agile development method, the DevOps development method, and the Rapid application development method.
1) Waterfall: It is a traditional software development methodology. It follows a linear model following the software development life cycle in a sequential pattern. Each stage must be accomplished before starting the next phase.
Pros: It is convenient to understand and manage the project using linear software development methodology.
Cons: Investing in the waterfall model is time-consuming and costly due to the rigid structure.
2) Agile: This model follows iterations containing minute increments. This method helps minimize risks by quickly identifying bugs, overhead costing, and changing requirements.
Pros: Agile allows teams to detect defects and fix them as well as align expectations in the initial stages of development.
Cons: It heavily relies on real-time communication between the developers and the end-users.
3) DevOps: DevOps is a collaboration between various teams responsible for the software development life cycle, like development, quality assurance, and operations. All units operate together instead of working on individual tasks.
Pros: Because of the frequent code releases, the DevOps method lowers the failure rates and deployment time while maintaining the app's reliability.
Cons: Miscommunication or use of different environments between departments can result in a massive fallout.
4) RAD: To design a high-quality system at a lower investment cost, RAD implements a compressed development process. This method consists of four phases that are requirements planning, user design, construction, and cutover instead of the traditional seven stages.
Pros: It delivers speedy solutions for medium-sized projects with well-defined business objectives.
Cons: This method requires highly skilled programmers with in-depth knowledge of the application.
What Are the 7 Phases of the Software Development Life Cycle?
The software development life cycle denotes the stages of software development from ideation to its delivery to the client. There are seven stages of SDLC. The software development process takes place in a constant succession until the ideal software is created.
1) Planning: The planning phase comprises the perspectives of project and product management. The software developers map out resource allocation, procurement requirements, project scheduling, cost and time estimation, and other crucial particulars.
2) Requirements: Once a rough plan is formulated, the different IT teams assemble and weigh the functional requirements of the project. These requirements are gathered from business stakeholders and Subject Matter Experts (SMEs.)
3) Design and Prototyping: Software architects and developers commence the designing of the software in this stage. The architects define the frameworks and structures of the application, while the developers focus on the software development languages and technologies to implement. Architects and developers use numerous software development tools to eliminate algorithmic problems. This phase also includes rapid prototyping (spikes) to analyze solutions and execute the best option.
4) Development: The core development of the software springs in this phase. In this stage, the team of software developers produces a working model of the application. Moreover, a constant communication channel is established with the clients to ensure that the software meets their expectations, thereby avoiding extensive changes.
5) Testing: It is one of the most vital phases of the software development process. The developers perform a variety of testing, such as unit testing, code testing, integration testing, security testing, performance testing, etc. to ensure the quality of the product. After the completion of the testing phase, the functional software is ready for deployment.
6) Deployment: In most software development companies, the deployment phase is automated. Medium to large-size enterprises uses Application Release Automation (ARA) tools to automate the implementation of software to production environments. This phase yields the release of the working software.
7) Operation and Maintenance: It is imperative to ensure the proper functioning of the software after its release. By continually monitoring the software in the production environment, software developers can detect and eliminate any bugs or defects that may arise. This stage also caters to any additional needs of the end-user, such as fine-tuning the system, boosting performance, adding new features, etc.
Which Are the Popular Software Development Languages?
What Are the Factors Affecting Software Development Cost?
The aggregate cost of software development depends on numerous factors. A minute change in one of these factors can significantly change the final software development cost.
1) Platform: The cost of software development depends on the type of platform and Operating System. The software development cost differs substantially based on this criterion. Most software developed for one platform does not run on the other. This is due to the vast different programming languages, software development kits, and software development tools used. Designing a cross-platform software will cost more in comparison to dedicated software.
2) Design: The successful operation of software depends on its ability to deliver exceptional user experience (UX) as well as a smooth user interface (UI). Supplying this can take a lot of time and effort on the development end, depending on the software type and complexity. The software development cost of applications having more elaborate and sophisticated UX/UI will be higher.
3) Time: While creating exceptional software, the developers need to invest more time in ensuring that the application is functioning properly. Hence, the number of hours spent on designing and developing software can cause fluctuation in the cost of software development. Moreover, if a company requires delivery of an elaborate software before the prescribed time frame, the software development company will need to assign additional specialist developers to complete the task. Thus, causing a surge in the final billed amount.
4) Testing: Testing is an integral part of software development. The cost of testing software can vary due to the complexity of the application, as well as the number of reboots required. Most software development companies include testing services in the package; however, it is better to opt for a combined payment option to avoid paying for unnecessary and extensive reboots.
5) Hiring Option: The cost of development also depends on the experience, type, and location of the custom software development company chosen. For instance, it is cost-effective to outsource software development solutions or opt for freelance software developers for hire instead of building an in-house team of developers. Moreover, while outsourcing, a company is based in a developed country, will charge more than a software development company located in a developing country.
How Much Does Software Development Cost?
GoodFirms' research depicting the useful stats and trends on software development exhibited an estimated cost for software development projects based on their functionality.
To design a basic-functionality software, experienced software developers charge less than $20,000.

Software having general utility costs somewhere between $20,000 to $40,000.

Software with above-average complexity features can be delivered at a price range of $40,000 - $60,000.

Custom software development companies working on complex and feature-rich applications can quote a price of over $60,000.
How Much Time Does It Take to Build a Software?
The time-taken to build software mainly depends on its complexity.
Basic Software: They can be built in less than 2 months, but their functionality is considerably simple.

Medium Complexity Software: This software has more complicated features and can be deployed within 2 - 6 months.

High Complexity Software: Creating software of this level can take more than 6 months, due to incorporating intricate architecture, security solutions, multiple integrations, and many more.
How to Find the Right Software Developers?
It is vital to thoroughly analyze the top software development companies to find the ideal partner. However, it can be challenging to weigh their capabilities without knowing which selection criteria to analyze. While shortlisting a software development company consider the following benchmarks:
1) Expertise: Most companies have a clear idea of the type of platform and technology stack they plan on incorporating in their software before the start of the project. Therefore, they must hire software developers who possess the specific skill set and specializes in using those particular software development tools and technologies. For example, to create software in Java programming language, consider selecting software development company with expert Java developers with extensive knowledge of the top Java Frameworks such as Apache Nutch, Drools, AppFuse, etc.
2) Experience: Decision-makers must opt for the custom software development company that possesses hands-on experience in projects related to their industry. For instance, if a firm is planning to develop an eCommerce application, choose software developers with previous experience in designing such software. This way, businesses can ensure the software quality satisfies their requirements. Moreover, while outsourcing, clients must focus on service providers with previous experience of working with remote teams. This offers an insight into their ability to handling off-shore projects.
3) Reviews: Apart from their past experience, clients must examine the feedback attributed to the software development company by their past clients. This gives a thorough understanding of the software development firm's processes and service quality. Apart from requesting references from the existing and previous clients, business owners can also explore third-party review and rating platforms, such as GoodFirms, to receive genuine customer feedback.
4) Agility: The project requirement is bound to evolve during the development of the software. It is vital to ascertain that the software developer for hire is flexible enough to adapt to the change. This can be determined by studying their approach towards adopting new technology, as well as their ability to scale the project and offer flexible pricing models. The software developer must be ready to embrace new innovations as required to satisfy the demands and expectations of their clients.
5) Easy Exit Process: After the completion of the project, the top software development companies ensure a smooth and hassle-free transfer of the software and related information. However, it is smart to partner with a firm that offers seamless transition by timely transferring documentation and best practices to avoid miscommunication. Moreover, select a software development company that is willing to sign a Non-Disclosure Agreement to safeguard confidential data.
What Questions to Ask the Software Development Company Before Signing the Contract?
Before settling on a software development company, there are several topics that you need to cover, like their pricing model, the number of developers assigned to the project, the estimated project duration, the requisite contracts, and documentation, along with the software development tools, languages, frameworks employed. However, this should not be the deciding factor for hiring a software developer. You must ask the following question to get a definite idea before finalizing the deal:
1) How Do You Ensure That You Comprehend My Project's Requirements?
This is the founding question to either select or reject a company. A gap in either explaining or understanding the project requirements can leave you with an application that varies significantly from what you envisioned. The top software developers for hire will warrant a comprehensive understanding of your business concerns, timeline, resources, budget, and market goals.
Give bonus points to the company that intends on providing prototypes, proof of concepts, and minimum viable products (MVPs) to communicate their insight and allow you to expand and improve that perception.
2) What Is Your Software Development Approach?
It is always wise to inquire about the software development process adopted by the contending software development company. The best custom software development companies will employ a reliable method that offers consistency and quality control. Ask them to describe their Agile processes, UX/UI research, iterations, QA/testing, etc.
Do not forget to inquire about the steps they have taken to dodge the "Black Swan" situation in any previous projects and how they plan on implementing those tactics in your project. It is vital to hire a software developer who can ensure that the software has no grey areas after deployment.
3) Is Software Maintenance and Staff Training Included in the Package?
After the deployment of the software, businesses may require the addition of newer features and functionalities as well as to fix bugs and release updates. The top software development companies offer post-deployment support. Additionally, most software developers for hire also provide software training to your in-house team.
Ask your potential software development company regarding the structure of maintenance and training administered by them. It is imperative to discuss whether these services are included in the pre-discussed budget or offered as an add-on service.
4) What Kind of Involvement Do You Expect from Me?
For developing software that meets your expectations, it is vital that you explicitly mention all your requirements to the software development company. Depending on the software development methodology, the team of developers may need to maintain a steady communication channel with you.
Inquiring about your expected involvement with the developers will let you offer timely suggestions regarding any changes you desire. Moreover, both parties can achieve their individual responsibilities, ensuring a harmonious software development process.
5) Why Should I Collaborate with Your Company?
This may seem like a very generic question. However, if the answer offered by the prospective software developer is common, it may be due to their lack of understanding of your project. They must be apt to describe their qualities and potential contribution that resonate with your project.
At the same time, it is important not to fall for extravagant claims made by service providers! Demand for samples or illustrations of measurable services and solutions offered by the team. Hire a software developer with a credible and industry-specific track record that exhibits their excellence and relevance to your project.
GoodFirms Research Process
The principal aim of GoodFirms is to assist service seekers in finding the ideal software development solution by highlighting the rundown of the top custom software development agencies worldwide.
The team of researchers at GoodFirms has precisely evaluated significant software development companies based on GoodFirms proprietary research methodology. Our research approach covers critical qualitative and quantitative factors. The predominant firms that bagged a position on the list of top software development companies have been classified based on their software development and software designing caliber. Additionally, GoodFirms considers the years of experience and the market influence of the contending companies to comprehend their benefactions to the industry. The other valuable parameter acknowledged by the research team is the feedback and recommendations from previous clients, vouching for their credibility.
After thoroughly analyzing, we have curated the above list denoting the most reliable software development firms capable of delivering robust, appealing, and error-free software solutions to patrons worldwide. The featured companies maintain a team of experienced and qualified software developers that use leading-edge tools and technologies to create the ideal product.
GoodFirms urges new and established software development companies to present proof of their achievement and grab a spot in our 'Research' section.