Intelligent Automation Market: Trends, Size, Share, and Forecast
ABSTRACT:
Business-to-Business(B2B) Automation is disrupting almost all major business segments. More businesses are now recognizing the benefits of automation, due to which either they are already implementing it or planning to implement intelligent automation soon. Recent years have also seen enhanced capabilities of automation that drive performance improvements. Intelligent automation is changing how businesses are done in every sector. From replacing menial tasks to introducing robotics, the intelligent automation market is poised to achieve higher market value and share. However, challenges associated with implementation, costs, time, job displacement, etc., can impact the industry's performance if left unaddressed.
This research titled: 'Intelligent Automation Market: Trends, Size, Share, and Forecast' by GoodFirms analyzes the market outlook, current trends, size and share of the market, and future opportunities in the global automation industry.
GoodFirms conducted an online survey between 5th August 2022 and 19th August 2022. A total of 300 responses were collected. Business participants worldwide shared their automation status, benefits, challenges, most automated processes, etc. This research also aims to bring valuable insights into how automation is disrupting industries and the business landscape and what the future holds for this industry.
Introduction
The global intelligent automation industry is going through a transforming phase. Automation rapidly improves businesses' operational efficiency and output productivity to acquire more revenue and customer satisfaction opportunities. Innovations in technologies such as AI, ML, IoT, Deep learning, etc., enable businesses to automate their processes in almost every department, including HR, production, customer service, etc.
Intelligent automation systems enhance the IT systems to empower the businesses, interact within different aspects, perform necessary functions automatically, etc. With the economic recovery in sight and the utilization of new technologies, the global intelligent automation market is about to see new heights.
The survey 'Intelligent Automation Market: Trends, Size, Share, and Forecast' aims to deliver reliable statistics related to intelligent automation. The research further outlines the future forecasts for the global intelligent automation market.
Market Outlook: Size and Share
Intelligent automation is assisting businesses in reducing their labor costs and enhancing the efficiency of business operations. Intelligent automation also helps people, mainly business professionals, manage and operate vast chunks of data with improved accuracy and reduced work execution time. 46.3% of respondents are already implementing intelligent automation in their business functions. In addition, 40.3% are planning to implement intelligent automation in the upcoming years. Only a small percentage of respondents i.e., 13.3% are not planning to implement intelligent automation.
.
As per GoodFirms' survey, 75% of total small organizations are planning to implement automation in their business. Only 25% are hesitant to automate their functions and operations. The main reason behind this hesitation is that small organizations have limited functions and automating them can lead to job loss. Budget is also another reason.
69.23% of medium organizations who participated in this survey by GoodFirms' have already automated their business processes. Also, 30.67% of them indicated that they are planning to use intelligent automation due to its benefits.
60% of the prominent organizations who participated in the survey stated they are using intelligent automation for better output. 20% of big organizations are planning to automate their functions. Only 20% of big organizations are avoiding automation as they are traditional and need massive investment in cost and time to automate their production at every level.
Size and Share
The global intelligent automation market is currently worth millions of dollars. The global intelligent automation market will be valued at around US $13.6 billion by 2022.(1) Various prominent companies like Cognizant, Capgemini, Genpact, HCL, etc., dominate this market across different countries. Intelligent automation is positively impacting the workforce.
Latin America is one of the critical markets for the intelligent automation industry. This is because prominent automation companies such as Cognizant, Ernst and Young, CGI Group, etc., are giving tough competition to organizations in the global intelligent automation market. In addition, evolving consumer lifestyle and rising economic income is further expected to improve the revenue of this market in the US region. In the US only, most small and medium-sized organizations are either planning to implement or have already implemented intelligent automation in their business processes. Only a few businesses are not planning to implement automation as they think it will lead to job losses.
Both Canada and the US are majorly automating their business processes in the Latin American regions. Latin American countries are expected to grow with an average CAGR of 5.98% in the upcoming years.(2) The pharmaceutical industry will be the most automated segment in the next few years. In Canada, medium-sized businesses are foremost in automation and have already implemented it into their functions.
Europe is another central region for the intelligent automation industry. Sweden, the UK, France, Germany, etc., are notable markets of intelligent automation in Europe. European countries are at the forefront of automation due to increased automation and continuous support from the government.
In the UK only, small firms are aggressively implementing automation in their business functions. Government support is the crucial reason behind automation in small firms.
"The European intelligent process automation software market will grow at a CAGR of 20.8% over the next five years, with growth particularly strong in decision-centric automation and automation planning," says Neil Ward-Dutton, vice president of Automation, AI and Analytics Europe, IDC(3)
Asia is also a massive market for the intelligent automation industry. With countries like China, India, Indonesia, etc., Asia is home to many popular organizations such as General Electric, Siemens, Shanghai DEMC, etc., which positively impact the automation industry in Asia. The Asia pacific intelligent automation market is expected to garner the highest revenue in the global intelligence market by 2030, i.e., $13,473.1 million.(4) BFSI and IT are the most automated segments in the Asian region. BFSI accounts for 30% of revenue, whereas the IT industry is expected to have a 35% market share.
In India, small and medium-sized enterprises aggressively implement intelligent automation in their business aspects. Businesses are either planning or already implementing automation to improve efficiency and productivity.
Apart from these, businesses from countries like South Korea, Japan, Israel, etc., are also adopting intelligent automation in their businesses and will continue to do so in the future. This exponential growth will be driven by rising businesses, increasing technology adoption, etc.
Major Players in the Global Intelligent Automation Market
IBM, or International business machines corporation, is an American company engaged in IT services. Founded in 1911, the company is serving in more than 177 countries all over the globe. IBM is one of the major automation companies providing end-to-end business automation services. Some of the services of IBM in automation are AIOps and IT automation, business automation, integrations, etc., to make cost-effective and reliable infrastructure.
IBM is helping other businesses' workforce improve their working and business workflows. The organization also has a range of tools to assist automation, such as IBM Blueworks Live, IBM Automation Workstream Services, IBM Automation Solution Workshop, etc., for virtually bringing different business functions together. In AI life cycle software, IBM had a market share of 13.7% in 2020.(5)
Another US giant with a huge presence in the automation industry is Cognizant. It is an American IT service and consulting company founded in 1994. Initially founded as a business consulting and IT firm, Cognizant later expanded its operations into automation. Cognizant's services include an intelligent bot suite, Cognizant Neuro, Akiva, etc., designed to organize different types of organizational data through automation.
Siemens is a Germany-based industrial manufacturing firm engaged in IT, energy, healthcare, etc. Siemens uses the latest technologies, such as artificial intelligence, blockchain, autonomous systems, 5G, etc., to integrate and automate different processes. Automation systems and tools of Siemens are assisting different industries to turn their dreams into reality.
Dominating Trends in Global Intelligent Automation Market
Virtual Agents are the Most Preferred Intelligent Automation Choice
50.2% of respondents stated that virtual agents are their preferred automation technology.
Virtual agents are systems designed to interact with specific individuals and business processes for rapid decision-making. They have emerged as the leading business process automation approach to enhance production and efficiency. Virtual agents in the initial phase were used as a simple question-answering tool. However, with time, virtual agents are now fully capable of performing tasks on behalf of humans through autonomous assistance.
There are different types of virtual agents, such as Dialog agents, Information retrieval agents, Task execution agents, etc.(6). These autonomous virtual agents are used for different purposes, such as crowdsourcing, Q&A, customer assistance, etc. Some of these agents are as follows:
Dialog agents are composed of understanding and response skills to answer user queries with more human-like interactions. Examples include FAQs, Chitchat, help, etc.
Information retrieval agents are used for advanced reasoning to better address information retrieval tasks and user queries. Examples include chatbots for checking credit card scores.
Task execution agents are the ones who can change the state of the world by performing their tasks in a business environment. Examples of such agents include filling out data in forms, submitting applications, etc.
Data Analytics Agents cover several functionalities, including data modeling, transformation, predictions, recommendations, etc. Examples of such agents include data transformation and manipulation, visualizations and data exports, performance predicting models, etc.
Alerting Agents are used for setting custom notifications and alerts that are triggered due to some event or process.
"Several applications for intelligent automation, such as RPA (robotic process automation), natural language processing, and virtual agents, may increase your efficiency and production. However, it does not end there. Self-learning procedures may empower staff, bolster consumer connections, and open up new avenues for innovation," says Kevin, Co-founder inYouths.
Virtual agents are often considered dangerous for humans as 30% of GoodFirms' survey respondents are worried that automation will lead to job displacements of employees working in customer service. However, as per 43.3% of respondents, automation will handle basic activities, and staff skills will become more analytical, interpersonal, and strategic. In addition, 26.7% are happy that mundane tasks have been automated. The majority of people have positive attitudes towards intelligent automation.
The Use of Artificial Intelligence and Machine Learning is Rapidly Increasing.
With 46.7% of responses, artificial intelligence is the second most preferred automation technology.
Artificial intelligence is one of the most revolutionary technological developments in recent years. AI can process raw and unstructured data for automating different tasks that required human judgment and intelligence previously. Tasks such as detecting patterns, making recommendations and predictions, extracting meaning and information from images, speech or texts, etc., can be carried out by AI and ML in a more sophisticated manner. Artificial intelligence is also collectively being used with other technologies, such as machine learning, natural language processing, deep learning, etc., to generate better results.
Artificial intelligence has much potential and can add up to $15.7 trillion to the global economy by 2030.(7) This extensive growth of AI will be driven by automation in the form of robots, autonomous vehicles, augmented intelligence, and AI-enhanced products and services.
Due to the upgrades in AI and ML, Automation is rapidly increasing across countries and organizations, changing the digital and business landscape. With time and new developments, the implementation costs of AI are decreasing, due to which most businesses are implementing it in different processes ranging from sales and marketing to production.
According to Boris Jabes, Co-founder at GetCensus," Another trend in the market is the increasing adoption of artificial intelligence (AI) technologies. AI technologies are being used for various applications, such as process optimization, decision-making, and predictive maintenance. These technologies help organizations to improve their efficiency and productivity. In addition, AI technologies help organizations to save time and money."
Artificial Intelligence, in collaboration with other technologies, is leading to a reduction in costs and improvements in the productivity and performance of businesses. AI applications support various industries in reducing hectic work and automating repetitive tasks. For example, AI-driven logistics optimization enables businesses to optimize and streamline their supply chain through behavioral coaching and real-time forecasts based on existing data.(8)
Business Process and Robotic Process Automation are Highly Trending in Automation
26.7% surveyees prefer business process automation, while 22.1% prefer robotic process automation
Business process automation(BPA) is a segment of intelligent automation in which software is designed to model, execute, implement, optimize, and monitor different end-to-end business processes. Robotic process automation(RPA) uses computer codified software to automate rules-based processes in any business organization. BPA and RPA are the most talked about aspects of hyper-automation, i.e., the use of cutting-edge technologies to automate things. Implementing BPA and RPA allows businesses to automate more work and simplify complex business processes.
Organizations like Microsoft are already dealing with BPA and RPA tools like Microsoft Power Automate. Through such tools, more businesses can automate their operations, management, support, etc. "The future of intelligent automation will consist of hyper-automation, which consolidates all currently available advanced technologies into a single platform and enables organizations to realize the combined benefits of these technologies in real-time. Technologies such as business process automation (BPA) and robotic process automation (RPA) of Hyperautomation are used to automate as many tasks and IT processes as feasible. In addition to automating operations, hyper-automation also automates the processing of any type of organized or unstructured content, which is of great assistance to organizations in a number of different ways. It is anticipated that the favorable effects that this trend has had thus far on businesses will continue in the years to come, says Gerrid Smith, E-commerce Director, Joy organics.
Speech and Image Recognition Automation is Also Catching Eyes of Businesses
30% of respondents agree that speech and image recognition automation is a significant trend
Business and robotic process automation have various benefits but lack speech and image recognition. Speech and image recognition automation can extract the meanings, information, or phrases from audio and pictures. Speech and image recognition use deep learning in which cascading layers of model parameters are learned to understand images and speeches. Business organizations also use artificial intelligence and machine learning to automate their speech and image recognition processes.
A UK-based insurance company, i.e., Ageas, is using image recognition automation to assess the damage to damage using photographs supplied by the policyholders.(9) The company makes decisions within minutes about whether to give a claim to policyholders or deny them.
Low code/No code Automation is Gaining Momentum.
The low/no code trend in intelligent automation is rapidly gaining traction with the developments in composable solutions and applications. Automation through no/low code allows businesses to generate and deliver automation solutions per their business requirements quickly.(10) Low/no code automation can be carried out by both programmers and non-programmers and need less effort in installation, configuration, maintenance, and implementation.
Automation in Major Business Aspects is Catching Up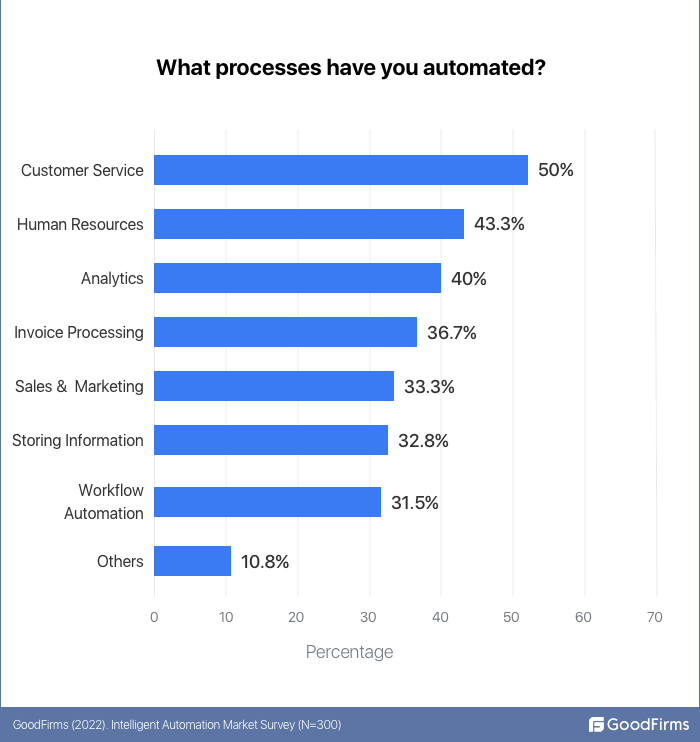 43.3% of surveyees have automated their HR functions
Human resource departments across almost all small and big organizations integrate intelligent automation into their work and functions. From onboarding and offboarding to remote working and payroll management, intelligent automation plays a critical role in the efficient functioning of HR processes. The human resource departments ensure that all the loose ends are tied up before offboarding any employees through automation.
Customer service is the most automated aspect of business, with 50% of respondents implementing it.
Customer service is one of the key differentiators and most automated processes through intelligent automation. Automation in customer service is improving the customer experience rapidly to enhance customer satisfaction. Some commonly automated processes are self-service, chatbots, automatic returns, refunds, etc. These can improve the problem resolution methods, reducing customer response time. Companies like GE, Siemens, HP, Cargill, etc. are rethinking how customer services can transform with the assistance of automation technologies.(11)
33.3% of respondents have automated their sales and marketing functions
Marketing automation is doing wonders for marketing professionals to automate the monotonous tasks and work associated with marketing and sales. Businesses are also rapidly automating marketing processes to grow their sales and brand awareness. Tasks such as customer tracking, connecting with prospects, chatbots, post scheduling, etc., are being carried out through automation.(12) HootSuite, Facebook business suite, etc., are popular platforms for marketing automation.
Intelligent automation in marketing is streamlining processes, personalizing the workflows, integrating data and analytics, etc., for better performance and productivity.40% of respondents use automation for analytics, and 36.7% of respondents use automation for storing information. Additionally, intelligent automation is also being used in other business processes. 31.5% prefer workflow automation, and 36.7% use automated invoice processing.
Natural Language Processing is also reaching new heights.
16.7% of surveyees preferred automation through natural language processing
Natural language processing(NLP) refers to the ability of computers to interpret human languages for making decisions and taking actions. Siri by Apple and Alexa by Amazon are prime examples of such technology. Siri and Alexa can understand human speech and respond to voice commands through NLP. "Natural language processing from the onset of development is the next step to transform task-based automation into Intelligent Automation, enabling data on how processes must be redefined, saving time on human analysis, and accelerating these processes, says, Steve Elliot, Franchise Owner, Restoration1.
NLP is a powerful technology that allows machines to interact and understand human language and speech. NLP acts as translators between machines and humans. NLP is not limited to voice recognition; it is also used in email and messaging applications for suggestions and completing the message during typing.
5G Rollout Will Lead to Unprecedented Growth
With the launch of 5G, a new technological era is taking place. An era of smart cities, self-driving cars, autonomous vehicles, etc., is rising with the developments and infrastructure expansion of 5G worldwide. Out of all industries, 5G is expected to bring significant changes in the manufacturing, agriculture, medical, e-commerce, and transportation sectors.(13) Intelligent automation needs high-speed network connectivity most of the time, which can be provided by 5G technology. 5 g's low latency and super fast speed can lead to new milestones in intelligent automation.
Automation with 5G assistance is helpful for businesses in improving their financials, staying ahead of the competition, enhancing productivity and performance, reducing risks, etc. Automation in the 5G era is also leading to rising of intelligent factories with complete automated robots and very few employees.(14) Both 5G and intelligent automation allow businesses to execute various functions such as automatically ensuring the production process's functioning through automated robots, delivery of products and services to customers, connecting multiple functions for high-speed connectivity, etc.
Apart from these trends, new automation tools are being developed by different organizations to offer more integration capabilities in the upcoming years. These will eliminate the needs of using different tools instead several functionalities can be used through a single tool.
Future Forecast
The global intelligent automation market was valued at around US $10.9 billion in 2021. With the digital revolution and ongoing developments in the workplace, the global intelligent automation market is expected to grow upto the US $27.9 billion by the end of this decade.(15) This immense growth in the global intelligent automation market will be driven by scalability, speed, cost benefits, minimal chances of errors, etc. In addition, the introduction of new tools and systems for business automation, cloud-based solutions, and the growing need for cost-effective automation will also support the growth of this market.
43.3% of surveyees think that automation will handle basic activities, due to which staff skills will become more analytical, interpersonal, and strategic, which will better contribute to the business growth. 40.3% of surveyees are planning to implement intelligent automation in the upcoming years due to increasing popularity and assistance. Whereas 46.3% are already implementing intelligent automation in their business functions and will continue to do so.
In addition, more opportunities lie for this sector if the challenges are adequately addressed with caution. In the post-COVID period, the automation solutions segment of the intelligent automation market is expected to acquire rapid growth in the upcoming years with the economic recovery in sight.
Some of the benefits of Intelligent automation that will drive the smart automation market are as follows:
60.1% of surveyees stated that effective collaboration across different business functions is the most important benefit of automation.
Automation delivers massive gains to businesses in almost every sector and leaves an ineradicable mark on the workspace. Automation is integrated into most aspects of the workspace due to ubiquitous computing capabilities. With proper automation tools and infrastructure, employees from different departments can effectively collaborate using standard dashboards and platforms. This is beneficial in instant connectivity, which can enhance productivity.
66.7% of respondents agree that automation leads to cost benefits
Intelligent automation helps in reducing the time required for executing functions manually, improving the firm's profitability. Through this, more output can be generated at the same time, which helps in reducing the costs of the processes too.
Though the costs and time during the implementation of automation can hamper performance, in the long term, performance will ultimately improve. 63.3% of surveyees stated that speed is the most beneficial aspect of automation. Cloud-based solutions are among the most used platforms for intelligent automation to save costs and increase speed.
50.6% of respondents agree that increased Accuracy With Minimal Chances of errors is the most underrated aspect of automation
Automation allows the execution of manual work automatically without any human effort. This prevents the chances of errors while organizing and extracting the data optimally. Technologies such as intelligent document processing, machine learning, optical character recognition, etc., automate the manual data entry process leading to minimal human interaction and errors. While implementing automation can lead to extra costs and time, leveraging automation can increase productivity and confidence in data to execute specific tasks like data entry.
43.3% Increased Scalability and Flexibility
One of the major benefits of intelligent automation is scalability. This is achieved in two ways, i.e., by reducing labor and implementing the compute growth. Scalable automation is also helpful in managing large-scale environments to meet business requirements efficiently.
"Our team leverages automation tools to scale our processes and bring flexibility to the operations. We have streamlined and scaled our social media postings, email marketing, and other operations using intelligent automation tools", says Nirali Pandya, chief executive officer, Nhance Digital.
Intelligent automation possesses cognitive abilities similar to humans that attempt to solve problems as per the logical thinking of humans and can adjust the system in case of any errors and wrong decisions. Intelligent automation also brings more flexibility when automated solutions like RPA and Low code platforms are integrated into business functions.
Challenges to be addressed for future growth
Resistance to change is another major concern for 43.3% respondents in expanding automation across businesses
Some organizations struggle to adapt to the new changes and keep working through their old traditional ways. This impacts organizational performance and productivity considerably, keeping it below the competition. For such organizations, there is a strict need to redesign their development processes and training to focus on continuous learning and truly needed human skills aligned with future job expectations. This will motivate people to acquire new skills when the traditional skills become obsolete. In addition, management should engage their employees in automation to improve their morale and work.
40% stated that Improper implementation due to poor skills is a major concern of interest in intelligent automation
Poor IT skilled employees are typical in the present era due to various political, economic, and social reasons. These poor skills can lead to improper implementation of intelligent automation in business operations. This can hamper employees' performance, making it difficult for the business to sustain a higher competitive edge. Businesses need to have a proper strategy before implementation, such as employee training and development sessions.
Lack of IT Readiness is a major challenge for 53.3% of respondents when scaling intelligent automation
Intelligent automation is an IT-oriented task that requires many efforts of the IT department within any organization to succeed. Organizations encounter challenges integrating intelligent automation into their business functions when they do not have IT-oriented staff and resources. Intelligent automation requires massive computational storage and several other infrastructure resources, including skilled employees. Cloud infrastructure can tackle such issues, which work with low equipment and resources.
Lack of vision and goals is a major constraint for 36.7% of respondents
Some small and medium-sized organizations lack a clear vision and goals through automation which hampers their automation implementation. Clear vision and goals are pivotal for automating the business to know the significant areas that require automation. Every organization focusing on automation should have a realistic and robust strategy at each level to have a clear direction for implementing intelligent automation. Also, a strategy to consider automation technologies and new ways of working with appropriate tools must be aligned with organizations' medium and long-term goals.
Post-pandemic Opportunities
COVID-19 pandemic slowed the growth of almost all industries leading to huge market loss. The intelligent automation market is also one such industry whose growth was negatively impacted due to the closure of businesses. After the pandemic, people are confused about whether to implement automation or not, as it can lead to job displacement for some employees, as per 30% of respondents. The primary reason behind this expected job displacement is the inability to develop new skills. In addition, integrated supply chains are expected to invest in intelligent automation in the upcoming period.(16) 40.3% of surveyees plan to implement intelligent automation in the upcoming years, a positive growth indicator for businesses in the post-pandemic period.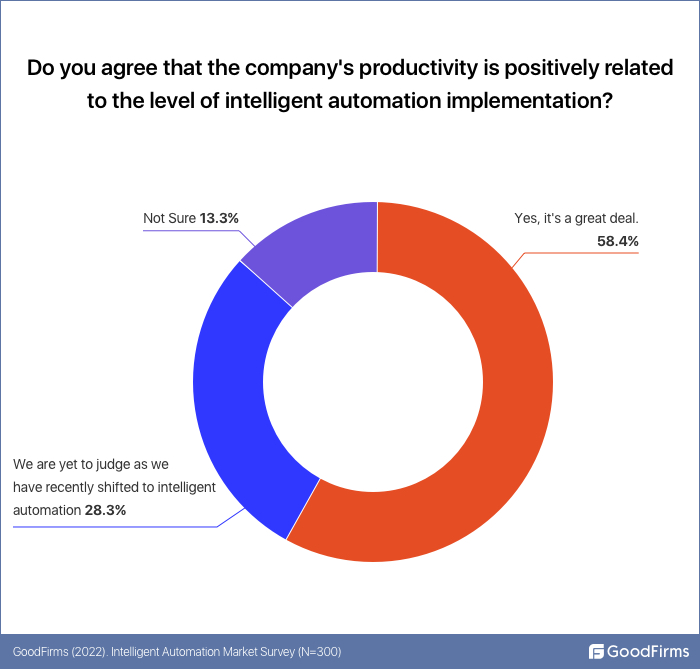 58.4% surveyees agree with intelligent automation as a great deal in business functions. Also, 28.3% of respondents have yet to judge as they recently shifted to intelligent automation. These businesses can strengthen the market through more investments and word of mouth if they benefit positively. Only a small segment of people i.e. 13.3% are not sure about the impact of intelligent automation on businesses.
Key Findings
69.23% of medium organizations participating in the GoodFirms' survey have already automated their business processes.
Businesses in the Latin American region are automating their business processes rapidly.
Siemens, IBM, and Cognizant are the major players in the global intelligent automation market.
50.2% of respondents stated that virtual agents are their preferred automation technology.
With 46.7% of responses, artificial intelligence is the second most preferred automation technology.
5G, No/low code, and natural language processing are also emerging technologies in intelligent automation.
Customer service is the most automated aspect of business, with 50% of respondents implementing it.
43.3% of surveyees have automated their HR functions, and 33.3% have automated their marketing functions.
66.7% of respondents agree that automation leads to cost benefits
43.3% of surveyees think that automation will handle basic activities, due to which staff skills will become more analytical, interpersonal, and strategic.
Lack of IT Readiness is a major challenge for 53.3% respondents when scaling intelligent automation.
Resistance to change is another major concern for 43.3% respondents in expanding automation across businesses.
Post Pandemic opportunities can strengthen the market share of the intelligent automation market globally.
Conclusion
Intelligent automation has now become one of the most adopted strategies for acquiring an upper edge in highly competitive business environments. Organizations are now planning to shift their critical processes to automated systems to reduce the pressure on humans and execute repetitive tasks with utmost efficiency. Artificial intelligence, machine learning, deep learning, etc., are helping businesses to develop new platforms and tools to implement new automation strategies.
Businesses are now recognizing the benefits of automation, such as enhanced productivity, reduced costs, better speed of work execution, scalability, etc. However, addressing the challenges will be the major area of focus to achieve better results in the upcoming years. Businesses should consider challenges such as implementation issues, improper skills of employees, resistance to change, etc., to acquire a higher edge in the market.
We sincerely thank our Research Partners who participated in the survey.
Survey Participant Demographics:
Data Source:
The data is sourced from a survey of the selected group of 600 B2B participants (410 responses received) worldwide. The queried B2Bs comprise of ecommerce, SaaS, IT, logistics, fashion, healthcare, finance, and more.
The survey participants belonged to the below demographics:
Age Group:
18-24 (16.7%)
25-39 (56.7%)
40-59 (20.7%)
60+ (6%)
Gender:
Countries
14
References
https://www.marketsandmarkets.com/Market-Reports/intelligent-process-automation-market-23417145.html

https://www.mordorintelligence.com/industry-reports/latin-america-process-automation-market

https://www.idc.com/getdoc.jsp?containerId=EUR147160921

https://finance.yahoo.com/news/intelligent-process-automation-market-surpass-124000056.html

https://www.ibm.com/blogs/journey-to-ai/2022/02/lets-all-win-with-ai/

https://www.researchgate.net/publication/344079707_A_Conversational_Digital_Assistant_for_Intelligent_Process_Automation

https://www.pwc.com/gx/en/issues/analytics/assets/pwc-ai-analysis-sizing-the-prize-report.pdf

https://www.mckinsey.com/~/media/McKinsey/Business%20Functions/McKinsey%20Digital/Our%20Insights/Driving%20impact%20at%20scale%20from%20automation%20and%20AI/Driving-impact-at-scale-from-automation-and-AI.ashx

https://www.computerweekly.com/news/252480849/Insurance-company-uses-artificial-intelligence-to-assess-car-damage-when-claims-are-made

https://www.researchgate.net/publication/337004713_Low-code_platform_for_automating_business_processes_in_manufacturing

https://www.tcs.com/content/dam/tcs/pdf/perspectiveapp/How-Intelligent-Automation-is-Rewriting-the-Rules-of-Customer-Service.pdf

https://www.goodfirms.co/resources/social-media-marketing-trends-and-predictions

https://www.goodfirms.co/resources/5g-cellular-technology-drivers-trends-outlook

https://link.springer.com/article/10.1007/s12652-020-02521-x

https://www.globenewswire.com/news-release/2022/06/16/2464387/0/en/Intelligent-Process-Automation-Market-Size-to-Reach-US-27-990-Mn-by-2030-Exclusive-Report-By-Acumen-Research-and-Consulting.html#:~:text=The%20global%20network%20automation%20market,US%24%2028%2C408%20Mn%20by%202030.

https://www.kofax.com/about/press-releases/2021/intelligent-automation-will-drive-post-pandemic-recovery
Leave comment
Your email address will not be published. Required fields are marked *
Author Info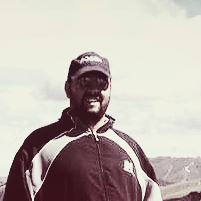 Mark Raymond
Content Developer at GoodFirms