By connecting every workforce system to a single source of truth for employee data, businesses can automate all of the manual work they normally need to do to make employee changes. Take onboarding, for example. With Rippling, you can just click a button and set up a new employees' payroll, health insurance, work computer, and third-party apps — like Slack, Zoom, and Office 365 — all within 90 seconds.
Consumer-services
Information-technology-services
Internet
3 Industries
Screenshot & Video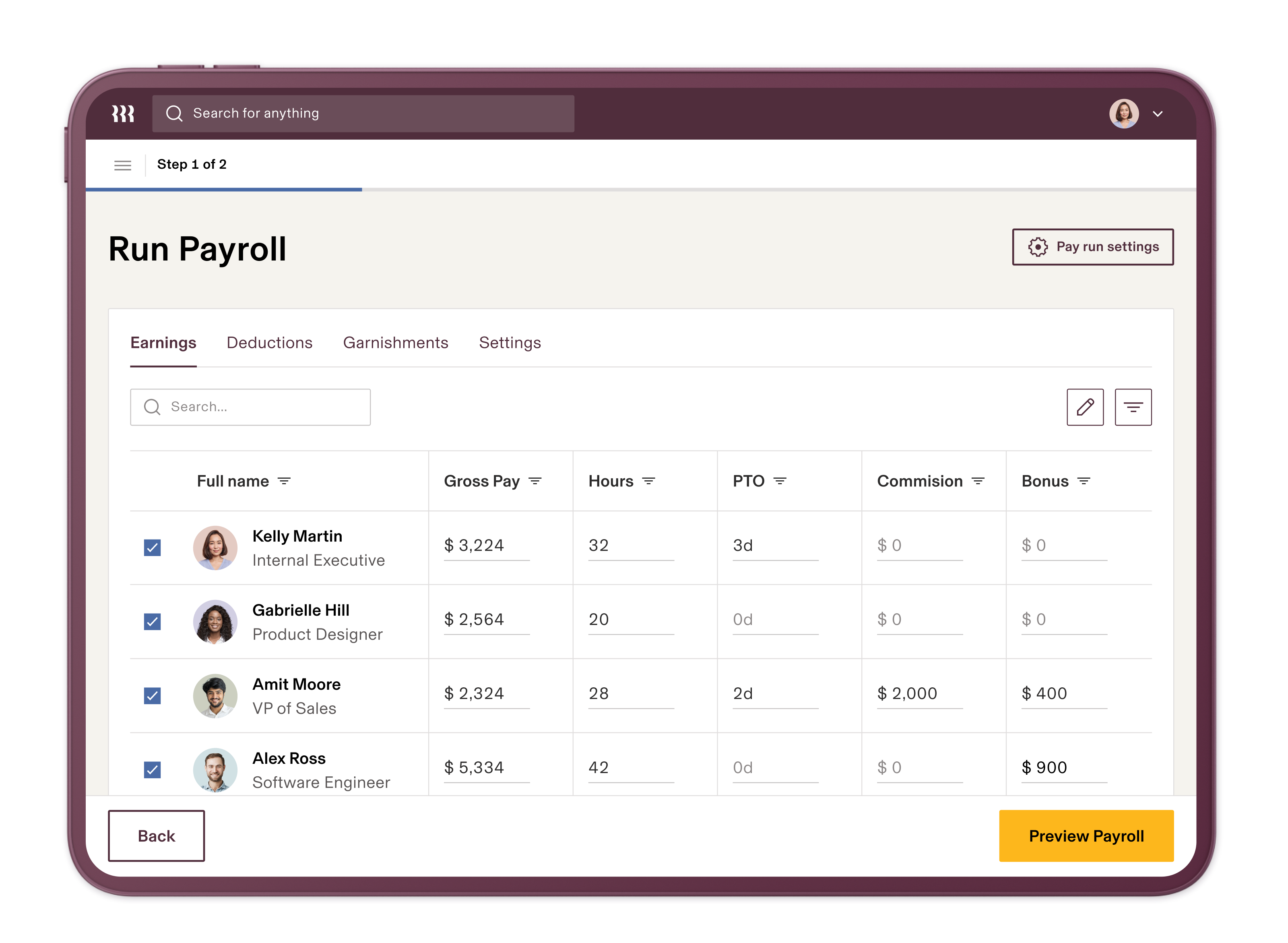 LICENSING & DEPLOYMENT
Proprietary

Cloud Hosted

Web-based

iPhone/iPad

Android

Windows

Mac
SUPPORT
Email

Chat

Phone

Weekdays

Support Days

Monday
Tuesday
Wednesday
Thursday
Friday
Rippling Pricing
Payment Frequency
Annual Subscription

Quote Based
Rippling Reviews
Relevance
Most Recent
Rating: high to low
Rating: low to high
Write a Review
Bowen
, Founder at Gamedayr
Posted 3 months ago
Rippling stands out for its user-friendly interface and ease of navigation
Review Summary
We Gamedayr have used Rippling as our Attendance Tracking Software for a while now. It simplifies HR-related tasks such as time-off requests, clock-ins, HR information accessibility, insurance information, etc. The software has saved us considerable time and minimized operational hurdles. We've been using Rippling daily since we implemented it. The best part is that Rippling continually develops and updates its services, which keeps making the software better. However, there are certain limitations too. One occasional hiccup we face is with the clock-in function. At times, when an employee forgets their password, the verification process can lead to delayed clock-ins. Also, the offline app version for Apple's Monterey OS is currently lacking some features that its online version offers. I hope to see these aspects improved in future updates.
How frequently you use Rippling?
Daily
Adam Ng
, Founder & CEO at Trusted Malaysia
Posted on Mar 28, 2022
Rippling makes it easy to manage your company\'s Payroll, Benefits, HR, and IT -- all in one, modern platform
Review Summary
Our company uses Rippling for a long time now as It brings all of your employee systems and data together, and helps automate your busy work. Take onboarding, for example. With Rippling, you can just click a button, and in 90 seconds set up a new hires payroll, health insurance, 401K, work computer, and apps like Slack, Zoom, and Office 365. Rippling makes it easy to manage your Payroll, Benefits, HR, and IT -- all in one, modern platform that's built for businesses with 1 to 1,000 employees.
How long have you used Rippling?
9 Months
How frequently you use Rippling?
Daily
What do you like the most about Rippling?
Rippling gets the highest reviews in the HRIS space for their modern user experience which can help to drive employee self-service
Rippling's most differentiated offering is their onboarding modules which syncs all of IT and HR tasks seamlessly into one streamlined process and unifies active directory management. This is especially beneficial for white collar workforces that rely on numerous workflow and productivity apps
Rippling is one of the best in the business at integrating with 3rd party HR tools too. They have a pre-built integration with hundreds of HR applications including Greenhouse, Lever, Lattice, 15Five and more.
Rippling's payroll processing includes tax filing services
What do you like the least about Rippling?
Rippling is not a full suite HRIS system. They do not have performance or engagement modules and their ATS and LMS are provided by 3rd parties
Rippling recently rolled out a time & attendance solution, but it is not yet suited for companies with highly complex time needs
Rippling is still a relatively new company and isn't suited for larger companies (above 300 employees) due to the lack of configurability of workflows and the limitations on their time tools
Rippling's customer support model is all ticketing based and doesn't have a call center
Jessica Jenkins
Posted on Jan 03, 2022
Easy and Convenient
Review Summary
Rippling by far is one of the most interactive and easy platforms to learn and use. I have been able to seamlessly communicate with my HR department, work through webinars to maintain compliance, and easily do time-tracking tasks. I love how inviting and easy it is to learn and use this platform, I have enjoyed it far more than others like Kronos. It sets the standard and crushes it every single time!
lalo morales
Posted on Dec 20, 2021
Rippling was excellent
Review Summary
Rippling was easy to use, had all the features I enjoyed, I was able to find everything I needed quickly, and it didnt take that much time to learn how to use
Mayra Montes
Posted on Dec 16, 2021
Easy to Use
Review Summary
I am so happy that my company switched to Rippling. The interface makes it so easy to navigate which makes it easy to find all the information you're looking for. It's great having HR & Benefits in one place.
Amanda Perry
Posted on Dec 10, 2021
Easy to use!
Review Summary
Rippling is the next generation of payroll and benefit administration systems. It offers an intuitive set up process that guides you through implementation with ease.